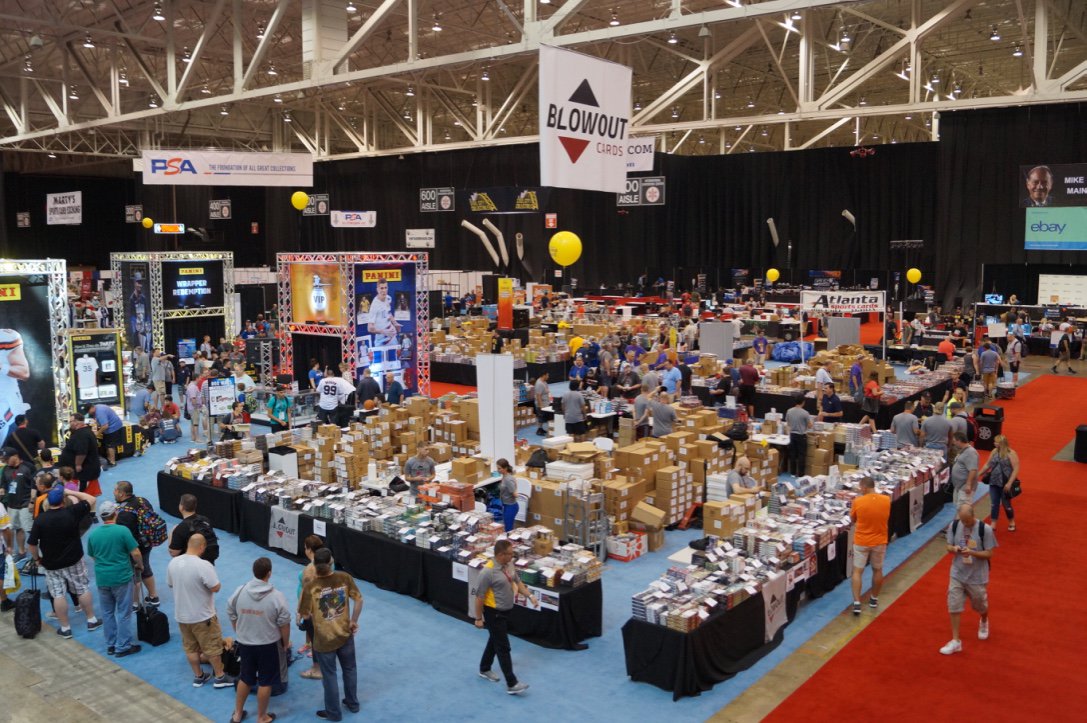 There are so many new investors and collectors getting into the hobby right now. It's critical they understand the pitfalls that will await them. That's what this article is about.
Here are 20 things new sports card investors and collectors must understand before they'll find success:
20. Making money flipping cards is harder than you think. A lot of people are rushing into the hobby right now thinking it's an easy way to turn a quick buck. And while there is certainly money to be made (that's what this whole website is about!), it takes a lot of time, research, and the ability to overcome some mistakes. The market is very volatile and today's hot rookie card could be worth just about nothing next month.
19. Don't forget the fees! One reason it can be hard to buy and sell cards for profit is because of the fees that get added onto every transaction. When buying a card you get hit with taxes and shipping if you buy online. Then, when selling, you pay transaction fees and credit card processing fees. This all cuts into your profit margin and makes flipping a more challenging game to profit from. You can avoid some of these fees by buying and selling through card shows or directly through various Facebook Groups or my Discord Chat (which has a #buy-sell-trade channel), but then you take an additional risk of less buyer protection. When sending a payment via PayPal to buy a card, always use Goods and Services, not Send to a Friend, in order to get PayPal's buyer protection.
18. Beware of shipping costs. When buying on a website like eBay, it's easy to focus on the price of the card and ignore the price of shipping. Some sellers take advantage of this by charging artificially high shipping prices. Always check shipping prices before you buy as they will cut into the profit you are able to make reselling a card.
17. ALWAYS look up the price history of a card before making a purchase. This may be the most important rule on this list, because it's the one new sports card investors get wrong most often. You should never buy a card unless you understand what that card is actually worth by seeing what it recently sold for on eBay. In addition to searching completed items on eBay, consider my Market Movers Sports Card Data Tool – it's the easiest way to find any card's sales history. Always do this before making a purchase. Even at card shows – step away from the dealer's table and look up the price history on your phone. Otherwise you might discover you just paid $100 for a card that sold on eBay last week for $20.
16. Negotiate, negotiate, negotiate. In this hobby, everyone expects negotiation. Rarely do you want to hit the Buy It Now button on eBay. If there is the opportunity to Make an Offer, make one. Often times eBay sellers have their Buy It Now listed at 200% or more of market value, so a fair price would be well below what the card is listed for. Don't be afraid to put in low-but-fair offers. Same goes with card shows – almost never pay what the dealer has a card listed for, always make an offer for less.
15. When buying on eBay, always read the full eBay description and examine the photo. Unfortunately, a lot of sellers try to trick new investors and collectors by using misleading headlines, or disclosing damage to a card only deep in the description. Watch out for tricks like someone listing their card as a "PSA 10?" – meaning, it hasn't graded as a PSA 10 but they are speculating it might. Don't buy into that at all.
14. Build a positive eBay reputation as soon as you can, and especially before you try to sell. You can quickly and easily build up your eBay rating up by making several purchases of cheap cards. Pay promptly and get good feedback, which will then help you when you go to negotiate or sell cards in the future.
13. Consider how much risk you are willing to take and invest in the right category of cards for you. Buying cards of new rookies or players in their first few years is high risk, high reward. Rookies and newer players give you the best chance of making a quick profit if they get hot, but they also give you the best chance of losing your investment if they don't take off. In fact, a majority of each year's hot rookie cards will lose value over time. Buying established or retired players and Hall of Famers is much less risky, longer-term investment strategy. But, you'll need to be prepared to hold those cards for years potentially to see a good return. What type of cards you should be investing in comes down to how much risk you're willing to take and how long you're willing to hold cards for. I cover more about this in my video here.
12. Invest in what you know. To be effective at investing, you really have to understand the sport and the players you are investing in. If you know nothing about a sport and are buying cards only because you hope to make money, you are setting yourself up for trouble. And, even if you know quite a bit about sports, don't spread yourself too thin. You are often better off investing just in one sport and getting to know the teams and players really deeply rather than trying to spread your investments across multiple sports.
11. In general, focus on quarterbacks in football, shooters in basketball, and home run hitters in baseball. Not all positions are created equal. No matter how good a linebacker is in football, a defensive center is in basketball, or a relief pitcher is in baseball, their upside in terms of card value is generally limited. People like buying cards of highlight-reel players. They'll always favor players who score a lot over players who play sound defense or provide good relief pitching.
10. Buy graded cards whenever possible. Unless you're buying cards from a brand new release, you should be looking only for graded cards for investment purposes (and, as high of a grade as possible – ideally PSA 10 or BGS 9.5 or above). Chances are that if an older valuable card isn't graded, it's because it's not in good enough condition to get a good grade. Because of this, graded cards tend to appreciate more quickly over time versus their non-graded (raw) counterparts.
9. Invest in scarcity. In general, the rarer the card, the more likely it will go up in value over the long run. Serial numbered cards are good to invest in for that reason, and tough-to-get autographs and premium patches on cards can also add scarcity. For graded cards, check the population report on PSA or Beckett's website to understand how many cards are out there with the same grade as the card you are looking to buy. Generally, the fewer the better.
8. Know exactly what card and variation you are buying and understand the checklist. For new collectors and investors, it can be incredibly confusing that each set puts out several versions of each player's cards. The variety of colors and insert sets within each brand make it difficult to understand what you're getting. As mentioned earlier, you always want to check price history, and make sure you are looking at the price history of the exact card variation you are looking to buy. Comparing photos helps. If a card is graded, make sure to read all the details on the grading label on top of the card, as that will tell you the exact set and variation. You can also look at the checklist of the particular set you are buying to understand all of the different possible variations. The Resources page links to sites that have set checklists.
7. Invest only in cards from licensed products and sought-after sets. For the last several years, Topps is the only manufacturer that has made licensed MLB cards, Panini for NFL and NBA, and Upper Deck for Hockey. Buy only licensed cards that are using the actual logo of the team. Every manufacture experiments by coming out with new brands of sets each year, but unproven or unpopular sets don't make nearly as good of an investment as the most popular and sought after sets in each sport. Learn what those are and concentrate on them most when buying investment cards.
6. Generally, invest only in rookie cards and 1st prospect cards. From an investment standpoint I almost never buy any cards other than a player's rookie cards (or, for baseball, also 1st prospect cards). The reason why is simple – a player will only ever have one year of rookie cards. They may have 15+ years of non rookie cards. Therefore, rookie cards will always be more scarce and more sought after, and as a result, more valuable.
5. Don't overreact to a player's recent performance, but take advantage of the fact most people do overreact. The hobby is very reactionary. If a rookie has a hot game, chances are his cards will be selling like crazy on eBay that night and listing prices for his cards will be suddenly be much higher. Don't impulse buy after one big game. If you are holding that player's cards, try timing selling your cards with the player going on a hot streak, or getting publicity from a playoff run, to maximize your sale price.
4. Don't buy a player's card the first week it hits the market. Whenever a new set comes out, the first batch of those cards to make it on eBay typically sell for a very high premium. Then a week or two later, prices go down. If you are one of the first to buy, chances are you will get a bad deal.
3. Open boxes for fun, not for profit. I love opening packs of cards, or "ripping wax" as many call it. The thrill of seeing what cards you pull is a lot of fun. But, it's gambling, because you are hoping you get lucky to pull a big hit. Most of the time opening boxes will give you a negative return on investment, meaning you will pay more for the box than the cards inside are worth. Generally, you have to get lucky and hit a huge card to make a profit on opening a box. So, open boxes for fun, but not as an investment. Conversely, buying and holding sealed boxes can make a very good investment if the rookie class from that year's release does well. But it takes patience and fortitude to not open the boxes you are holding and instead to resell them sealed sometime in the future.
2. You'll never know the right time to sell, so don't wait until it's too late, and also don't kick yourself if a card goes up more after you sell it. One approach to selling I like is to set a target sale price when you buy a card – and, when the card reaches that price, don't overthink it, just sell it. I will typically set a sale price as 2-3x my purchase price – sometimes a little less for an expensive card, or a little more for cheap rookie card I'm taking a flier on.
1. Have fun and enjoy the hobby! There are plenty of things you can do in this world to make money. Yes, there is money to be made in sports cards – but if you're in it just for the money and you have no love or appreciation for the hobby, you are better off doing something else you enjoy more for your side hustle.
What other tips do you have for new investors or collectors? Leave your thoughts in the Comments below!
Ready to take your sports card investing to the next level? Join our Membership Program now for card picks, analytics, premium community access and much more!