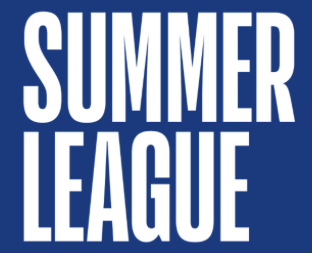 Why The NBA Summer League and Preseason Matter to Basketball Card Investors
This guest post came through our Article Submission Program. Thoughts and opinions are those of the author.
This article was written before the untimely passing of Kobe Bryant. This article is dedicated to him, his daughter Gianna, and the 7 other people that passed away in the tragic helicopter accident on 1/26/2020. 
Every season journalists, reporters, and basketball fans talk about how the NBA Summer League and preseason "doesn't matter". It's a string of months in the late summer/early fall where teams assess their newly acquired rookies, g-league players, undrafted players, and heck….sometimes players that you've never even heard of.
It may not mean much to some, but to basketball card investors, it means EVERYTHING. As Geoff of SportsCardInvestor.com has mentioned on his podcast, a player's rookie cards will appreciate the most over time due to the fact that it is the only season of a player's career where his rookie cards are produced. And sometimes turning your best profits on rookie cards are within those first few months or even weeks of a young rookie player's career.
To be honest, I actually stumbled on this flipping tactic by mistake, simply by virtue of being a Laker fan. It was July of 2017 and I had been back into the hobby for just under a year. Like so many others, I was an 80's baby who collected cards as a kid. And also like so many others, I was back in the game for 10% nostalgia and 90% profits. Fresh off of being a full season removed from the greatness of Kobe Bryant, laker fans were looking for the next big thing that they could be excited about. And that next big thing came in the form of UCLA star point guard Lonzo Ball. The hype for Lonzo (due to his impressive play in college and his father Lavar Ball) was insane and I was eating up every bit of it. I knew that I was going to be trying to snatch up every rookie card that I could in the upcoming season. But for now, I was watching Lonzo pack the Thomas and Mack center in Las Vegas for summer league. Unfortunately, he had gotten off to a pretty rocky start and was facing some pretty quick criticism for his lackluster play. Another player, however, had quickly emerged as a possible sidekick to Lonzo and a cornerstone piece of the Lakers rebuild. And that player was 27th overall draft pick, Kyle Kuzma. Kuzma averaged 21.9 points in the summer league and stole the show in the Lonzo-less championship game by dropping 30 points and 10 rebounds to win the championship game MVP. But again, because it was just summer league and Kuzma was a very low first-round pick, I'm not sure if anyone paid too much attention. But in my head, I was paying every bit of attention and I was willing to take a risk on him. I had gone onto Panini's website shortly after and looked for any Kyle Kuzma Panini Instant cards that I could scoop up in anticipation of flipping them for a profit, as Kuzma, like Lonzo, was new to the league and these would be the 1st cards to hit the market. I had already ordered a handful of Lonzo Ball Draft Night and First Look base cards for $10 a piece so this time I was looking for something a little rarer and expensive. But not too crazy as I was still a young card investor and wasn't too sure how any of this was going to pan out. I ended up finding a green Kyle Kuzma Panini Instant numbered to 10 for only $50. I thought that it was a pretty good deal, as other top picks like Lonzo Ball, and Markelle Fultz had sold for hundreds, so I bought one.
I remember thinking to myself "Man Kuzma just lit up summer league! If he has a hot start to the season and I can get back $100 for this card, I'd be happy!"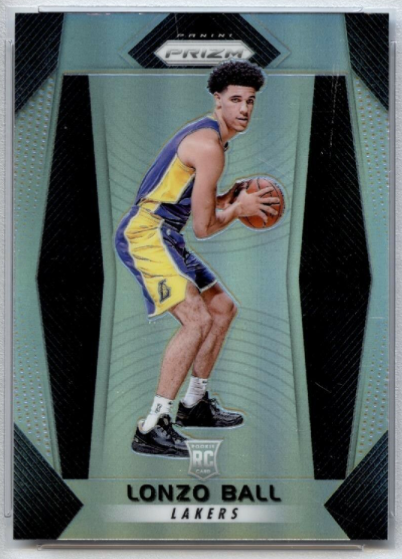 Fast forward to September 30th, 2017. I'm at the Honda Center in Anaheim, CA with my dad and my brother getting ready to watch Lonzo Ball, Kyle Kuzma, and the new-look Lakers take on the Minnesota Timberwolves in the 1st preseason game of their first NBA season. Again the hype over the last few months since summer league was crazy. There was buzz and electricity in the air. Since the game was in Anaheim (only a stone's throw away from Lonzo Ball's hometown of Chino Hills), this was really sort of a Lonzo Ball "hometown kid" debut. But once again it was Kyle Kuzma who stole the show. Kuzma dropped a team-high 19 points while Lonzo had 5 points, 8 assists, and 7 rebounds. Lonzo's stat line was nothing to really be upset about but again, Lonzo was the #2 overall pick with high expectations while Kuzma was just the 27th pick that no one saw coming. It was at that moment when I thought "You know, what if Kuzma continues to light it up in preseason? Can I double my investment? How much playing time is he really going to get this season? We have an overhaul at his position. Next month when Hoops comes out and his cards have autographs on them, how valuable or sought after will my NON autographed green Kuzma be?" These were all questions racing through my mind. Again, what were we talking about here? I was only trying to make back $100 on this card and surely there would be more valuable cards to come in the next few months.
So after sleeping on it, I decided to list it on eBay the very next day (a Sunday evening) for a 7-day auction starting at 0.99 cents and prayed that Kuzma would continue his stellar play for the upcoming week of pre-season. And well, what do you know? He absolutely crushed it. He went on to average 17.3 points per game and dazzled all through pre-season. It couldn't have worked out any better for my listing. After 5 days of being on eBay, my card was sitting at $80 in bids so I was excited. I was glad that not only did I make my $50 back, but it looked like I was going to get to that $100 mark that I was shooting for. The only thing that bummed me out is that as my listing was LIVE, I had noticed that another eBay seller had listed the very same green Kuzma card of a different number at a Buy-It-Now price of $129. So in my mind, I figured that that would be the ceiling for my card. Because why would anyone bid more than that on my card when they could just buy it for $129 from that eBay seller. Then Sunday night came and there were only 5 minutes left of bidding. Next thing I know, someone has placed a bid of $125, then $150. Now I'm stunned. Then there are 30 seconds left and it's at $175, then $200. My heart is racing. 5 seconds left $225. $250…time runs out and then the eBay loading screen that seems to last forever pops up on my phone………
I jumped off the couch and shouted "$300!!"
Startled, and looking at me like the card flipping lunatic that I was, my wife says "What?!"
I told her "Babe, that green Kuzma card I bought a few months ago for $50, I just resold it for $300!"
"Nice Job!" she says.
To me, "nice job" was an understatement! I had just made back 6 times my money! But wait…what about that guy who had HIS listed for Buy-It-Now at $129? Eh, who cares…I was on cloud 9! That was the most money I had ever made to that point on a card in my life. It was truly a euphoric moment for me as a collector/investor.
Although it took good timing and a little bit of luck, I've had similar success over the past 2 summers using summer league and the preseason to my advantage. This past summer we saw the arrival of Zion Williamson. Obviously Zion (in most people's minds) was going to be a megastar, and compared to the anticipation of Kyle Kuzma, was in a totally different stratosphere. The irony with Zion was that he only played 1 summer league game due to a minor knee injury, but as a result, that almost seemed to create even more hype and anticipation for him in the preseason. He later went on to absolutely destroy preseason by averaging 23 points per game on 71% shooting and getting the New Orleans Pelicans off to a 4-0 preseason start. Because Zion was so heavily anticipated though, it was hard to get any early Panini Instant cards, let alone cards at a decent price. His Black 1/1 Draft Night card was listed at $1,499 on Panini's website. It quickly sold and was re-flipped on eBay for even more than that soon after. I wasn't quite ready to go all-in like that just yet. Instead, I focused on the Draft Night and NBA Tip Off base cards and bought them in lots of 25 directly from Panini's website. Buying them in higher quantities secures you a better deal and a higher return on your investment.
I purchased 2 lots for a total of $200 and was able to more than double my money selling most of them off for $440 within a few weeks. I even kept one of my better-looking Draft Night cards and had it graded. It came back a 9.5 which should be able to easily fetch $100+ on its own. I'm thinking I may hold onto this one though and see how he does in the regular season or maybe even over the next few years. After grading I'm only about $30 invested in it anyways. The upside for Zion's first-ever basketball card is a gem mint grade is likely better than that no matter what happens. I think it will be worth the risk.
At the end of the day, I have realized that there is a nice opportunity to flipping cards before the NBA season even tips off. With the right strategy (and a little luck), you could see yourself turning some nice profits. Every summer I seem to increase my spending on Panini Instant cards as I get comfortable with my strategy (I intend to keep it going this upcoming summer, with the arrival of Lamelo Ball). The funny thing, however, is that I often find myself thinking of those famous words uttered by the great Leonardo DiCaprio in the movie The Wolf Of Wallstreet. Each offseason, my only regret "is that I didn't buy more." But hey, I guess that's a good problem to have.

Excellent insight into card flipping and some of the strategies used to generate great returns. Do you flip sports cards quickly and if so what are some of your strategies or tips for the community? Tell us in the Comments below.
Ready to take your sports card investing to the next level? Join my Membership Program now for card picks, analytics, premium community access and much more!