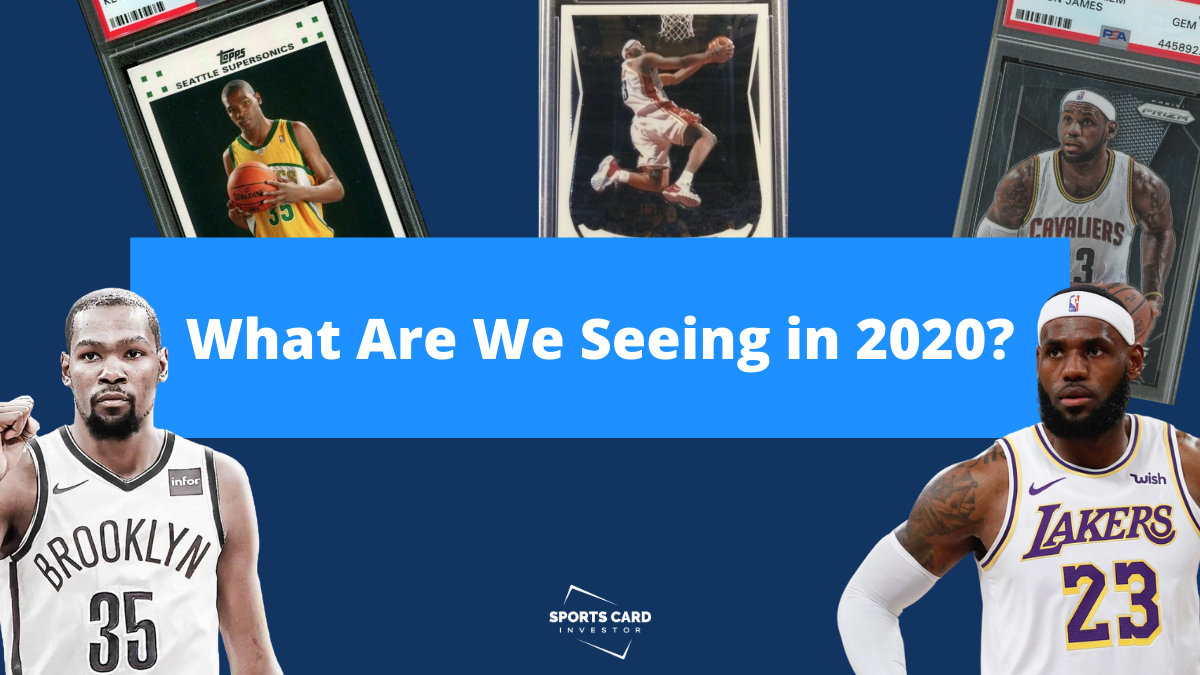 This guest post came through our Article Submission Program. Thoughts and opinions are those of the author.
Introduction
With the NBA playoffs starting back up, the basketball sports card market is about to get quite interesting. The market is rapidly growing, unlike anything we've seen before. We are seeing old collectors getting back into the hobby, the younger generation getting involved, sneakerheads are even migrating over, we are even seeing athletes such as Lebron James and Giannis Antetokounmpo being public about owning their own cards. Without live sports, this is a way for people to get their sports fix. Now with live sports such as Soccer and Basketball, the market hype is growing higher daily, which is leading to more people entering the market, which is also driving the card prices up. Simple supply and demand we are seeing here.
The star players around the league have been picking up a lot of attention for sports cards investors such as Lebron James, Kawhi Leonard, Giannis Antetokounmpo, Luka Doncic, Zion Williamson, and many more. I do agree, these are some of the best players in the league and it is a privilege to watch them compete on the court versus one another. With all the talk around these top players, I believe Kevin Durant is very undervalued for the caliber of a player he is.
Gary Vaynerchuk has an incredible influence on the card market; he is a fantastic spokesperson for the hobby. He continues to push the opportunity this market has to offer. The month of July alone shows the incredible increase of people partaking in the hobby. The start of soccer helped and now, with the NBA playoffs picking back up, people are investing before players start putting up triple-doubles.
Aside from the generic Topps Rookie Card of Kevin Durant, in my opinion, you can make many other buys that are significantly undervalued right now.
HOT CARDS ON EBAY
UNDER VALUED TOPPS CHROME OPPORTUNITY
I will use this Lebron James 2003 Topps Chrome Rookie Card to compare to Kevin Durant as he right there in the talk of the second-best player in the league when healthy. Lebron James set the new record for the highest individual sports card coming in at $1.8 million on July 20th. (Later surpassed by Mike Trout's $3.8 million dollar sale)
Lebron's Topps Chrome Rookie PSA 9 is steadily increasing and will only continue to rise. From July 14th through August 14th, there were three sales of these exact cards and the buying price is below: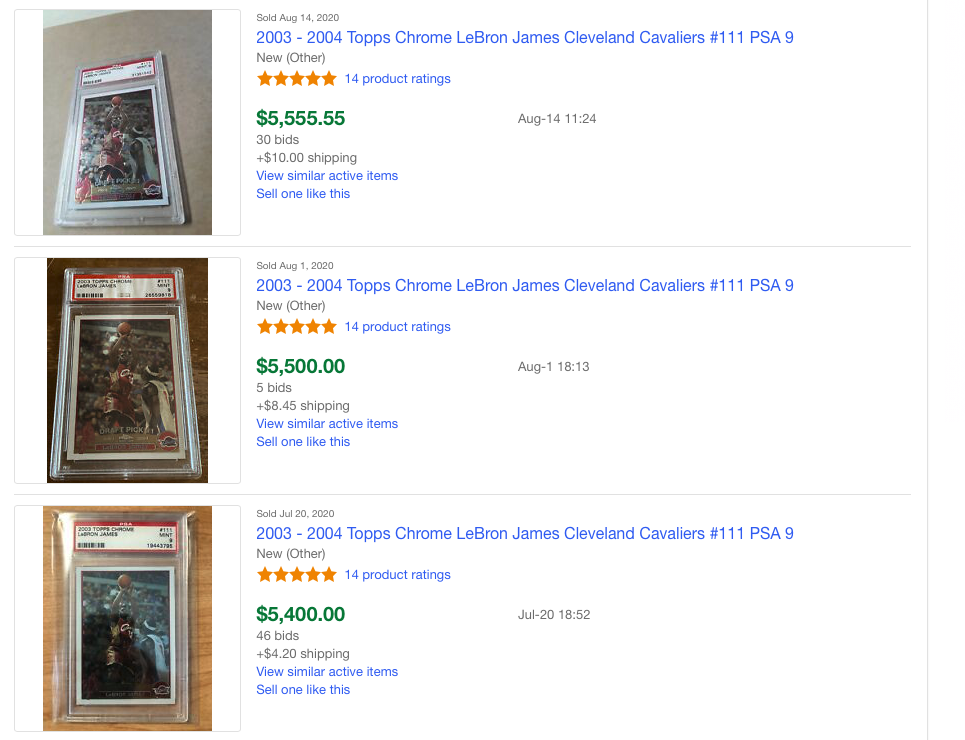 Now, let's compare those to Kevin Durant's Topps Chrome Rookie PSA 9 with sell dates of August 13th and the 16th:


Kevin Durant is arguably one the best current player in the league behind Lebron James. It goes to show, Durant not playing this season has people focusing on the other established veterans in the league, as well as the new young draft class stars just starting their journey. Durant's cards are only 29% of the price Lebrons card. That should speak on itself.

Durant has not touched the court in 415 days. That is a lot of days of not being on Sportscenter making highlight plays. He is so far out of the talk right now and that has created a great opportunity for buyers buying for a long term hold.
Kevin Durant's accolades since entering the league in 2007:
2x NBA Champion
2X NBA Finals MVP
NBA MVP
4x NBA Scoring Champion
NBA Rookie of the Year
9x All-NBA Selection
10x NBA All-Star
Durant could never play another minute in the NBA and still go down as a very decorated player as well as a Hall of Fame caliber player. With him being established, his card really should not lose value and only continue to rise as the market continues to grow and he continues to add to his accolades.
Today, the best player in the league talk revolves around Lebron, Giannis, Luka, Zion, Kahwi but lately, you never hear about Durant. That is because as stated earlier, he has no new highlights, his name isn't in the talk for MVP race and the absence of Kyrie Irving has affected the hype around the Nets team in general. The hype around him is very low. For that reason, I believe the Topps Chrome PSA 9 Rookie of Kevin Durant is very undervalued for the caliber of a player he is.
He won't be partaking in this years NBA Bubble playoffs but when next season rolls around, I expect this card to double very quickly when the media starts to cover more Kevin Durant and people will quickly remember he is up there as a top 3 player in the league with an easy argument that he is the second best player in the league behind Lebron James.
If you are looking for a safe investment this is one for a great price. Luka and Giannis are no doubt going to continue to grow exponentially but there is always that little risk factor of if something goes wrong. Derrick Rose is a great example of that, if you went all in on Derrick Rose, you would have lost a lot of money. Kevin Durant is at a point in his career where he does not necessarily need to add any more accolades which is why he is a safe investment moving forward.
A great article showing us how fast the card market can and is moving! You have to stay active and know how your investments / collection are fairing in today's market. If you have any tips on how and when you buy or sell, we would love to hear it in the comments.
Ready to take your sports card investing to the next level? Join our Membership Program now for card picks, analytics, premium community access and much more!