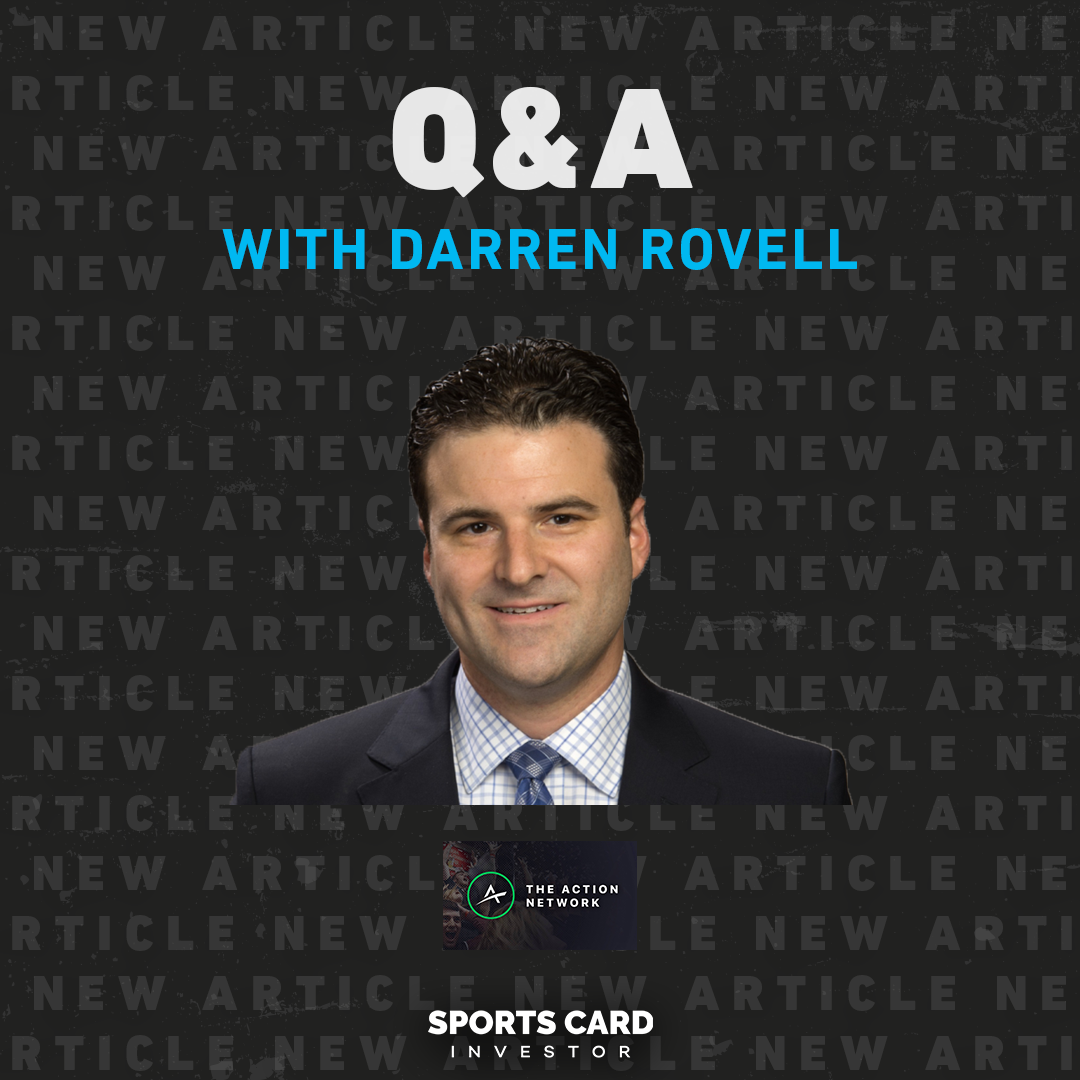 Darren Rovell's journey through sports and collecting started exactly where many would want if they could pick a place and time.
An eight-year-old kid on Long Island in 1986, Rovell was in the middle of it all. Sports and media were booming and New York was on the verge of becoming a major hobby hub.
Over the next few years, Rovell lived the dream of any young collector.
"When I was 9, 10, and 11, I would go to 30 or 40 shows a year," he recalls. "I had memorized the carpet of various bowling alleys and Holiday Inns."
Like many, collecting changed for Rovell in the early 90s, though. Card populations exploded — he never did grab that iconic '86 Fleer Michael Jordan rookie — and he mostly moved on from the hobby.
Now a senior executive producer at The Action Network after memorable runs at CNBC and ESPN, Rovell has rekindled his love for the hobby, focusing on unique items with low populations for his personal collection. He'll have a table at The National in July, and while he's open to buying and possibly selling, he'll mostly just be there to show off his collection and talk about the industry.
Sports Card Investor chatted with Rovell about collecting, parallels between the hobby and gambling, and what he thinks about cards as alternative assets.
Questions and answers were edited for length and clarity.
How did you get started collecting? Take us back to the beginning.
Started in the height of it all in like 1986 — one of the greatest years of my life. Eight-year-old kid wins my only sports title of my entire fandom. I am a Mets, Jets, Nets, Northwestern fan, so I didn't realize what was happening at the time.
I essentially was born in the best place in America to be a sports fan. In Long Island in 1987, WFAN becomes the first 24-hour sports radio station. So, I'm nine years old and it really was a central location for the hobby. California, New York, Chicago were the big hubs where big shows went. It went up to about 1991 when I was kind of disenfranchised by the quantity of things. I was out probably by 1992 and then by 1997, '98, '99, I was probably disenfranchised even more because now the world opened up and you're like, "Holy crap, there really are a lot of these Ken Griffey Jrs. No, I'm not going to pay off my college education."
I started at ESPN in 2000. Started covering memorabilia. Collected, but didn't really have enough money. What's interesting is that when I started covering memorabilia, I got one of every single thing that was being produced. Every box of everything. I probably handled what today is worth millions of dollars in cards. Even though I was covering memorabilia, I did not have any hope that it would ever come back to where it was. Fast forward to probably 2008 and I'm fully back in the game as far as just memorabilia, buying some game-used stuff, Northwestern stuff, and starting my check collection. Delving back into the cards a little bit in the recent bump. I bought all these PSA 1s but ultimately sold them. I felt like the dollars associated with it were a little bit too obvious. So I kind of got out of cards and now I'm fully into tickets and still in the checks and in other areas such as sealed video games, sealed music, Black history, that kind of thing.
How much of what you own is for your personal collection and how much is for future investing?
I don't need to sell anything. And I don't necessarily want to sell anything. Everything that I buy, I believe in when I buy it and it is the cheapest it ever is when I buy it. I don't know if that answers the question, but I'm going to The National. I'm going to have a table. I'm going to have my stuff out on the table and, technically, nothing's for sale.
Why did you decide to get a table at The National?
I've been going for years. I kind of need a home base, right? It's impossible to carry all your stuff around, so in some way I see it as renting a locker. I also want a place where I can talk to people. I love the hobby, right? So, this is just a way for me to make sure I talk to people, make sure I have a home base, and display the love for the stuff that I have. If I happen to sell something because I get an offer I can't refuse, then that's fine. If I walk away having not sold anything, that's fine, too. I'm really just looking forward to the joy of sharing the stories and seeing people in person.
Is there anything at The National you're looking to buy?
I am looking for oddball stuff, cool stuff. I'll probably be looking for tickets to see if I'm firmly in tickets and I'll be looking for checks, too.
There's a lot more collectors into cards than memorabilia right now. Do you think we see a shift as the card market starts to dip?
I think so, I think so. Although, I am still very surprised about the jersey card — the swatch card. I just never thought it made sense that a small swatch could be worth $1 million or $2 million in the card, and a jersey could be worth $75,000. That delta just makes no sense to me. I'm very well aware of size, and one of the reasons why cards do so well versus something that you can hang is because they're held in your hand. A Jersey is hard to bring around with you. So I understand that concept. But I don't understand how a card could be worth 10x or 15x if it's 1/80 of the material. And I also don't understand how cards have jerseys that have the wrong number and are tried on by a guy at a rookie premier.
I think the right memorabilia, especially driven by the fractional share companies like Rally and Collectable, is teaching people the value of memorabilia, and I think memorabilia will indeed come up.
I'm glad you brought up Rally and Collectable. Do you view cards and collectibles as legitimate alliterative assets?
I think that there was some overplay in December, January and February as all of these upstart businesses were coming out, as far as cards are really the new alternative asset. I do think that they have been further recognized than before, but the alternative asset is going to be the one that is the most sexy — and in October, November, December, January, February, cards were definitely the most sexy. Then it flips over to crypto and NFTs.
I think that the talk of how sustainable the new alternative asset class is for cards might have been a little overplayed because of the heat that it owned in the moment. I always felt that some of the passion missing in memorabilia was that people who didn't have the money to spend on a great item never caught that passion. I think Rally and Collectable and the fractional share companies do a great job of getting people to taste what they never got to taste before. (Editor's note: Rovell is an advisor for Rally).
Along with collectibles and memorabilia, you've covered gambling for a long time now. What parallels do you see between the two spaces?
Yeah, there's exact parallels. I'm reporting on it because The Action Network has said, "We must cover everything that counts as gambling, whether that's crypto or cards or actual gambling." And I think that there were some betters who have bet less because they put more money into Top Shot. There are some sports card guys that have put less money into sports cards because they're betting. There's some sports card guys that have put less money into sports cards because they're now in crypto. Basically, we have never been more of a gambler than we are today. And only part of that has to do with the legalization of sports gambling in this country.
When Covid-19 hit, we needed to pump ourselves full of Dopamine and adrenaline and do something to replace human interaction. And that's one of the reasons why we went to eBay to try to win auctions. And that's one of the reasons why we started collecting cards, because we were going back to the nostalgia. It's why when we were cleaning our houses, we found cards, and then we had to kind of create all these things that would heighten joy and enthusiasm. So, they are all very interconnected.
What have you thought about the content being created around the hobby? Breakers were thriving but now might start to struggle without easy access to retail.
I'm going to be very interested to see about breakers, because I do think their supply chain is going to change substantially. It's going to be harder because of Walmart and Target. And these guys are definitely going to be challenged. During Covid, they figured out the systems to easily get their wax, and breakers could augment themselves based on how good they were at getting that. There are going to be guys that are going to be out of business and can't break, and there's going to be new people that will rise because of the inability to get wax.
Will the good content makers prevail in the breaking world? Because there's a lot of garbage out there. It's not a meritocracy. There's a lot of bad content. There's people who were just "card, card, card," while mispronouncing people's names. And then they're like "Oh my God, I got a Zion," and that's not good content.
Since we're talking about content, I'll let you leave on your show, Buyer's Market. How's that been going?
So, we started doing a sports memorabilia show when The Last Dance was on and it was getting a significant amount of viewers. We try to have a real editorial show that is everything that people are talking about. In recent months, half the show has been about NFTs because it just has to be that way. We're bringing on good guests. I've been very proud of it. And it does work for The Action Network because I'm into sports memorabilia, but again, it's like an alternative way to bet. So, we've seen the crossover and we've certainly seen our viewers enjoy it. So, that's been cool.
Track your collection and maximize your profit with Market Movers, the hobby's most powerful sports card pricing platform! Learn more here.