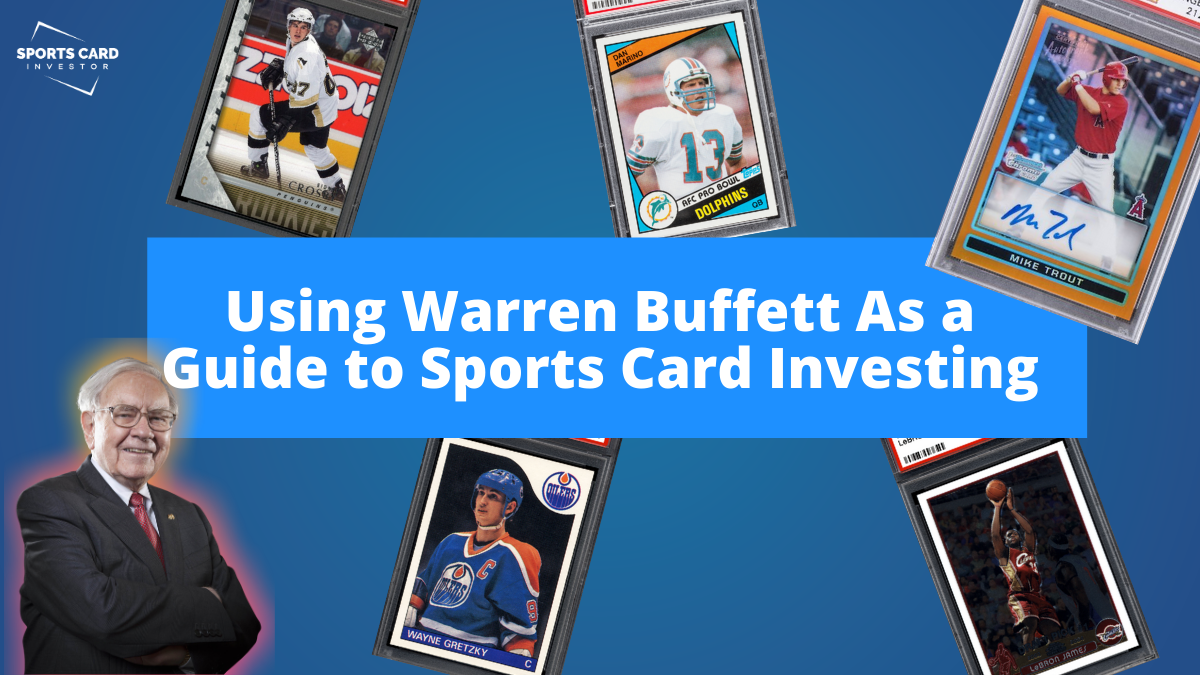 This guest post came through our Article Submission Program. Thoughts and opinions are those of the author.
Introduction
Hello, my name is David Hunter. I collected cards in the 1990s as a kid, got out of sports card collecting for a while, and started getting back into it in the late 2000s. I primarily am a collector of Hall of Famers and more of a long term investor than a short term flipper.
This article will focus on how to utilize Warren Buffett's quotes in relation to sports card investing. With the recent surge in sports card popularity, a lot of his quotes prove beneficial not only in this hobby/business but can be applied to nearly anything else in your lives. I hope as you're reading this, you can find some beneficial aspects and apply them to your own card investments and even personal collections.
"Rule No. 1 is never lose money. Rule No. 2 is never forget Rule No. 1."
A lot of people are looking at this hobby and jumping on the train, whether it be investments or to collect for themselves. As a child of parents who grew up during the Beanie Baby craze and in the Dot Com bubble, I understand a very simple thing. Bubbles burst. Let me emphasize that again: BUBBLES BURST. This is not a normal time and if you're investing in cards thinking you will get at least 3 or 4x ROI on them even a year, two years, or three years down the road, that is not the case. Not every player is going to be the next Steph Curry or Patrick Mahomes or Connor McDavid.
As people invest in and chase rookies, be careful about overspending for a player who may be volatile and not end up being the star you think he will be. Jahlil Okafor is a fine player and was even All-Rookie in 2015-16, but his cards have plummeted.
by Ian D'Andrea from Philadelphia, PA is licensed under CC BY-SA 2.0
Prizm cards with a 9.5 BGS grade were selling for $15 to $19. If you broke a $150 box to throw out a price, and you pulled the Okafor then submitted it for grading, you may have even lost money despite the 9.5 graded card. Quality cards and grades, but again, probably a losing proposition depending on the initial investment made. Now, no card investor is ever going to be perfect and odds are better that at some point, you will lose more money than you will make depending on the player involved or market situation. The goal is to try and minimize those losses as much as possible. You, as an investor, are better off selling in a hot market and getting maybe 1.5 or 2x the ROI then you are waiting for your player to make the jump hoping you can get 4x or 5x the ROI and potentially losing money because you got greedy.
One good way of doing this is buying cards through Beckett.com or COMC.com and their marketplaces. While eBay is the prominent tool, you can get cards for super cheap costs and send them in to get graded then flip them. It's a lot easier buying a card for $15 raw, spending $10-20 for grading, and potentially flipping it if it can grade a PSA 10 or BGS 9.5 then it is spending $500 on a PSA 10 and hoping the player pans out and you can flip it for at least $1,000 to get a 2x ROI. Remember that whatever you are paying initially, you need to be smart about what your personal goal for a return on investment is. If that player gets injured or goes to jail or just simply busts, will you be satisfied paying the price you did and calling it a loss?
TRENDING 2020 MOSAIC CARDS ON EBAY
"Price is what you pay. Value is what you get."
This is a great quote. As more of a personal collector, I collect guys that are personal to me or players I have stories related to. Randy Johnson was my 2nd favorite baseball player of the 1990s, right behind Ken Griffey Jr. While a lot of sports investors are looking at the financial side of things, never forget the personal side of this hobby. I picked up about 17 Randy Johnson cards recently for $106 total. If they go up in value down the road, which I partly expect them to, fantastic and that's the ideal future goal. But even if they don't go up in value financially, the personal value of having a collection of one of my favorite baseball players is something that cannot be quantified.
One of my personal favorite cards in my collection is a 2015 SP Authentic Hockey dual autographed /25 Sign of the Times 2 card of Jason Spezza and Jamie Benn when they were on the Dallas Stars. I may have other cards that are of greater value, are scarcer and lower numbered, or even are of far more popular players. The story behind it being one of my first truly "big" hits in a box break when I was just getting back into sports cards is why that card has maintained its personal value for almost four years now.
Value is what you get financially as well. So let's say you are a collector of Javier Baez refractor cards and you primarily focus on 2015 as he didn't play much and they may be cheaper than his RC or 2016 season when he was a full-time player. You've collected him for a long time and like to get them raw because you plan to get them all graded in a few months. Let's look at the Market Movers tool to compare them.
You can see in the above chart that his cards are relatively cheap. At the bottom, his 2015 Topps Chrome Baseball Refractor Raw can be had for between $8 and $10 based on recent sales. One of the advantages is it's a low price and based on the graph; you can sell it for 2x value raw if the market gets hot enough. The 2015 Topps Chrome Purple Refractor /250 is scarcer but has been trending downwards. It last sold for $35 compared to the base Raw which was $9.99. You could pick up two of those, get them graded, and flip them for roughly the same cost. Value is wherever you can find it, not necessarily getting the highest amount of money back.
"Whether we're talking about socks or stocks, I like buying quality merchandise when it is marked down."
Always get the best value at the lowest possible price. The industry phrase is BUY LOW, SELL HIGH for a reason. Not Buy High, Sell Low because nobody wants to lose money that way and it's not a financially soluble tactic to employ short term or long term. How to equate that to investing in sports cards can be done by comparing two very high-level graded cards: PSA 10 and BGS 9.5, both are Gem Mints basically. Now let's take a guy who's been productive but flying under the radar a bit in Deandre Ayton. I personally prefer BGS because I like the sub grades as they offer an explanation into the card itself. Not every 9.5 is graded the same and with the current FBI probe into trimmed cards at PSA; I feel it's a little bit of a safer investment. With that pointed out, let's compare the cards via Market Movers.
Immediately you can see the population report of PSA 10s is getting pretty high. Remember that scarcity is a KING in card collecting and card investments in general. So if there's a population of 1,000 cards all graded PSA 10… that means your PSA 10 isn't really that unique and the flooding of such grades may actually result in future price losses if the market corrects for an overproduction. Remember that zagging while others zig is a savvy investing move.
You can also immediately see that both cards have rocketed upwards. Not surprising in the insanity of the market but take note that the BGS 9.5, which usually have subgrades, is markedly lower than the PSA 10! The ratio is only 1.31 given the recent high sale, but you can save yourself a lot of money, getting an equally good card that you can maybe make more of an ROI on down the road if Ayton pans out. In comparing sales: The 9.5 BGS of the Ayton Prizm Silver has been roughly between $46 and $70 in difference. If you time it just right, several of the sales have been literally $100+ difference! On July 5th, you could've purchased the BGS 9.5 for just $125 instead of nearly $250 for the PSA 10. You could've picked up the BGS 9.5 and maybe a 9.5 BGS or PSA 10 of another player you really like for that money.
"Buy a stock the way you would buy a house. Understand and like it such that you'd be content to own it in the absence of any market."
This goes back to remembering that this is a hobby, first and foremost and we are all card collectors at heart. Sure, everybody wants to become a millionaire and pay off college educations for their kids, but that's not going to happen for 95% of us who are collecting and/or investing unless they miraculously hit on the right player and hold for 10+ years. I collect the guys I want to collect, knowing if the market crashed tomorrow and the sports card industry went belly up like the video game crash of the 1980s or Beanie Baby fad, that I'm okay. I'm happy with the cards I own and enjoy having them in my possession.
If you collect Mike Trout and own a bunch of his 2012 Topps Chrome cards in raw form or pick them up dirt cheap, don't feel like you have to grade them immediately and chase the 9.5 or 10 grades to find enjoyment in owning those particular cards. Maybe you get a few of them graded and sell them for a more significant profit but make sure to hold onto a few of them for yourself too. Don't follow the herd trying to chase a high when you can be a loner and build up a great collection.
Also, don't look at the 9.5s and 10s as a be-all-end-all in sports cards investing. I have several 8s, 8.5s, and 9s of players that were much cheaper to buy but just look good. In some cases, the cards had high grades except for centering but because it was just an 8.5, they were very cheap.
In closing, I hope some of these quotes helped you reflect on your own personal card collecting and sports investments in general. Maybe you found one quote resonated more than another, or one quote can be more applicable to your own future purchases or sales. We are all in this hobby to have fun, first and foremost, and collect the players we love to collect at the heart of it.
Do you have a mentor or someone you look up to that helps you in your quest to invest in sports cards? We would love to hear who you mimic or follow. Leave a comment and let's see who the community follows.
Ready to take your sports card investing to the next level? Join our Membership Program now for card picks, analytics, premium community access and much more!