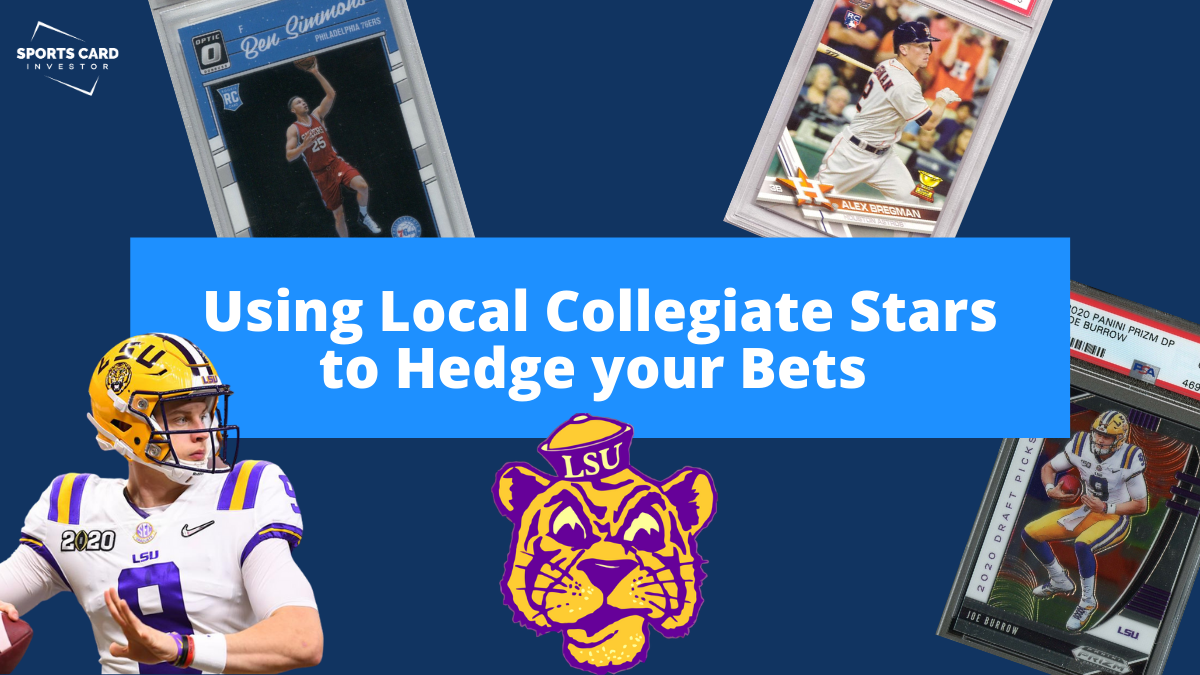 This guest post came through our Article Submission Program. Thoughts and opinions are those of the author.
Introduction
Sports cards are back. Wait…. What? Those were my thoughts until earlier this month when I finally realized this may actually be a thing.
I remember about nine months ago hearing talk about sportscard collecting becoming popular again. I was quite skeptical when I hear about investors beginning to flood the market for big-name cards. But then I thought, "Hey, I have thousands of old cards…some good ones! I have to see if they are worth anything." I quickly grabbed my "best cards" from the '90s and began searching. This can't be right. [Enter me learning about the "junk wax" era] Oh well. A few cards may bring around $0.99, but it appears I am NOT sitting on a gold mine. I quickly put my cards back in their designated drawer, ready to forget about them for another 20 years.
Then, earlier this month is when it all started. My wife and I bought a new chest of drawers for our bedroom. This created a chain of events whereby our old chest of drawers was then moved to the spare bedroom, and I now have my old chest of drawers headed out of the house. But first, I have to clean out the drawers. In the two bottom drawers sits my old collection of mostly 80's and 90's cards. I can't throw them away. Certainly, I can get some amount of money for some of them. Even if I get a penny for each of my bulk cards and $1 for each of my "great cards", I would be happy. Well, to do this, I need to catalog my collection to see what I have. So off I go, cataloging each card I have – thousands, from old wrestling and marvel comics cards to the more traditional sports. Doing this brought back a nostalgia that I can't describe.
TRENDING LSU PLAYERS CARDS ON EBAY
During this process, I heard of tons of people collecting and investing in sports cards again. Sure. I've seen this movie, and I know how it ends. I watch a few Youtube videos anyway to see what all of the buzz is about. And then I realize: There actually is a ton of demand for some cards. Granted, there will still be very little money (if any at all) in the mass-produced cards of the '80s and 90's I now have spread across my office, but there is potentially an opportunity for both short-term and long-term investing in cards. After a bit of searching, I realized very quickly the game had changed in a BIG way. Cards are much different now than in the 1990s, and there is so much new to learn. Who has the license for each sport, how are there so many rookie cards for each player, what is a refractor, THEY HAVE PIECES OF JERSEY ON CARDS!?
After days of researching, I devise a plan. I graduated from LSU and live in Louisiana. I follow former tigers during their time in the pros closely. I decide this affords me a particular set of knowledge: LSU athletics alumni. I won't limit my investments to those players, but I will hedge some bets with them. If the sports market softens or those players' professional careers are less successful, I think I can still off-load some of those cards locally for a break-even amount or a nominal loss.
As I began searching for cards, I saw a market opportunity. I started buying cards of the Philadelphia Phillies' ace: Aaron Nola. This is a popular team with a popular cast of characters on the squad, including Bryce Harper. They are in a tough division with the Nationals and the Braves, but I think that they have a shot to be a playoff team. Also, at the end of the day, Nola is an ace and a consensus Top 20 pitcher in the league. Adding to his professional success so far, he was a considerable part of LSU's success while he was on campus. I found a dip in his prices and made a couple of bulk purchases to stack up some inventory. I focused on his 2014 Bowman cards, particularly his Bowman Chrome base cards. I also grabbed several different colored refractors and one signature card. I refrained from going in on too many high-dollar cards understanding that I may be holding these from a couple of months to a year.
I also started making offers on the Astros' Alex Bregman, another home-town favorite and LSU alum. Now Bregman is a bit different as he is incredibly popular nation-wide. Yet, I think there is still room for him to go up as he is very young, particularly if he can continue to succeed despite the negative attention directed toward the Astros earlier this year. I focused my efforts on his 2017 Bowman Chrome and 2017 Topps Chrome. I have also looked into his other rookie cards and found some desirable variations as well.

Interestingly, I find myself fascinated by the Holiday cards for all of the players, including Bregman. Since these variations of his rookie card were only available to Wal-Mart, there appears to be a built-in limited supply, and I could see these becoming rarer as time goes. If nothing else, I like them.
I also branched out for Bregman and even picked up a 2017 Panini RPA for Bregman. Generally, I steer clear from any brand that does not have the exclusive license for that sport. But the "collector" in me enjoys the look of these cards. However, these Panini cards do not have any logos; the patches and signatures make up such a large part of the card and are very appealing to the eye. I focused on cards with unique patches and cards that were numbered to add exclusivity. I understand these may be less chased, but if I owned a card shop in Baton Rouge, I would want one on display. I think the market for Bregman rookie cards will always carry some value, even Panini cards. I am also not above holding on to the RPA's for a long time just for my personal collection.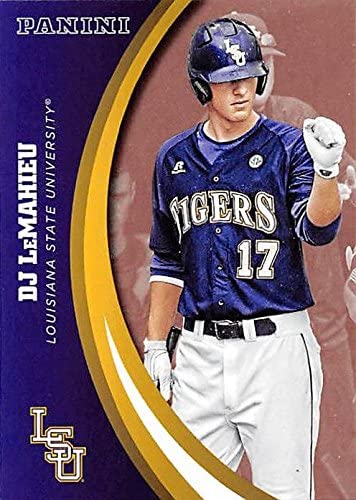 I rounded out my initial LSU investments with some DJ LeMahieu. He won Gold Glove Awards in 2014, 2017, and 2018, he's a 3x all-star, and he won the NL batting title in 2016 while leading all of the MLB with the highest batting average. However, since he is a "hit for average" kind of guy and not a homerun hitter, he often gets overlooked. Now LeMahieu is on the Yankees, one of the favorites to win it all this year. If the Yankees can get to the World Series (and Vegas thinks they will) D.J. could be batting lead-off for the pinstripes. He has an opportunity to really showcase his skills and potentially get a ring. Despite not hitting the long-ball, this is one player that could really see some value spike in 3 months or less. And if he doesn't, I could probably sell his cards locally tomorrow for about what I paid. His Bowman Chrome auto refractors have had some good numbers recently, but I think there is still room to go up. Plus, investors can scoop up raw card very cheaply right now.
I was also insanely interested in Joe Burrow. Now there are not many deals to be had with Burrow, being the 1st overall pick in the 2020 draft. But he is insanely popular in Louisiana in that if he ran for governor, he'd win in a landslide. Despite being young and inexperienced in the NFL with a shortened off-season, I have high hopes for him. Reselling a Joe Burrow card to LSU fans may be one of the easiest things to do. The only problem is that the prices for Burrow cards are relatively high. After striking out on several auctions above my self-imposed cap, I pivoted my strategy for the first overall pick. Since all of the cards of him currently still show Joe in his collegiate garb, I will wait until his first cards come out with his Bengal uniform. And next year, I will scoop up some cool collegiate uniform cards (for my personal collection or local selling) once the hype for those first cards dies off a bit and shifts to his true rookie cards.
As for basketball, there is relatively slim picking for LSU alumni. Ben Simmons was a one-and-done on campus in 2016, but given his play in college and the team's lack of success with him on the court, he never really impacted locally. I also worry about his lack of offensive production and big play. He is a good defensive player, but generally, the focus should be more toward big-time scorers. However, I still think Simmons is a good buy now. He has had a somewhat quiet start to his career but is on a championship contender team. If he gets a ring, his prices could skyrocket. A more recent rookie I am looking at is Tremont Waters, the former LSU guard. He is young and relatively unknown, so I have been trying to scoop some of him up too. There are other young players that I am looking at as well to invest that I think are poised to become a superstar. Basketball is so hot right now; I am picking up anyone that I can see having a quick value spike.
Online card sales have certainly helped the liquidity of the hobby. However, my theory is to not forget about the local angle as well. For investors near big collegiate athletic programs, your local card shops are probably always willing to listen to potential sales pitches for some local legends – though your ROI will likely be lower than selling nation-wide. Also, you may be able to find some interested people on local Facebook groups that want their favorite player from their alma mater for their collection, to put in their office, or to hang on the wall of their man-cave. Aside from being able to sell locally, focusing on players from your favorite college team may provide you with a unique understanding of an unknown player's game when you have watched them in college for years. You may be able to pick up on some attributes that give certain players a probability of becoming a star before they take off. So don't forget to buy who you know. At the end of the day, you are probably surrounded by people and know a lot of collectors that would enjoy adding that player to their collection, whether they break-out in the pros or not.
Great article and an excellent way to invest in players that you know very well. Unfortunately, not everyone lives by an LSU, but I'm sure we all have that one college that you cheer for and collect those players. We would love to hear of some great success stories while collecting those players you cheered for.
Ready to take your sports card investing to the next level? Join our Membership Program now for card picks, analytics, premium community access and much more!