This guest post came through our Article Submission Program. Thoughts and opinions are those of the author.
Introduction
I am not a financial advisor – invest at your own risk and within your own budget.
It's rare that I'll write an article dedicated to a specific card investment. I want to bring value to this community but didn't want to overhype a card without fully believing in it. I'm going to share the specific card with you, discuss why I'm investing in it, and why you shouldn't invest in it to get both perspectives to make your own choice. 
Full Disclosure: I own about 40 of these cards (ungraded). It will be another 5-6 months before I have those cards back. I feel comfortable sharing this investment because it's been recommended by others with a larger following and this card has already trended upward in the market.
My Top Card for 2020-21
The card that I'm most excited about out of all the sports I invest in, basketball, soccer, and football is the 2018 Panini Prizm Patrick Mahomes base card.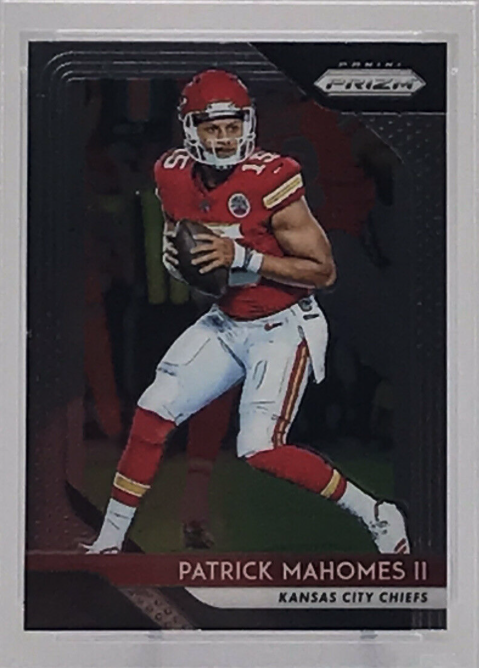 Source: eBay 
That's right; my top investment pick isn't a rookie card. It's also not a parallel or short-print card either. Before you rush out to buy a bulk of these cards, make sure to read how I arrived at this card, what I like about it and what I don't like about it.
I don't have a crystal ball and could be wrong just as easily as I could be right.
How I discovered this investment idea
When I first pulled two 2018 Patrick Mahomes base cards out of wax, I threw them off to the side. Right player, wrong year, I thought. A few weeks later, I sold both of them for $10 without even thinking about it. Like many others who spend money on boxes, every $5 or $10 card sale counts toward recouping some money back on an investment where the house usually wins.
I would periodically check on the card as I was curious if I had made a mistake. In mid-April, I started to notice a few sales of PSA 10s selling for over $100:
Source: eBay 
Whoops. But still, I didn't make a move on these cards raw because I had my purchasing eye focused elsewhere. In early May, I noticed that one of the people I respect and most listen to in this hobby started posting about his 2nd and 3rd year Mahomes pick-ups: 
Source: Instagram 
I counted 20 posts featuring various Patrick Mahomes cards from 2018-19 silver Prizm and Optics as well as some heavy-hitter 1/1 cards on the account. Joshua Johnson runs the cardboard_chronicles and he is a very experienced collector who also happens to own a $200,000 Lebron Rookie. When he posts about what he's buying, I pay attention. 
HOT QB CARDS ON EBAY
I started to look back into 2nd and 3rd year Mahomes cards because of this and I started making a more concerted investment in the 2018 base card after seeing this Tweet from Chris Steuber:
Source: Twitter
Chris is another influencer I pay attention to. I've written before about how it's important to do your own research and know why you're buying, but I will pay attention to a few accounts who I think know what they're doing. I never buy blindly though, I always follow-up on recommendations with more research.
Note: When I initially started buying, these cards were $18-$30. They've since jumped to $65 raw. I partially waited for that movement because I don't like to promote cards I own. The trend is already happening.
What I like about this card
The Player: Patrick Mahomes is only 24 and already has an MVP and Super Bowl under his belt. He might have already played in 2 Super Bowls but a ridiculous penalty cost the Chiefs the AFC Championship in 2019. 
Mahomes is young and he's paired with a top-15 of all-time coach in Andy Reid. 
Finally, some are calling Mahomes the new face of US sports. 
I don't think he's quite there yet, but he does have the potential. For reference, Tom Brady has 7.6 million Instagram followers and Lebron James has 66 million followers:
Source: Instagram 
Instagram following does not determine card pricing, but it can help us understand cultural popularity. What's positive about this low relative following compared to Tom Brady and Lebron James is that Mahomes still has plenty of room to grow.
The Price:
These cards are now selling raw for about $65 consistently.
It's still just a second-year base card, but Prizm is the set to collect in football, and I want to capture the long-tail market of Mahomes collectors and investors. What I mean by that is there are likely more people who might eventually spend $400 on this card graded as a 10 just so they can get a Mahomes card versus shelling out $7,500 for his rookie PSA 10.
The Quantity:
As I've bought cards over the past year, I usually ended up with 2-4 copies of the cards I target. This time, I wanted to buy inexpensive cards in large quantities.
Buying in bulk helps alleviate quality risk: I spent about $1,200 total (fees and shipping). I sent 33 of them in for grading, if 50% gem, I'll have 16 PSA 10s. They're selling close to $400, which would result in $6,400 (before fees). Even if just 4 of them gem, at current prices, I've made my money back.
Having a large quantity also makes me feel more comfortable holding a portion of the cards in the longer term. If I get my money back, I could decide to sell a few more to earn and profit and hold a few in case the card goes up in value even more.
HOT QB CARDS ON EBAY
The Grades:
An investment tip I originally picked up from Gary V on his Reddit AMA made this card more appealing to me. If a card doesn't immediately appear to be valuable, it's unlikely it will be kept in good condition: 
Source: Reddit
What I've found acquiring 40 of these 2018 Prizms is that most sellers tossed them to the side like I did and didn't keep them in good condition. One seller had 31 cards available but only sent me 18 that he felt were worth grading. Not only that, but these cards don't grad very well:
Source: PSA Population Report
Only 53% have gotten PSA 10s so far. While this is much higher than the 33% PSA 10 of his rookie Prizm, it's a small sample size. I'd be willing to bet that the total population will remain relatively small (because people won't submit their damaged cards for grading) or the percentage of 10s will go down if they do try to submit them.
There's a similar effect for Lamar Jackson Prizm rookies. His base cards get a 10 grade at a 22% rate. Again, it's likely that people didn't think much of the cards at first and didn't take care of them.
Source: PSA Population Report
On the other hand, a Baker Mayfield 2018 Prizm rookie graded a 10 about 45% of the time:
Source: PSA Population Report
The 2018 Prizm set doesn't grade very well in general and if you compound that with someone not taking care of a card, it's even tougher to get a 10. The downside is that I may not end up with as many PSA 10s as I hope, which I'll discuss further in this next section.
What I don't like about this card
The Sport: American Football doesn't even make the top 10 most popular global sports. This is either an opportunity for growth or a sign that a lack of a global market won't push prices higher. 
The NFL is trying to capture the perceived global demand with games overseas, but COVID-19 puts a damper on those efforts. And while I've heard a few people talk about football being undervalued compared to basketball, it's currently an apples to oranges discussion, because basketball ranks 7th in global popularity. 
Another challenge with the NFL is that the injury rate is significantly higher than both basketball and baseball. When Patrick Mahomes injured his knee last season, his now $7,500 rookie card was as low as $700. 
It's not just the player you're buying who matters, but their team as well. If the Chief's starting left tackle gets hurt this upcoming season, it could affect Mahomes' performance.
Player Comparisons
Ben Roethlisberger was the youngest player to ever win a Super Bowl at age 23. While I don't think he has the same popularity as Mahomes, he's won 2 Super Bowls after appearing in 3, and still has some career left in him. 
There isn't much sale data for his second year, but his 2nd-year refractor Topps card only sold for $90 graded a 10:
Source: eBay 
While this is just one example, it goes to show that even multiple Super Bowl victories don't guarantee that 2nd-year cards will take off in value. Mahomes has his Super Bowl, but I think people are buying at prices that assume he will win more titles.
The Grades
I still don't know the grades of my cards, so I am entirely in the dark on my PSA 10 rate. I'd hope for 50%, but since the cards don't grade well and likely weren't appropriately stored, it could be much lower.
If you have a lot of PSA 10s, this can work in your favor, but if your strategy is buying these raw (like I was) you expose yourself to a lot of risk. While I did send 33 cards in for grading, I know a few were very iffy. I also asked every seller about condition before buying.
If you're going to buy raw, you have to do your research, and you have to be comfortable with the fact that it might not be in gem mint condition.
It's also worth noting just how long PSA takes. Prior to COVID, my experience with turn-around times was a little less than 5 months. I am now hearing (anecdotal, this is not a confirmed turn-around time) of 6-7 months for bulk submissions.
This means I might not get my cards back until January 2021!
It's still just a base card
Over the last few seasons, it seemed like a new Quarterback emerged to take the league by storm – Carson Wentz, Patrick Mahomes, Lamar Jackson, and others. It's not like this card has great visual appeal apart from being a Prizm, so there's not much to protect it as an investment if Mahomes and the Chiefs have a Super Bowl hangover and the attention moves over to Lamar Jackson or another emerging quarterback.
The other possibility is that attention could move to another card set like Optic or Select.
For example, the 2012 Topps Chrome Mike Trout Update PSA 10 sells for about $250 whereas a 2012 Topps Heritage PSA 10 sells for about $600. Both are second-year cards, but one sells for about 3x as the other.
Final Thoughts
If Mahomes continues on his trend as the league's best Quarterback and wins another Super Bowl or two, a 2nd-year gem mint 10 base card becomes attractive to own for someone who just can't afford a $7,000 rookie card.
Only 7 franchises have won back-to-back Super Bowls, though. 
And any tenured member of the hobby would argue that 2nd year cards have never been popular and base cards are too common to hold real value. They could be right, but the hobby has probably changed more in the last year than it has in the last 10 years combined. Time will tell.
Jon has been an excellent contributor to Sports Card Investor; this was a great look into how he does some of his research to ascertain what investments he will make throughout the year. Do you have any strategies that may help the community? We would love to hear your thoughts and ideas.
Ready to take your sports card investing to the next level? Join our Membership Program now for card picks, analytics, premium community access and much more!