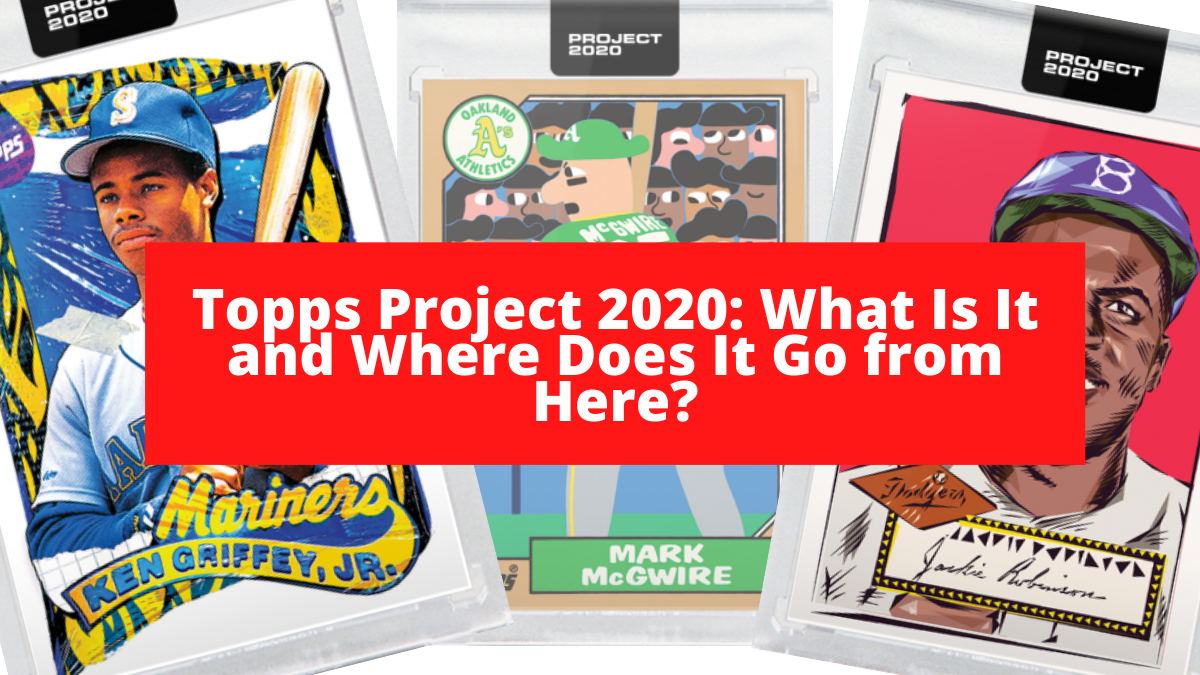 This guest post came through our Article Submission Program. Thoughts and opinions are those of the author.
Introduction
Just when you thought the hobby could not get any hotter, Topps Project 2020 came along and completely blew everyone's expectations out of the water. While the sustainability of the prices is a hot debate, what is not debatable is if you got in early on this trend you are likely reaping the benefits of the current price surge. This article aims to give a brief overview and history of Project 2020, explain why certain cards are selling for thousands of dollars when they could've been purchased on Topps' website for $20 a few weeks ago, and gives a few insights about what may be around the corner.
To start, let's do a quick Who, What, When, Where and Why on Project 2020:
Who? Topps collaborated with 20 artists across different platforms to "reimagine" 20 iconic Topps cards. The 20 iconic cards were picked by Topps and are the same for all artists. This means at the end of Project 2020 there will be 400 cards total. 20 artists renderings for each of the 20 cards. A full list of the artists and cards can be found here.
What? Each card retails for $19.99 on the Topps website when released. There are volume discounts for purchases of 5 or 10 cards. You can also buy a 2-card bundle of two separate cards for a slight discount. The print run of each card is dictated by the number of purchases. The cards are much thicker than a normal baseball card and come in a magnetic one-touch case sealed with a Project 2020 sticker. Each card also has a gold-trimmed 1/1 that is randomly sent to a customer who purchased a card. Finally, there is 20 artist proof; silver trimmed cards available on Topps for each release. These retail for $199.99 and are almost impossible to get as they sell out instantly when the card goes live.
When? Topps releases two cards every day, Monday through Friday (10 cards total per week). Each card is for sale for 48 hours, so there is no need to sit in front of your computer, refreshing the website. There is plenty of time to pick up the cards directly from Topps. Once the 48 window closes, they are no longer for sale on Topps' website. The print run is then announced a short time after the 48-hour window closes.
Where? As mentioned above, the cards are directly available on the Topps website for 48 hours; after that, you will have to purchase any cards you want on secondary markets.
Why? Let's get into why some of these cards have exploded on the secondary market below…
Why are cards that were available to anyone and everyone for $20 or less now selling for thousands in some cases? It all started on March 25th when the first Project 2020 card was released. It was the 2001 Ichiro Rookie Card reimagined by jeweler and entrepreneur Ben Baller.
Only 1,334 cards were purchased in the 48-hour window. The next two cards (Sandy Koufax by Jacob Rochester and Jackie Robinson by Naturel) had print runs of 1,135 and 1,302. Out of the first 50 cards released (5 weeks of releases) here is a list of the cards that had print runs exceeding 3,000 (A full list of print runs can be found here):
PROJECT 2020 CARDS ON eBay
| | | | | |
| --- | --- | --- | --- | --- |
| Card # | Player | Artist | Print Run | Card |
| 25 | Ken Griffey Jr. | Tyson Beck | 3,707 | |
| 29 | Derek Jeter | King Saladeen | 9,873 | |
| 35 | Mike Trout | Andrew Thiele | 13,200 | |
| 39 | Derek Jeter | Matt Taylor | 9,322 | |
That it. That's the list. This means that 46 out of the first 50 cards had print runs of less than 3,000. 28 out of the first 50 releases had print runs under 2,000! That all changed when Card #51 was released….
On April 29th, Topps released Mike Trout's 2011 Topps Update Rookie Card reimagined by Ben Baller and it exploded. If you follow the hobby on social media, your first exposure to Project 2020 likely saw this card come across your timeline in some form or fashion. For those following Project 2020 at the time, the announcement of the print run was eagerly anticipated once the 48-hour buying window closed. 34,950 cards were sold in the 48-hour window. More than 2.5 times cards purchased than the next closest card. We are now on Card #90 and this card still sits atop the print run list.
The Ben Baller Trout card did two things: it brought a lot of new eyeballs to the project and it started to create a lucrative market for the early project releases. Ben Baller fans wanted to collect his cards and Mike Trout fans wanted to collect his. Two cards in particular were the canaries in the coal mine for what was to come:
Card #1: Ichiro by Ben Baller (PR: 1,334)

eBay Sale Price on 4/29 (day of Trout Baller release): $95
eBay Sale Price on 5/6 (one week later): $400
eBay Sale Price on 5/26: $4200

Card #4: Mike Trout by Ermsy (PR: 2,911)

eBay Sale Price on 4/29 (day of Trout Baller release): $185
eBay Sale Price on 5/6 (one week later): $485
eBay Sale Price on 5/26: $3000
Many other early releases have followed similar trajectories but these two stand out and provide somewhat of a formula for the cards that continue to "pop". Mike Trout is clearly the most coveted player in the set (followed by Griffey and Jeter) and Ben Baller's releases are certainly the ones fans seem to be the most excited about. Keith Shore's releases seem to get a lot of buzz as well (they are…interesting. If you haven't seen them, a quick Google search may be in order).
PROJECT 2020 CARDS ON eBay
Essentially, every release brings eyeballs to that specific player/artists earlier releases in the set. Ben Baller has been very vocal on social media about how his upcoming Derek Jeter release will be the best card he releases. Here's what he had to say on his Instagram story recently:
Conventional wisdom would say to buy a bunch of the Jeter Ben Baller releases when they come out. The issue is that Topps will print however many are purchased so the market could be flooded as this will almost certainly be the highest print run in the set. The Ben Baller Griffey release will likely give it a run for its money as well.
An alternate approach may be to look at other Griffey and Jeter cards in the set that could pop once the Ben Baller releases come out. Here are a few suggestions:
| | | | | |
| --- | --- | --- | --- | --- |
| Player | Artist | Print Run | Current Price Range | Card |
| Ken Griffey Jr. | Jacob Rochester | 9,356 | $175-$200 | |
| Derek Jeter | Matt Taylor | 9,322 | $175-$200 | |
Both cards are attainable for around $200 and seem destined to reach the $500 mark as this project moves along. The Mike Trout Ben Baller card might also be a good pickup in the $200 range. While the print run is scaring some people off, it will likely be eclipsed numerous times in the coming weeks and no longer seem like an outlier. Also, Ben Baller has a massive fanbase (1.4M Instagram followers) so a supply of less than 35,000 is not that much in comparison.
This article only scratches the surface of Project 2020 in terms of the artists and athletes involved. There are many other great artists and cards involved in the set. Efdot's cards are my personal favorite, especially his Ted Williams and Nolan Ryan releases. His early Willie Mays release (PR: 1,440) is currently selling for around $700. Blake Jamieson's cards are also very eye catching. He also has some very cool and unique box break videos where he combines card breaks with art projects.
The key takeaway if you are looking to jump into the Project 2020 game is simple: It is not as easy as buying 10 cards from Topps and "flipping" them on eBay for $500 on eBay a week later. The print runs will continue to rise. Look for earlier releases within your price point and target those. A card with a 10-15K print run may seem high now, but at the end of the project it will likely be on the lower end. A card selling for $600 or $700 now with a print run under 2,000 may very well be selling for over $1,00 before too long. If someone wants to complete the 20 card set of a particular artist or player (or even complete the full 400 card set) they HAVE to buy one of the early releases with low print run so that will help drive demand as well.
We are not even a quarter of the way through Project 2020 so there will certainly be more to come as the weeks roll along and more cards get released. Even if you aren't looking at this from an investment standpoint, there are some really unique and interesting cards being released every day of some of the most iconic baseball players of all time.
This article was an excellent insight into the Topps Project 2020 line. Do you have anything to add to help the community throughout the year collect not only the players but popular artists?
Ready to take your sports card investing to the next level? Join our Membership Program now for card picks, analytics, premium community access and much more!