This guest post came through our Article Submission Program. Thoughts and opinions are those of the author.
Investing in sports cards is not simple. It takes an incredible amount of research, knowledge, timing, skill, luck, and courage to do it well. If it was as simple as 'buy low, sell high' anybody could make money – from day one. But it is not that simple. You have to know the specific information that may not be otherwise obvious. Things like age, team, position, amongst other more detailed analytics like WAR, are all important to know. This website, Sports Card Investor, has detailed information and articles explaining who and what you may want to invest in. Usually, these rules are consistent. Buy Mickey Mantle, Michael Jordan, Mike Trout…these are obvious. But what about the investment advice that is conflicting?

The purpose of my article is to discuss some of the more common myths, or 'unwritten rules' of sports card investing that may not always be accurate.

1 – Never Invest in Pitchers.

This is one of the most common topics of investment advice. Never invest in pitchers. This is generally true, BUT, if you follow this advice exclusively you will miss out on some phenomenal investments.

Let's look at the 2019 MLB season. Two pitchers – Justin Verlander and Max Scherzer, saw huge increases in price for their rookie cards. Verlander's 2005 Topps #67 card, in PSA 10 grade, has increased from $95 to $300+. Up until mid-July 2019, the card (PSA 10) could be purchased, all day every day, on eBay for $95. It was around this time that people realized he was about to hit several milestones – 300 strikeouts for the season, and 3000 strikeouts for his career.

Reaching 3000 Ks for a career is a benchmark for future hall of fame induction. As of the end of 2019, only 18 pitchers have reached 3000. Of those, 14 are in the HOF. Of the remaining four, two (Roger Clemens and Curt Schilling) have PEDs (performance-enhancing drugs) attached to them, and the other two (C.C. Sabathia and Verlander) are not yet eligible.

For these reasons, in addition to a Cy Young worth season, a no-hitter, pitching on the best team in baseball, and a deep playoff run, his rookie card prices skyrocketed.

Max Scherzer followed suit. His 2008 Topps #UH280 rookie card (PSA 10 grade) was able to be bought for $100 until August 2019. By the beginning of November, the same card was $150. When Verlander was achieving the milestones mentioned earlier, people took notice of Scherzer. He needs 308 strikeouts to reach 3000 for his career. Barring injury, there's an outside chance of him achieving this by the end of the 2020 season. Since he has won 3 Cy Young awards and is (now) a World Series champion, his card jumped. I personally believe it will rise again once he hits 3000 strikeouts.

Pitchers' cards can be extremely lucrative. These are the extreme exceptions, but if you avoid all pitchers when investing, you missed out on huge profits.

2 – Population Reports Matter.

Population reports, or 'pop reports', are a somewhat accurate representation of how many copies of a specific card exist in a specific grade. As of the beginning of November 2019, there were 1919 PSA 10 LeBron James 2003 Topps Chrome rookie cards graded. That's just counting the PSA 10s.
There are many reasons as to why this pop report should be taken with a grain of salt when it comes to whether or not you should invest. This number does not include any BGS or other company's graded cards, it does not include any other PSA graded cards (9s, 8s…), it does not include refractors or parallels of the card, it doesn't include raw/ungraded copies of the card, and perhaps most importantly, it does not include resubbed cards. Resubbed cards are cards that were submitted to PSA, graded, cracked out of the slab, resubmitted to try to get a higher grade, and so on.

Pop reports do not give a true representation of how many of a specific card exist. The difference in value between a PSA 9 Lebron (of the above-mentioned card) and a PSA 10 is massive. PSA 9s sells for approximately $700. PSA 10s sell for about $2500. If you have a 9 and you think it could grade 10, resubbing it could potentially make you a $2000 profit.

The other reason pop reports are not always important to follow is that if you are investing in the right card, the 'it card' of one of the best players, demand often meets, if not exceeds supply; no matter how much supply.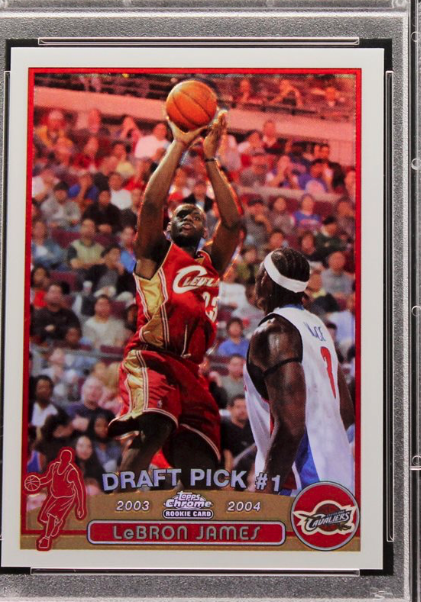 Take the 2003 Topps Chrome Lebron again. There are nearly 2000 copies of this card graded 10. That is a huge number. But the card sells, all day, for roughly $2500. What's more interesting is that the pop report of 10s from March 2019 – Nov 2019 increased by more than 100 (1808 to 1917). One might think the price would decrease due to an increase in supply. Wrong. Prices have gone atmospheric from a jaw-droppingly low sounding $1000 last winter to $2500 today!

Next time you think pop reports matter, check the PSA 10 pop report for 2011 Topps Update Mike Trout (4509) or 1989 Upper Deck Ken Griffey Jr. (3746). And those cards continue to climb in value.

My point is – do not let high pop reports in and of themselves scare you away. Let them be a potential indicator of scarcity and demand, but if it is THE right card, it will not matter.

3 – Sports Cards Are Not a Good Investment.

I hear the following lines all the time. 'Sports cards are a horrible investment.' '99.9% of all cards will lose value over time.' 'Stocks are investments, cards are for collecting.' 'Investors are ruining the hobby.' To this I say, if you truly feel this way, sports card investing is not for you. Put your money elsewhere. Card investing is not for everyone. If you are in the camp of collector not investor, that's great. Enjoy your cards. But there's no reason to lie to people and tell them they cannot make money investing. Again, you absolutely MUST have the proper knowledge when you invest in pieces of cardboard with shiny pictures of 20-something-year-old ballplayers. If not, you will lose money.

Why do people like to say you cannot make money investing? One possible reason is time. Investing long term in a player vs a short term flip of a hot commodity are two different things. Can you make money in long term card investing? Absolutely. Ask anyone who has been holding onto Mike Trout cards for the past decade. Their portfolio has outpaced the DOW Jones by massive amounts. Will the Trout cards continue to rise? Nobody knows. Will they be worth more 20 years from now? Probably not, but some of his rare cards most likely will. I'm sure some of you who used to read Beckett price guides in the 1980s remember when a 1952 Topps Mickey Mantle going for $1000 seemed high. Now that card is worth more than most automobiles on the highway.

If you want to make long term investments in cards, you can make money, but you have to consider the opportunity cost and the compounded interest rates you're missing out on by holding the cards for several years.

Is it better to buy a card for $100, wait a year, get lucky, have the card go to $150, and sell it? Or wait another five years and potentially the same card could be worth $300 or more? Or should you cash out at $150, take your profit, reinvest it into a different card, rinse and repeat?

That is truly up to you. Either way could make you money. Either way could cost you money. As with all investments, along an avenue of investing (stocks, real estate, cards) you have to have your money in the right place or it won't matter.

So, in summation, yes, you absolutely can make money, lots of it, by investing in sports cards. But only if you're willing to learn the business inside and out. You will need to study box scores, historical data, and stat lines for every conceivable occurrence. You will become a walking talking stat regurgitation machine; much to the chagrin of your wife. And then you will need luck. If a player pops for PEDs or suddenly retires early, or gets severely injured, you can lose big bucks. But if this sounds like something you can handle, then welcome to the wonderful world of sports card investing!
Do you believe these common myths associated with Sports Card Investing and/or have you debunked any myths yourself? Leave your thoughts in the comments below!
Ready to take your sports card investing to the next level? Join my Membership Program now for card picks, analytics, premium community access and much more!