For as much hype as there was around the US Men's National Team heading into the 2022 World Cup in Qatar, it's safe to say that in the next four years leading up to the 2026 World Cup in North America, the hype train will continue to pick up steam.
While there was some drama, the pros out-weighed the cons, as the young squad led by Christian Pulisic made it past the group stage into the round of 16 before being ousted by Netherlands 3-1.
Who will be the next US Men's soccer stars? It's very wide open and hard to say at this point, but it's clear there are exciting times ahead with promising young talent in the mix, which is why we think it makes sense to shake up our typical Top 10 Most Valuable piece, and look at the Top 10 Most Valuable USMNT cards based on top sales over the last 365 days.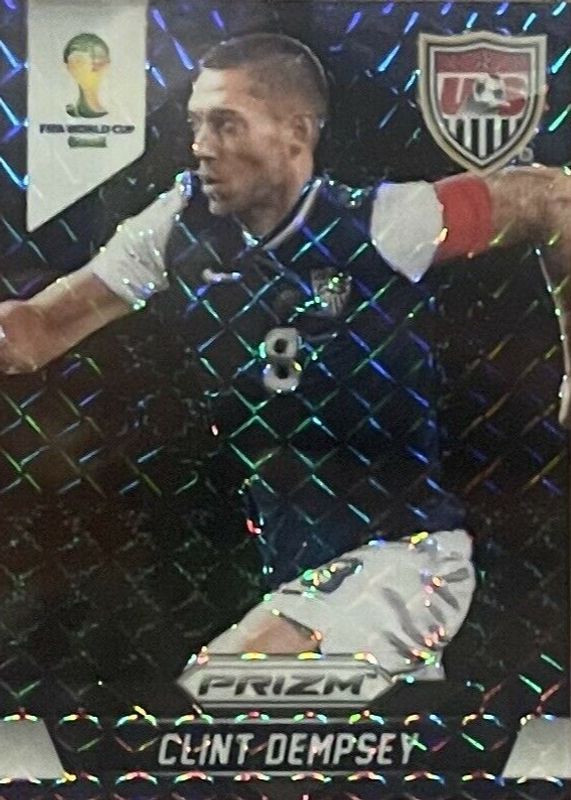 1. Clint Dempsey 2014 Prizm World Cup #69 Black /1 PSA 9 – Sold for $5,000 on 6/4/2022 – Clint Dempsey represented the US Men's National Soccer Team from 2004-2017, played in the Premier League for Fulham and Tottenham Hotspur from 2007-13, and in the MLS for the Seattle Sounders FC from 2013-18. The Texas native retired with 57 goals in 141 National Matches. His 2014 Prizm World Cup Black 1/1 sold in PSA 9 for $5k, representing the largest sale for a player representing the USMNT in the last 365 days.
2. Christian Pulisic 2016 Select #287 Field Level Gold /10 PSA 9 – Sold for $5,000 on 11/29/2022 – The current "Captain America" definitely earned respect with his aggressive game-winning goal off his groin on 11/29/2022 against Iran, sending the US past the Group Stage. This is one of his most sought after rookie cards, and even though he's in his Borussia Dortmund kit, Pulisic's Bundesliga rookie cards are super desirable for USMNT investors and collectors. The Gold /10 sold in PSA 9 for $5k the same day as the biggest goal of his career – the famous "nut shot."
3. Christian Pulisic 2016 Select #287 Field Level Camo /20 PSA 9 – Sold for $4,110 on April 3, 2022 – The Camo /20 variation of the card above sold in PSA 9 nearly a year ago for $4.1k, which makes it interesting to think about what it would have sold for if it were listed at the time of the sale mentioned above – the peak of Pulisic's 2022 World Cup glory.
4. Christian Pulisic 2017 Select Kaboom! PSA 10 – Sold for $4,100 on 3/22/22 – His first Kaboom! is a sick one – an action shot in his USMNT kit. The famous and super popular short print sold in PSA 10 nearly a year ago for $4.1k and has potential to be a top selling card in 2026 should Pulisic continue to lead team USA to success.
5. Christian Pulisic 2021 Donruss #160 Holo Black Laser /1 PSA 10 – Sold for $2,550 on March 6, 2022 – When Donruss came out with 2021 Soccer, it seemed a little underwhelming at first, but the set features many valuable parallels and shortprints, especially this one, a gorgeous Black Laser 1/1 that sold for a whopping $2,550 in PSA 10, proving that there can be huge money in non-rookie, non-auto, non-big set soccer cards.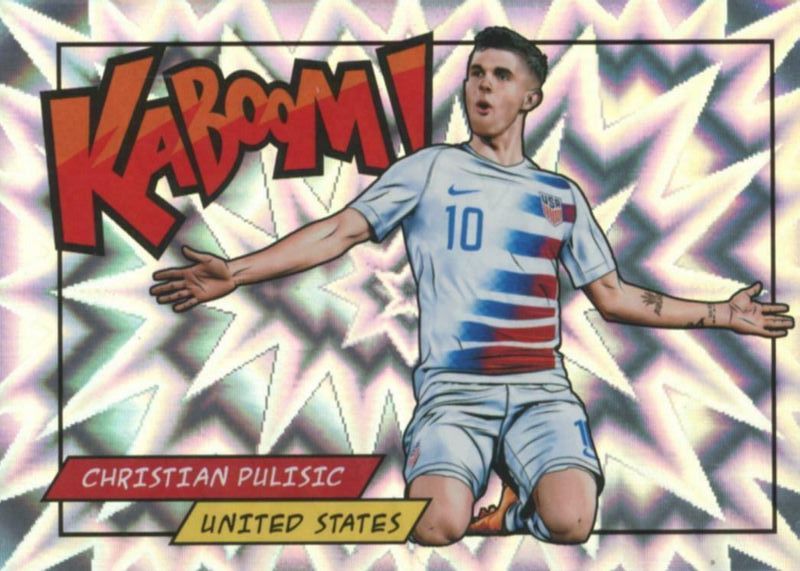 6. Christian Pulisic 2018 Panini Rewards #K-CPU Kaboom! BGS 9.5 – Sold for $2,250 on 8/25/2022 – The second Kaboom! short print insert featuring Pulisic, this one features the superstar in a post goal celebration in his US kit. Even though it's the second of its kind, I could see it being super popular long term due to the action shot of the classic pose. 
7. Christian Pulisic 2017 Select Kaboom! BGS 9.5 – Sold for $2,100 on 6/8/2022 – The second sale of this same card on the list, this time in BGS 9.5, a slightly less desirable grade. It's had slightly more liquidity, perhaps due to it's more reasonable price point, and maybe a higher pop count. 
8. Sergino Dest 2022 Prizm World Cup #206 Black /1 Raw – Sold for $1,750 on 11/24/2022 – Finally, a different name on the list. Dest has become a lightning rod in the backfield for the US Men's National Team, barely leaving the pitch in the 2022 World Cup as a solid two-way defender who can also help with the attack. While this card is a desirable brand, and a 1/1, it's super high for a raw card of a player who is average at best on the international scale. This price point likely represents the level of interest in the US Men's National Team at the time of the sale. Notice it was during the last week of the group stage. To me, this sale represents a high level of health in the various niches that exist within sports card investing.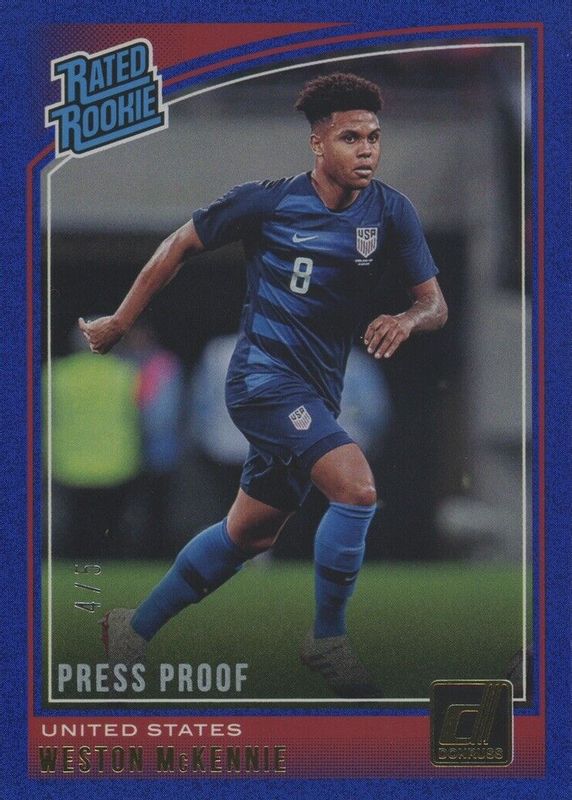 9. Weston McKennie 2018 Donruss #199 Press Proof Blue /5 PSA 10 – Sold for $1,260 on 10/2/2022 – Like Dest, above, McKennie is a young role player on the US Men's National Team. The former Juventus midfielder signed with Leeds recently, and is likely destined for a larger international role in the future for the US. This sale also represents cashing in at the right time, as it was just before the start of the 2022 World Cup, during the soccer hype cycle. But it is also a legit card.
10. Christian Pulisic 2018 Panini Rewards #K-CPU Kaboom! PSA 10 – Sold for $1,250 on 1/17/2023 – The fact that this same card sold for 2x the price a year ago in a less desirable grade (BGS 9.5, above), represents opportunity. Looking at the graph below from Market Movers, you can see also that it is at a 12-month low. Time to snag one? Seems like a decent idea.
With the Sports Card Investor app, you can profit from the hobby you love by keeping up with trending cards, tracking real-time prices with Market Movers and buying items on eBay. Download the industry-leading app here for Apple or Android
Note to readers: If you purchase something through one of our affiliates, we may earn a commission.
Paul Hickey is a regular contributor to Sports Card Investor, the creator of the Sports Card Investment Report at NoOffseason.com, and the host of the Sports Card Strategy Show on Apple Podcasts, Spotify and YouTube. He can be found on Instagram at @sportscardstrategy and on Twitter @nooffseasoncard.