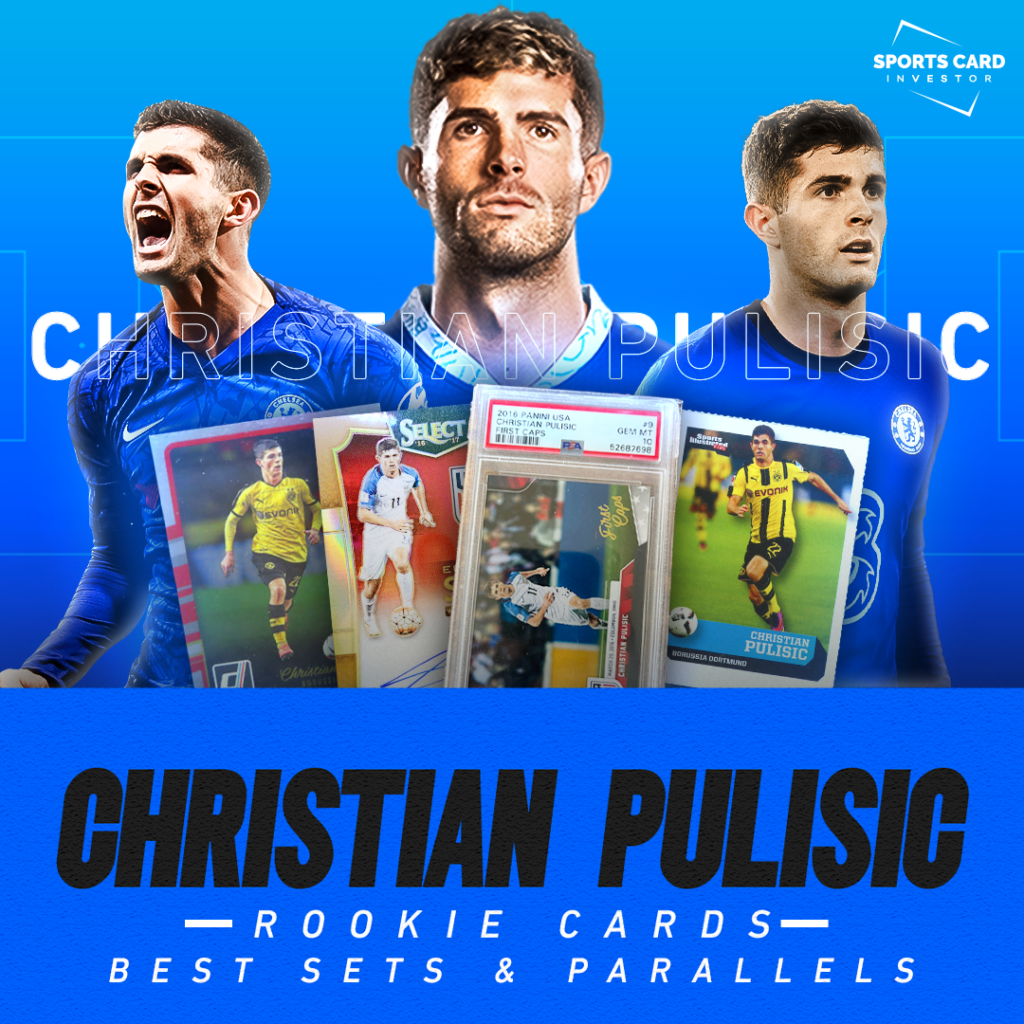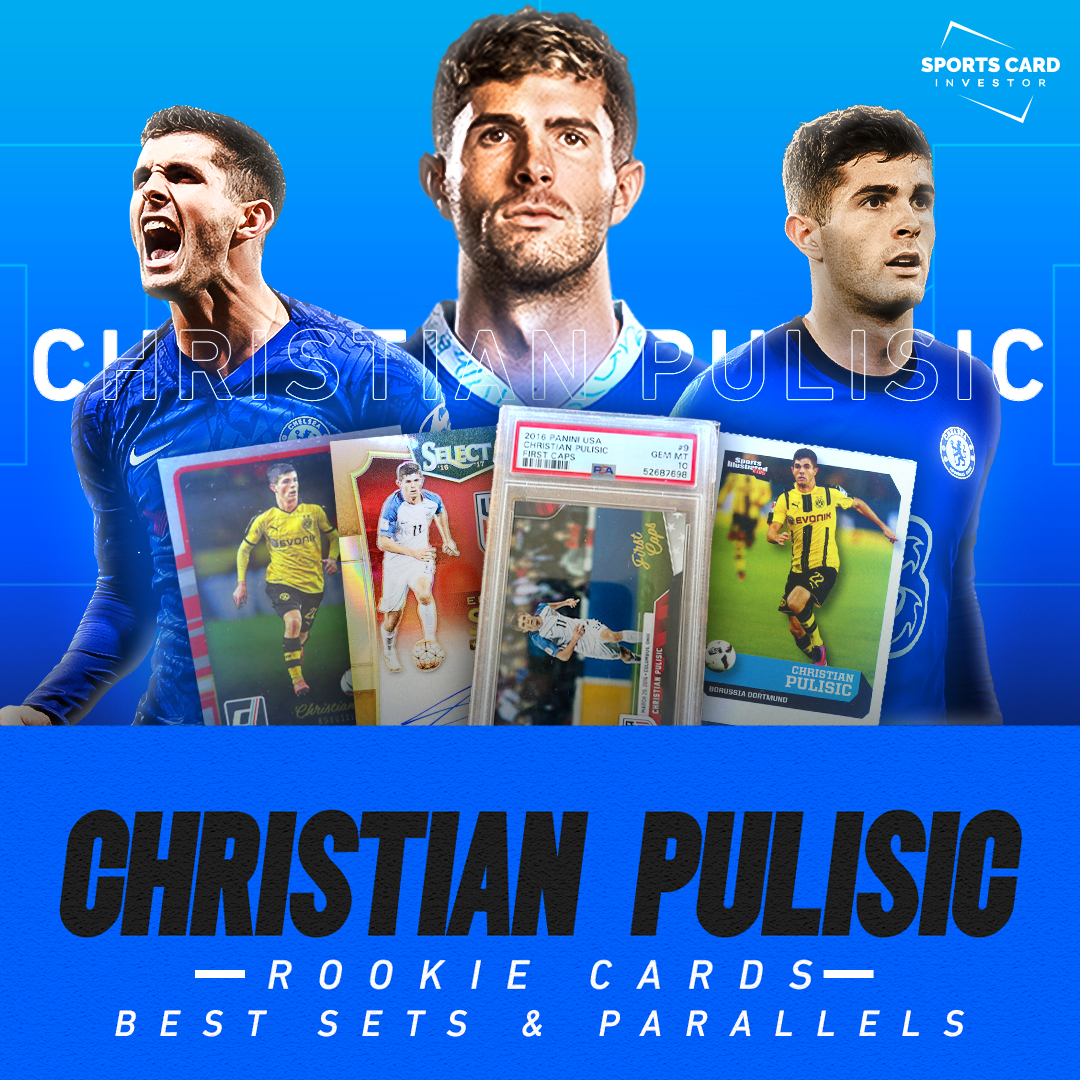 Christian Pulisic Rookie Cards: Best Sets and Parallels
After going balls to the wall (pardon the multiple layers of pun) in the US' Group B victory over Iran and scoring the game's only goal, Christian Pulisic is primed to be a fixture and potential hero/GOAT of US Soccer heading into future World Cup Competition, including 2026 in North America.
In spite of the USMNT loss to the Netherlands, the 23-year-old Pulisic is primed for a phenomenal career as the face of US Soccer. The attacking midfielder has a knack for scoring big goals in international play, and despite not fitting into Chelsea's system, has drawn rave reviews from those outside of the club, and could be primed for a big transfer to either another notable Premier League Club or a solid UEFA Champions League contender during one of the next two transfer windows.
While there aren't any Pulisic cards with the classic "RC" designation, 2016 was his debut year in major professional soccer, top level international play and first for his cards and stickers.
VALUE ROOKIES:
The Value Tier includes cards with high print runs or lower-quality cardstock. A good fit for new collectors or those on a limited budget.
2016 Topps UEFA Champions League Sticker DOR13/DOR12: If you're new to soccer card collecting, you may not be familiar with the fact that stickers pre-date cards in the international football world. In many cases, players with first stickers share the spotlight on the front with a fellow rookie. In this case, Pulisic shares his first Topps UEFA Champions League sticker with teammate-at-the-time in Dortmund, midfielder Julian Weigl. From a Topps UK release, this simple, classic headshot on the front is similar to the now famous Kylian Mbappe/Corentin Jean Panini Foot Sticker issued in France the same year.
2016 Panini WCCF Sticker A035/126: What is WCCF? Apparently, it was a Japanese collectable card game for soccer fans as well as an arcade video game by Sega. The player builds a team by collecting and trading specially marked player cards, produced by Panini, which explains the skill ratings on the front of the card, and design on the back. Only 84 of these have been graded by PSA.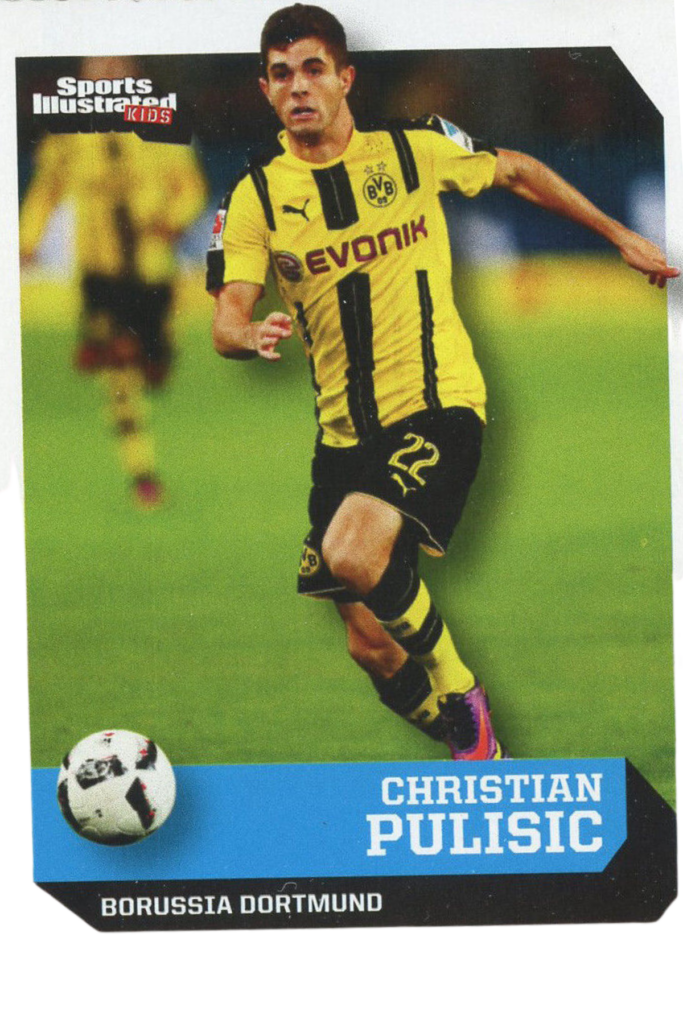 2016 Sports Illustrated for Kids Rookie Card: Featured in his Borussia (BVB) Dortmund kit, where he began his career and played until 2019, Pulisic makes America proud playing for a top Bundesliga club. While mass produced, the condition of these cards is fragile due to the perforated edges. It's nearly impossible to find one with good left-right and up-down centering, so be careful when buying raw. Even though this is a value rookie, if you can find one in a high grade, it could be rare and potentially valuable long term.
POPULAR ROOKIES:
This tier includes cards from the most popular sets across both retail and hobby formats. Typically easy to buy or sell when needed.
2016 Donruss Debuts #224: For the 2016-17 Donruss Soccer Release, Panini had the rights to showcase some of the biggest clubs in the world in a base set of 200 cards. The Donruss Debuts were Panini's take on rookie cards, and this is from his actual rookie season in Dortmund. The Debuts have a Rated Rookie-type logo mark on the top right hand corner, with the classic Donruss border and player name in script font. One Donruss Debuts card was supposedly issued in every 12 packs of this release. Its Gold and Holo short print cousins are also extremely popular and liquid, making them solid buys for investors and collectors.
2016-17 Panini Select #150: From 2016-17 Panini Select Soccer, this is likely the most liquid and recognizable Pulisic rookie card, as well as the one with the highest PSA graded population. The classic Select design with a super clean USA Soccer logo in the top left corner and an action shot of Pulisic from a World Cup Qualifier in St. Vincent and the Grenadines make this a solid addition to your collection.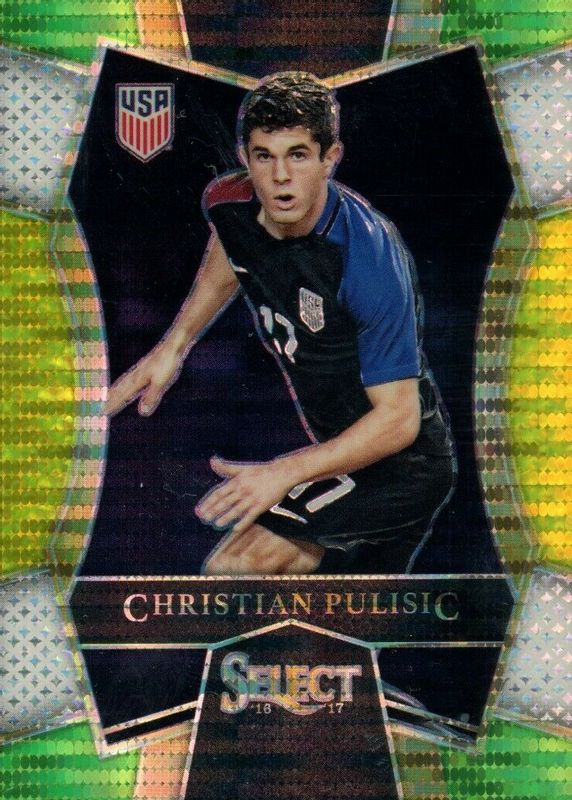 2016 Panini Select Multi-Color Prizm #150: A sweet variation of the base #150 mentioned above, the Multi-Color Prizm was a short print parallel that year the equivalent of a Silver Prizm, which also were featured in this release, as well as Blue #/299, Red #/199, Neon Yellow #/125, Orange #/75, Tie-Dye #/30, Camo #/20, Gold #/10, Green #/5, Black 1/1.
MORE UNIQUE ROOKIES:
This tier includes cards with lower print runs, unique designs, or cards from hobby-only products. Usually higher-quality cards than the Value or Popular tiers, though not necessarily more popular or easier to buy or sell.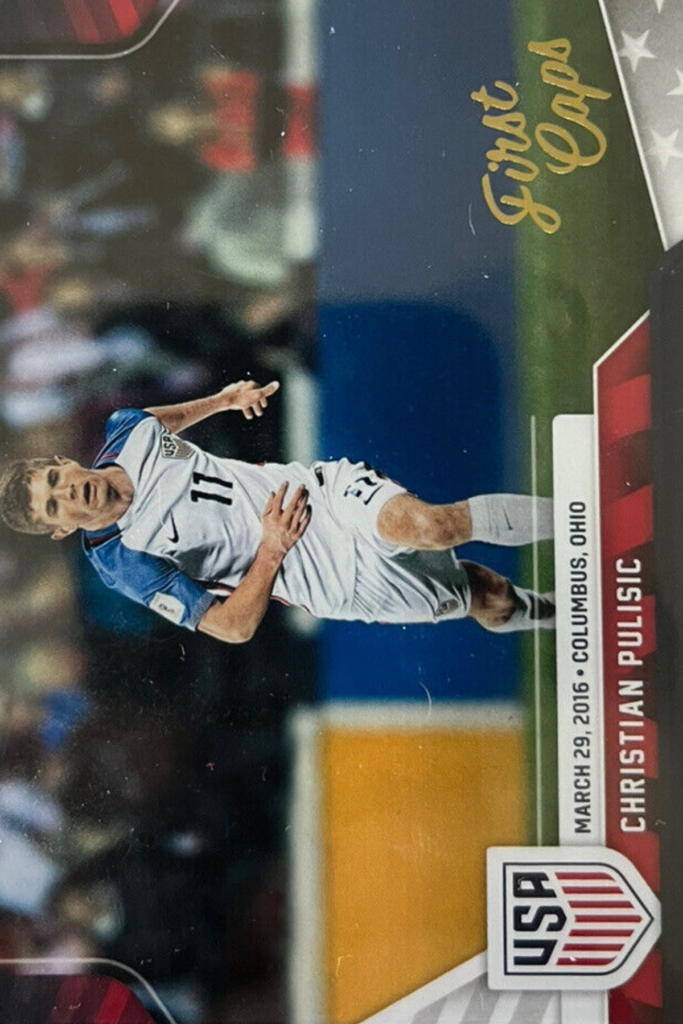 2016 Panini USA First Caps #9: Straight out of the 2016 Team USA Box Set, Pulisic's First Caps Panini Rookie features a solid action shot of him on March 29, 2016 in Columbus, Ohio in a World Cup Qualifier against Guatemala at age 17 – when he became the youngest player in US Men's National Team history to score a goal in a World Cup Qualifier. This card has a super low PSA 10 pop count.
2016 Panini Aficionado #41: From 2016 Panini Aficionado Soccer, this card features an artistic dark overlay front that combines an action shot from a Borussia Dortmund game against Real Madrid, with a close-up of Pulisic's face. For Champions League and Bundesliga fans, it's a must-add to your PC, and for investors it's a shot in the dark with a low buy-in and potential high future upside.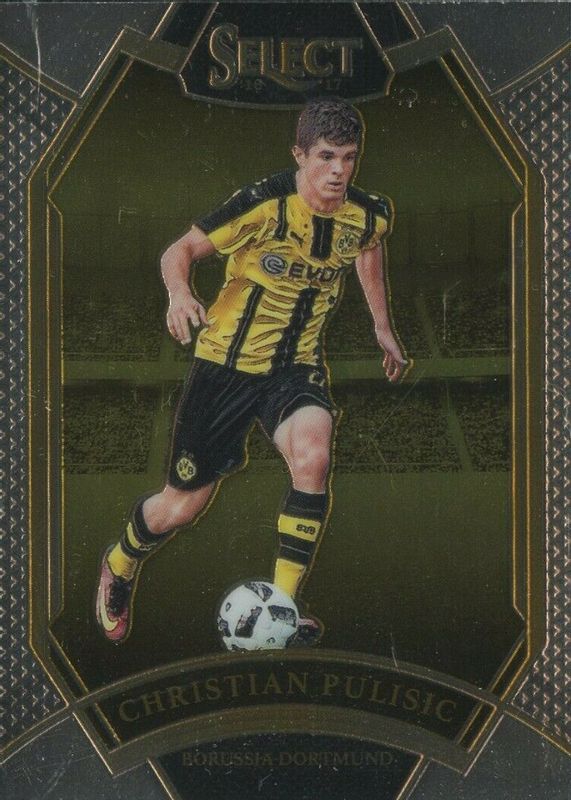 2016 Topps UEFA Champions League Showcase #25: A clean, simple design with a UCL logo in the top left and Topps mark in the top right, each in gold, the Showcase card features Puli in a nice stride for Dortmund out-running an opposing defender. This is a nice, quality base card, also available in parallels: Gold (#'d), Red /25, Black /5, and Champions 1/1 editions.
2016 Select Field Level Silver Prizm #287: Different than the Select #150s mentioned above, #287, specifically in Field Level Silver Prizm, is a great addition to any collection or investment portfolio, as it features the US Men's Captain in his club kit for BVB Dortmund instead of his Team USA uniform.
RAREST AND MOST EXCLUSIVE:
This category may be out of reach for most collectors due to price, but they have the highest upside as investments heading into future International and World Cup Competitions and are still fun to look at. Don't worry if this tier is too pricey as there's a host of options in other categories that could be perfect for your collection.
2016-17 Panini Black Gold A-CP Auto: A beautiful and achievable rookie auto from 2016-17 Panini Black Gold Soccer (not to be confused with a Black 1/1), this card features Pulisic in his Dortmund club kit on the left half front with a Panini sticker auto positioned vertically on the right half front. Aesthetically pleasing for any collector, and likely to increase in value throughout his career, this is a solid buy.
2016-17 Panini Select JA-CP Auto /90: One of his only rookie patch autos (RPAs) from 2016-17 Panini Select Soccer, this "White Prizm /90" is World Cup licensed, featuring "United States" on the front with Pulisic in his country kit sporting number 11, instead of his club kit number 22 (at the time). Depending on which one you get out of 90 total, the material in the card will vary but is listed as "player worn." The auto on the front is on a sticker.
2016-17 Panini Select Signatures S-CP Auto Orange /60: Perhaps one of the most aesthetically pleasing Pulisic rookies, this short print sticker auto features the classic orange border corresponding to the serial number, and has Pulisic in a classic action shot on the front in his USA kit.
2016 Select Emerging Star ES-CP Auto /60: From the same 2016-17 Select Soccer set as many listed on this die-cut, green-bordered short print shows a floating action shot of Pulisic on the left half front next to a USA Shield and Emerging Star mark on the right half front all above the Panini Sticker auto.
2016 Select USA Emerging Star ES-CP Auto /49: Similar in design to its cousin above, the /49 variation features a traditional size (no die-cut), with a gold border.
2016 Select Rookie Emerging Star ES-CP Tie Dye Auto /30: A variation of the card above, but with 19 less in circulation, and featuring a multi-colored "tie-dye" border instead of gold, better matching the USA kit.
2016 Select Signatures S-CP Tie Dye Auto /25: Just like its orange /60 mate above, but with a tie-dye border, and more exclusive due to being an /25 variety.
2016-17 Panini Select Emerging Star ES-CP Auto Green /5: See above, but Green /5. While it is also a sticker auto, the fact that there are only five of these Pulisic rookies makes it one of the most valuable Pulisic cards, let alone rookie cards.
With the Sports Card Investor app, you can profit from the hobby you love by keeping up with trending cards, tracking real-time prices with Market Movers and buying items on eBay. Download the industry-leading app here for Apple or Android
Note to readers: If you purchase something through one of our affiliates, we may earn a commission.
Paul Hickey is a regular contributor to Sports Card Investor, the creator of the Sports Card Investment Report at NoOffseason.com, and the host of the Sports Card Strategy Show on Apple Podcasts, Spotify and YouTube. He can be found on Instagram at @sportscardstrategy and on Twitter @nooffseasoncard.