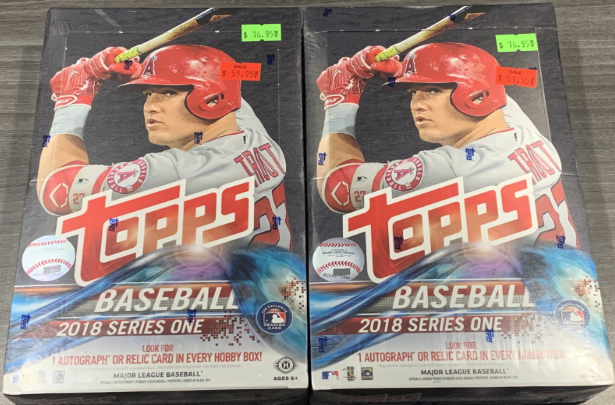 This guest post came through our Article Submission Program. Thoughts and opinions are those of the author.
For baseball card enthusiasts there is nothing quite like the release of a new flagship Topps or Bowman product. The breakers break, the rippers rip, and everyone is pulling and posting something amazing! Social media explodes! The fear of missing out can be very intense if you sit on the sidelines.
As I write this article during the 2020 Topps Series 1 release frenzy I think it is a good time to consider a few very important questions:
1. When and where should we be allocating our capital pre-sale?
2. Which flagship Topps and Bowman sealed boxes are worth investing in?
Now, if you are a breaker or someone who just loves to rip (and post!) the first week of release, the answer is simple – you are buying pre-sale and not thinking twice. For the rest of us though these questions require a deeper dive into the data.
As such, this is the first installment of many in the 'to pre-order or not to pre-order' series, with the goal of covering all of the flagship Topps and Bowman release in 2020.
In order to properly address the topic, I will be dedicating an entire article to each product in a decade in review format that includes the relevant rookie cards (RCs) and recent sold prices of sealed hobby boxes from each year.
We begin this series with a look at Topps Series 1. Let's consider some facts about Series 1 and then draw some conclusions about how to approach the pre-sale period for this product and whether it is worth investing in sealed boxes of it over the short to long term.
Fact #1 – Series 1 has the highest print run of all the flagship Topps and Bowman sets and as a result tends to carry the lowest investment value of them all.
Base RCs from this set tend to sell at a discount to RCs of comparable players from Series 2 and especially Update. Supply and demand rule and Series 1 has supply working firmly against it. Furthermore, pack odds suggest that print runs are expanding rather quickly for this product. Estimating print runs remains an inexact science, but comparing the pack odds of the numbered cards between years is a reasonable starting point. The odds per pack of hitting a /2014 gold parallel in 2014 Series 1 was 1:9 hobby packs and 1:2 jumbo packs. In 2020 the odds of hitting a /2020 gold parallel are now 1:14 for hobby packs and 1:5 for jumbo packs. Again, this is inexact to be sure as I have not accounted for retail product pack odds but simply based on the pack odds for hobby and jumbo boxes, we might conclude that print runs for Topps Series 1 have expanded by at least 50% since 2014.
Fact #2 – If there is one bright side to relatively high and expanding print runs it is this – Series 1 never sells out of pre-sales before the checklist is released.
The same cannot be said for Topps Update or at least two of the big three Bowman releases. This affords you the option of reviewing the checklist before investing. As you will see below, it would have been pretty easy to pass on 2019 Topps Series 1 just by looking at its checklist pre-release. With that said though, has there ever been a checklist for Series 1 that sold so aggressively that buying pre-sale would have guaranteed you the best price on the product? Has there ever been a checklist for Series 1 that led to sealed boxes of the product performing well as an investment strategy? Let's consider the table below to find our answers:

Table 1 – Decade in review of Topps Series 1
| | | | |
| --- | --- | --- | --- |
| YEAR | RCs | RECENT HOBBY BOX SOLDS | PRESALE $ ESTIMATE. |
| 2010 | Posey, Bumgarner | <$75, $90 | $50 |
| 2011 | A Chapman, Freeman, Sale | $75, $80 | $50 |
| 2012 | Matt Moore | $45, $45 | $50 |
| 2013 | (yuck…) | $35-40 | $50 |
| 2014 | BoGaerts, Castellanos | $47 | $55 |
| 2015 | Soler, Baez | $35-45 | $55 |
| 2016 | Severino, Schwarber, C Seager, A Nola | $57-80 | $55 |
| 2017 | Bregman, Judge, Moncada, Y Gurriel, Bell | $75-95 FS* | $60 |
| 2018 | Devers, Flaherty, Buehler, Albies, Robles, Andujar | $40-45 | $60 |
| 2019 | K Tucker, B Lowe, Kopech | $34-40 | $60-70 |
| 2020 | Alvarez, Bichette, Lux, Luzardo, Aquino, May | $50-70** | $60-70 |
*Free shipping
** Still available from LCS at pre-sale prices
Amazingly, not one of these products has even doubled in value since 2010. At the risk of spoiling the future article on Topps Update, consider that 6 of the 10 Update releases from the past decade have at least doubled in value. Two of those releases have seen their hobby and jumbo boxes triple in value, one has quadrupled, and one (2011) has seen its valuation explode into the outer reaches of our universe. Topps Series 1 has seen only three years (2010, 2011 and 2017) generate any kind of sustained positive return on investment. Factor in time, as well as shipping and selling fees though and the returns, have been poor even for those years. To be fair, none of these Series 1 checklists compare to some of the incredible Topps Update checklists from the last decade. With that said though, some of these checklists are excellent and yet their valuations languish. This brings us to Fact #3:
Fact #3 – Simply put, sealed investment boxes of Topps Series 1 have historically not performed well and recent trends for this product are troubling.
By all accounts, 2018 Topps Series 1 should be a star performer. The checklist is loaded and certainly compares well to the checklists that have at least gained some value over the years. Despite this, 2018 Series 1 hobby and jumbo boxes are dirt cheap right now. I bought some on sale from my LCS last fall and felt like I robbed the place. Six months later prices have not budged! What gives? Do folks not realize that Rafael Devers was recently a top-five prospect in the game and just had a massive age 22 season? Or that Ozzie Albies just turned 23 and has a career OPS that compares to Derek Jeter and Roberto Alomar? Do folks not see that Jack Flaherty and Walker Buehler are NL Cy Young award contenders already? Of course, people know these things! They also know that Victor Robles was a top prospect very recently and threw down a 4.1 WAR age 22 season and that Miguel Andujar was the 2018 ROY runner up, has prolific power, and is a Yankee! It is clear that the 2018 checklist is not what is holding down the value of its sealed boxes. Supply is. People much smarter than me have speculated that based on pack odds the print run expanded substantially from 2017 to 2018. The ridiculous divergence in pricing between these two releases certainly supports this theory. If this is true, we can safely assume that print runs remain lofty for the just-released 2020 product and will stay high for future releases.
Fact # 4: People don't care about facts when new products get released!
At the time of my writing this the 2020 Topps Series 1 release was all the rage in the industry. People were posting about clearing out their Walmart's! Prices for the auto's, short prints and parallels were stratospheric! Sitting on the sidelines for all of this joy and profiteering was not easy. It never is during release time. Yet, as mentioned, while all of this pandemonium was happening sealed boxes of the mighty fine 2018 Topps Series 1 product sit alone and dusty on clearance racks. Is this the fate that awaits sealed boxes of 2020 Topps Series 1, or is this year's checklist just so packed that the heavy Series 1 print run will not matter? Call me a pessimist but I would bet on the former. Looking at this checklist, is the outlook for a 22-year-old DH (Yordan Alvarez) on a sign-stealing team really so great that we will pay a premium for this set in a few years? Will Bichette and Lux even be as good as Devers and Albies already are? Will Dustin May and Jesus Luzardo really exceed the future value of Walker Buehler and Jack Flaherty? Obviously, there are many unknowns but here is something we know for certain – the players on the 2020 Series 1 RC checklist are going to have to vastly outperform the players from the 2018 RC checklist in order for 2020 Series 1 to have any sealed product investment potential long term.
My prediction is that once the dust settles and we all move on to 2020 Bowman baseball in April and then 2020 Topps Series 2 in June, there will still be plenty of 2020 Topps Series 1 sealed hobby, jumbo and retail products available at pre-sale prices for you to buy. The odds are actually quite good that you will find some on sale by late spring/early summer if previous years are any indication.
Given that this article is being written just after the 2020 Topps Series 1 release, it obviously is not going to help inform your decision on whether to pre-buy the 2020 product. Here is how it can inform your investing decision's moving forward:
1. Unless you are a breaker or you just have to rip flagship Topps the week it comes out, there is no point in pre-ordering Topps Series 1 in future years. Wait until the checklist comes out each year and unless it is absolutely incredible your best value play will be to wait for a sale on the product a few months down the road.
2. If you loaded up on sealed boxes of 2020 Topps Series 1 with the intent to hold it as an investment, reconsider and start selling now. Sealed Series 1 boxes have not proven to be a worthwhile buy and hold investment and though this year's RC class appears to be excellent, it is not necessarily any better than the 2017 or 2018 checklists. The only hope for 2020 Topps Series 1 as a buy and hold investment strategy is that demand for baseball cards has increased so much that this highly printed release is now in short supply because of new demand from investors/collectors. However, as discussed, if demand has truly risen that much, the highly comparable 2017 and 2018 sets would not be as cheap as they are. Investors and collectors would be snatching them up too. Sure, demand has increased overall for baseball cards, but has it even kept up with the supply increases in Topps Series 1? That is highly questionable at this point. Holding on to these boxes for a few years in hopes of achieving a solid return on investment will almost certainly only lead to significant opportunity cost when you consider all the cards you could have bought and flipped for profit while tying up your capital in boxes that just don't tend to appreciate much.
In closing, though I am a huge fan of investing in flagship Topps and Bowman sealed hobby and jumbo boxes, Series 1 is not for me. Generally speaking, buying presale is the safe bet in terms of securing the best prices but Topps Series 1 is a clear outlier in this regard. Despite the absolute craze that came with the 2020 release, I do not think that this year will be any different. Sell (or rip!) the sealed product you have now while prices remain decent because it will not be long before your LCS is putting on sale stickers to clear shelves for the next releases. My mantra for Series 1 is to simply wait – wait on the checklist, wait on sale prices, and wait to spend your big bucks on the epic releases that follow each year.

Amazing article with factual support, but are you a person that purchases boxes for long term investment holds and if so what's your counter to Chris' article? Tell us in the Comments below.
Ready to take your sports card investing to the next level? Join my Membership Program now for card picks, analytics, premium community access and much more!