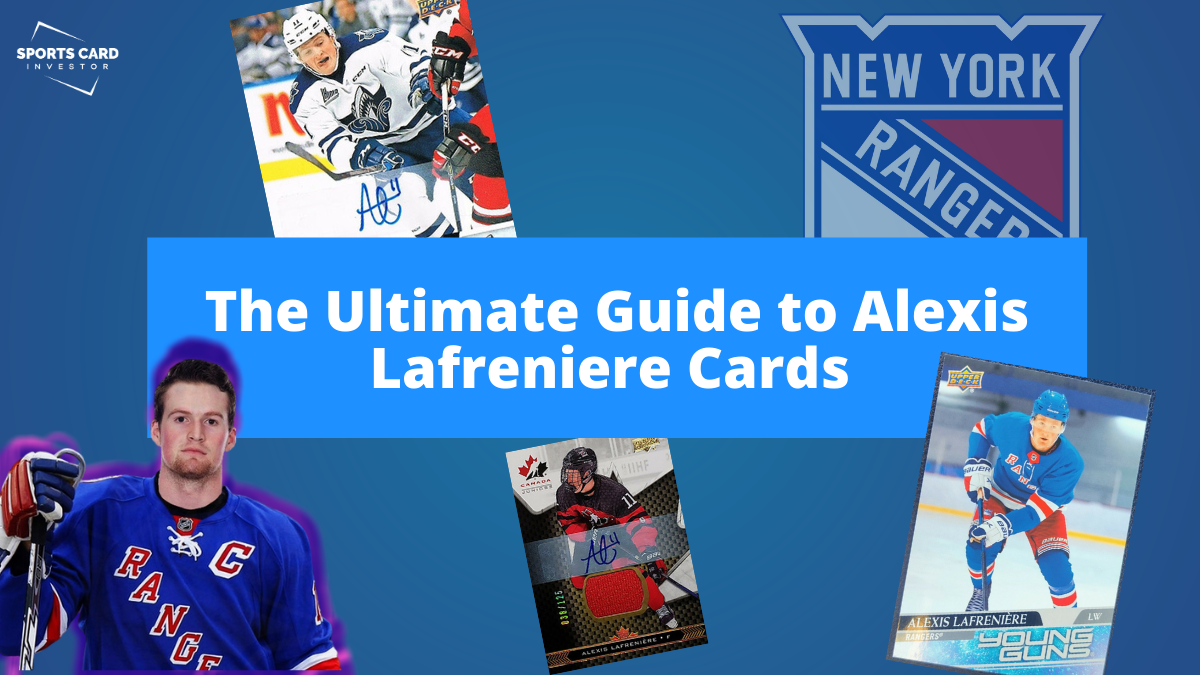 This guest post came through our Article Submission Program. Thoughts and opinions are those of the author.
Introduction
Alexis Lafreniere has lit up the card market in recent weeks. There hasn't been a rookie of such a high caliber to enter the hockey card market for quite some time. You'd have to go back to the 2015-16 season when the Edmonton Oilers drafted Connor McDavid. The Canadian-born center lived up to the hype on the ice. In doing so, his cards instantly skyrocketed in value. They would be worth even more if McDavid ever wins a Stanley Cup.
Five years later, another Canadian-born forward, this time a left winger, has taken the hockey card market by storm. Like McDavid, Lafreniere signed an exclusive deal with Upper Deck. Like the Oilers star, Lafreniere is poised to rack up goals as a member of the New York Rangers after he was drafted No. 1 overall earlier in the fall.
Lafreniere's future and hobby appeal could result in an investment boom in the United States. Hockey cards are already very big in Canada, but having a player in a major market like New York will give him exposure to millions more. That, in turn, could result in his cards and other memorabilia items climbing in value should Lafreniere succeed with the Rangers.
Lafreniere mania comes at the same time as another record sale in the hockey card world. Wayne Gretzky's 1979-80 O-Pee-Chee rookie card in a PSA 10 recently sold for $1.29 million, setting a record for the most expensive hockey card ever sold. The sale, coupled with the Lafreniere price boom, could mean hockey cards could soon find themselves selling for higher prices like basketball cards did following the ESPN documentary "The Last Dance" that chronicled Michael Jordan and the Chicago Bulls of the 1990s.
Despite not having played a single minute in an NHL game, Lafreniere's Upper Deck Hockey Series 1 "Young Guns" base card skyrocketed starting Nov. 18; the day hobby boxes went on sale. Lafreniere, who has yet to see a minute of NHL action since the 2020-21 season has been delayed by the pandemic, is featured in a Rangers jersey on his card. The first graded version in a BGS 10 sold via eBay on Dec. 3 for $1,359 following 69 bids.
The 19-year-old had to receive special dispensation by the NHL Players Union to appear in Series 1 since a player has to have played in an official game before he is allowed by Upper Deck to appear on cardboard.
Lafreniere appears on more than one card in Series 1. Aside from the base card, there is a "Young Guns Exclusive" card of him (#/100) and a "High Gloss" version (#/10) that's even rarer. He also shares the "Young Guns" checklist card with teammate Vitali Kravtsov and has his own UD Canvas "Young Guns" card.
Furthermore, Lafreniere also appears on a short print card (#SP1 on the back) donning a black jersey with the words "NHL Draft 2020" across the bottom. He also has his own "Young Guns" jumbo card that can only be pulled from blasters. Another SP Lafreniere card appears as a redemption in the 2020-21 Upper Deck MVP set, which went on sale earlier this year.
Lafreniere's "Young Guns" card was selling on eBay for as much as $600 just days after hobby boxes went on sale. The "High Gloss" variation sold for $13,000 days after it was pulled from a box.
Here's a look at some Lafreniere cards investors are gobbling up ahead of the start of a new NHL season.
2020-21 Upper Deck Young Guns
Although Lafreniere's base rookie card isn't rare (he also appears on a French-language parallel version, which marks their return to the set following a 10-year absence), these cards of past superstars have held their value.  
Think of players who appeared on "Young Guns" cards — most notably Alexander Ovechkin, Sidney Crosby and McDavid — and you know that adding this rookie card to your PC has the ability to pay dividends this season and possibly in the future.
In years past, the NHL season starts in October. That allows for the fall and early winter months to see a card rise, and sometimes fall, based on performance. This isn't the case this season. Instead, the hype around Lafreniere has been allowed to grow for at least two months, and past the Christmas season, until the new season starts in January.
Lafreniere appears in a Rangers uniform, an image Upper Deck attained after holding a photoshoot with him. The quick turnaround from when he was drafted in October to having his No. 201 card appear in boxes marks one of the fastest turnarounds in hobby history. Lafreniere has no number on his jersey in the card — he had yet to pick one at that point — as the backstory alone on this card will make it memorable for years to come.
Twitter users and YouTuber breakers have complained that the Lafreniere card — and "Young Guns" in general — came out of packs with rounded corners. The cards aren't necessarily damaged, but were inexplicably cut this way before being put in packs. It will be interesting to see in the coming months whether such cards will grade at a 9 or 10. If not, the ones that do could be worth even more given the quality control issues with this product.
Upper Deck, meanwhile, has said it does not plan to feature Lafreniere in Series 2. Instead, look for him to appear on other UD sets next year like SP Authentic, Allure and O-Pee-Chee Platinum.
TRENDING YOUNG GUNS CARDS ON EBAY
2020-21 UD Young Guns Canvas
Typically, Upper Deck inserts a "Young Guns" canvas card in Series 2. Instead, Lafreniere has his inserted in Series 1, giving people more options. The card is a short print, meaning they are tougher to pull.
As a result, the value of this card could skyrocket even past the base rookie depending on demand over the next few weeks. The image on the card comes from the same Upper Deck photo shoot and features Lafreniere attempting a slap shot.
The UD Canvas "Young Guns" subset includes 30 cards. None of the names on that list, as of right now, demand the attention and money as Lafreniere's card.
2017-18 CHL UD Exclusive Star Rookies
Technically a pre-rookie card, investors have lots of choices when it comes to cardboard featuring Lafreniere before he was ever drafted.
Among the crop of these pre-rookie cards is Lafreniere's "Star Rookie" appearance in the 2017-18 CHL set No. 390 put out by Upper Deck when he was a member of the Rimouski Oceanic.
How prolific was Lafreniere as a junior player? He played for them over the course of three seasons, 114 goals and 183 assists in 173 regular season games. He added 13 more goals and 17 assists in 20 playoff appearances.
2018 Upper Deck Team Canada Juniors Premium Swatch Auto (#/25)
Like many great players before him, Lafreniere played for Team Canada since he was 17. Over the course of three years, he helped his country win the World Junior Championships in 2020, where he also garnered tournament MVP honors.
Lafreniere appears on several Team Canada cards, but his Upper Deck auto/patch card remains the most desirable. It is also the card that could result in the best investment, given that it is one of his first autos ever to appear in a set. The base version of this card is easier to find and can be had for a much lower price.  
There is also a version of this card issued by Upper Deck that will be mailed to those who purchased VIP packages to the Sport Card Expo, which is normally held twice in Toronto but held virtually last month.
Compared to baseball and basketball, hockey tends to be a more affordable market.
With the hobby growing during the pandemic, Lafreniere could very well change the value of hockey cards across the spectrum going forward this season and for the next few years.
We here at Sports Card Investor and the community love reading about player spotlights. How do you like this season's Young Guns and the new prospects in the NHL. If you have seen any trends on a particular player, we would love to hear from you.
Ready to take your sports card investing to the next level? Join our Membership Program now for card picks, analytics, premium community access and much more!