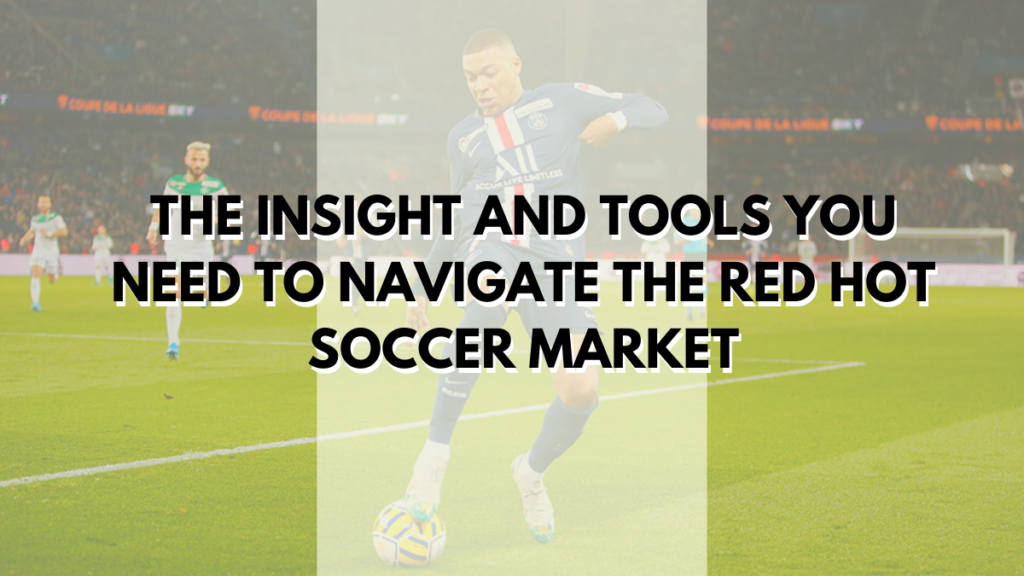 The Insight and Tools you Need to Navigate the Red Hot Soccer Market
This guest post came through our Article Submission Program. Thoughts and opinions are those of the author.
Introduction
In case you haven't seen Geoff's newest video, the soccer market is on absolute fire. The world's brightest young star, French striker Kylian Mbappe, has seen his Prizm prices soar to Zion-Mania heights in a matter of weeks… without him playing a single game. Just four months ago, in February, you could have bought an Mbappe Silver Prizm raw for just under $100. That same card is now selling for approximately $800 and is becoming harder and harder to come by. That's an 8x multiplier in just a few months, with the majority of the run-up occurring during the season's suspension. Even the most optimistic of soccer card investors such as myself could not have predicted this.
In this article, I'll give a brief rundown of some things you should know about the soccer market, breakdown the hobby's hottest cards, and introduce you to the tools you need to make savvy soccer investments. Welcome to "The Beautiful Game."
Soccer cards have been a sleeping giant in the hobby for years, and they finally seem to be waking up. The sport is the most popular in the world and is one of the fastest-growing in the United States specifically. With North America on track to host the World Cup in 2026, the spotlight on the game will only continue to increase.
One of the key differences between soccer investing and other sports is the issue of "true rookie" cards and the role of stickers. Oftentimes, a soccer player's first appearance on a "card" will be in the form of a Panini sticker exclusive to their league. For example, Mbappe's first appearance was on a 2016 Panini sticker made for the French league. That's right, Mbappe's sticker was released two years prior to his red hot Prizm.
Currently, collectors and investors are divided on the sticker situation. Is a sticker to be considered a player's "true rookie" card? Or should that definition belong to his first official hobby, Panini/Topps card? There are collectors that swear by the sticker, collectors that would never purchase one, and collectors that are open to both.
The issue of "true rookie" extends beyond sticker vs. card, however. In some cases, a player's "true rookie" as determined by the market is not his first card released. Mbappe is a perfect example. His 2018 Panini Prizm is being treated as his "true rookie", while his 2017 Select and 2017 Topps Chrome fetch lower prices, despite being released a year earlier. As with all things, the market decides where the money will go, so make sure you do your research on what's out there for the player you're targeting.
And with that, we'll segue into my first tool:
The Trading Card Database
This is a fantastic resource for finding a player's card releases by year. Let's use Liverpool's young defensive star Trent Alexander-Arnold as an example:
Here we can see a list of all released cards to feature Trent Alexander-Arnold. On eBay, you will find many copies of his 2017 Topps Chrome being sold as his "rookie card." However, as you can see in the database, his first appearances were actually a year prior in the 2016 Topps Premier League Match Attax and 2016 Panini/Sega World Club Champion Football sets.
If you look for the 2016 cards on eBay, you'll find fewer listings at lower prices when compared to the 2017 Chrome. This is because the market has deemed the 2017 Chrome to be Trent Alexander-Arnold's "true rookie" card.
While The Trading Card Database is great for first release card hunting, it does have some gaps. For example, the Mbappe page does not include his previously discussed 2016 Panini sticker.
To remedy this, my current process is to search my targeted player's name on eBay with the year of his first card shown in The Trading Card Database (Example: "Trent Alexander-Arnold 2016"). Once you have familiarized yourself with the cards and stickers from that year, subtract a year from your search and try again. Repeat this process until you no longer find any cards listed or in sold listings.
This may seem like a tedious task, but familiarizing yourself with all available purchase options will help you greatly in making a smart, educated investment.
But how do I know which players to target?
Let me start with a general rule of advice for soccer card investing. Have you heard the time-old football card investing rules: "only invest in Quarterbacks" and "never invest in defensive players"? Similarly, for soccer, we have: "never invest in goalkeepers" and "only invest in offensive players."
The general population of soccer collectors does not care about goalkeepers or players that do not often contribute to attacking play. Goal scoring is exciting to watch and makes the highlight reels. I'm willing to wager you've heard of Messi and Ronaldo, but have you heard of ter Stegen and de Ligt? The latter is a goalkeeper and a defenseman for Messi and Ronaldo's clubs. Don't overthink it; stick to highlight making offensive players for your investments.
Great! So who are the hottest players on the market?
Excellent question! I'd love to go into depth on a variety of players, but let's stick with just 5 for now.
5 of the Hobby's Hottest Players
Lionel Messi & Cristiano Ronaldo:
Soccer's undisputed most dominant and popular players of the past decade.
Baseball Comparison: Mike Trout
Football Comparison: Tom Brady
Basketball Comparison: Lebron James
As Geoff explained in his video, not only are these the two greatest players in the world, they also have skyrocketing prices.
Key Cards:
The current hot investment set for both these players is 2014 Panini Prizm World Cup, which features their first Prizm printed cards.
While these are not their true rookie cards (those would be early 2000s Panini Mega Cracks), they are part of a landmark set in the soccer card hobby.
Think of this like 2012 Prizm basketball, where you see Lebron James base cards increasing in value by the day. Both Messi & Ronaldo's Prizm base cards could be had for under $5 raw in early April. In early May, they're creeping past $30 with no sign of slowing down. There are also very few of these cards currently graded.
Take a look at the PSA Population Report:
And now compare this to Lebron's first Prizm, which came in 2012 Prizm basketball:
Messi & Ronaldo's graded base Prizm counts combined don't reach Lebron's total. Of course, this doesn't take into account what's currently in PSA's backlog, which could even tip the scales. But with that being said, Lebron's first Prizm is currently selling for a touch under $300 raw, while Messi & Ronaldo just cleared $30.
[adcards]
Kylian Mbappe:
Soccer's brightest young star, and the presumed heir to Messi & Ronaldo's throne.
Basketball Comparison: Luka Doncic
Baseball Comparison: Ronald Acuna
Football Comparison: Patrick Mahomes
In case you haven't heard of soccer's biggest phenom, let me bring you up to speed in one sentence. Mbappe has won 3 French league titles, finished as the league's top scorer twice, and scored four goals for World Cup champion France in 2018. Oh yeah, and he's currently just 21 years old. As stated before, his 2018 Prizm cards are red hot, but those aren't the only Mbappes on the rise…
Key Cards:
We've got a bit of a Luka situation on our hands here, in which any card with the player's name on it will sell, and sell well. I'll focus on the big 3 in this section and leave some honorable mentions at the end.
2016 Panini Foot sticker
Mbappe's first appearance on a card/sticker came alongside fellow countryman Corentin Jean. I wonder how Mr. Jean will feel to be a part of this generation's Jordan rookie… only kidding… but maybe.
As iconic as the Prizm is becoming for investors, this sticker was produced a full two years earlier and is much more difficult to find and grade. The packs that contain this sticker were only available overseas, and many of the copies were immediately packed and stuck to collection albums.
Here's the current PSA Population Report:

Only 1 in 4 stickers have received a PSA 10, and 40% have received a grade of less than 9. Early release, hard to find, hard to grade. I can easily see this being THE Mbappe card.
The most recent PSA 10 sold for $3,500.
2017 Topps Chrome Champions League
That's right, Mbappe had a Topps Chrome card a year prior to his now famous Prizm "rookie". The market has started to realize this in recent weeks, and Chrome prices are steadily climbing towards $100 base raw. The market currently favors Mbappe's Prizm, but will the 2017 released Chrome card command a higher price in the future?
2018 Panini World Cup Prizm
Geoff featured the silver variant in his video, but we'll talk about the more widely available base version here. This is the current go-to card for Mbappe investors. It's Mbappe's first Prizm, features him in a France kit, and is quickly becoming iconic. Prices continue to climb, and as of early May, they've eclipsed $120 raw. For reference, one sold on an open bid in February for $10.50. Anybody got a time machine?
There aren't many graded copies on the market currently, but that will change in the very near future as investors buy up all the raw ones to ship off to grade.
A PSA 10 most recently sold in April for just under $400… but raws could be had for around $50 then. To the moon we go!
Honorable Mentions:
2017 Panini Select
Price: $80-$100 Raw
2018 Panini Donruss Optic
Price: $10 Raw
Basketball Comparison: Trae Young
Baseball Comparison: Wander Franco
Football Comparison: Kyler Murray
Do yourself a favor: open up a new tab and type in "Jadon Sancho highlights" on YouTube. You're welcome. Not only is Sancho one of the most electrifying young players in the world, he is also rumored to be headed to Manchester United this summer. Think of this like Trae Young being traded to the Knicks in the offseason. Hot prospect, popular team, growing market… a storm's a brewin…
[adcards]
Key Cards:
With Sancho, you have your choice of Topps Chrome or Panini Donruss Optic. Both released in the same year (2018), and both command similar base raw prices ($30 Chrome vs. $20 Optic). Raw copies are getting harder to find, and there is likely a mountain of these sitting in PSA's headquarters.
While Chrome is slightly favored by the current market, it is important to note that the card features Sancho in a Dortmund uniform. Its Optic counterpart features Sancho donning an England international kit. With his heavily rumored transfer to English giant Manchester United on the horizon, will collectors continue to prefer a Dortmund rookie over an England one?
Erling Haaland:
Sancho's newest teammate at Dortmund in Germany. A 19-year-old wonder striker who burst on the scene this year with record-breaking scoring performances.
Basketball Comparison: "Linsanity" Jeremy Lin
Baseball Comparison: Juan Soto
Football Comparison: Joe Burrow
Do you remember when Jeremy Lin came out of nowhere to become arguably the best point guard in the NBA for a few weeks? That's Erling Haaland, except he's now been doing it for months. Haaland began the year playing in Austria, scored a hattrick in his Champions League debut, and is now the hottest striker on the planet. He currently plays alongside Sancho at Dortmund (he transferred there over the winter) and has continued his absurd scoring. Across all competitions this season, he has 40 goals in 33 matches.
Key Cards:
Now, this is where Haaland gets extremely interesting. He has yet to appear on a hobby set card but will be featured in the upcoming Topps Chrome Bundesliga release. So that will be his go-to card, right? Well… not exactly.
As we've seen in previous examples, soccer players can have a variety of "rookie" cards, and it's up to the market to decide which receives the "true rookie" price.
Investors in Haaland are currently turning to:
2019 Panini Fussball sticker from Austria
Haaland's sticker has yet to sell on eBay with a PSA 10 / BGS 9.5 grade, so it's tough to gauge what the current market value is. There are 2 BGS 9.5s up at Buy it Now for $600+, and raw copies are selling for $80 each.
2019 Topps Now Champions League Debut
This was Haaland's first produced non-sticker, and the only to feature his name spelt with one "A" instead of two. Graded copies last sold in March for between $400-$500 in BGS 9.5, but the market has only grown since then. Finding a raw copy can be extremely difficult, as there were only 178 total copies made. Given the card's rarity and relation to Haaland's debut, this has a chance to be THE CARD for him going forward.
However, if you're looking for a safer bet than these, wait on the Chrome release later this summer.
Awesome info! But what can I do to find more players, specifically ones that might be currently undervalued?
I'm glad you asked! Let me introduce you to my favorite starting point for soccer card investing research.
Transfermarkt
Transfermarkt is a German-based soccer website that includes articles, player stats, and market values. Think of it as the soccer equivalent of Fangraphs or Basketball Reference.
An easy way to find players to invest in on Transfermarkt is to go to their Most Valuable Players page. https://www.transfermarkt.us/spieler-statistik/wertvollstespieler/marktwertetop
This page features a filterable ranking of every soccer player in the world based on their value. Value in this case, is an estimation of how much it would cost a new team to purchase the player from their current team. Hobby superstar Mbappe currently sits atop the list, and by a considerable margin.
You can play around with the filters to find specific investment targets. Only want to look at the United States forward players 20 years old or younger, in preparation for the 2026 World Cup? You can!
Hello Timothy Weah!
Now before we all invest into a 20-year-old currently playing in the French league, we'll want to do some more research. If we click on his player page, we'll notice he only started in 4% of his team's games this season and is carrying a hamstring injury with no timetable for recovery. Yikes.
While there's plenty more research we can do on Timothy Weah to learn more about the extent of his injury, I'll leave that to you as a bonus assignment if you're interested.
And that's Transfermarkt in a nutshell! A great starting point to begin your investment targeting. Have some fun playing around with the filters, but keep in mind these values are estimated, can change often, and only take into account a player's current value. Messi is arguably still the greatest player in the world but is 9th in value because of his age. Acquiring Messi at this point in his career is seen as acquiring a declining asset, while players like Mbappe represent a rising one.
In case you're feeling extra lazy or just want another starting point, here are 3 more hot prospects in the soccer card market:
Ansu Fati
Marcus Rashford
Vinicius Junior
And that concludes my introduction to the soccer card market. I hope you learned a lot and are excited to get involved!
This article was an excellent insight into the growing soccer market. Do you see any current trends or players to watch out for in the next few months?
Ready to take your sports card investing to the next level? Join our Membership Program now for card picks, analytics, premium community access and much more!