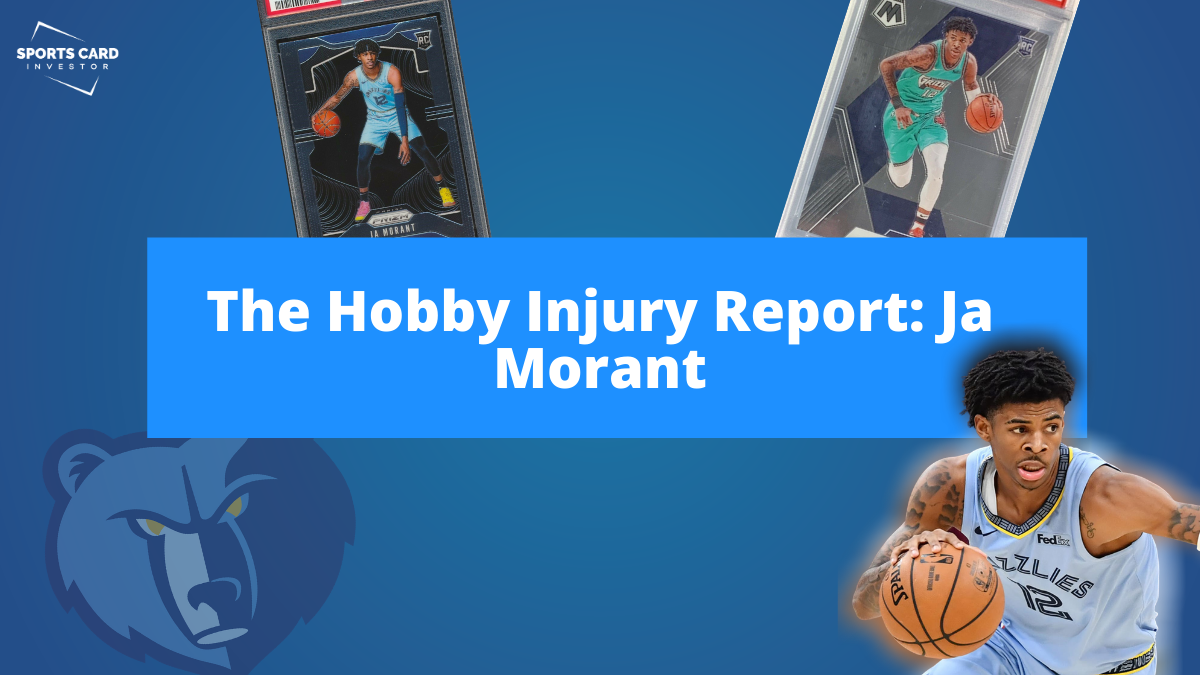 This guest post came through our Article Submission Program. This particular article was in collaboration with Mark Ransom from Sports Card Investor.
Introduction
➖Ja Morant was wheeled out of the game last night after sustaining a left ankle injury so I wanted to briefly share my thoughts on how this may affect him moving forward.
➡️ Mechanism of Injury: The mechanism is typical of a classic inversion/lateral ankle sprain. This occurs when the foot points to the inside with the rest of the lower leg rolling over the top of it.⠀
➡️ Anatomy involved: This type of injury typically involves damage to one (or more) of three ligaments on the outside of the ankle (the Anterior talofibular ligament, the calcaneofibular ligament, and the posterior talofibular ligament . Occasionally there can be fractures associated with severe enough sprains or with direct contact to the fibula, but the Grizzlies already came out and reported that x-ray results were negative for a fracture. ⠀
➡️ Severity of injury: With ligament sprains, there is a wide spectrum in terms of the severity of the injury. These are typically graded on a scale from grade 1–3 based on how much damage/tearing is done to the involved ligament(s). In terms of healing times, they are incredibly variable due to the variety of factors that affect healing; however, a grade I sprain usually takes a few days to return from, a grade II sprain is likely going to take 2–4 weeks to return from, and a grade III sprain can often take 4–8 weeks to return from.
TRENDING JA MORANT CARDS ON EBAY
➡️ Future Outlook: Reports from his MRI today revealed a grade 2 sprain and that he is expected to be out 3 — 5 weeks. While there is a general time table for how long it takes ligaments to heal, you should also realize that it doesn't always mean that you can't return to playing before full healing occurs. There is not necessarily a direct correlation between the amount of damage to a body part and the amount of pain/dysfunction experienced. With that being said, his return timetable will rely heavily on how much instability is present at the ankle and how comfortable Ja feels playing on it.
➡️ Treatment: Treatment for this type of injury usually includes a period of immobilization in a walking boot followed by physical therapy to increase motion and strength of the ankle with a gradual progression towards high level movements required to play.
➖Despite how bad it looked, this is not an injury to be overly concerned about in the grand scheme of things. If his prices end up dropping some from panic selling, this may be a good buying opportunity for those of you who believe in Ja's potential long term.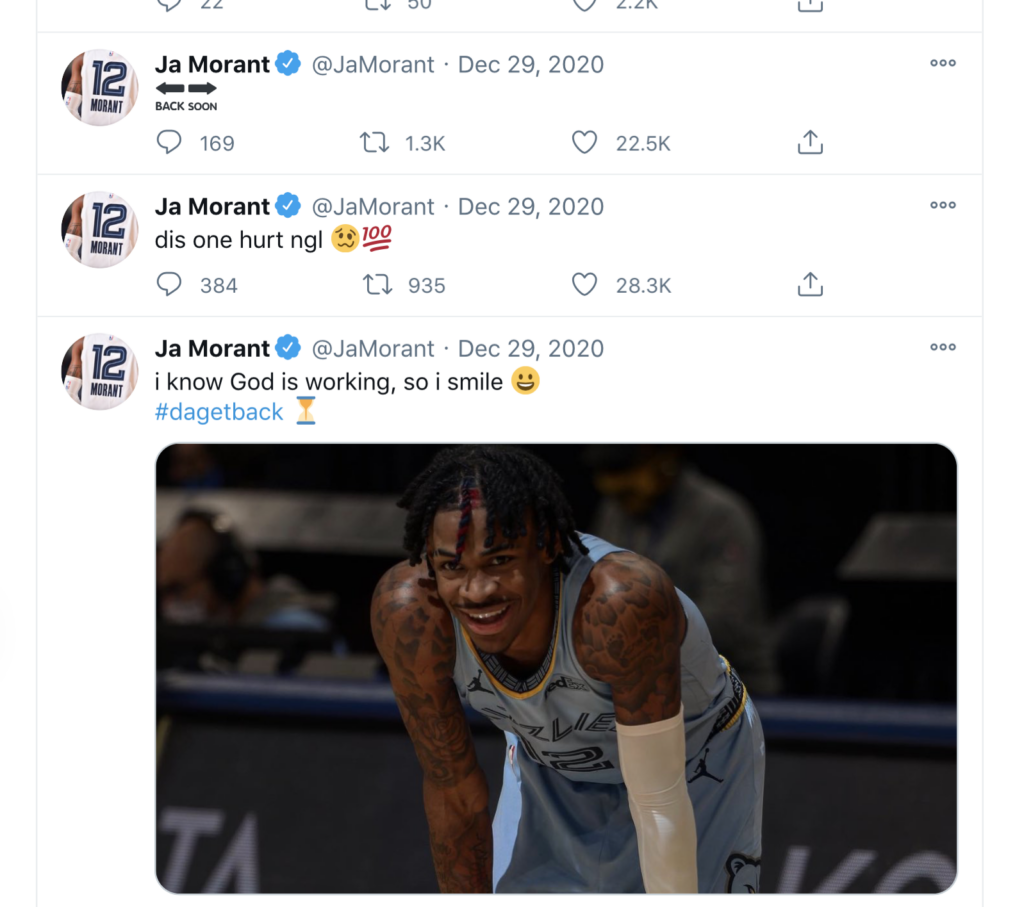 I think many people often overlook Ja Morant's faith and his confidence in his abilities on and off the court. As you can see, Ja has a strong faith background, which is always a good thing to have during very difficult times. Ja recently tweeted, "I know God is working, so I smile." It's comments like this that make me believe Ja Morant will be just fine!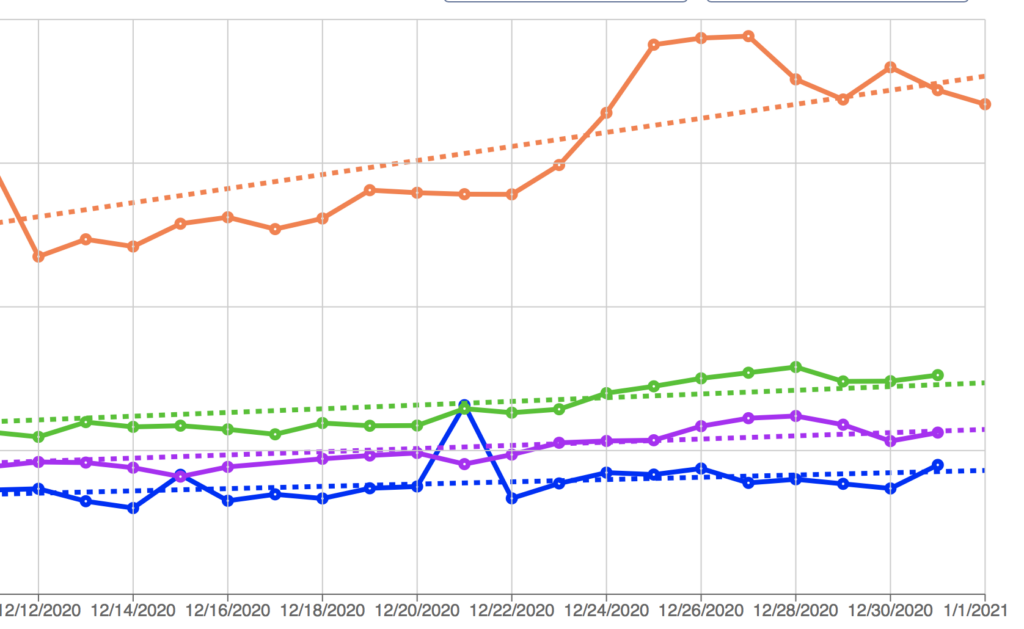 As you can see from the Sports Card Investor Market Mover charted card graph, the recent injury has had a minimal effect on Ja Morant card prices. The cards compared were his 2019 Mosaic base, 2019 Prizm base, 2019 Optic base and 2019 Donruss base. It has recently been reported that Ja Morant will NOT miss significant time due to the injury.
If you are interested in seeing more content like this, make sure to follow my Instagram page: @TheSportsCardPT
What tips and tricks have you learned with the Market Mover tool that helps you invest in players that have either sustained an injury or the reserve player taking that position?
Ready to take your sports card investing to the next level? Join our Membership Program now for card picks, analytics, premium community access and much more!