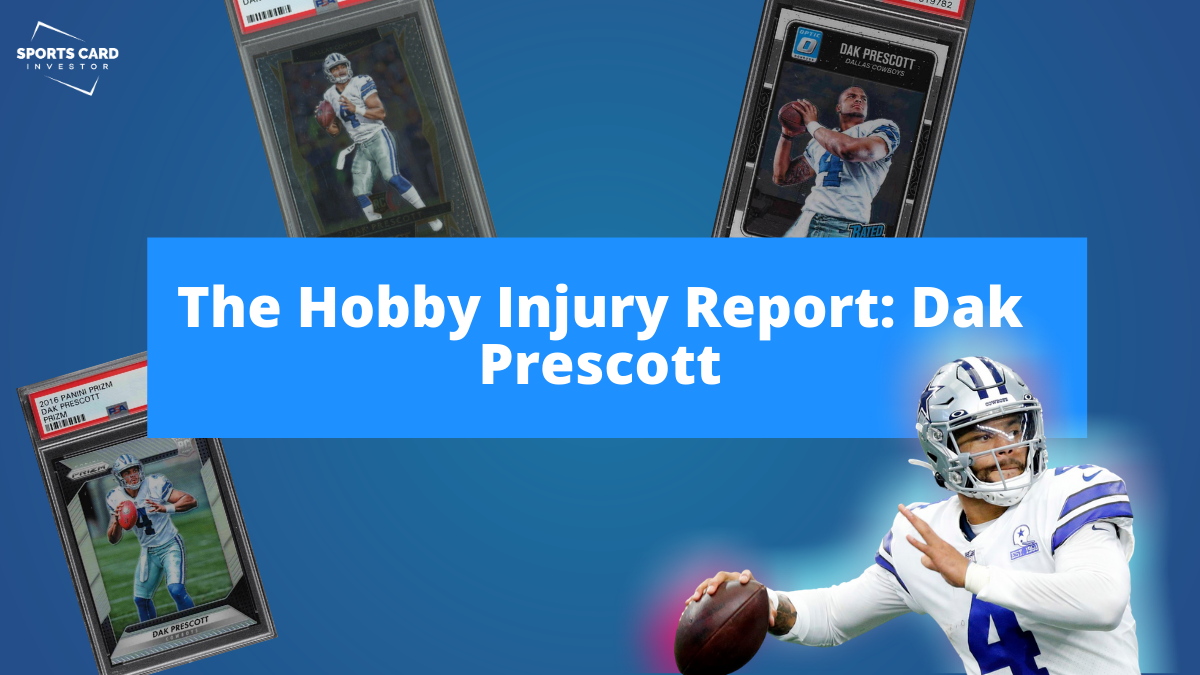 This guest post came through our Article Submission Program. Thoughts and opinions are those of the author.
Introduction
The hobby injury report brought to you by @TheSportsCardPT in collaboration with Mark from Sports Card Investor Team. This week's injury report looks at the devastating injury sustained by Dak Prescott, what the injury could mean for his future and possible implications on his card prices.
Dak Prescott Injury Outlook:
I want to share some thoughts on Dak's injury and outlook after suffering an ankle dislocation last Sunday while playing the Giants. I saw a lot of initial talk and comparisons to Alex Smith's injury as well as talk about it potentially ending his career so I want to touch on why there should not be the same level of concern with this injury:
Anatomy involved: Dak suffered an ankle dislocation and open fracture which means that the fracture(s) pierced through the skin.
Mechanism of Injury: This type of injury is similar to that of a high ankle sprain which occurs when your foot is planted and your shin bone collapses inwardly while the foot continues to rotate outwardly. In this case there was enough force to amount to a complete dislocation and accompanying fracture(s). The level of damage on an injury like this could cover a wide spectrum. The amount and type of fracture(s) as well as the extent of ligament damage could potentially cover a wide range.
Treatment: Dak was taken into surgery on the night of the injury. This surgery likely required a combination of plates/screws and wires to stabilize the ankle and will be followed by a long rehab process to gradually regain motion and strength.
Future Outlook: The reason people should not view this injury as being in the same class of injury as Alex Smith is that his injury was discovered to be infected to the point that they had to eventually remove a significant portion of the front of his lower leg to help prevent the possibility of amputation. In Dak's case, the surgery was reportedly a success without complication and there has already been a timeline of 4–6 months placed on his recovery (although I imagine this timeline is extremely fluid). This is a similar type of injury that both Gordon Hayward and Caris LeVert have gone through in recent years and had a full recovery from. Could this injury have somewhat of an affect on his play when he returns? Certainly. But is it career ending? Not at all.
Dak is one of the most respected players in the league and I am excited to watch the rest of his career unfold after his return.
TRENDING DAK PRESCOTT CARDS ON EBAY
Dak Prescott's most recent card prices chart
Recent charts show a slow trend down in the market before the injury, but that trend was seen across all sports and some believe it to be a market correction. The injury was sustained on October 11th, 2020. Since that date, Prescott's sales volume and card prices have both declined rapidly.




Conclusion
Unfortunately, injuries are apart of all professional sports and we as investors have to be aware of this. Dak's injury, although devasting, will most likely not end his career. This injury report provides you just a little information on the subject matter. We are in no way affiliated with the Dallas Cowboys or the NFL. You should always conduct your own research if you plan to buy or sell a card due to an injury.
If you are interested in seeing more content about injuries in relation to Sports Cards, follow me on my Instagram: @TheSportsCardPT
If you have noticed any recent trends due to injuries in any sport, we would love to hear from you. What tips and tricks have you learned with the market mover tool that helps you invest in players that have either sustained an injury or the reserve player taking that position?
Ready to take your sports card investing to the next level? Join our Membership Program now for card picks, analytics, premium community access and much more!