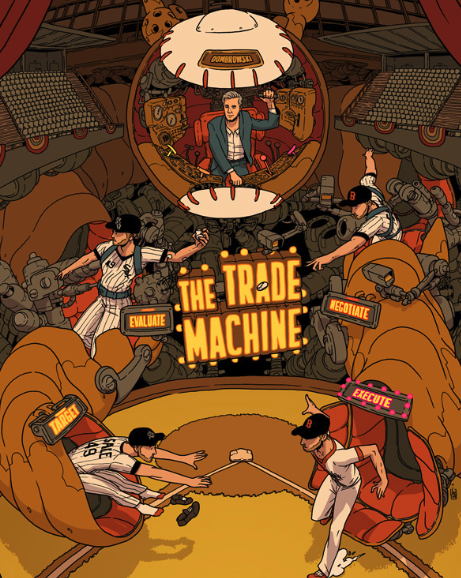 This guest post came through our Article Submission Program. Thoughts and opinions are those of the author.
In a chaotic arena filled with mysterious "players to be named later" being exchanged like gifts at your $20 limit White Elephant party, you find yourself in a highly reactive market. Trades alter the careers of all parties involved, including the executives making them. A new player being on a team may impact the prospects who were ready to make the leap onto the Major League roster. Imagine if the third Red Sox outfielder has bewilderingly been injured in June. A young prospect who was potentially a day away from hearing his walkup song be drowned out by the roar of 40,000 fans at Fenway Park may now be packing his bags for Colorado's AAA affiliate. Why? A perennial all-star has been acquired to shore up the depleted outfield. Trades have a trickle-down effect throughout an organization. They are also full of baffling surprises. A diehard Detroit Tigers fan somewhere on the night of August 31, 2017, nearly choked on their midnight snack as they exclaimed "Verlander is going where!?" One day you may check the news and find your well-researched investments right in the middle of "the Trade Machine." What do you do?
With many organizations missing out on the top free agents during the Winter Meetings, teams will turn to move players over the next 8 months via trades, which are far more unpredictable than free-agent signings. Player signings are relatively straightforward: Team A needs starting pitching and has money, Pitchers A, B, and C are good starting pitchers that want money, Team A should be expected to sign Pitcher A, B, or C. To color this with an example, the Rays and Athletics are strong, competitive teams, but the baseball world would have been shocked if they had spent the cash to sign Gerrit Cole or Stephen Strasburg. Trades level the playing field because they usually involve prospects, of which the Rays have ample quality. When teams exchange players, the result may leave third parties scratching their heads. Who knows why the non-competitive Cincinnati Reds traded for Trevor Bauer last year? Trade events with a hint of randomness, such as the Bauer one, surely humble trade predictors.
An additional consideration involves the fans. A fan might be loyal to a team because of its core group of players. If the core starts to break up, then that fan may be heartbroken. The best example I know of is LeBron James leaving the Cleveland Cavaliers to join the Miami Heat. His 'loyal supporters' burned his jersey after his departure. I imagine the Cleveland collectors who had a similar reaction wanted nothing to do with James' cards, which resulted in a fluctuation of his prices.
The gravity of trades can be dramatically emphasized with the Curse of the Bambino trade. The Red Sox traded Babe Ruth to the Yankees for cash considerations. This exchange changed baseball forever. The Yankees won their first 4 of 27 championships with Ruth, and the Red Sox began an 86-year drought. With that exclamation point on the importance of this topic, let us attempt to quell the daunting task of preparing for the trade seasons on the horizon.
The clear risk in play is a player whose cards your holding being traded to an undesirable team. The risk is heightened for prospects because usually, a mediocre team will be trading for them in hopes of becoming better in the future. There is certainly less risk for the centerpiece MLB players since they should be going to a competitive team. To be fair, competitive does not mean desirable.
Due to the unforeseeable nature of this business, it is highly speculative. The best overall answer I can come up with is to use reasonable judgment based on the trade. Buying the MLB players and selling the prospects that are in the trade rumors before they are traded would be a general strategy. The MLB players should be expected to go up in value as they join a hopefully more competitive environment that will give them the opportunity to shine on the big stage. A change of environment may also benefit a struggling veteran. Selling the prospects, and, if you truly believe in them, rebuying them later, can help hedge against a value decline if they are traded from a popular market to an undesirable one. In theory, weaker teams should get at least decent or even good at some point, which means your player could be the main reason for this and worth the rebuy. Above all else, consider the market size of teams involved in the trade rumors and make judgment calls based on the information that is available to you.
I can provide examples of judgment calls with Mookie Betts, Trevor Bauer, and J.T. Realmuto, which are players nearing the end of their contracts and may be up for grabs in this winter season or in summer 2020. Considering the markets of the teams involved may be the first place to start. Markus Lynn "Mookie" Betts is the man. He is likeable, amazing at his job, and hopefully the Dodger's answer to ending their World Series drought, which has largely been caused by untimely play by their superstars. The same team that ended LA's season in 2018 will likely not perform poorly enough to be selling, but a man can dream. Anyways, a Mookie to LA scenario should be a win for all parties involved. Buy or sell how you wish; these are two favorable markets that should result in a steady price or value increase to all players in the trade.
Trevor Bauer and J.T. Realmuto are impact players that can return a reasonably high price tag of prospects. In the case of Bauer, he is on the Reds, which is a promising team on paper. However, if Cincinnati starts cold, then Bauer may be flipped to a contender that is hungry for a rotation-revitalizing right-handed fireballer. If a strong market team that needs pitching, such as the Yankees if they get hit with injuries, were to go for Bauer, then the prospects headed to Cincinnati would more likely than not dip in value. If you had a whiff of which prospects those maybe before a trade occurred, then the best move would potentially be to sell. Realmuto is a different case because Philadelphia, with its literal fanatical fans, should have a market strong enough to maintain or even build the value of any players headed to the City of Brotherly Love.
What do you do when trade rumors arise? You remember that these are indeed rumors, but if a player you are investing in is mentioned repeatedly, then your hand may be forced to make a move. There is no surefire way to react to trades. If you can keep up to date on who may be going where then you may have a chance to get out in front of the reactionary market. "The Trade Machine" may swallow up your player, but you do not have to follow suit.
Do you have any experience using trades to your benefit in investing? Have you ever been upset with your favorite team's trades? Tell us in the Comments below.
Ready to take your sports card investing to the next level? Join my Membership Program now for card picks, analytics, premium community access and much more!