This guest post came through our Article Submission Program. Thoughts and opinions are those of the author.
The element Gold has been desired since man first placed an eye upon it. Today, it is used to create and cover many items such as jewelry, as the appeal is highly striking to one who views it. These cravings are being carried over to the basketball card hobby. Panini has excited many collectors producing Gold cards numbered out of 10 most notably in the products of Prizm, Optic, and Select. Investors and collectors now look at these items as the "Gold Standard" for any rookie or veteran.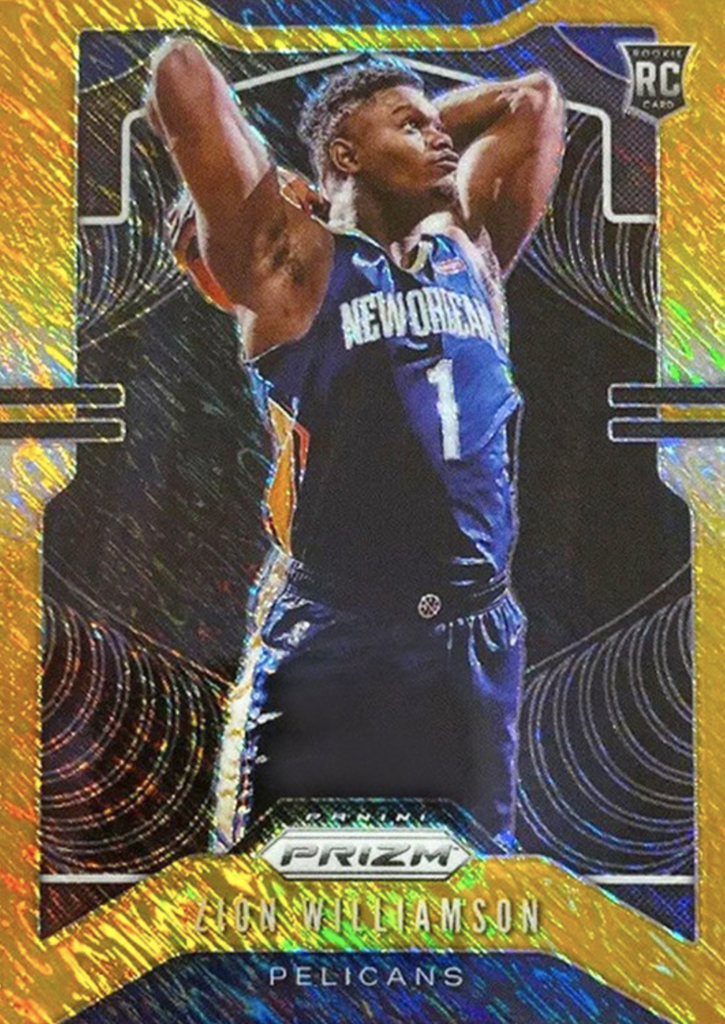 But Why?
Many collectors and investors in the hobby have voiced concern on the production runs that Panini has been printing. When investing, most people ask themselves many questions about the purchase they are making. Will it have long term value? Is the card desired? Base prizm rookies have substantially grown in production over the last few years as they have become more popular, and as many people continue to flow into the card market. Just like any other company, however, profit is key, and if the money flows in, why should they stop? It appears that numerous investors have realized this and found alternatives when making their investments.

Along with the base, other parallels and sets are printed. For example, in Prizm, the parallels include Silvers, Green, Hyper, Red/White/Blue, White Sparkle, Reds numbered /299, Blues numbered/199, Purples numbered /75, Oranges numbered /49, Mojos numbered /25, GOLDS numbered /10, Black GOLDS numbered /5, and the Black 1/1. Investors have specifically targeted the Golds numbered /10 from these parallels produced. Just like in the Gold Rush of 1849, high interest is upon this element as these gold parallels, and people have made it clear they will do what it takes to own one of their favorite players or current investment.

Changing the Market

Before the explosion of Gold parallels and prizm in general, investors targeted other appealing cards such as Topps Chrome. Then, they were relatively cheap compared to what they have been selling today. It was not until early 2017 that a PSA gem mint of that card neared $1,000. That is when the market began to grab attention and started to heat up. Obviously, Topps Chrome had ended their production by that year, and Prizm began to "take" its place, respectively. Recent sales on Gold parallels of the brightest NBA stars have shown that they are the focal point of investing and collecting. On February 20th, a Zion Williamson Prizm Gold /10 BGS mint 9 topped off at $29,099.00 at auction, proving once again this desire for rarity and eye appeal will go the distance for any investor or collector willing to splurge on such an item. It was once thought of that a rookies national treasures true rookie patch auto was the card to own if investing in one player. Now, from recent sales and hype that the prizm gold /10's have been receiving, it seems the gap has been closed as the gold is seemingly to be the card when targeting a player.
What Does The Future Hold?

If we as investors and collectors continue to see the overproduction of base prizms, the gold /10's will continue to pop off the chart in terms of value and desirability. It is easy to look at those prices of the Prizm Golds and stay away for tens of thousands of dollars is clearly not in everyone's price range. The alternative, with optic and select also printing gold parallels /10 themselves, they provide a cheaper option with the same satisfaction when looking at them. The hobbies market has been off of the charts as of late and is increasingly growing very fast. If you want to hit on the next all-star and cash out big, invest in a gold /10 from Select, Optic, or Prizm for the Gold Rush has Begun!
What do you believe the future holds for the sports card market as far as production? Do you think GOLD is going to be the focus of future collectors/investors? Tell us in the Comments below.
Ready to take your sports card investing to the next level? Join my Membership Program now for card picks, analytics, premium community access and much more!