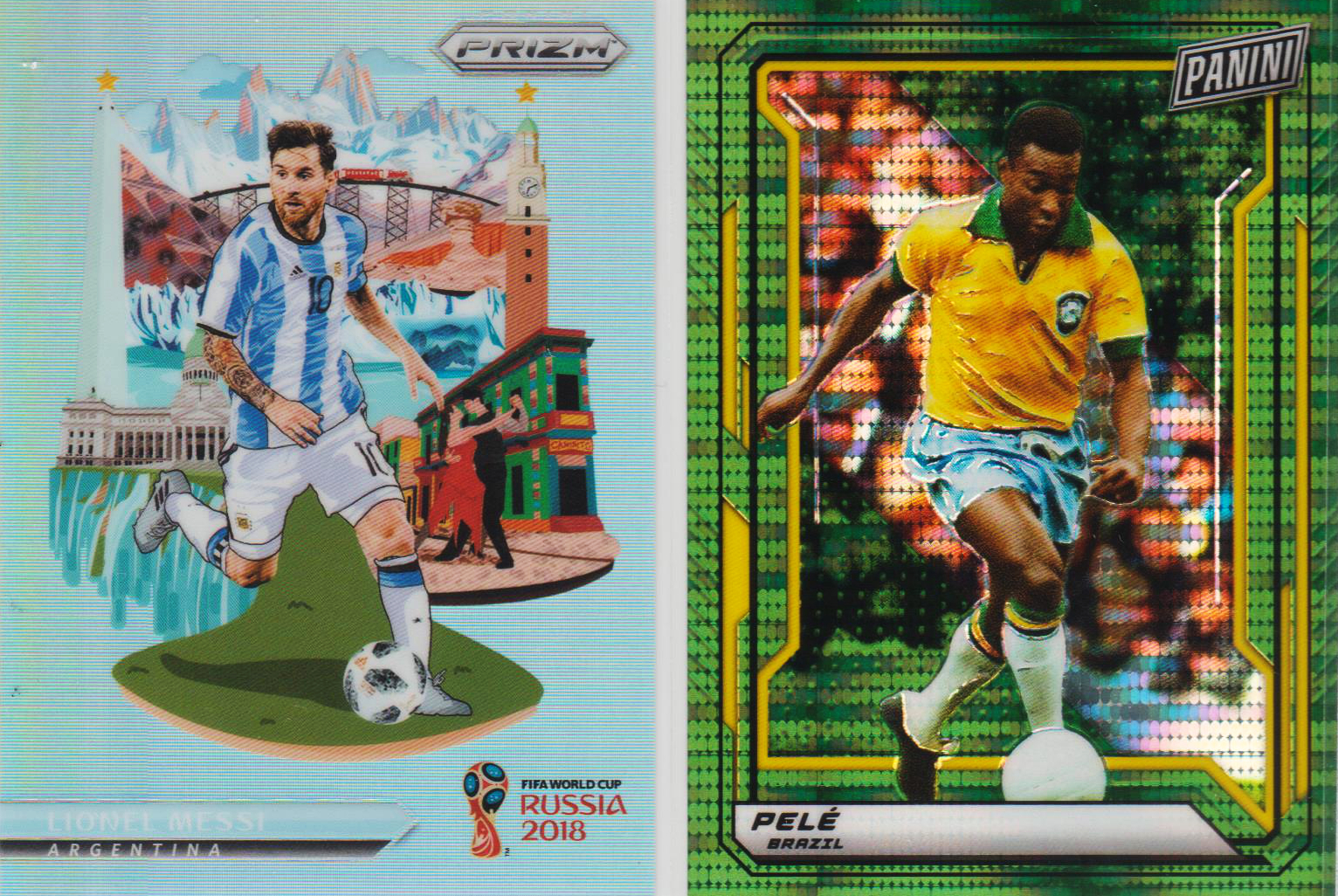 This guest post came through our Article Submission Program. Thoughts and opinions are those of the author.
A double edged sword to collecting is the passion and knowledge of other collectors. On one hand, it is such a rewarding experience to find a common bond over something we love; while on the other hand, it drives up demand, prices, and the inner competitor in all of us. This is true of any hobby but even more so in sports cards. Hobby staples from the four major sports all have rabid fan bases that can recite checklists and recall eBay sold comps with better accuracy than their wedding anniversary. This makes for a very competitive market where narrow profit margins are the norm rather than the exception. However, I do think that there is a wild card (no pun intended) in the hobby emerging: soccer cards.
I may be a little closed minded about soccer because as an American it was always treated as a secondary sport. Likewise, from my experience in the hobby I have found that soccer is also treated like the butt ends of a loaf of bread – but I think that may be changing right before our eyes. The last few years have seen a rising of quality and volume of releases from both Topps and Panini, with Prizm English Premier League (EPL) entering the mix last August to the most hype for any soccer product that I have seen in recent history. Soccer cards have been a niche market within the hobby for decades but for a variety of reasons I feel that we are on the precipice of soccer entering the major leagues with other big boys like baseball and basketball. The world's most popular sport offers an untapped market with international demand and reasonable barriers to entry for investors looking to diversify their collection.
Even if you feel like "soccer is not my thing", there is no denying that it is A LOT of peoples thing. Since there are so many fans of soccer, this resurgence of the hobby offers an especially unique investment opportunity in soccer cards. Right now soccer cards are the wild west of the hobby. It is not oversaturated with collectors or investors and because of that deals can be found. The market is still in the process of figuring out what it is.
An argument could be made that we are in the conception of soccer cards attempting to share the stage with the top sports in the hobby. Trademark brands such as National Treasures have been producing beautiful product for the last few years and Prizm had a quality World Cup release in 2018, both of which have pretty high demand. Last year Topps and Donruss offered nice mid-range options for investors and Panini offered some high-end releases like Immaculate and Treble. In other words, collectors and investors had their choice of nice product in varying price ranges but there wasn't that one release that had that "it" factor. However, I feel if Prizm stays in the game with club team releases, so there aren't four year gaps between product, we may have found a release to rally around. Recent breaks and secondary market sales would suggest that Prizm EPL has been the most popular release in the last few years which is a huge positive for the soccer card market to thrive. If Prizm offers a EUFA licensed Champions League set that would include heavyweight clubs like Real Madrid, Barcelona, and Paris St.-Germain it could make the market even more desirable. Players like Cristiano Ronaldo, Lionel Messi, and Kylian Mbappe would also be a valuable addition to already stacked roster of players from the EPL release.
Speaking of Ronaldo and Messi, these two players have represented the face of soccer for the past decade plus. This would normally be bad for a sport that is just breaking into hobby mainstream because our hobby is so prospect and rookie oriented. However, since there is a changing of the guard taking place there are many investment opportunities in young upcoming players who have the potential to carry the torch after Messi and Ronaldo eventually decline. One such player that I previously mentioned, Kylian Mbappe, is already a hobby darling after helping to lead France to World Cup glory in 2018. Other top young players include Jadon Sancho, Vinicius Junior, and Joao Felix. American-born Christian Pulisic is another in-demand young player although I am cautious of his value right now because he is not getting regular playing time at his new club, Chelsea. Veteran players like Cristiano Ronaldo, Lionel Messi, and Neymar Jr. can be invested in at a much lower cost barrier to entry than top players from other top sports like basketball or baseball as well. A high grade Messi rookie runs in the $3,000 price range but compared to high grade Jordan or Trout rookies that is a bargain for a player who will go down as one of the top players to ever grace the pitch.
While on the topic of graded cards, it should also be brought to attention that this is yet another untapped sector of soccer cards. Don't get me wrong, there are plenty of graded soccer cards out there; it's just not the norm. In my opinion the soccer card market hasn't evolved yet into using graded cards as the standard. Yes, you will see plenty of higher valued cards that are graded, but, in my experience of searching eBay on a nearly daily basis, I rarely ever see modern soccer cards slabbed. What this means for you as an investor is that you can take advantage of population reports to differentiate your cards value from the next. Unlike other sports where pop counts are relatively high because of the sheer amount of cards submitted, soccer cards present the exact opposite circumstance. In other words, grading your soccer cards now could potentially put you in a position to reap the rewards when, hypothetically, the soccer card market catches up to other sports in terms of placing more weight on graded cards, because you will have a desired slabbed card that has a low pop count.
Investing in soccer cards does have its share of challenges though as well. For one, there is a chance you don't know much about soccer. This is definitely problematic for the beginning soccer card investor. The good news is that it really is not as overwhelming as one may think. Goal scorers/strikers receive the most hobby love, followed by top playmakers and some elite goalkeepers. With just a little bit of research you could be well on your way. One place that I have found to be of great help in identifying young talent in soccer is the Sports Card Investor Discord server. There are some very knowledgeable people on there who have some great specific player targets if you are looking for a starting point in player prospecting. Another thing to keep in mind is that top clubs will always have higher demand, just like in any other sport. Finally, like many other sports there will always be a premium on young upcoming talent and phenoms with a ton of hype – Like Jadon Sancho.
Unique investment opportunities with international markets can also be a blessing and curse. Since soccer is such a world game the ability to attract buyers from every continent is very appealing. (I'm assuming there are some scientist hobby enthusiasts in Antarctica) The drawback, of course, would be international shipping. Investors may also find that many listings they target are also from foreign countries, so expect higher shipping costs and longer delivery times. This is not a relatively unique concept, as most sports now have an international market. However, since soccer is the most popular sport in many countries, and maybe the fourth most popular sport in the United States, one would expect more international transactions than in other sports.
This brings me to my last point: that my hypothetical boom in soccer cards is dependent on growth from international hobbyists. Overall, I see potential in soccer cards. The sport has been gaining popularity in the United States for decades now and there are more options than ever to watch professional soccer, domestic or abroad, which has led to increased interest from Americans. However, the real increase in value that I foresee would be if international markets take to collecting cards with the fervor that we already see in the World Cup Panini Sticker community. Soccer cards do not have to be quite the phenomenon of the stickers, but to gain some of that market, as well as from the general growth of the hobby worldwide, would equate to more demand in soccer cards. If you can get in early before there is a larger demand, the potential for profit is exponentially raised.
The last caution I would give is just that: proceed with caution. Because soccer cards are just starting to take off and there isn't as much sales data as other sports, I worry of an initial interest in a "new" product from hobbyists that may be fickle when it comes to being long term buyers and sellers. The increase of interest in Prizm EPL has me excited for the future though. I don't know if there is a direct correlation to that product release and the appearance of more competition on eBay; but I do know that lately I have been paying higher prices, in general, across the board for soccer cards. The fact that I am paying more and getting outbid in auctions more often is a good thing for the market though. It means more interest, from more people in expanding markets. It also means that $3,000 dollar Messi has the potential to be tens of thousands sometime in the future. But ultimately, it means that an uber-popular sport, that hasn't even come close to reaching its potential or saturation point in trading cards, is ready for investors like you to reap the benefits of getting in early. So do yourself a favor, and at least consider the fact that there truly is a case for investing in soccer cards.
What do you think about soccer card investing? Have you started to invest? Leave a comment below.
Ready to take your sports card investing to the next level? Join my Membership Program now for card picks, analytics, premium community access and much more!