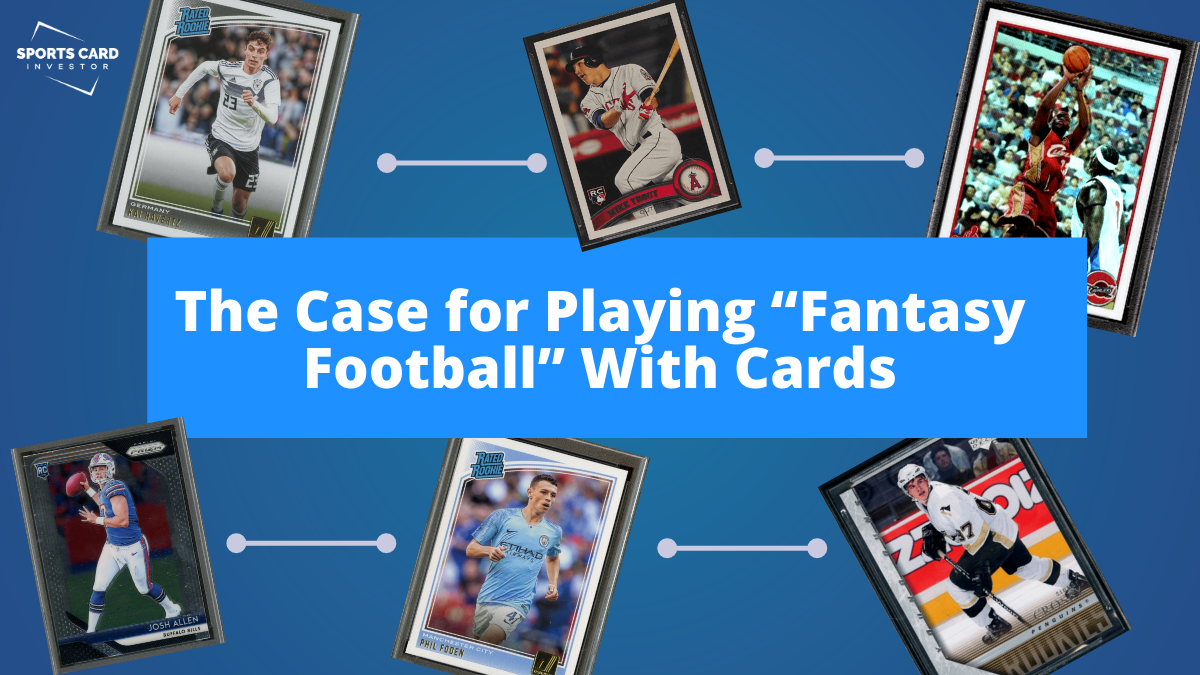 This guest post came through our Article Submission Program. Thoughts and opinions are those of the author.
Introduction
If you're like me, you are a member of way too many fantasy sports leagues. I have played a number of NBA, Soccer, and NFL Fantasy Leagues before, and usually get suckered into them every season.
Hell, I did Fantasy NFL as a way to learn the sport (I'm Australian, so Football isn't my strong suit).
And most of all, Fantasy is a great way to keep competition with your mates. I've got a Fantasy Australian Football league with my best friends from High School that's been running for nearly ten years. And it's still the highlight of my year.
Well, you can use the same fantasy sports strategies for sports cards as a great way to learn the ropes with cards, try a few different buying techniques, and keep that competition with your friends
It's also way cheaper…
That's what myself and a bunch of other soccer card content creators have done through Instagram and our various content publications – For example, I'm talking about it on my newsletter and podcast, Soccer Cards Rock. 
In this article, I'll quickly go over how we got started – so you can do it yourself (or join in with us)
TRENDING CARDS ON EBAY
Want To Join Our Fantasy Soccer Card Folio?
If you're into your soccer cards or want to learn more, then feel free to join our fantasy colio comp – it's all completely free to take part and it's a great way to meet some people in the hobby.
Don't stress because it's too late. There's going to be prizes and a bunch of cool stuff for people who join late too – We'd rather have you for a month, opposed to not at all.
You can go to this Soccer Card Folio page that has more details.
How To Get Started Making Your Own Fantasy Card League
Getting started with your own Fantasy Sports Card Folio is actually pretty easy. I put a call-out through my Instagram Stories and looked to see if there was anyone who wanted to take part in something new and unique.
I had some great responses from people – some I already knew, but a lot that I didn't.
After some back and forward, we had a good selection of eight people (including myself) – here are their Instagram tags:
@soccercardsrock
@the_football_stop
@soccercardguru
@premiersoccerinvesting
@sundayleagueinvestors
@logicalsoccerinvesting
@qcbsoccercards
@cardhour
I wouldn't suggest going with any more than 8-10 people at the absolute maximum to start off. There's probably going to be a few hiccups along the way so keeping it lean is vital.
Creating The Rules
Here's the rules that we used – you can obviously make your own rules.
You get 10k USD to spend on whatever cards you want (There's a guide on how to get prices after this)
You need to buy a minimum of ten cards (it can even be 10 of the same card if you want).
There's no maximum on how many you buy, but just remember that you've got to keep track of prices.
You can't out-buy the pop count of a card. For example, you can't buy 50 cards if they're only numbered to 10
You can out-buy ebay. Eg. If there's only five of a card for sale on eBay, you can buy as many as you like (without over-buying the pop). That should make it less work for you.
On the first of every month (and only the first of the month), we can sell as many cards as we like in our portfolio and re-invest into other cards.
At the end of six months, we calculate our total value, highest value wins.
Here's how we gathered prices. For this, we used Sell The Peak, but you can definitely use Market Movers too – or even just get the prices from eBay if you want to do the heavy lifting yourself.
Using whatever tool you decide on to get the prices, we took the last five sales – removed the top and bottom sale price, then averaged the middle three. Doing it this way eliminated that card that sold way under (or way over) market value and gave us better results.
We just kept our folios in spreadsheets, but with tools like Marketmovers, you can track your own folio automatically (if you're a member).
Sharing Your Folio
The best thing about the hobby these days is how open a community it is. For starters, in our fantasy soccer folio, there are entrants from all over the world – there's not a chance that we'd be able to do something like this in person.
We've been using Instagram as a great way to share our portfolios and keep in contact with each other. I'd also suggest creating your own hashtag so you can easily track down posts later on.
Of course, that's just how we've done it – you can use other communication methods. A private Whattsapp group would be a cool way to go about it.
Variations
One cool variation that could be used is a draft-style selection as opposed to a budget. So, you can draft cards instead of purchasing them.
That would require some rules, though – maybe you can only draft one variant of a card. So, if you choose a Luka rookie Prizm PSA 10, perhaps that eliminates all other Luka rookie Prizms. I haven't done one with a draft before, but it's an interesting concept.
You could also do an auction-style draft – again, similar to Fantasy Football.
I like the budget-style that we spoke about above, though; It replicates creating a real portfolio better.
The Quick Pros
You can learn a few things about the hobby without having to put your hard-earned cash up. An excellent tool for beginners
More experienced collectors can test out a few investing strategies (vintage vs. modern, multi-sport or just one sport, quick flips, or medium-term holds) without putting money into it – then when you realize a strategy works, you can invest more. 
A great way to learn the market in a new sport (or even non-sport cards)
You can get the hang of keeping tabs on prices in your portfolio – Valuing your folio is one of these 'I never find the time to…' tasks for me.
A great way to introduce some friendly competition with your mates, or even use it as a way to connect with others in the hobby
You don't even need to be in your own competition. You can easily create your own fantasy folio by yourself and see how it goes over time.
Final Thoughts
I strongly suggest giving a fantasy folio a try – it's something that you can do alone or with a group and pick up a few new things about the hobby.
It also is another opportunity to beat your friends – which is way more rewarding!
If you're interested in joining our soccer portfolio (or see how we're going), you can visit this Soccer Card Folio page.
This was a fascinating article and is a great way to get even more involved with the hobby and have fun with your friends. It's also a great way to use the Market Movers, collection tracker. If you have any exciting views on the hobby or do anything similar to this group of collectors, we would love to hear from you!
Ready to take your sports card investing to the next level? Join our Membership Program now for card picks, analytics, premium community access and much more!