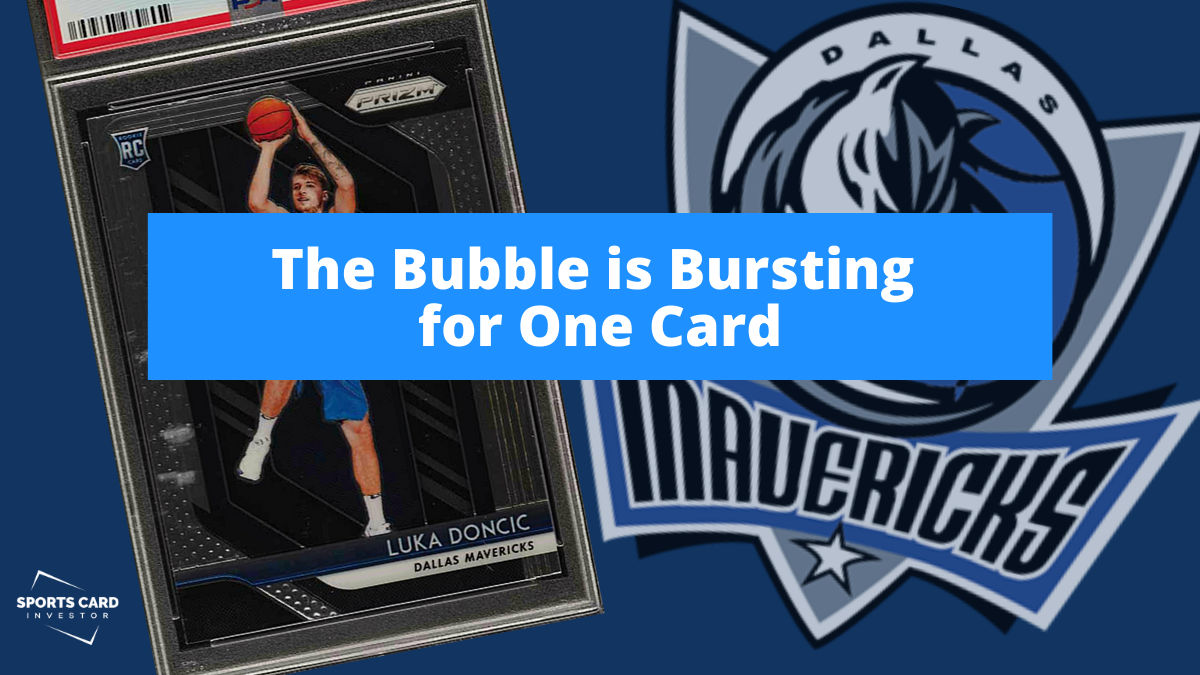 This guest post came through our Article Submission Program. Thoughts and opinions are those of the author.
Introduction
Investors Beware – The Bubble is Bursting for one card
That's right, and it is all coming to an end. But before you guys start panicking, I'm not referring to the bull run we are experiencing in the hobby. I think the overall health of the hobby / investing is excellent, as more money gets poured in daily. However, I am extremely concerned about one card in particular. The Luka Doncic Panini Prizm RC.
We all know Luka Doncic – international superstar having an MVP-like season, averaging close to a triple-double and likely be the NBA's household name for the next ten years. He plays for one of the biggest markets and the talk of every NBA enthusiast, card collector and investor. Let's talk briefly of his true rookie card – 2018 Panini Prizm Luka Doncic Base #280.
Based on some videos I watched earlier this year, I am told a raw base Luka could be purchased around $10 somewhere in December 2018. Fast forward a season after he has won the Rookie of the Year, Luka's base Prizm PSA 10 was selling for around $70 on eBay. I know this because I had eyes on this for a while back in August 2019. However, back then, the hype was about Prizm Silvers and base cards didn't get as much attention as it did compare to today. Also, it is evident that base cards were printed in the hundreds of thousands and hence it would rarely qualify as an investment product to do its scarcity (or lack of it) alone. Just look at the recent population report from PSA.
TRENDING LUKA DONCIC CARDS ON EBAY
But as Luka's on-court performance started to boom, so did his card prices and investors began to take notice. PSA 10 base Prizms climbed from $70 to $100 to $150 within weeks. Luka gained a lot of attention and naturally more sales volume to his cards. But that's when investors started to swoop in.
Hundreds of copies started flying off the market and investors were hoarding more than their average share of PSA 10s. More copies were being graded and even more, were being stashed away. As investor demand increased, so did the price and in a blink of an eye, PSA 10s were already $250. A full three times of where it was a short few months back. However, prices didn't stop there as early 2020 where lots of new investors with fresh money entered the fray and hopped on the Luka train and prices continued to climb.
So where are we at today? See below:
Good news is, this price isn't artificially inflated. The bad news, in my opinion, the escalating prices are due to investors buying from investors. What this means is that as long investors believe that Luka's prices will continue to soar, they will keep buying as many copies as they can get and likely pushing the prices up further.
But who's selling? Where there is demand, investors who bought in earlier will take profits off the table. Perhaps not to the extent of liquidating their entire position but given price have 10X what they were last September. They could realistically sell 20% of the portfolio, pocket in some free net cash and ride the remaining as pure profits. And at any point, if that investor feels like taking more money, he could do so knowing his capital is already covered.
Hence, I see this as an on-going loop that has dire consequences. In my opinion, a large percentage of that eleven thousand population is currently held by investors – possibly in a range of the low hundreds. Meaning we have a few hundred people sitting on probably six to seven thousand copies of PSA10, transacting with each other and collectively pushing up the prices gradually.
So what's the disaster scenario when the bubble bursts? Investors, holding up to hundreds of PSA 10 Luka Doncic's and start flooding the market at a much faster rate than other investors/buyers can consume. Prices start to go down as the market becomes more saturated when and suddenly, when facing a downward graph, new investors begin to shy away. After all, the organic growth (genuine collectors who are interested in Luka) does not increase exponentially as how an investor picks up multiple copies of a single card at one purchase session. Hence, the number of entrants of true Luka collectors into the market is unable to sustain the astronomical price of the Prizm PSA10. Therefore other investors, including holding several to hundreds of copies, will be faced with a dilemma:
To sell before prices go further down?
To buy to either consolidate their holding or to prevent the free falling price?
To hold and wait and see what happens and if the prices would readjust upwards again?
Regardless of the decision, it's tough because you invested $500 or $10,000 into these PSA 10s.
From my observation, the Luka Panini Prizm PSA 10 is quite a clear example of an impending bubble burst. Will it happen for sure? It's hard for me to say in this bull run. But, I foresee as long as there is continuously new money introduced into the market through new and inexperienced investors, Luka maintains his on-court performance than his PSA 10 prices will continue to trickle upwards. I'm just wary we maybe already at the tipping point as we head into the postseason. However, everything I mentioned above could count for nothing if Luka beats Lebron and the Lakers to the title this season, of which Luka's base Prizm PSA10 prices will shoot to the moon.
That is a big if!
Conclusion:
This article is just my opinion of one Luka Doncic card, remember always to do your own research when investing in a player moving forward.
I think we can all admit, most of use have either invested in or had our eye on Luka Doncic for awhile. This was an excellent article regarding his Panini Prizm RC, graded at PSA 10. I would love to hear the thoughts of those hardcore Luka Doncic fans or investors in the Comments below.
Ready to take your sports card investing to the next level? Join our Membership Program now for card picks, analytics, premium community access and much more!