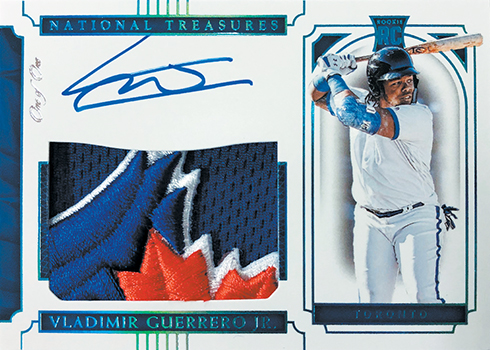 This guest post came through our Article Submission Program. Thoughts and opinions are those of the author.
This is the first in an article series called the aesthetics of sports card investing. We'll be looking at the individual card or card set's investment potential from an aesthetics point of view. First off, we're going to compare Panini National Treasures Baseball Rookie Patch Autos (RPAs) with their Topps counterpart, Triple Threads. In this collector's opinion, the National Treasures are the better cards. While that may not be a particularly popular opinion – due to the lack of MLB team logos and names – the data presented in this article may surprise you when it comes to actual sales.

Most collectors agree that Panini America produces beautiful RPA's for football and basketball. They mostly appear in high-end Panini sets include National Treasures, Immaculate, Flawless, and more. These cards are considered strong investments if their patches contain multiple colors or parts of name lettering, jersey numbers, or team logo patches.

As basketball and football collectors of Panini RPAs know well, the number of colors in a patch and the more "true" patch you see, the more demand there will be for that card. Of course, with added demand, the higher the price it will fetch at auction. Because of the wide variations that are inherent in these types of cards, each is sometimes unique as "true" one of one's.
RPA CARDS ON EBAY
Why Collect RPA's Over Rookie Refractor Autographs?

The thing about RPAs is because of the great variations in aesthetic appeal, they tend to be far more volatile investments. Most are sold in auction format on eBay and the final prices are completely at the whim of the card market at that particular moment.

So, you can understand why a card that's prone to show little to no variation like a Bowman Chrome Prospects Auto is considered a better investment for value-minded collectors. But, this is where things get interesting. This 2018 Acuna Bowman Chrome Refractor auto, numbered to 499 RAW, commanded $350 on Halloween 2019.

Most investors would agree that the team logo and Acuna batting in his Braves jersey – along with being a refractor make this a much for desirable card than their Panini Donruss Optic Silver Refractor counterparts. Indeed, such a card graded PSA 9 shipped for about $115 in mid-August 2019. The only other example in mid-October sale of best offer.

But, for the price of a Bowman Chrome Prospects Autograph, as you will soon discover, you could almost have two RPAs numbered to 99 or less. Of course, many baseball collectors won't touch Panini cards, right? So, what about Topps Triple Threads, which you would think is a more popular set? Let's see what completed sales have to tell us in the past three months or so (September to November 2019). Then, you can decide which cards you think are more aesthetically appealing to you and which will hold the most long term value.
The National Treasures Rookie Patch Autographs Are Treasures

Despite their lack of MLB-licensed team logos and team names, the National Treasures RPAs are just as beautiful cards as their fully licensed NBA and NFL counterparts. While the obvious airbrushing on the cards can sometimes be distracting and annoying to some collectors, to others it apparently doesn't matter. We're about to see that the prices of these cards, while quite affordable, are actually fairly competitive with their Topps counterparts.

Look at this beauty of a tri-color patch on-card auto RPA of Ronald Acuna Jr, numbered out of 99, from 2018 National Treasures. It shipped for $170 shipped early November 2019.

How about a Shohei Ohtani 2018 National Treasures RPA with a tri-color patch numbered out of 99? It shipped for $215 shipped on November 1st, 2019

What about an Ohtani Triple Patch Auto numbered out of 25, for $209 shipped on November 7?

How about a Juan Soto out of 25 RPA? Could've been yours for $205 in late September 2019.

Now, here's where things get interesting. This is about the same card, same design numbered out of 25. The difference is that the patch portion is showing a part of the Nationals' logo. It sold for $600 on the day before Halloween 2019.

I saved the best of these quick eBay examples for last, a CRAZY PATCH Ronald Acuna Jr. that sold on Halloween 2019 for roughly $854 shipped.

Just like their basketball and football counterparts, you can see the big difference in prices based on the colors and quality of the patch. But, otherwise, the prices are remarkably consistent. The question is are these Panini RPA's less expensive than their fully licensed Topps counterparts?

Panini National Treasures vs.Topps Triple Threads

Topps Triple Threads is the Topps equivalent of National Treasures. It's a fairly popular set that's been in production for quite some time. Before Topps lost the NFL license, there were football Triple Threads sets, as well. Let's look at the same players and their RPA counterparts in Triple Threads. You may be surprised by the findings.

Here's what an Acuna Jr. Jersey Auto numbered to 99 looks like for $150 sold November 26, 2019. Notice that I said Jersey and not Patch.

Sure, it's an on-card auto, but the Jersey pieces are light blue and plain. As a collector, this isn't very interesting to me. I'd rather pay the extra $20 for the National Treasures true patch. These are just jersey pieces – which don't hold the same value in my eyes.

Let's look at a Shohei Ohtani from the same set numbered to just 18 copies. It has a sticker auto – yikes.

I think the three colors are cool with the Splitter cutout. But this card shipped for around $180 on November 7, 2019. As a collector, I like what Topps is trying to do with the flashy design of Triple Threads. But, to be honest, I prefer the less busy and cleaner National Treasures cards, which have more aesthetically interesting patches.

How about 2019 World Series Champion Juan Soto? He has very limited RPA's in Triple Threads but the one numbered to 18 isn't actually a rookie: it's this sticker auto jersey card from 2019.

This Soto "RPA" shipped for a mere $95 on the day before Halloween. It's not due to a lack of interest, either. It had 28 bids. A gold version numbered to just 9 copies had 33 bids and ended just 4 days later for about $145 shipped. The problems with this card for me: one it's a sticker auto, the text "clean up teen" is ridiculously tacky, and it's just jersey pieces again.

By the way, there is an Acuna numbered to 18 in that set, as well, and it sold for under $125 in October.

Our fellow sportscard collectors have spoken. It seems they value the Panini RPA's higher. I don't blame them, because aesthetically, I agree. The Triple Threads cards aren't even proper Rookie Patch Autos, and yet they are often listed as such. Of course, Topps has true RPA's, if you want to shell out the cash for Topps Dynasty…

Yes, they are beautiful cards. But, they are so incredibly rare, and most collectors don't have $1000 to shell out for one, if you can even find them. What do you think? Do you think Topps should incorporate more true Rookie Patch Autos into Triple Threads? (Yes, you can also occasionally find Rookie Patch Autos in products like Topps Update, but they are few.)

[adacards]
The data shows that Panini Rookie Patch Autos do have an audience. Aesthetically, they have the true patches that Triple Threads often lack, unless you're looking for a 1/1.

Sure, that's not a bad price at all for a 1 of 1 true Rookie Patch Auto, besides the fact it's not a true rookie… But, the Topps Dynasty cards are, and they are yours if A) you can find them and B) you have $1000 or more to blow on a single card.

Of course, we have seen RPA's from Panini in other sports fetch thousands of dollars easily. The question is will collectors recognize the price potential of these same types of cards in baseball, which could easily be fetching double what they are now. Only time will tell as the career progression of today's younger players continues.

One day, collectors may discover these RPA's as a great value for what they are. Sportscard investors shouldn't sleep on these National Treasures and other MLB rookie patch autos. These could be strong values in a few years, especially if any of these players find themselves heading for the Hall of Fame.

What do you think? Will you only touch Topps and Bowman cards for Major League Baseball, or will you consider Panini cards? Some collectors seem to think the Panini cards are just fine. I'd love to hear your thoughts on rookie patch autos in general.
Do you believe aesthetics play a role in card sales and sports card investing? Leave your thoughts in the comments below!
Ready to take your sports card investing to the next level? Join my Membership Program now for card picks, analytics, premium community access and much more!