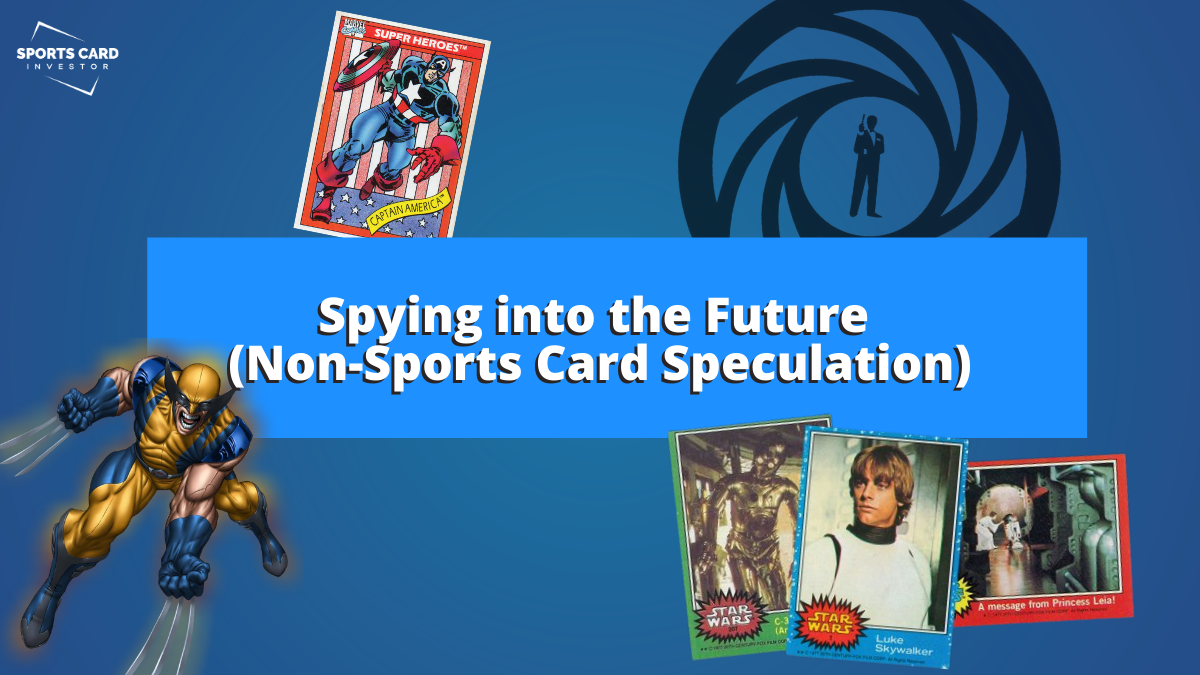 This guest post came through our Article Submission Program. Thoughts and opinions are those of the author.
Introduction
Anyone watching the sports card market has seen a massive explosion over the last few years in the market. Geoff pointed out the record-setting card prices of Michael Jordan and Wayne Gretzky, but almost all cards are up right now. In a recent video, Geoff hosted Hammer from SCI and Rob from NW Ohio Sports Cards as they dug deeper into the NON-sports cards that are gaining a lot of momentum.
In the video, the guys broke down why Star Wars and Marvel cards are gaining so much attention. Hammer and rob explain how the film industry is aiding in the excitement of these two legendary series sets. He said that with each film that comes out, be it Wanda Vision, Falcon and Winter soldier, and other slated Marvel films, or The Mandalorian and the new Star Wars series coming to Disney+, there is a new or re-energized enthusiasm that stems and flows over into comic book and into the card industry.
At the end of the video, again, I recommend checking it out here as it contains a lot of good info; they start talking about the amount of money that can be gained by finding the next big cards before the rest of the hobby catches up. Obviously, there are some risks in trying to find that new set of cards and have them graded before everyone else starts sending in their cards too. But for some of us, isn't that half the fun?
So here's a little speculation as to what could be the next potential big opportunity. And let me preface this with this. At the time of this writing, I have ZERO cards mentioned here. I have not put any thought into non-sports cards until recently and am just speculating or talking out my thoughts before jumping into this. Now… Back to the speculation.
As I listened to the video mentioned above, I asked a few questions about what might be next in line. #1. What is a movie series with enough history and nostalgia, but also has a modern-day presence that pulls in movie goers continually? 2. That film would have to have easily recognizable, almost legendary, actors/actresses. 3. It obviously had to have a card collection that went with it. My conclusion after all this?
JAMES BOND
James Bond, the infamous 007, has had his cards printed since all the way back in 1965, by Philadelphia Gum. There were a few card sets that popped up here and there over the years, but a real attempt at creating a series didn't start until about 1993 by Rittenhouse. Rittenhouse made 15 complete sets over the next 25 years and that's not counting expansions before Upper Deck became pretty much the exclusive printer of James Bond 007.
When it comes to movies with a modern presence and nostalgic pieces of our childhoods growing up, James Bond fits right in. Once watching James Bond, it's hard not to wish you weren't the suave ladies man with all the coolest gadgets, out saving the world. We've come a long way since the 1963 original. And the role of James Bond has developed from a more comical character to the sexy spy of today.
As far as legendary actors and actresses, there is no shortage here either. From the hero himself played by Roger Moore, Pierce Brosnan, Daniel Craig, and soon someone else will take up the torch, to some of his arch-enemies played by legends like Christopher Lee and Sean Bean, and let's not even start on all the "Bond Girls" or sidekicks. There are plenty of people connected to James Bond.
The release of No Time to Die was considered one of the most anticipated films in the world at it's original release date. Since then, it has lost some of that anticipation due to how many times it's been delayed. My brother said, "I'm not saying I'm not excited about it; it's just I'll believe it when I see it. I'm tired of being let down." Perhaps a lot of fans feel this way, and perhaps that is another reason the card hobby hasn't and could explode. The current release date is now October 8, 2021, after the April 2 release date was pushed back. And rumors have been flying about a potential earlier release directly to streaming, but MGM seems to be holding off on that. The simple fact is that when it does release, there will be a huge spike in interest in James Bond everything.
The other reason I believe we will see a spike in James Bond cards will be due to the death of the original Bond, Sean Connery, on October 31, 2020. Probably one of the most recognizable Bonds', his impact on the role will forever leave a mark. There will be no more Sean Connery autographs next to his younger black-clad, pistol-wielding, regal image. What is in the world today is the most there ever will be. And with that, his auto cards and older cards will probably take a premium. There are no Upper Deck sets with his auto in it. You have to search for the Rittenhouse versions, which are currently going for around $1500. You can see his cards on Market Movers, thanks to the new update.
Now here's the deal. When I first sat down to write this, I still thought the release date for No Time To Die was still April and we would see a much sooner spike on this set, but with the release date in October, I'm going to wager we don't see a huge spike in prices for a little while. We'll have to wait until the release date gets closer, or maybe even passes for that matter. BUT with eight months to prepare, one could actually do the research on the cards and have them sent off for grading and be ahead of the game, ready for the spike. Sports Card Investor actually has a grading service that, according to their website, is four months faster than sending those cards to PSA directly. They also do prescreening. Check out their details and pricing here. With eight months to prep, you could actually send your cards at the lowest PSA grading level and likely get them back in time before the release of the film!
In closing, I want to remind the reader that this is pure speculation and that at this second, I own absolutely zero James Bond (But I am watching a few in particular). My hope is that the reader can look at this article, gain some insight, and make their own choices on how best to proceed and where best to invest. And should fate side in our favor (or good research and investing rather), perhaps some of us will be able to come back to this article in November and comment on the huge gains we made because we could get an early start.
Best of luck to you investors and hobbyists alike!
Editor's comment: The comic book and movie industry has been slowly picking up steam, similar to the start of this hot sports card market. The card side of that house to include the 1990 Marvel Universe set, 1991 Marvel Universe set, any of the 1977 Star Wars collections and Promo cards from comics has burst over the last month. This article is an excellent look into the movie genre—notably James Bond. If you have any ideas or thoughts of what you believe will get hot, we would love to hear your comments!
📈 Do you want to track your card collection and maximize your profit? Then you need Market Movers, the hobby's most powerful pricing database and market intelligence platform. Find out more here!