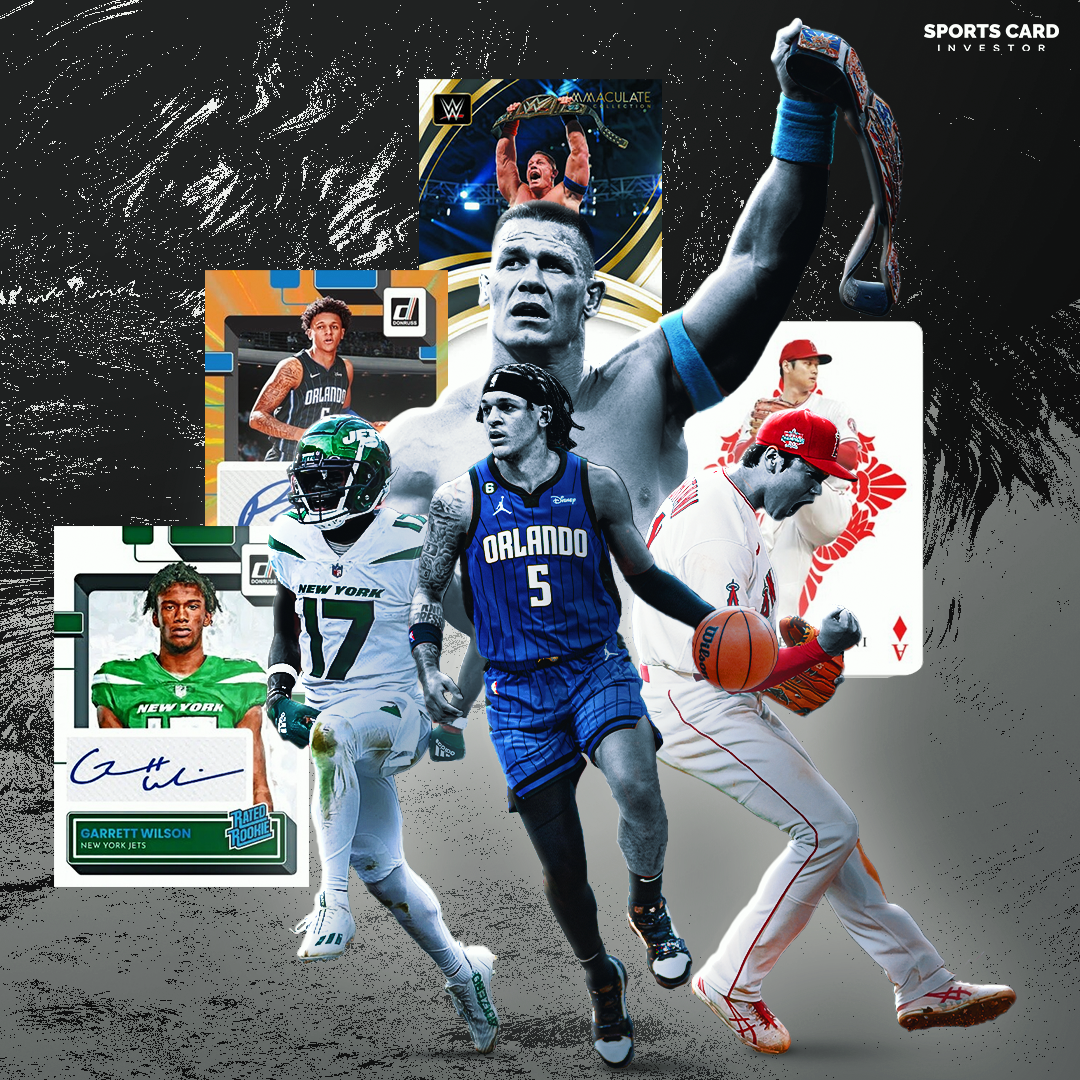 Another month full of decisions is upon us. What to buy? What not to buy? Hopefully, this look into the anticipated February 2023 release calendar can give you some insights into what you'd get with each potential purchase. For baseball collectors, Topps 2023 Series 1 Baseball will be of interest. For football and basketball card enthusiasts, the first truly investable release with 2022-23 rookies will hit the market. If you're into UFC, WWE, hockey, soccer – and even Garbage Pail Kids – not to worry, there's a little something special coming for all of you as well.
Official release dates are subject to change on short notice at the discretion of the manufacturer.
February 1: 2022 Bowman Draft Sapphire Edition Baseball
The 2022 MLB Draft class was packed with young talent, many of whom are the sons of former major league players. Jackson Holliday, son of Matt Holliday, was the No. 1 overall pick – and while his 1st Bowman Chrome Prospect Cards and Autographs were released at the end of 2022 in Bowman Draft, technically the Sapphire Edition has the Bowman Chrome 1st logo as well, and counts as his first. Other top picks to look out for in this release include Elijah Green (OF, 5th overall, Washington), Termarr Johnson (SS, 4th overall, Pittsburgh) and Jace Jung (2B, 12th overall, Detroit).
February 1: 2022 Panini Zenith Football
For the last two years, Zenith has been an online-exclusive release, but will be available in hobby shops this year as well. Hobby boxes have only six cards, two of which are autographs, two inserts and two base cards, instead of two autos and one insert or parallel like the last two seasons. It will feature Rookie Patch Autos of guys like Kenny Pickett, Malik Willis, Desmond Ridder, Garrett Wilson, Drake London, Jameson Williams, Chris Olave, Jahan Dotson, Treylon Burks, Kenneth Walker III, Christian Watson and Ahman "Sauce" Gardner and Aiden Hutchinson. Hobby boxes are selling for about $320.
February 1: 2022 Topps Gilded Collection Baseball
A brand new release for collectors, this is actually one more release for the 2022 season, featuring more rookie cards for Wander Franco – believe it or not. The base design looks like Topps Chrome, but it only features 150 cards, including 50 legends, 50 veterans and 50 rookies. Selling at around $400, it features serial numbers /99 (Gold Etch Refractor), /50 (Mini-Diamond Gold Etch), /25 (RayWave Gold Etch), /10 (Lava Gold Etch) and SuperFractor 1/1. Other top chases include Gold Framed Hall of Famer Autographs, all serial numbered, as well as autos of veterans and rookies, coming in serial numbered versions as low as red /5.
February 1: 2022 Topps Chrome Ben Baller Edition Baseball
A Topps.com exclusive release for the third year in a row, the Ben Baller Baseball set features the checklist of the 2022 Topps Chrome MLB Release, but with a BB Chain around the Topps Chrome logo, and a few unique inserts, including 1987 Topps Baseball, Ben's Diamond Die-Cuts and Ridin' Low (which is new this year). Definitely more for collectors than investors, the boxes in previous years sold for around $250.
February 1: 2021-22 Upper Deck Synergy Hockey
A super affordable hobby box, for $110, you can land Synergy Hockey. There's no guaranteed auto per box, but seven per case on average mean there's decent odds at a signature. You'll for sure get eight base red parallels, three Synergy FX Inserts and 12 additional inserts. Top pulls include serial numbered rookies for Cole Caufield and Quinton Byfield, as well as autos for veterans like Auston Matthews and greats like Patrick Roy.
February 1: 2022 Leaf Exotic Football
You've gotta love an all-autograph release, even if it is unlicensed. Leaf Exotic Football features three autographed cards per box, and while the checklist hasn't been released yet, the promo graphic from Leaf shows a mix of rookies, veterans and legends, from Kenneth Walker III to Joe Burrow to Joe Montana.
February 2: 2022-23 NBA Hoops Premium Box Set Basketball
Just like last month's 2022-23 NBA Hoops Release, but in a limited edition full set format with a shiny finish. It will be released in a dutch auction format on Panini's website, and has an auto checklist featuring top rookies like Paolo Banchero, Chet Holmgren, Jabar Smith Jr., Keegan Murray and Jaden Ivey, as well as current stars Jayson Tatum, Ja Morant, Trae Young, Anthony Edwards and more.
February 3: 2022 Panini Prizm Collegiate Draft Picks Baseball
Considering that this is an unlicensed release, meaning no team logos, names or images allowed, there is some excitement around the cards for top 2022 MLB Draft picks Druw Jones (who doesn't yet have a 1st Bowman), Termarr Johnson, Elijah Green and top overall pick Jackson Holiday. While Prizm is a recognized brand, "draft picks" releases typically have a very short shelf life from a desirability standpoint, and the auto checklist is long, meaning those that pay $119 for a hobby box don't have a great chance of getting an auto from a top prospect.
February 3: Onyx Nimbus Multi-Sport
Make no mistake about it, even if you've never heard of Onyx, this is a top-tier release. On-card autos of top stars across many sports, printed on 130-point stock, are inscribed and hand serial numbered by the athlete, sealed in one-touch cases. The configuration is four cards per pack, one pack per box, four boxes per case. Each box has two on-card autos. Athletes like Albert Pujols, CJ Stroud, Elly De La Cruz, Druw Jones, Jordan Lawler, Juan Soto, Karl-Anthony Towns, Mike Tyson, OJ Simpson and Trinity Rodman are part of the base checklist, while Ichiro Suzuki, Josh Allen and Justin Herbert are featured in the Limited Edition set checklist.
February 8: 2022 Panini Donruss Football
Get excited for Downtown and Pen Pals, as 2022 Panini Donruss Football features some of the first truly investable rookie cards from the 2022 NFL Draft class, like Kenny Pickett, Malik Willis and Garrett Wilson. Donruss Football also features Rookie Phenom Patch Auto inserts, including /99, /49 and 1/1 Laundry Tag Brand, 1/1 Laundry Tag NFL Shield and 1/1 Laundry Tag Player's Logo as top chases. Each hobby box should have one auto and one relic, and is pre-selling at around $270.
February 8: 2022 Panini Immaculate UFC
For the second year, Panini releases high-end UFC cards, in the form of six-card hobby boxes that have three autographs and two relics with First Off The Line (FOTL) featuring an extra auto. The relics are typically in the form of super nice jumbo swatches. The on-card auto checklist includes fighters like Kamaru Usman, Adrian Yanez, Anderson Silva, Khabib Nurmagomedov
February 10: 2021-22 Panini Mosaic Basketball Fast Break
The Fast Break Hobby Box of Panini Mosaic Basketball, which released last month, features 1 Autograph, 11 Prizms, 5 inserts, and 1 Rookie Variation in each Fast Break box. Unique to the Fast Break Box are Fast Break exclusive Mosaic Fast Break Silver, Mosaic Fast Break Blue (/85), Mosaic Fast Break Purple (/50), Mosaic Fast Break Pink (#'d/20), Mosaic Fast Break Gold (/10), and the One-of-a-Kind Mosaic Fast Break Black, Autographs Fast Break, Autographs Fast Break Gold (/10) and Autographs Fast Break Black 1/1.
February 15: 2022 Bowman Chrome University Football
The second release of the collegiate series features something important this year – licensing. This means college names, logos and branding are featured on the cards, and players' uniforms aren't photoshopped. This is actually a big deal for both collectability and future value. Hobby boxes are selling for about $165, and feature two Chrome Prospect autos. Look for Bowman Chrome 1st Autos of Heisman Trophy-winning USC QB Caleb Williams, who was not in last year's set.
February 15: 2022 Panini Immaculate WWE
For $2,000, wrestling collectors can grab a hobby box featuring three on-card autos and two memorabilia cards. Autos can come in the form of various inserts like Induction, Milestones, Moments and Nicknames. Autos are also paired with memorabilia, including Memorabilia, Premium Memorabilia and Rookie Memorabilia Autographs. There are also multi-auto booklet cards. Look for autos from Goldberg, John Cena, Becky Lynch, Roman Reigns, Undertaker, Kane and more.
February 15: 2022 Panini Rookies & Stars Football
While Rookies & Stars has been around for longer than many other Panini brands, and features an updated look and feel each year, it's not one of the most investable sets. It features a 200-card checklist, with 100 veterans and 100 rookies – in theory. Hobby parallels are Orange /175, True Blue /49, Red and Blue /35, Gold /10, Black and Blue /5 and platinum 1/1. Chromium inserts include "Thrillers" and "Crusade." The rookie autos, relics and auto/relics "Stellar Rookies" and "Dress for Success."
February 15: 2022-23 Panini Prizm Collegiate Draft Picks Basketball Hobby
Fun, collector-centric cards that feature current stars and 2022-23 rookies in their college uniforms. This also contains some well-known inserts and short prints such as Color Blast, Stained Glass and Manga, including the new "Letter of Intent," for this year's rookie class. Top cards for investors and flippers include Paolo Banchero's and Jaden Ivey's Prizm Draft Picks Penmanship. For $190, collectors get four autos, four base silver Prizms, eight parallels, four inserts and four rated prospects or rookie variations.
February 15: 2023 Topps Series 1 Baseball
Hobby boxes of the seasonal flagship baseball release start at $98. The 330-card base set includes rookies, Future Stars, League Leaders and team cards. The paper release also features the chase-able Gold Foil, Rainbow Foil, Royal Blue, Gold /2023, Green Foilboard /499, Orange Foilboard /299, Red Foilboard /199, Vintage Stock /99, Independence Day /76, Black /72 (only available in Hobby and Jumbo boxes), Mother's Day Hot Pink /50, Father's Day /50, Memorial Day Camo /25, Platinum 1/1 and Printing Plates 1/1. Hobby boxes also feature "Clear," numbered to 10. New in 2023, Golden Mirror Image Variation short prints feature gold backs for all 330 cards in the base set. Other inserts that collectors may already be familiar with from previous seasons include: "Greatest Hits," "All Aces," "One-Two Punch," "Welcome To The Club," and of course there are autos for each of these inserts as well – some serial numbered out of /299 (Blue, Black), /75 (Gold), /10 (Red) and 1/1 (Platinum).
February 15: 2022-23 Upper Deck Series 2 Hockey
For $145 per hobby box, investors and collectors can try to snag Young Guns cards for rookies debuting during the 2022-23 season. Young Guns come one in every four packs, and have the following SPs: French (one in every 120 packs), Clear Cut (one in every 288 packs) Exclusives /100 and High Gloss /10. There's also the high-end UD Canvas cards, including 1/1 Printing Plates for each.
February 17: 2022-23 Panini Donruss Basketball Hobby
Opening at $295 per hobby box, this popular seasonal release for collectors and investors is highlighted by the first truly investable cards for the 2022-23 rookie class, featuring "Rated Rookie" cards for Poalo Banchero, Chet Holmgren, Jabari Smith Jr., Keegan Murray, Jaden Ivey and Bennedict Mathurin. Possible parallels include Basketball /75, Holo Blue Laser /49, Holo Gold Laser /10 and Holo Black Laser 1/1. The familiar inserts Craftsmen, Crunch Time, Net Marvels, Production Line, Retro Series and Unleashed are joined this year by the new "Animation" and "Night Moves" super short prints (SSPs). Rookie autos come in either sticker-autos, or the on-card "Next Day" autos. Hobby boxes will include one auto and 60 inserts/parallels.
February 22: 2022 Panini Elite Extra Edition Baseball
A release that covers mainly young talent, up-and-coming stars and Dominican Prospect League (DPL) players, Elite Extra Edition Baseball has base cards and parallels all numbered to /999 or less. Hobby box-exclusive Optic versions will appear five times per box. The auto checklist features top overall 2022 MLB Draft pick Jackson Holiday, and On Campus Inserts with Contenders College Ticket Autos provide collectors a level of familiarity within this unique release.
February 22: 2022 Panini Phoenix Football Hobby
At $300 per hobby box, collectors and investors can chase rookie autos, RPAs, inserts and parallels of 2022 NFL rookies, as well as veteran stars. Regular hobby boxes feature two autos, one memorabilia card, nine numbered parallels, two silvers, nine inserts and 12 rookies. H2 Boxes feature three H2 silvers, seven additional H2 parallels, seven inserts, one lazer insert, 18 rookies and two autos per case.
February 22: 2022-23 Panini Prizm English Premier League Soccer Hobby
The Choice version may be released earlier in the month, and for the fourth season, Premier League (EPL) hobby boxes will be released and feature all 20 clubs in a 300-card base set. Short Print Silver Prizms and one-of-one black Prizms will be available, along with the full crew of Hobby Prizms, Breakaway Prizms and Choice Prizms. Chase the full Erling Haaland rainbow, or just enjoy pulling inserts like "Fireworks," "Instant Impact," "Kaleidoscopic," "Groovy" and the famous "Color Blast" super short print.
February 22: 2022-23 Panini Revolution Soccer
At $200 per hobby box, Revolution Soccer debuts in the US this year, after being exclusive to Asia the previous two seasons. There's a 300-card base set across all 20 clubs, including a 35-card rookie subset. Parallels feature Galactic, a top chase, and hobby-only Infinite, Fractal, Diamond Sunburst /50, Cosmic /25 and Lava /10 with inserts like "Futures," "Shock Wave" and "Supersonic." Hobby boxes average four base rookies, one serial numbered parallel, eight additional parallels and three inserts, with the potential for sticker autos across current players and legends.
February 22: Bowman Inception Baseball
Seven card boxes with two autos per box at $144, some "1st Bowmans" are in here marked with an "Inauguration" stamp. Blue Foil Pattern II /99, Gold Foil Pattern II /50 and Gold Foil Pattern III /50 are one per box. Top chases include on-card autos of Marcelo Mayer in the numbered Primordial Prospects Autographs, as well as the new Bowman Inception Auto Dual Relic serial numbered set.
February 24: 2022-23 Panini Prizm Collegiate Draft Picks Basketball Choice
Pre-selling at $175 per box, the Choice version of the release mentioned above, collectors get one autograph, two Silvers, one Red Choice and one Variation or Rated Prospect Choice.
February 28: 2021 Topps Garbage Pail Kids: GPK Goes on Vacation Series 2
The classic parody series, Garbage Pail Kids, returns from Topps with a Vacation theme. Featuring 100 new travel/vacation-related images. There are 200 total cards, as each has an "A" and a "B" version. Featuring a collectible tin donning artist-designed map-themed artwork, each has 24 Booger Green parallels (Hobby Display Box Break), or 24 Bruised Black Parallels, One Hit and One GPK Luggage Tag (Hobby Collector Box Break).
With the Sports Card Investor app, you can profit from the hobby you love by keeping up with trending cards, tracking real-time prices with Market Movers and buying items on eBay.
Download the industry-leading app here for Apple or Android
Note to readers: If you purchase something through one of our affiliates, we may earn a commission.
Paul Hickey is a regular contributor to Sports Card Investor, the creator of the Sports Card Investment Report at NoOffseason.com, and the host of the Sports Card Strategy Show on Apple Podcasts, Spotify and YouTube. He can be found on Instagram at @sportscardstrategy and on Twitter @nooffseasoncard.