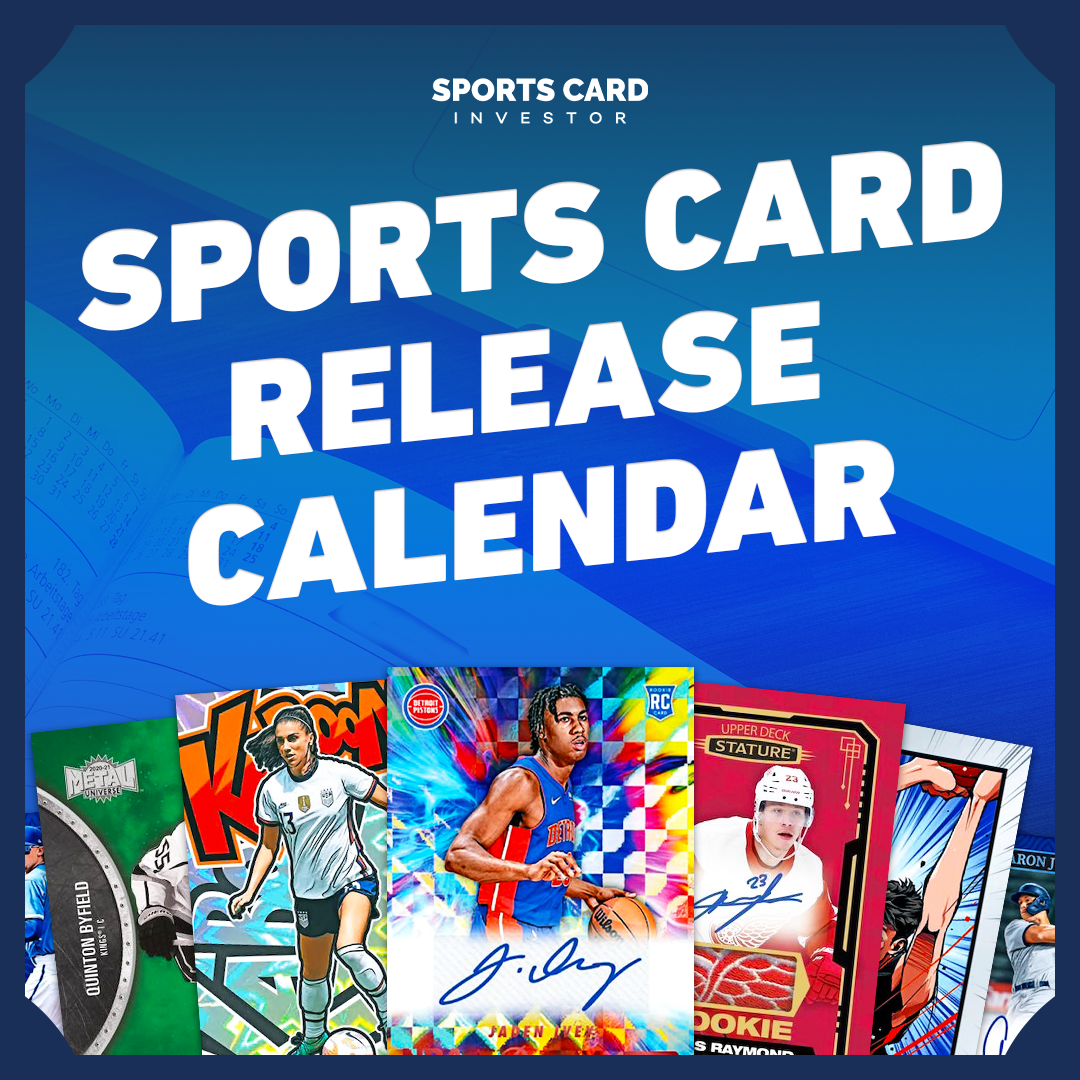 It's what keeps us all excited and all of our mouths watering, and no, I'm not talking about holiday dinner and dessert, I'm talking about the new release calendar for sports cards. With 2023 upon us, it's time to kickoff a new monthly feature looking at the top upcoming releases.
We're looking at the investability, collectability, pros and cons of each release, with the goal of helping you find the best fit for your sports card investing budget.
Official release dates are subject to change on short notice at the discretion of the manufacturer.
January 4, 2023: 2022 Panini Flawless Baseball – Pre-selling for between $1,750 and $2,000 per hobby box, the unlicensed Panini Baseball Release features seven autographs, two relics and one gem card per box. The con is that Panini can't put team logos or names on cards, and the players' uniforms, hats and helmets are altered to remove MLB and team branding. This ultimately devalues the cards. The pro is that the Flawless brand carries some weight within the hobby due to the quality and design of the cards, and that the auto checklist looks pretty spectacular, featuring HoF'ers like Ken Griffey Jr., Babe Ruth, Honus Wagner and Ty Cobb, current stars like Ronald Acuna, Jr. Julio Rodriguez and Manny Machado, and prospects like Elly De La Cruz and Bobby Witt, Jr.
January 4, 2023: 2022 Panini XR Football – Hobby Boxes are pre-selling for around $300 per. The 2021 version of this product has hobby boxes selling for more than $400 currently, but of course with a significantly-higher touted rookie class than this year's version. Each hobby box will have two autos, one relic, four parallels and an insert among 14 total cards (two packs per box, seven cards per pack). Pros include Rookie Patch Autos of guys like Desmond Ridder, Malik Willis and Kenny Pickett, as well as WRs Garrett Wilson, Drake London, Jameson Williams, Chris Olave, Jahan Dotson and Treylon Burks and RBs Kenneth Walker III and Breece Hall. There's also a strong veteran auto checklist and 200 total rookie base autos. Cons include the fact that XR is not a premium brand, and isn't likely to hold value sealed as several higher end football card releases are yet to come for the 2022 season.
January 4, 2023: 2022 Skybox Metal Universe AEW Elite Wrestling – In a pairing of two niche communities — those who love AEW Wrestling and those who collect Precious Metal Gems (PMG) Inserts – Upper Deck hopes the hobby world partakes in this unique release. Each Hobby box averages 15 base short prints and 14 inserts, apparently including one Planet Metal insert and one Hardware or Palladium acetate insert. Of course, PMGs and Jambalayas are not guaranteed and are much more rare. For those of you who have heard about PMGs but aren't familiar with the details, Red are /90, Green are /10, and Gold are 1/1.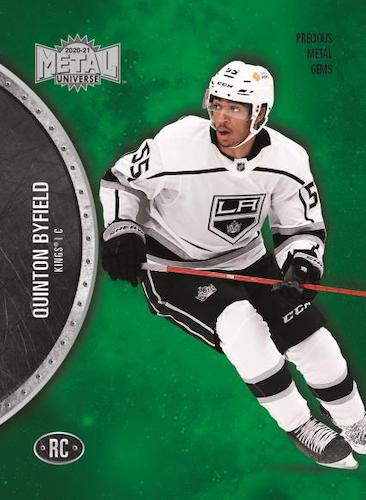 January 5, 2023: 2021-22 Skybox Metal Universe Hockey – For the second year in a row, Upper Deck releases this desirable NHL Hobby Box, with one autograph, PMG, Jambalaya or "other coveted card" per box. The artwork of this set will remind many of 1997-98 Skybox Metal Universe Basketball. Within the main set, there are base (#1-100), Alternate Jersey (#101-150; 1:2 packs) and rookie (#151-200; 1:2 packs) cards. Each pack will supposedly have either a base rookie card or alternate jersey variation. Top rookies include Quinton Byfield, Cole Caufield, Trevor Zygras, Mason McTavish and Vasily Podkolzin. This seems like one of the releases with the most upside this month considering the very reasonable $175 pre-sale price.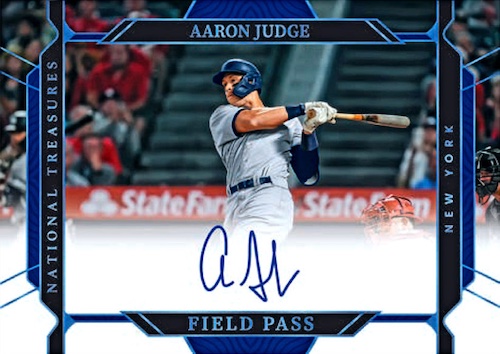 January 11, 2023: 2022 Panini National Treasures Baseball – Before you get too excited about a hobby box of NT selling for a reasonable $600 pre-sale price, remember that these are non-licenses baseball cards that are fine for PCs but typically don't sell for astronomical prices on the secondary market like National Treasures does for basketball and football. The pros of this release are that it will feature past and present greats, hobby boxes will have a mix of eight autos/relics. Also, the 100-card base set will all have memorabilia. Ultra-rare Treasured Jersey Numbers and Treasured Stats inserts will be uncovered for the first time within this product.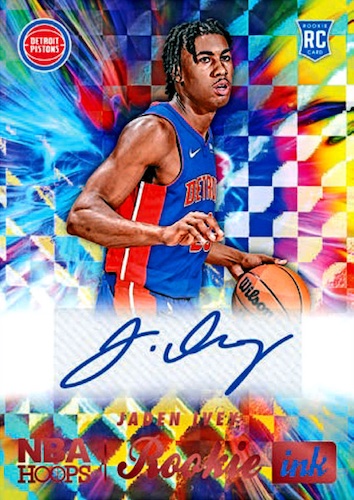 January 11, 2023: 2022-23 Panini NBA Hoops Basketball – The debut of the 2022-23 rookie class in pro uniforms always has a significance to collectors and investors alike, as the hobby box is the most affordable pro basketball release of the year at $120 pre-sale. For this price, knowing you'll get one autograph card per hobby box, plus an insert or parallel in every pack, it's a solid deal regardless of your typical budget or spending tolerance. The autograph selection features four different paths: Hoops Ink, Hot Signatures, Hot Signatures Rookies, and Rookie Ink cards. Look for first pro autos from guys like Paolo Banchero, Chet Holmgren, Jabari Smith, Jr., Jaden Ivey and Benedict Mathurin. If you pull these, listing them right away will allow you to maximize your returns as prices are highest before subsequent sets hit the market.
January 11, 2023: 2022 Topps Archives Snapshots Baseball – Unless you're a hardcore pro baseball collector, this release may not be for you. If you're an investor, stick to Bowman. Having said that, this set features image variations and design variations. Image variations from 1978 or 1987 present different photos. There are three different kinds of short print design variations that may hold more value.
January 11, 2023: 2021-22 Upper Deck Stature Hockey – A mix of veterans, legends and rookies within a 200-card checklist, with 100 rookies. Each hobby box comes with an autograph, a base rookie, an insert (Gravitas, Legendary Heights or Rookie Excellence), a numbered Parallel (#/66 or less), an additional card (Autograph, Base Rookie or Parallel) and 2 Base Veteran/Legend Cards. The top rookie autos include Trevor Zegras on-card autos and Lucas Raymond on-card patch autos.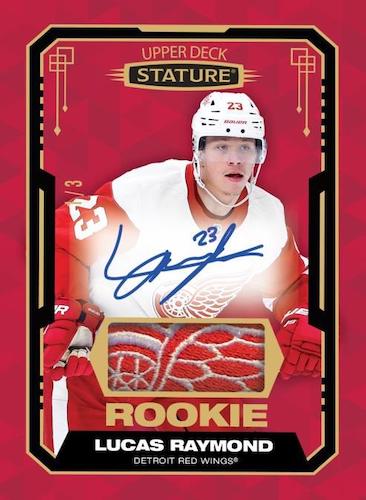 January 13, 2023: 2022 Panini Spectra Football – Pre-selling at close to $1,000, Spectra hobby boxes aren't cheap for a non-premium brand with what many consider to be a subpar rookie class compared to the previous two seasons – and only 16 cards per box. The pros are that you will get four autos per box, four relics and one insert and have a chance at beautiful RPAs of guys like Ridder, Willis, Garrett Wilson, Drake London and other top rookies. Cons, the only on-card auto options come in an insert called "Full Spectrum" /149 that features players who switched teams, like Tyreek Hill.
January 18, 2023: 2021-22 Panini Immaculate Collection Basketball – Wait, do a double take… Yep, you read the year correctly. This is not the first high-end pro basketball release for guys like Banchero and Ivey, but rather one of the last high end releases for the rookie year of guys like Cade Cunningham, Jalen Green and Scottie Barnes. At $1,600 per hobby box pre-sale, you supposedly get five hits per box, including three autos and two memorabilia cards. The most valuable chases are the hard-signed Rookie Patch Autographs and Rookie Logoman Autographs selection. Immaculate will also contain on-card options in Rookie Championship Tags Autographs, Premium Patch Autographs, veteran stars in Patch Autographs Tags, multi-signed combo cards in Dual Autographs, Triple Autographs and Quad Autographs. Unique to Immaculate will also be Team Slogans and Sole of the Game sneaker pieces.
January 18, 2023: 2022 Topps Chrome Ben Baller Edition Baseball – No details have been released yet regarding this set, but we can safely assume it will follow the basic concept of 2021's Topps Chrome Ben Baller Edition Baseball, which essentially mimicked the regular Topps Chrome release but with a few tweaks. Last year, the Topps Chrome logo featured Baller's chain logo, and diamond patterns were added to the player's name area. Topps 582 Montgomery Club members will likely get the first shot at boxes, as they have the past two years in pre-sale format.
January 18, 2023: 2022 Topps Finest Baseball – Pre-selling for around $225 per hobby box, Topps Finest is the cousin of Topps Chrome, featuring the chromium cardstock and clean design that collectors love. The rookie auto checklist features big names like Wander Franco and Oneil Cruz, while the veteran auto checklist has signers like Mike Trout. Each hobby box promises two total autos.
January 18, 2023: 2022 Topps Dynasty Formula 1 Racing – 2022 Topps Flagship Formula 1 Racing came out in late 2022, but there hasn't been any info dropped about 2022 Topps Dynasty F1, so we'll look at the 2021 release, which now sells for around $1,500 on the secondary market. Quite simply, it's one card per box, and each card is an auto relic. The catch is that there are team principals included among the drivers, and each release is a full year behind in terms of what drivers are included and what teams they represent. The best way of explaining this is that George Russell raced for Williams Racing in 2021, and even though Topps Dynasty F1 2021 was released in 2022, he is in Williams gear in that set. We expect 2022 Topps Dynasty F1 to follow the same format as each of the last two seasons.
January 18, 2023: 2022 Panini Impeccable Football – A legit pro football release, hobby boxes feature eight cards, with five autos and a possibility of a sixth. Many hard-signed rookie patch autos of top picks like Kenny Pickett, Drake London, Garrett Wilson and Desmond Ridder will hold solid value, as well as one-per-case cards with metal bars embedded, like the all-new Silver Generations quad-player edition featuring one troy ounce of .999 fine silver. Other autos include First Ballot Signatures, Impeccable Jersey Number Autographs, Masterstrokes, HOF Autographs, Illustrious Ink, Immortal Ink, and Impeccable Stars Signatures.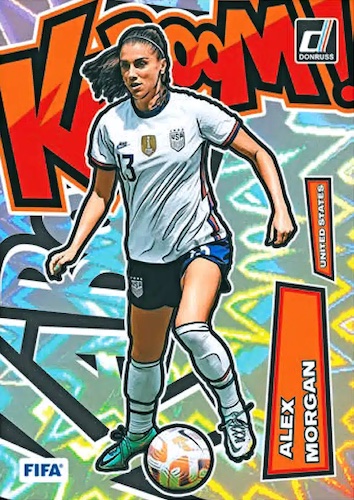 January 25, 2023: 2022-23 Donruss Soccer – Donruss is a unique soccer release due to the fact that Panini mixes its licenses with FIFA and some professional leagues (like La Liga and The Premier League) to feature some top players in both international and club kits. Hobby boxes are pre-selling for $200 and average one autograph and one memorabilia card. Another cool twist is that case hits include Kaboom! inserts (potentially of USWNT stars like Alex Morgan) and an all-new insert called "Night Moves." It also looks like this set includes Erling Haaland on-card autos in his national team kit, making it an interesting wax investment.
January 25, 2023: 2022 Panini Elite Extra Edition Baseball – At a $105 price point with 10 hits including eight autos, this is actually a pretty intriguing release – especially since it features top prospects that were drafted in 2022, like Termarr Johnson and Jackson Holiday as well as SSP "On Campus" inserts, and Panini-exclusive Dominican Prospect League (DPL) players.
January 25, 2023: 2022 Panini Illusions Football – Careful, this is not Immaculate and not Impeccable, but rather a lower-end brand, Illusions. Pre-selling for $400, hobby boxes feature five hits (usually three autographs and two relics), five serial-numbered parallels, and 10 inserts (acetate or micro-etch). Inserts include Funkadelic, Operation Detonation and HoloHeroes. Rookie autograph inserts of guys like Ridder, Pickett, London and George Pickens will be released as First Impressions Autographed Memorabilia and Rookie Reflections Dual Patch Autographs.
January 25, 2023: 2021-22 Panini Mosaic Basketball – One of the more recognizable second-tier brands, Mosaic's 2021-22 Hobby Boxes are being pre-sold for around $470 and include one auto, 20 parallels and 20 inserts. The rookie class in this release is that of Cunningham, Green, Barnes and Evan Mobley. Along with autos of the top rookies, hobby exclusive parallels will likely command solid prices as singles on the secondary market, with a configuration of: Mosaic Red (SP), Mosaic NBA 75th Anniversary (SP), Mosaic Blue – #/99, Mosaic Purple – #/49, Mosaic White – #/25, Mosaic Gold – #/10 and Mosaic Black – 1/1.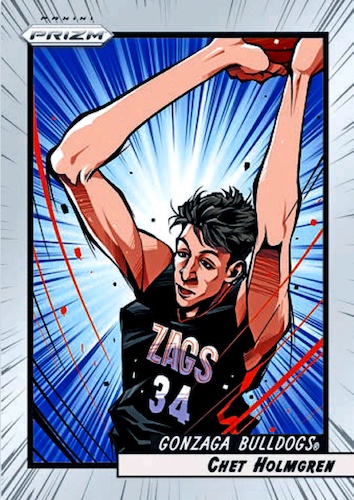 January 25, 2023: 2022-23 Panini Prizm Draft Picks Basketball – Pros of this release: licensed college autos of top picks like Paolo Banchero, Jaden Ivey, sweet new Manga inserts of guys like Chet Holmgren and Prizm Color Blast inserts. Cons of this release: cards in college uniforms of players like Trae Young and Shaquille O'Neal, which can be easily mistaken for older cards that hold more value. Pre-selling for almost $200 per hobby box with four autos and a plethora of inserts is intriguing due to the Prizm brand, but make no mistake – college uniform cards always have a short value runway with the pro release yet to come later this year.
January 25, 2023: 2023 Topps Sterling Baseball –– Topps Sterling Baseball traditionally delivers autographed relic cards from current stars, retired legends, and collectible rookies in a three-card format numbered to 25 or less including one-of-ones. Like past releases, 2023 Topps Sterling is expected to be extremely high-end, with game-used memorabilia, relics and on-card autos.
January 25, 2023: 2022 Topps Renaissance MLS Major League Soccer – At $250 pre-sale, this is the inaugural high-end release for MLS collectors. As an all-autograph product that guarantees encased signature cards numbered to 20 copies or less, featuring an autograph card and an autograph relic card, those who believe in the MLS and its talent should definitely dive into this one.
January: 2022 Bowman's Best Baseball – So we know that Bowman is the best release each year for baseball card investors, but what exactly is "Bowman's Best?" Each year, it closes out the MLB collecting season with four autos per hobby box, and two autos per mini box (info based on the 2021 release). Not to be confused with Bowman, the "Best" brand does not feature prospect cards, but does have RC autos and several valuable inserts and parallels.
January TBA: 2022 Bowman Chrome Road to UEFA Under-21 European Championship Soccer – I wrote about this set in an earlier "In The Wax: Topps UEFA Champions League Soccer" article, and I'm very intrigued by it for a few reasons. First of all, the recognizable Bowman Chrome 1st branding that Topps features in its Bowman Baseball release. Secondly, it's an all-Chrome set. Lastly, it's the first licensed soccer set focused entirely on prospects, which could be huge. The con of this release as I see it is the checklist, and the fact that there is only one auto per hobby box. Even at the $109 price point, there may not be much value in the 2022 edition, but this is definitely something to monitor in future years.
January TBA: 2022 Topps Chrome Road to UEFA Nations League Finals Soccer – Similar to the above release, a Topps Chromium debut but this time focusing only on the top players from the Nations League Finals, pre-selling at $175 per hobby box with one auto per box. Top players are Gavi from Spain, Cristiano Ronaldo (Portugal) and Erling Haaland (Norway), but the auto checklist has not been released yet.
With the Sports Card Investor app, you can profit from the hobby you love by keeping up with trending cards, tracking real-time prices with Market Movers and buying items on eBay.
Download the industry-leading app here for Apple or Android
Note to readers: If you purchase something through one of our affiliates, we may earn a commission.
Paul Hickey is a regular contributor to Sports Card Investor, the creator of the Sports Card Investment Report at NoOffseason.com, and the host of the Sports Card Strategy Show on Apple Podcasts, Spotify and YouTube. He can be found on Instagram at @sportscardstrategy and on Twitter @nooffseasoncard.