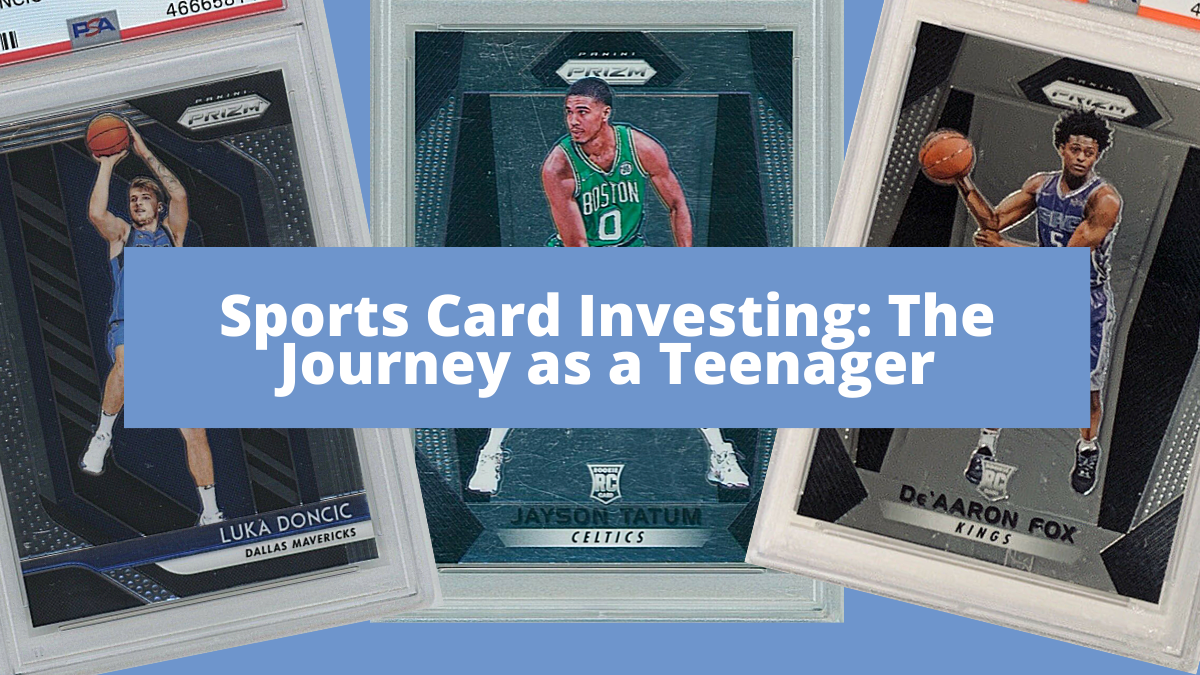 This guest post came through our Article Submission Program. Thoughts and opinions are those of the author.
Introduction
A little about me
My name is Spencer and I'm 14 years old. I've enjoyed collecting baseball cards for the past six years. Over the past six years, I've learned a thing or two about the wonderful hobby of sportscard collecting. I've enjoyed ripping backs, visiting card shows, and watching my favorite YouTubers talk about the hobby. More recently, I've gotten into investing and reselling sports cards. One of the realizations I came to early on was the fact that I would have to keep my passion for collecting very separate from my new found interest in investing.

My journey
A few months ago, I found myself on eBay buying an unnecessary amount of cards (we've all been there before) with some money I had saved up. As I was scrolling through my watchlist, I realized that many of the cards I had been looking at over the past few weeks had gone up a few dollars. I'm always eager to make money, so I thought to myself that if I could make money selling cards to buy the cards I want, then there would be no downside. There was only one problem; I had no idea what I was doing. So I did what anyone my age does when they don't know what they're doing, I went onto Youtube and typed in the search bar "Sports Card Investing." The first channel that came up was "Sports Card Investor", so I sat down and started watching videos. To learn, I would watch videos, go on forums, read articles, and listen to podcasts mainly by Gary Vee. While I was researching, I started looking at some cards I was interested in investing in, and that's where I ran into my second problem. I realized that some of the cards I was looking at were dream cards of mine, such as the 2018-19 Prizm Luka Doncic RC graded a PSA 10 or similar cards of players I PC like Fernando Tatis Jr.. and Pete Alonso. I realized that I would have a hard time being able to sell these cards that I collected and wanted, so I decided that if I were going to start investing in cards, I would have to keep my passion for collecting separate.
There was a simple fix for this; I would start by only investing in baseball cards. There were two significant reasons for this; first, I didn't collect basketball cards nearly as much as I did baseball cards, and secondly, the NBA season was in full swing. The basketball card market was rising steadily. Finally, I was ready to buy some cards. My cart totaled five graded cards to start, a 2018 Prizm Luka Doncic RC PSA 10 two 2017 Prizm De'Aaron Fox RC PSA 9 and a 2017 Prizm Jayson Tatum RC PSA 9, as well as a 2017 Prizm Donovan Mitchell RC PSA 10 and few ungraded cards. I bought mostly PSA 9 cards because they are significantly cheaper than PSA 10 cards and because I believe that a rising tide lifts all boats if PSA 10 prices rise, so will PSA 9 prices.
Aftermath
A few weeks after I received the cards, I reached a price point where I was willing to sell both the De'Aaron Fox and Jayson Tatum cards. I decided to sell them and made a decent profit that I then used to buy more cards. The Luka Doncic card was a more long term investment I made. Up to that point in time, I had been selling the cards on my personal eBay account, and I decided it was time to create a new eBay account for my cards. That's how PandaCardZ was created. Unfortunately, the Covid-19 pandemic slowed down business for me, and at this moment, only dollar cards are listed on my eBay page, but my hope for PandaCardZ's future is high. I'm excited to see where my passion takes me next. Card investing for me so far has been a great experience, and although my budget may not be the biggest and I may not be selling multi-hundred dollar cards my journey into the card investing world has taught me to trust myself, be adventurous, take risks and most importantly don't be afraid to fail.
As many of us know, it's never too late or too early to follow your passion. This article is a beautiful example of young entrepreneurship and a reminder to all, to mentor those coming up. We can, and have learned a lot from all different ages in this hobby. If you have an example of how you created a business or make money buying, selling, or trading cards, we would love to hear from you.
Ready to take your sports card investing to the next level? Join our Membership Program now for card picks, analytics, premium community access and much more!