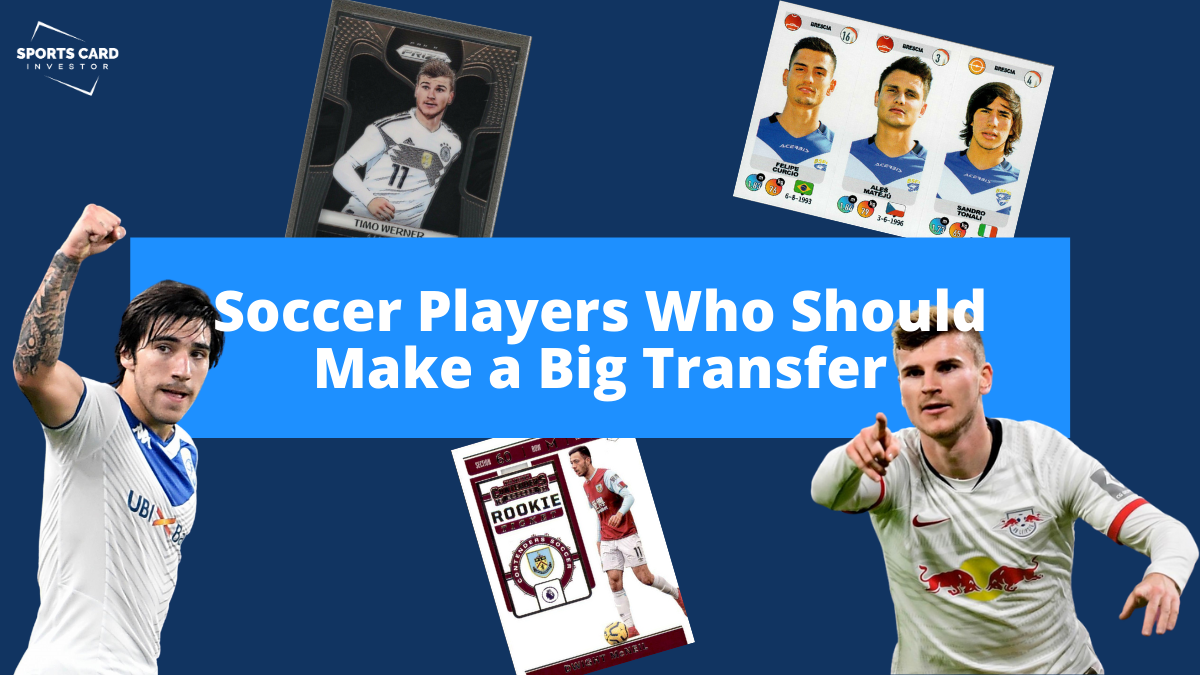 This guest post came through our Article Submission Program. Thoughts and opinions are those of the author.
Introduction
When it comes to soccer, the lay of the land is completely different than any other sport. For card investing, you want players who are at the biggest clubs in the world.
There's a lot of value in finding young players in lesser-known teams who look like they will sign for bigger clubs. However, there's a lot of crystal ball work in these predictions. Joining the wrong club can derail a career for a few seasons and make it hard to get back.
That's the fun of the hobby though. You back the players who you think will do well going forward.
I've had a look at the different leagues and found three players who, I think, have a great career ahead of them. One has already made a transfer to a bigger club, and the other two look like they're on the verge of a transfer.
TRENDING SOCCER CARDS ON EBAY
Sandro Tonali
Age: 20
Current Club: Brescia
Okay, the first player on the list might raise a few eyebrows to soccer fans.
Tonali played deep in Brescia's midfield. Almost like a defensive midfielder at times. And, central defensive midfielders are usually horrendously priced cards. However, I think there's a little more to this.
Tonali is touted by many as the next Andrea Pirlo – and I can see why. They both have a great passing range (more on Tonali's passing later if you disagree with me there), both create from deep, and they both kind of look the same if you squint. They're also both from Brescia and started at the club. However, with all that considered, I think that's a bit of a lazy comparison. While Tonali can create from deep in a midfield – he can play anywhere centrally. I can see him being a great central midfielder in a better team.
Pirlo often played deep with a midfield partner like Gennaro Gattuso to protect him. Tonali kinda plays like Gattuso and Pirlo combined – he's much more of an all-round midfield threat. If Tonali lands at the right club, he should get a chance to strut his stuff in center midfield which should lead to more goals and assists.
Some might point to Tonali's sub-par passing data from last season as a reason why he won't work playing central midfield for a top team. However, a lot of this comes down to his Brescia teammates not being up to standard. Tonali was often left to fire some long diagonal balls to try and create something out of nothing.
Tonali should move to a leading Italian team this offseason; the word on the street says it'll be either Inter or AC Milan. Both of these moves would be great. Inter would put him with Conte as manager and playing alongside players like Lukaku. AC Milan on the other hand, are slowly moving into the Dortmund model of buying young players and making them better before selling them off.
While Tonali's card won't reach crazy levels, I do believe they'll rise in the coming seasons. His rookie cards are cheap enough to hold for a while and not feel it too much on the hip pocket. And if his next manager sees him playing upfield more, it could be a great payoff.
BREAKING NEWS:
Sandro Tonali to MILAN is a done deal, per the latest developments. The midfielder has been heavily linked with the club this week and it seems an agreement has been reached between the two clubs. 
Timo Werner
Age: 23
Club: Chelsea
The German international was seemingly on his way to Liverpool before Chelsea jumped in at the last moment to sign the striker. And for card investing purposes, I think that's a better move for him (and us card collectors).
Yes, Liverpool is a way better team than Chelsea is right now, but Werner would have most likely been a bench player at Liverpool. Liverpool's forward line is arguably the best on the planet right now and they compliment each other in a 'more than the sum of their parts' kind of way. Werner would have had to work his way into that team and there's no guarantee that would have happened straight away. Instead, he'll play big minutes at Chelsea as a part of an exciting young team that Frank Lampard is doing an amazing job with.
When it comes to Werner's style of play, here's a screenshot from his Wikipedia which I've included because I find it hilarious.
"you mean he has pace, quickness, and the ability to run fast?"
Jokes aside though, Werner does like to run in and get behind defences – and those opportunities should come up in an up and down league like the Premier League. Werner is more than just a speed demon though, he has more range to his game than people realize, and he's a terrific finisher too. So, if he gets shots, he should bang in goals next season, and his card prices will go up with his goal tally.
Some could argue moving from RB Salzburg to Chelsea isn't a step up considering recent on-field successes, and I agree. However, worldwide, the Premier League is a lot more well known and Chelsea are one of the more famous teams in the world. So, for card collecting, it's a step up.
Dwight McNeal
Age: 20
Current Club: Burnley
The fact that Burnley has turned themselves into a consistent Premier League team is one of the most impressive things in football over recent years. They've built a solid top tier side around a solid defense and being a team that plays hard every single game.
With that style of play, the stereotype is that they don't have players with attacking flair.
However, their rookie winger, Dwight McNeil bucks that trend and looks like he's going to be an absolute star. He played all but 75 minutes in the season that just finished and was the team's main threat going forward.
McNeil also sent in the sixth most crosses in the Premier League this season. Which, for a team that only averaged about 42% possession (the lowest in the league), is incredibly impressive. His high cross-rate means he knows how to drive at the opponents and get in the right areas to create chances. It may have only ended with six assists this season, but that'll increase over time.
He is also an absolute work-horse and put the second most tackles for forwards this season. This means that he should fit well into some pressing teams. McNeil also appears to be extremely coachable and adaptable – playing as a second striker from time to time.
I think McNeil will move this offseason, and if not, it'll be the following one. A club like Burnley needs to sell players like McNeil for their long-term health.
His next move is a tricky one. I can see a big side chasing him this offseason as a few clubs will be looking for value purchases after a lockdown-impacted season – and with that, lockdown-impacted budgets. However, if his next move isn't to a major club, it will be a great stepping-stone move that sets him up for a huge move down the line.
You can buy his rookie cards now for a good price and they should increase in future seasons.
Final Thoughts
Finding the next great player isn't an easy thing to do. There's a lot of incredible young players out there, and they don't all make it. Sometimes, a bad transfer can break a career. However, in this article, we looked at three guys who are worth investing in. You might find a player like Werner is a good option to flip on eBay if he plays well, where the others are a long-term play.
This was a great article looking at the thought process behind investing in players signed by big clubs. The recent transfer of Tonali to Milan could help his card jump exponentially, we will see. If you have strong insight into everything soccer, we would love to hear your thoughts!
Ready to take your sports card investing to the next level? Join our Membership Program now for card picks, analytics, premium community access and much more!