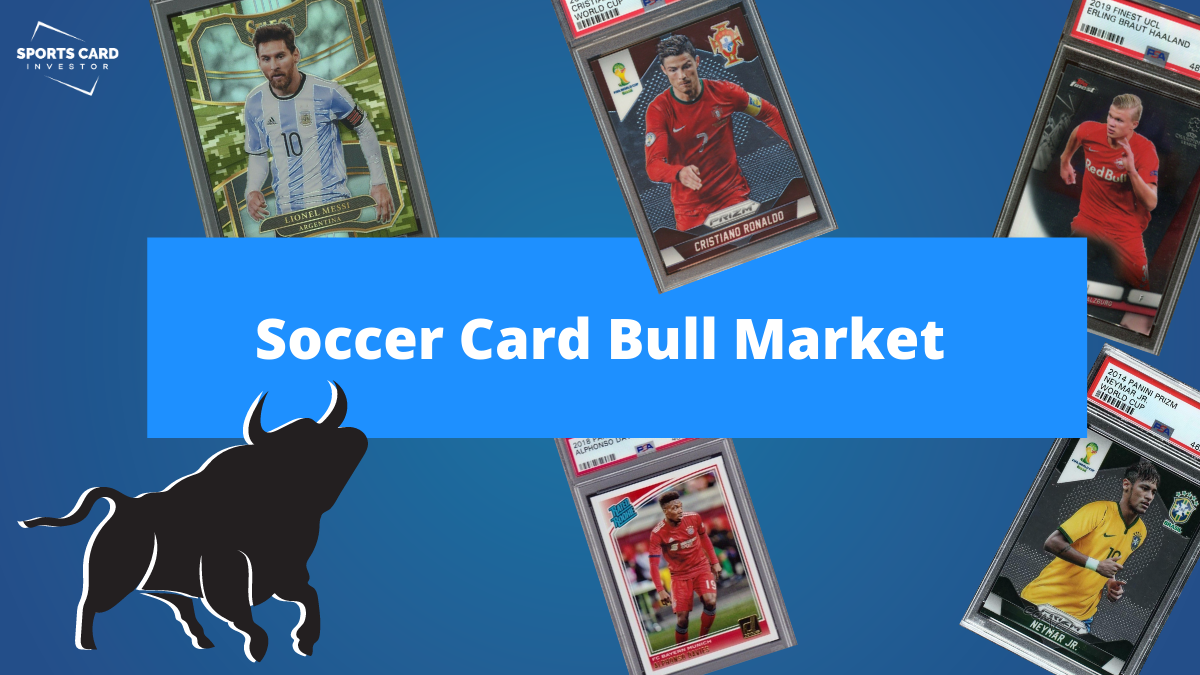 This guest post came through our Article Submission Program. Thoughts and opinions are those of the author.
Introduction
The soccer card market has started to boom and now more than ever it is a great time to start investing in soccer cards! At the beginning of 2020, we began to see an increase in the value of soccer cards worldwide. In the past few weeks, we have seen the prices of soccer cards explode, and this is only the beginning. We will show you which players to watch and which brands to look out for. So let's get started!
First and foremost, I want to say if you do not follow soccer, I would either not invest or do your research before buying anything. The world of soccer cards is different from other sports like basketball or football. The sets are newer and there is a lot of upside to getting into soccer early, but you need to make sure you understand it first. There are hundreds of teams worldwide and thousands of players as well. If you know nothing or very little about soccer, I would start by researching players in the top leagues around the world. These leagues would be La Liga, Serie A, Bundesliga, Ligue 1, and of course, the Premier League. Pick one league and research that league and determine which teams are the best and which players on those teams are the superstars. This will allow you to have some beginner knowledge when you start to invest in soccer cards.
Ones to Watch
Since there are thousands of players, it can become overwhelming at first trying to pick who to invest in first. Here are some players I believe are the best ones to invest in:
Cristiano Ronaldo
Lionel Messi
Kylian Mbappe
Erling Haaland
Jadon Sancho
Kai Havertz
Christian Pulisic
Vinicius Junior
Marcus Rashford
Neymar
You might see a pattern here with many of these players, excluding Messi and Ronaldo; they are all very young. In the soccer card market right now, most collectors and investors are going after the younger players. Messi and Ronaldo are of course, number one and two, but they are interchangeable if you want to invest in one over the other. They are both legends of the game and will always be thought of as the GOATs of soccer. As there are many soccer players, there are also many different sets of cards that you should be looking out for.
Sets to Watch
Many of the sets listed here are newer because Panini recently started to bring their iconic sets into soccer. They started making Prizm cards for the World Cup in 2014 and these cards have seen tremendous growth over the years. Panini had been making sticker cards for a while but decided to start making actual cards and move away from only stickers. Panini started to bring other sets into soccer as well, like Select, optic, Noir, Flawless, and Immaculate. The sets I would most likely go after are the first year sets for these cards because people love collecting and investing in first year sets. Here is my top 5 list of soccer card sets you should be investing in today:
2018 Panini Optic
2018 Panini Prizm World Cup
2014 Panini Prizm World Cup
2015 Panini Select
2019 Panini Prizm Premier League
You will notice that all the sets I am talking about are Panini branded sets. Topps is the other big producer of soccer cards, but I believe that Panini has a greater market outreach than Topps because they are bringing their iconic brands into soccer. Panini has become the brand to have with other sports like basketball and football, so I think this will stay true for soccer.
How to Invest in Soccer Cards
If you made it this far, that means you are serious about getting into soccer cards! Before you go and buy your first card or box, I want to tell you a few more things.
First, the rookie cards for soccer are a little different than other sports. In 2016 Panini rolled out Christian Pulisic's rookie card in their select set, but even though this was his rookie year the card does not say "RC" anywhere on it. Since 2017 they started to put "RC" on the cards that are their rookies, so that will not be a problem anyway. This year's Panini Prizm Premier League set however featured a rookie card for Teemu Pukki; Pukki has been playing professionally for years, but this was his first year in the Premier League and they put RC on his card. This is his rookie, but he is thirty years old.
Second, as I stated earlier, the best sets to go after right now are the first year sets that panini produced. These hold value for longer periods of time. If you do not like buying non-rookie cards for players, I would suggest looking into rookie cards of more modern era players, rookie cards from 2016 to the present. I say this because the more vintage cards do not hold as much value as the more modern cards do, but recently we have started to see more interest in these older players.
Last but not least, I want to tell you about which positions hold the most value. The positions that you want to be looking into are the strikers, wingers, and goal scorers. These players are continually getting praise for their top performances and are known across the world. Goalkeepers, defenders, and defensive midfielders are not as valuable as the goal scorers, but that does not mean there are not a few exceptions.
These are the main points and topics you need to know to start collecting and investing in soccer cards! Don't hesitate to send us a message on Instagram, @sports_cardset with any questions you might have.
The soccer card market is still very active. Take the time and learn from these long time investors or enthusiasts. If you have any advice or secrets that the community would benefit from, we would love to hear your thoughts or read about some of your practices.
Ready to take your sports card investing to the next level? Join our Membership Program now for card picks, analytics, premium community access and much more!