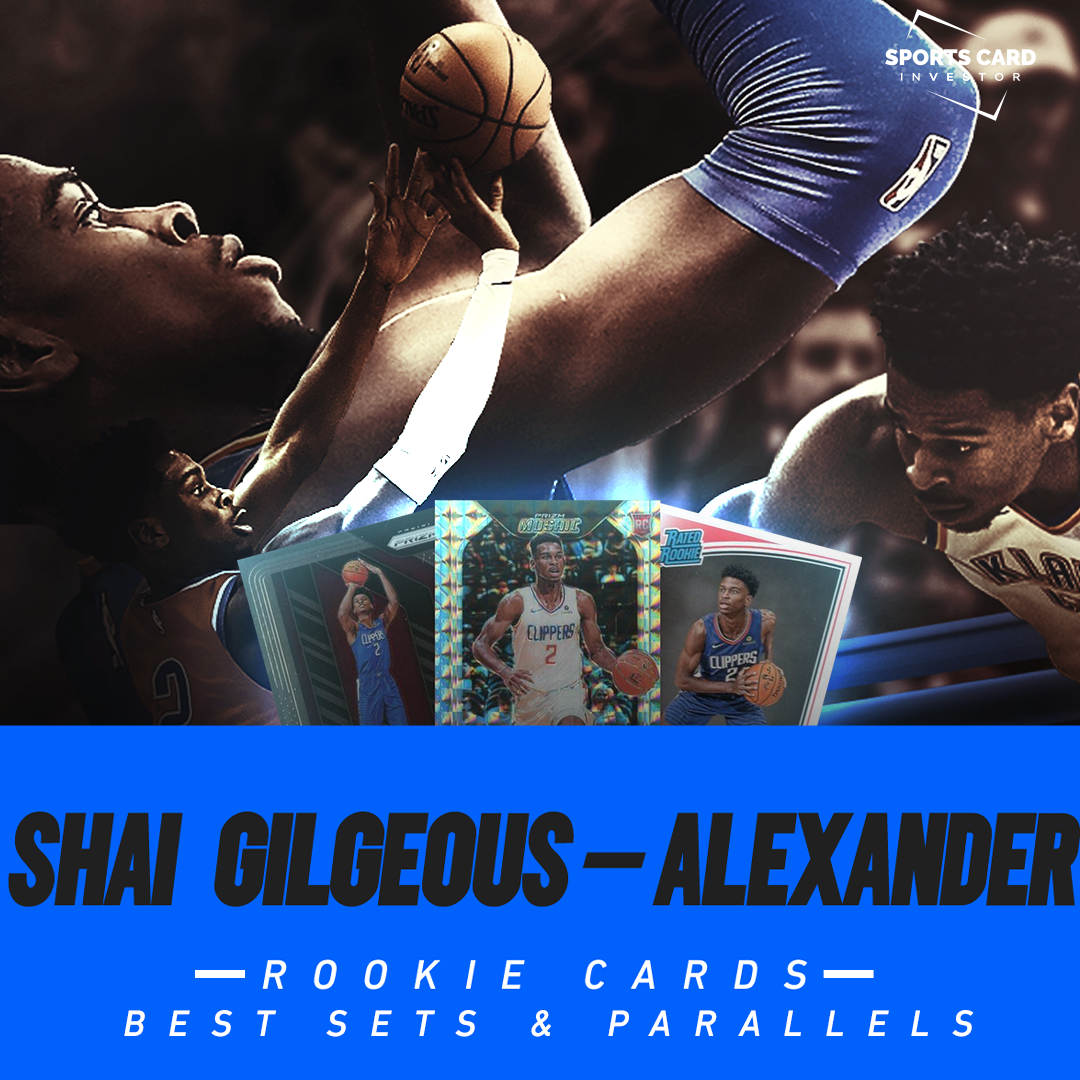 Largely overshadowed by other 2018 NBA Draft selections like Luka Doncic, Trae Young and Deandre Ayton, Shai Gilgeous-Alexander has quietly become a star in Oklahoma City. A crafty playmaker and strong shooter, SGA has emerged as one of the NBA's top guards and a basketball hobby favorite.
Gilgeous-Alexander has dozens of rookie cards from the 2018 season, so use the Sports Card Investor guide to see which ones we think you should focus on. Cards are broken down into tiers, ranging from the most affordable and more popular options to the most unique, expensive and rare.
VALUE ROOKIES:
The Value Tier Includes cards with high print runs or lower-quality card stock. A good fit for new collectors or those on a limited budget.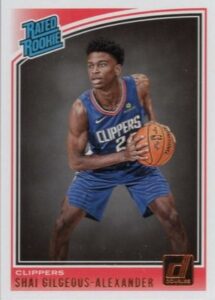 Donruss #162: One of Panini's flagship sets, Gilgeous-Alexander's Rated Rookie is the main card to search for here. Next Day and Rookie Dominator Autographs are good options for collector's with a bigger budget.
Hoops #262: A great choice for beginners or those on a budget, Hoops gives us our first look at SGA in his pro uniform. Look for Gilgeous-Alexander in the Great SIGnificance, Hot Signatures Rookies and Rookie Ink autograph checklists.
Status #106: A hobby-only product in 2017, Status swapped to retail-only in 2018. Status could fit in the unique section as well, though its relatively lower price makes it a strong value option, too. Rookies have two image variations to grab while parallels like the Pursuit die-cuts are fantastic chase cards.
POPULAR ROOKIES:
This tier includes cards from the most popular sets across both retail and hobby formats. Typically easy to buy or sell when needed.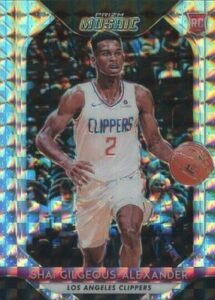 Mosaic #89: An online-exclusive product in 2018, Mosaic doesn't get its standalone release until 2020. Gilgeous-Alexander has several cards worth having, though, including his base and any of the major parallels like Blue and Red or the Orange numbered to just 99.
Optic #162: The usual Chrome upgrade to Donruss, Optic is another chance to grab Gilgeous-Alexander's Rated Rookie. A must-have for any SGA collector, you'll want to pick up parallels like Blue Velocity, Purple, or the ultra-popular Optic Holo.
Prizm #184: A quality control error resulted in Gilgeous-Alexander not having the rookie shield on the card, but don't worry, this is his rookie. Essential for any SGA collector are his Prizm rookie in parallels like Red Ice, Hyper, Blue, Fast Break and the signature Silver.
Select #7: Built around three levels of cards — Concourse, Premier and Courtside — there's plenty to chase, even for base rookies. Parallels like Tri Color, Zebra, Silver and Scope are must-haves for most SGA collectors.
MORE UNIQUE ROOKIES:
This tier Includes cards with lower print runs, unique designs, or cards from hobby-only products. Usually higher-quality cards than the Value or Popular Tiers, though not necessarily more popular or easier to buy or sell.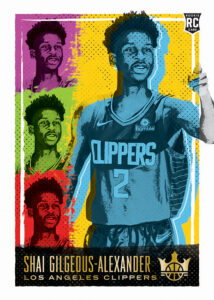 Court Kings #129: One of Panini's most impressive sets from a visual standpoint, Court Kings is built around multiple levels of rookie cards to chase. Rookies I is the easiest to find while Rookies IV has a significantly lower print run. Acetate rookies are good options if you're looking for something different while the Fresh Paint Autographs are a good fit for any collection.
Cornerstones #161: With base rookie cards numbered to just 199, Cornerstones is a good option for those looking for more-limited print runs. Outside of the base rookies, this set provides serious eye appeal with quad-patch, on-card autographs in the Rookie Cornerstones set numbered to 199.
Revolution #103: Arguably Panini's loudest and most unique release, Revolution features some of the hobby's best parallels. A hobby-only product without guaranteed hits, Rookie Autographs are extremely difficult to find, so focus on scooping up parallels like Astro, Fractal, and the ultra-rare Galactic and Lava.
RAREST AND MOST EXCLUSIVE: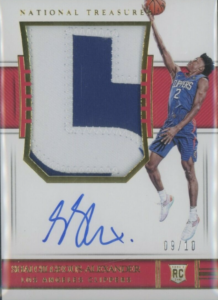 We won't spend much time here because this category is likely out of reach for most collectors due to price, but they are still fun to look at.
Sets like Flawless, Immaculate and National Treasures typically feature visually stunning designs and low-numbered cards.
This is also where you'll find the most impressive patches paired with high-quality on-card autographs. Don't worry if this tier is too pricey as there are plenty of options in other categories that could be perfect for your collection.
Track your collection and maximize your profit with Market Movers, the hobby's most powerful sports card pricing platform! Learn more here.
Note to readers: If you purchase something through one of our affiliates we may earn a commission.