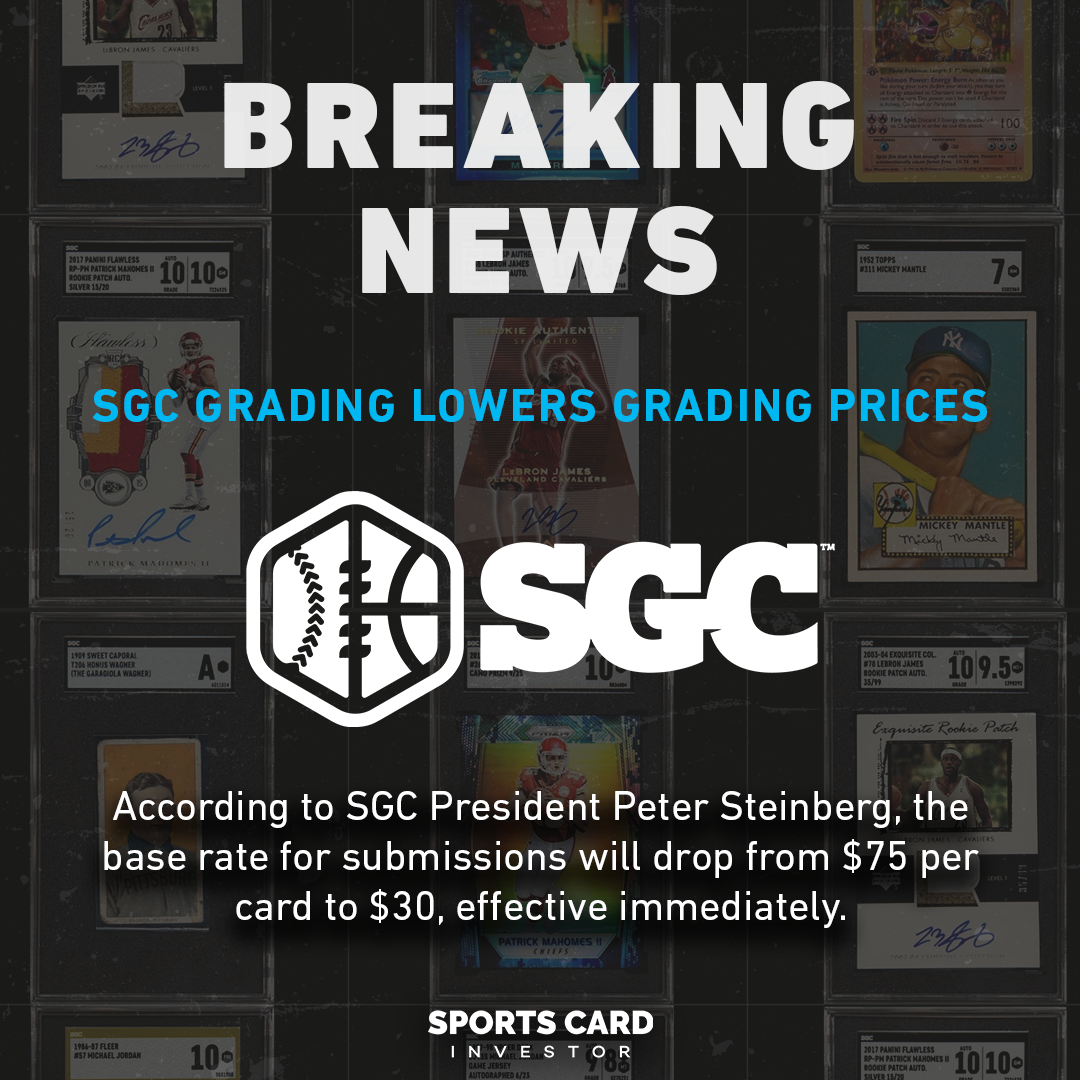 SGC's grading prices are dropping drastically, the company announced in a behind-the-scenes video with Sports Card Investor Sunday night.
According to SGC President Peter Steinberg, the base rate for submissions will drop from $75 per card to $30, effective immediately. Even lower prices (as low as $28 a card) are available if you submit through Sports Card Investor's SGC Bulk Submission Program.
The price drop comes a little over a month after SGC was forced to raise prices amid a 500% increase in submissions following PSA's shutdown of most service levels. SGC raised prices from $25 per card to $75 on April 1.
Steinberg said the decision to raise prices was difficult, but fortunately it's been a successful strategy and has SGC back on track.
"As difficult as it was to witness the public backlash that comes with any drastic price increase, the move certainly had the desired effect," Steinberg said. "Rather than overwhelming our operation, inevitably leading to very poor service, the move temporarily decreased the inflow of cards, allowing us to solely focus on scaling as effectively as possible.
"We've made strategic partnerships with some major players in the hobby, and in the month since the price increase, we have built out our new office with the necessary equipment and staff needed to drastically improve our operational capabilities. Our daily output has increased at a rapid pace and our capacity is higher than it has ever been before."
In an interview with Sports Card Investor Founder and CEO Geoff Wilson, Steinberg says that SGC has hired about 100 new employees over the past year and has increased its output from between 150 and 250 cards per day to over 4,000 per day.
Even though SGC has hired more staff and is better positioned to handle another surge of submissions, Steinberg says SGC will make any necessary changes to maintain the current service quality.
"If SGC is overwhelmed by the amount of cards rushing in, we will make any changes necessary to protect the service that we have worked so hard to preserve," Steinberg said. "To be clear, if our capacity is exceeded, there will be changes coming. Rest assured, our capacity is the second-highest in the hobby and is growing rapidly by the day."
SGC announced a new partnership with Sports Card Investor and Joe Davis' GotBaseballCards that will feature cheaper prices on bulk submissions. Submissions through SCI and GotBaseballCards will also include a free pre-screening service.
"With one of the largest followings in the hobby, SCI is well-equipped to spread the word about SGC to the masses," Steinberg said. "We believe that with more SGC pricing data being offered publicly, our brand recognition will only increase, leading to more collectors looking to suit up their cards in the signature SGC tux."
Submit to SGC Grading through Sports Card Investor's Bulk Grading Submission Service here.
Track your collection and maximize your profit with Market Movers, the hobby's most powerful sports card pricing platform! Learn more here.