When Serena Williams walks off the court for the final time at the 2022 U.S. Open, it will likely mark the end to one of the greatest individual careers in the history of sports. While we could literally type for hours about Williams' dominance since her professional start in 1995, we'll just leave you with this stat: Serena's 23 grand slam singles titles are two more than the combined total of the top 100 active players on the WTA Tour. Don't even get us started on the 14 slams she's won playing with sister Venus on the doubles side.
Sports Card Investor has previously discussed the struggles tennis cards as a whole have had hitting their marks in the hobby. Still, iconic names like the Williams sisters, Roger Federer and Rafael Nadal have, at times, scored major attention from collectors over the years. In fact, after Serena's retirement declaration, interest in her top cards bounced up considerably.
Williams has a number of "rookie" cards from the early 2000s. Use this Sports Card Investor guide to see which ones we think you should focus on. Cards are broken down into tiers, ranging from the most affordable and more popular options to the most unique, expensive and rare.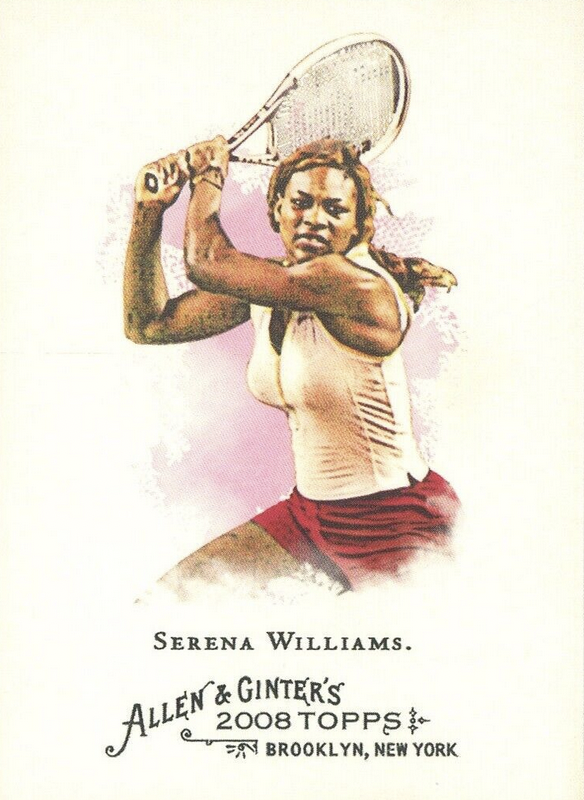 VALUE ROOKIES:
The Value Tier includes cards with high print runs or lower-quality cardstock. A good fit for new collectors or those on a limited budget.
2003 NetPro #2 Photo Card: Williams' serve has been clocked at over 128 mph. We're not certain of the exact speed of the shot on this card, but basing it strictly on the ridiculous angle her body is framed, we'd guess there's some serious gas coming across the net.
2008 Allen & Ginter #249: By 2008, Williams had already won eight majors, so this is far from being a rookie card. Still, it's listed here because of its inexpensive price tag (PSA 10s around $50) and unique, Allen & Ginter-stamped illustrated nature.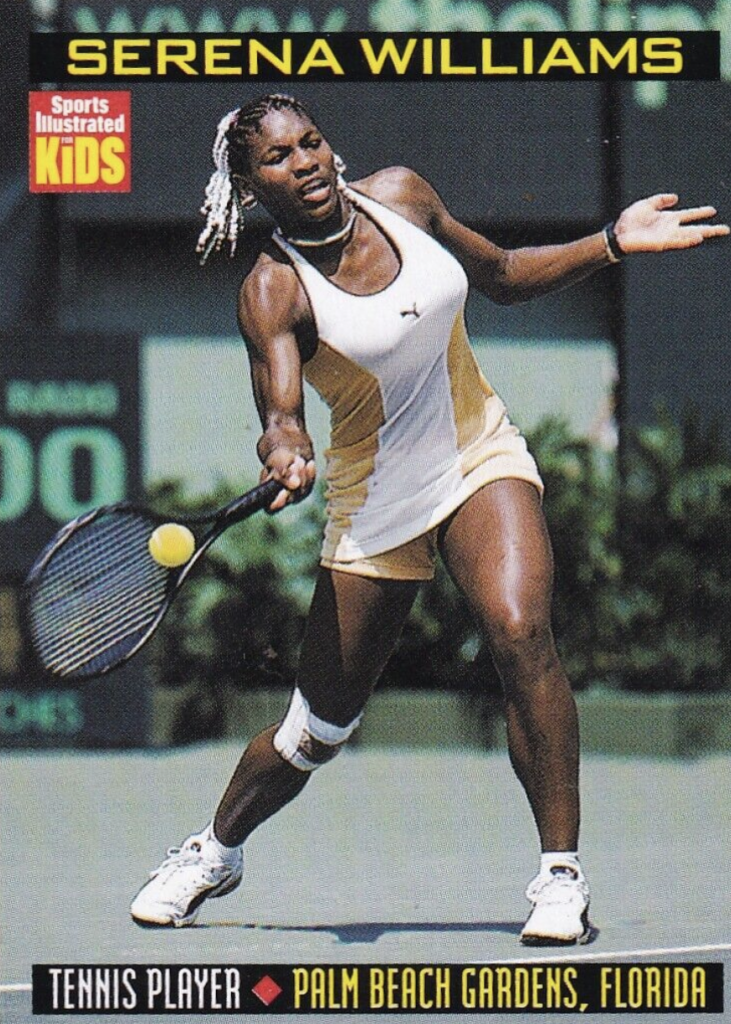 POPULAR ROOKIES:
This tier includes cards from the most popular sets across both retail and hobby formats. Typically easy to buy or sell when needed.
1999 Sports Illustrated for Kids #814 Series 4: It's hard to find this true Sports Illustrated for Kids rookie card in a high grade. In fact, pickings are so slim that raw ones were getting upwards of $300 around Serena's retirement news.
2003 NetPro Elite 2000 #2: While 2,000 of these exist, only a small number have earned PSA's top mark. And of those elite 10s, the sticker price associated with them has been so shocking (more than $1,400 in a July '22 sale) that collectors have learned to settle for 8s or 9s.
2003 NetPro Elite #S4 Event Starter: One of the most familiar RCs in the Williams collection, this NetPro Elite has a pop over 2400, which may explain why gem mints have only averaged around $40-50.
2003 NetPro #1: Another popular Williams RC, this one shows Serena attempting to make what looks like a volley at the net. Who knows if she got to the ball or not? Who cares? All we see is a timeless horizontal image of the GOAT lunging on a vibrant clay court.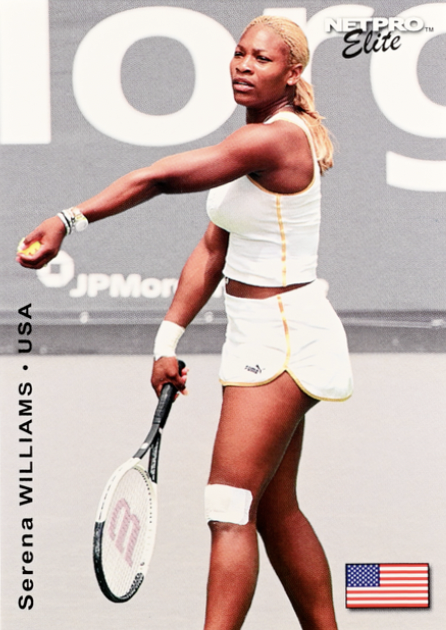 MORE UNIQUE ROOKIES:
This tier includes cards with lower print runs, unique designs, or cards from hobby-only products. Usually higher-quality cards than the Value or Popular tiers, though not necessarily more popular or easier to buy or sell.
2003 NetPro International Series #51: Appropriately labeled "The Williams Sisters," this memorable memento shows the sweet-swinging sisters sharing a handshake after another doubles win. You can make that kind of assumption once you realize the twosome won 23 titles together.
2003 NetPro Elite #G2: Only 100 of these glossies were ever released. And just 29 of those have managed PSA 10s. The last recorded eBay sale in April '22 went for more than $58,000.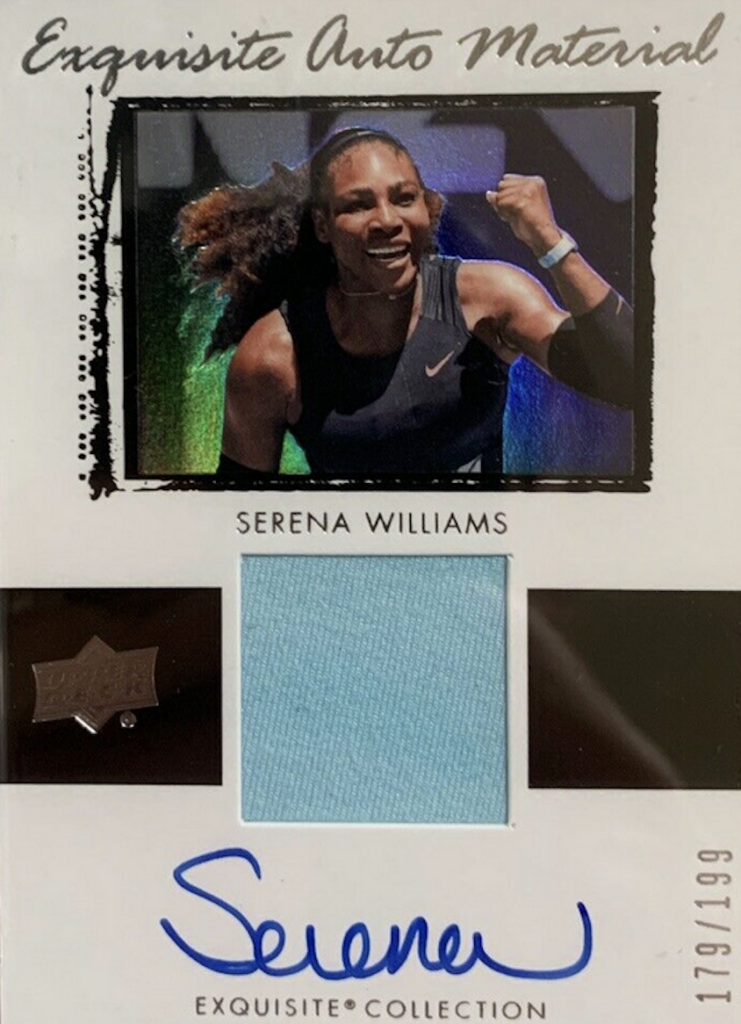 RAREST AND MOST EXCLUSIVE:
We won't spend much time here because this category is likely out of reach for most collectors due to price, but they are still fun to look at.
Sets like Upper Deck Exquisite typically feature visually stunning designs and low-numbered cards.
This is also where you'll find the most impressive patches paired with high-quality, on-card autographs. Don't worry if this tier is too pricey as there's a host of options in other categories that could be perfect for your collection.
With the Sports Card Investor app, you can profit from the hobby you love by keeping up with trending cards, tracking real-time prices with Market Movers and buying items on eBay. Download the industry-leading app here for Apple or Android
Note to readers: If you purchase something through one of our affiliates, we may earn a commission.