This guest post came through our Article Submission Program. Thoughts and opinions are those of the author.
I must confess that I am not a true sports card investor. I am a set builder and to narrow it further, I am only a baseball card set builder. Don't get me wrong, I love basketball, football and hockey but I determined when I came back to the hobby that the multitude of products just made it cost prohibitive to feed my needs as a completist. I do have to do some speculation and look at what prospects are in a set and their potential rise to determine the cost to build the set and which sets to get into early. All collectors have a level of investment within them whether you want to flip immediately for a fast profit, or you want your collection to maintain value over time (whether or not you would ever decide to sell it). It is all determined by your personal preference.
Baseball provides the most opportunities for gauging the next top prospects more so than the other sports because of the minor league system. The other sports have limited rounds in their drafts plus baseball's draft enables both college players and high schoolers to join the team's farm clubs in the hope of getting to the bigs. There are some basic tools that can be used to help determine who the next great prospects will be. Everyone knew about Vlad Guerrero, Jr. in 2019 but who had their eye on Yordan Alvarez or Aristides Aquino early in the season?
One way to look at who may be the next big thing is to follow the numbers. Most fans and many collectors watch the big-league stat leaders to determine who to chase or even invest in. Aaron Judge and Pete Alonso both had hype coming into their rookie seasons but when each backed it up with a 50 HR campaign, the numbers equaled the buzz. That same mentality can be broadened further by looking at the Minor League stat leaders to determine who truly is delivering the numbers before the hype begins. The bottom line is in most cases, a player who is delivering down on the farm is going to get the call to the big club sooner than later.
Let's look at the resources that are out there to help you find out who leads in the key stat categories to gleam who ultimately will make the move or who to put your money into because their future is bright. One place to go if you are a baseball junkie like me is Baseball Reference. If there is a stat in any level of baseball, it is found here. An easy search of the minor league leaders is to use the search bar and put 2019 Register Batting (or Pitching) Leaders. This will enable you to filter for the minors (you can also look at NCAA leaders if you are looking for potential draft picks). Here as an example are the top 10 in the minors for 2019 in home runs: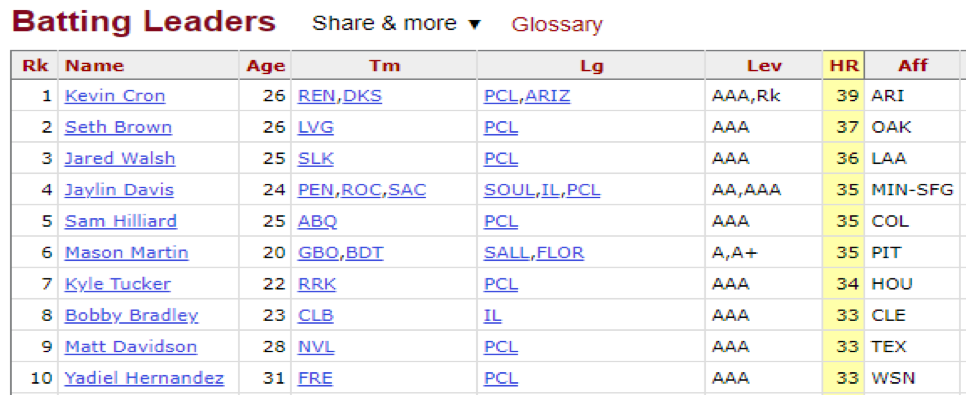 Eight of these ten players got some MLB experience this year. The most hyped on this list is Kyle Tucker who should have a regular spot in the Astros lineup in 2020. But all of these players with a simple eBay search can provide a rookie card or two to invest in and wait for the player's call up. The key to using these leaderboards is that these stats can't be ignored by the big-league club and causes the team to find a spot to call them up. The key stats to search for are home runs, RBI, batting average and stolen bases on the hitting side. For pitchers, look at wins, strikeouts, saves and ERA. Note that there will be players who may be a year or two away from getting the call.
How can you know who is going to get the call up to be the next big thing early enough to jump in on some key rookie cards? A simple way is to go to Twitter and search for a particular team's beat writer. Put a team and beat writer in the search box – this example shows "Astros Beat Writer". After searching, click People to see what people fit that criteria. Here you can see two of the beat writers come up. By following writers like these two, all of the latest Astros news (or any other relevant team you search for) including call-ups will be revealed in your Twitter feed.

You can search for a particular prospect on Twitter to gain information, but the beat writers tweet information everyday and their information will be the most current as they are with the team every game of the season and will interview the GM and manager regularly to gain the scoop on the team.
After using the information gained from the minor league leaders and the beat writers, then the time comes to start watching cards of the particular player. My site of choice to gain a list of cards for a player is baseballcardpedia.com . Use the "Search by Player" link and enter the player name. You can also see a list of rookie cards from either Cardboard Connection or Beckett. After gathering all of this information, take the plunge on your rookie of choice and watch his cards take off before everyone else jumps on his bandwagon. Good luck!
What resources are you using to evaluate baseball prospects? Tell us in the comments below.
Ready to take your sports card investing to the next level? Join my Membership Program now for card picks, analytics, premium community access and much more!