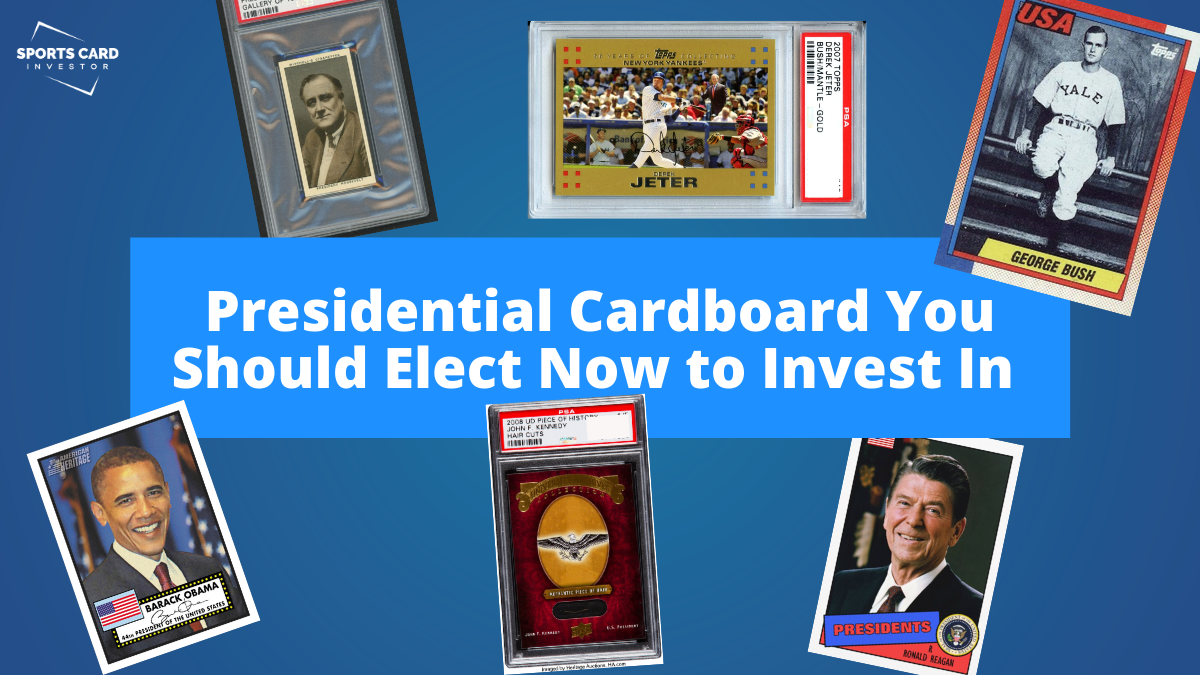 This guest post came through our Article Submission Program. Thoughts and opinions are those of the author.
Introduction
Politics may be a subject many sports card collectors would like to avoid, but this fall could be an exception given that Americans will be casting votes to either re-elect President Donald Trump or replace him with former Vice President Joe Biden. While sports cards are an American tradition, cards featuring former U.S. presidents have been part of past sets and increasingly so over the past two decades.
In fact, presidents have been featured in sets for decades or in their own sets, including one released by the U.S. Caramel Company in 1932, Bowman in 1952 and Topps in 1956.
The U.S. Caramel presidential checklist features 31 cards, including popular ones of George Washington, Abraham Lincoln and Franklin Delano Roosevelt. Even cards of William McKinley can bring big money. In 2014, for example, a copy of McKinley's card sold for $96,000 at auction.
The 1956 U.S. Presidents set issued by Topps, their first in company history, features 36 cards and includes special cards like "Washington Takes Command" and "Declaration of Independence" A complete set can be found on eBay and card shows for as little as $200.
Aside from these sets, former commander-in-chief's have also graced cardboard in the modern era for investors to gobble up. These cards vary in value, the market often fluctuating depending on the news cycle, re-election and even death. The newest Topps Allen and Ginter Baseball set, for example, include presidential pin relic cards that have soared in value on the secondary market in recent weeks.
Everyone from Republicans such as Richard Nixon and Ronald Reagan to Democrats like Bill Clinton and Barack Obama have seen their likeness appear on cards.
HOT CARDS FROM THE MLB PLAYOFFS ON EBAY
Richard Nixon: 2019 Topps Heritage #NF-10 
It was in December 1970 that then-President Richard Nixon met "The King" in the Oval Office. The meeting with Elvis Presley was immortalized last year as part of Topps Heritage Baseball's "News Flashbacks" subset.
"News Flashbacks" cards feature several notable events from 1970, including the death of singer Janis Joplin, the breakup of The Beatles and the Apollo 13 mission.
The subset, which includes just 15 cards, could be had in one out of every 20 packs. While the Nixon card isn't super rare, it is a nice addition for collectors looking to add Nixon to their cardboard collection.
Nixon became the first — and to date — the only president to resign from office when he did so in 1974 following the Watergate scandal.
Ronald Reagan: 2011 Topps Opening Day #PFP-4 
Topps Opening Day sets may be an affordable option for younger collectors, it is also loaded with interesting subsets. The 2011 edition featured a 10-card subset called "Presidential 1st Pitches," highlighting past commander-in-chiefs who took the mound such as Woodrow Wilson, Harry Truman and George W. Bush.
A former owner of the Texas Rangers, Bush is featured twice in the subset, including on card No. PFP-8. That one depicts the president's now-famous opening pitch at Yankee Stadium in the aftermath of the Sept. 11 attacks.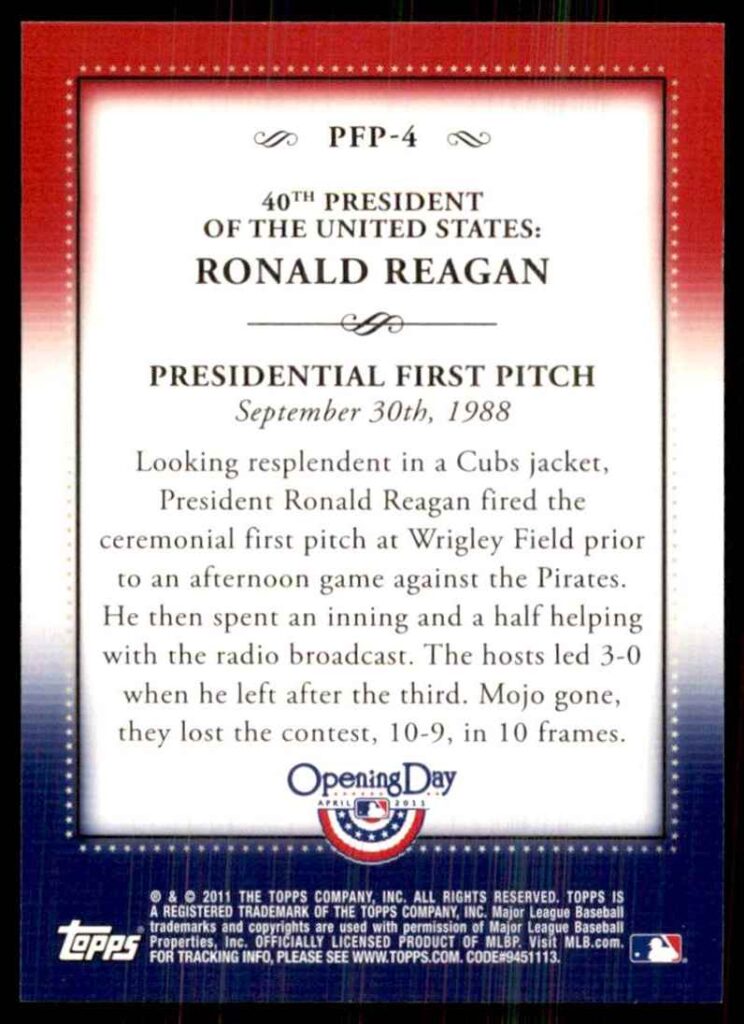 Another Republican with a baseball connection also included in the set is Ronald Reagan. A former radio announcer, the nation's 40th president is featured on a baseball card for one of the first times ever in this very set.
The card features Reagan, donning a Chicago Cubs jacket, hurling the ceremonial first pitch in 1988 at Wrigley Field. One curious fact from that afternoon at the ballpark: Reagan joined the broadcast team for that game, where he provided some game commentary for 1½ innings.
George H.W. Bush: 1990 Topps USA #USA1 
This could very well be the most famous — and expensive — baseball cards featuring a U.S. president. It could even be considered a Holy Grail cars by some. When George H.W. Bush occupied the White House, Topps produced a baseball card in his honor that is on the must-have lists of investors across the hobby.
The card was created in December 1989 to honor Bush's playing days at Yale using the Topps 1990 Baseball set design. The front features a photo of Bush back in his playing days, while the back has his stats from 1947 and '48, the two years Bush played ball at the Ivy League school.
This Bush "rookie card" is extremely rare. Arthur Shorin, who at the time was the CEO of Topps, presented Bush with a binder of these special cards in 1990. Although they aren't numbered, Topps is believed to have only printed 100 of them (although a typical card sheet has 132 cards) and presented them all to the president (who played first base in college and served as team captain) and his staff.
At least one copy was included in Topps' flagship release, although there could be others out there. One copy of the card sold for $8,655 just two years ago. PSA, for example, has graded 115 of these cards. Only 13 of those 100 Bush was handed have been graded.
The mystery surrounding this card deepens. When former White House Chief of Staff John Sununu, a card collector, submitted several of these cards to PSA for grading, they had a laminated appearance to them. This atypical coating is specific to the cards given to Bush, according to PSA, but why Topps added them to the cards remains unknown.

Bill Clinton: 1994 Upper Deck soccer #C1 
Produced near the end of the junk wax era, Upper Deck's set of soccer cards, made to coincide with the 1994 World Cup, featured an "Honorary Captain" card of President Bill Clinton.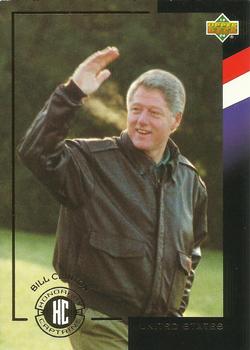 The card, featuring Clinton waving while donning a leather jacket, was produced in large quantities at the time. However, not many investors were interested in soccer cards at the time, making it more difficult to find. Only 34 of them featuring Clinton's autograph (obtained by individual collectors) have been graded a 10 by PSA.
While the World Cup sets were distributed to 27 countries in six languages, the U.S. edition was bilingual (English and Spanish). Upper Deck also produced other "Honorary Captain" cards featuring Michael Jordan, Reggie Jackson, Wayne Gretzky and Joe Montana.
George W. Bush 2007: Topps Jeter/Mantle Gold #40 (#/2007)  
This card could be one of the best intentional "error" cards Topps has ever produced. While the base version could be had for $20 (featuring a black background), the No. 40 card in the gold version is rarer.
Numbered to 2007 and found in Topps Series 1, this short print variation (like the base version) features Derek Jeter taking a swing. Upon closer inspection, you can spot President George W. Bush in the stands and Yankees legend Mickey Mantle clutching a bat in the dugout.
This card could very well be one of the most famous of the modern era that also happens to feature a U.S. president.
Barack Obama: 2008 Topps Campaign Cut Signature auto #/15
Presidential autographs are always in demand. Throw one of them on a trading card and you really got something for investors and collectors to chase.
Indeed, Obama has hundreds of trading cards bearing his likeness, but the Topps Campaign 2008 set features an autograph that's just numbered to 15. This card features a cut auto with Obama's photo in the upper left corner and the dome of the U.S. Capitol Building on the bottom left. PSA has graded just two of them.
The card saw a quick rise in price (one sold for $3,100 soon after it was released) once the former Illinois senator was elected in November 2008 after defeating Senator John McCain, making history as the first African American elected to the presidency in U.S. history.
The card remains popular among investors given Obama's history-making feat and continued popularity among Americans.
Donald Trump and Joe Biden cards 
Trump has had cards issued before he ran for president in 2016. Trump's "Rotten to the Core" card, issued in 1989, represents his first appearance ever on a piece of cardboard.
The card, issued by a comic book company called Eclipse, released a set of New York power players. Trump, a real estate tycoon, was included. The card has seen a resurgence since Trump took office.
Biden, meanwhile, has had a political career that has spanned over four decades. A former senator, he served as vice president under Obama for eight years. One of his most famous cards was issued in 2018 as part of the Leaf Pop Century Metal Trading Cards. The checklist also includes actors Adam Driver and singer Meat Loaf. The cut signature checklist includes Trump's daughter Ivanka and former Vice President Al Gore.
Both Trump and Biden cards could be a great investment in the coming weeks, but only one of them can win come November.
A fascinating article about the hobby, many of us forget about these Presidential cards, but they do have value and collectors hunt them down. If you have a subject, you think the community would enjoy; we would love to hear from you!
Ready to take your sports card investing to the next level? Join our Membership Program now for card picks, analytics, premium community access and much more!