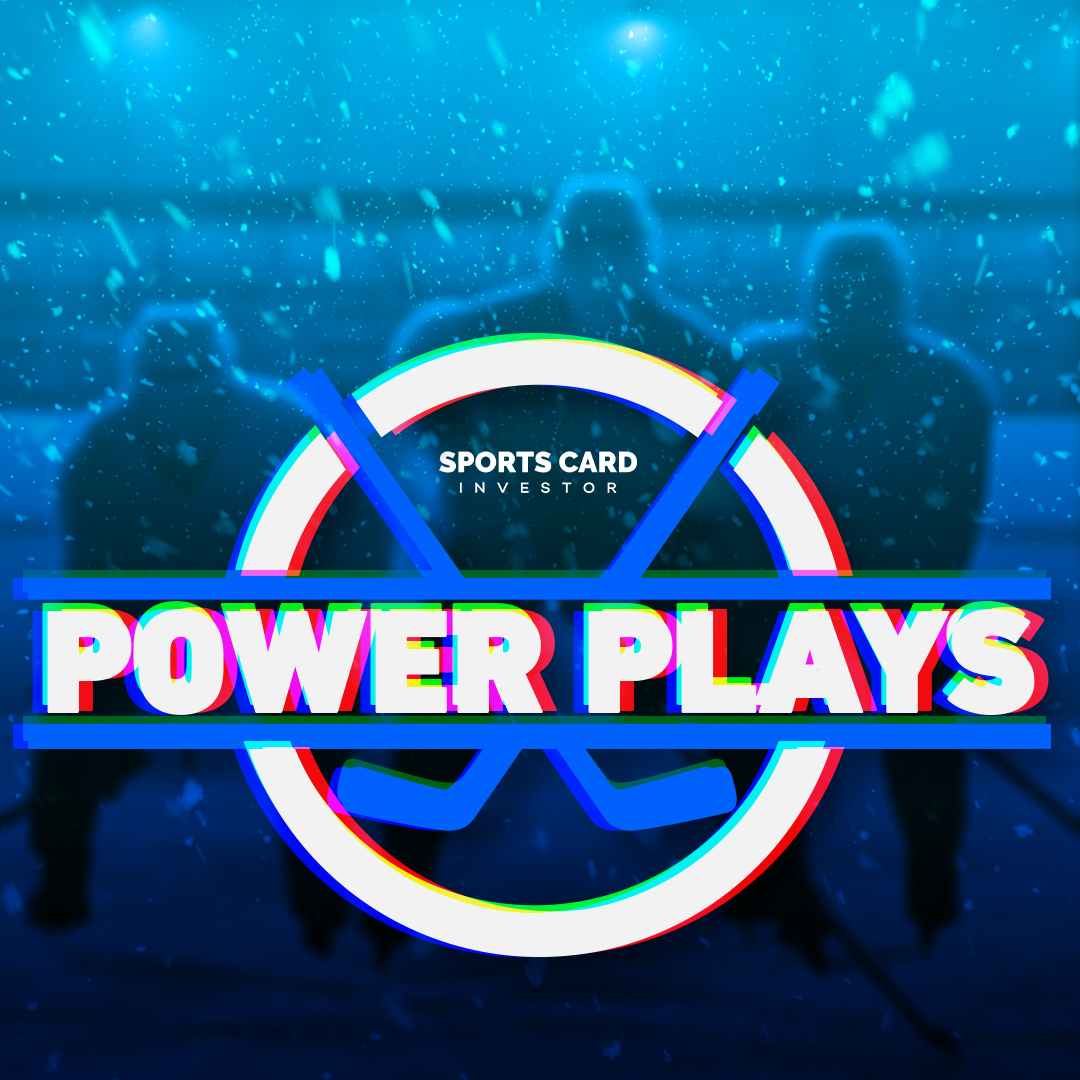 With the Holiday season in full swing, it's time to stuff those stockings with a fresh set of Young Guns. This week, we'll be changing it up and featuring all new/first-timers on Power Plays to help jumpstart collectors on some of the future stars of the league. 
Power Plays focuses on a premier list of players and their Young Guns during the NHL season. The list will feature different players as the season progresses depending on performance and any transactions/moves that may impact their existing value. 
Nils Hoglander — Left Wing —  Vancouver Canucks
The Canucks weren't expected to win their division, but certainly weren't expected to be among its worst teams. In a major Canadian city, the expectation is to have a competitive team. This lack of recent success has finally cost Travis Green his coaching job, with most expecting GM Jim Benning to be next on the chopping block. With most of the media interest centered around Quinn Hughes and Elias Petterson, Nils Hoglander has quietly begun to establish himself as a high caliber offensive threat.  He emerged from a recent slow stretch to light the lamp twice for the reinvigorated squad, now led by veteran coach Bruce Boudreau. Investors, already alerted to Hoglander's presence during stretches last year, have pounced. His 2020 Young Guns Raw has rocketed up 640% in the past week, after languishing for weeks in the dollar bin. Expect Hoglander to feature more prominently for a team looking at the second half of the season as a clean slate. The offensive upside is there, but make sure to allow those valleys to present buy-in opportunities, as his star is still being established.
Anthony Cirelli — Center — Tampa Bay Lightning
Typically, a player of Cirelli's style doesn't often send investors scrambling. Admittedly, this still isn't the case, but for a player shoehorned as a defensive minded/penalty killer and little else, Cirelli has done a fine job of increasing his value and scoring expectations thus far this season. After major offensive weapons Nikita Kucherov and Brayden Point went down with significant injuries, Cirelli was expected to pick up a big chunk of the offensive load. After a short feeling out process, Cirelli has shined in his expanded role with the defending Stanley Cup champions. Anthony is on pace to set career highs in points and goals this year. Anyone following the Tampa Bay Lightning is acutely aware of the value Cirelli brings to the team every night. Despite currently being day-to-day with an injury, Cirelli has seen his value further move out of the dollar bin with his 2018 Young Guns Raw up 34% in the past week. Don't expect Cirelli to reach Point or Kucherov's scoring totals, but the ability to point up points is a welcomed addition to a skillset that already had every single GM in the league clamoring for Anthony's services.
Evan Bouchard — Defense — Edmonton Oilers
It's easy to look at McDavid and Draisaitl's point totals this year and assume they've carried Edmonton to their current record. While the dynamic duo has certainly made things exciting in Edmonton, it's been the play of complimentary pieces like Darnell Nurse, Zach Hyman, and Evan Bouchard that has kept Edmonton in most games. Bouchard is among the team leaders in ice time, and his +5 is currently third on the team (tied with McDavid). Nobody has ever questioned Edmonton's ability to score points. The issue has been defense and goaltending, which they've been receiving in spades in this season. If Bouchard continues his scoring and defensive-minded play, he'll score 40 points and hit double digits in the +- category. Not bad for a kid with 23 games of experience at the NHL level prior to the start of the season. It's difficult to predict where his value can go, but if he has an All-Star caliber season, the expectation should be one of significant growth for 2018 Young Guns Raw already up 39% in the past week.
Timothy Liljegren — Defense — Toronto Maple Leafs
When Liljegren was drafted in 2017, there was a (potentially unfair) expectation that he'd become the teams premier puck-moving defenseman for the foreseeable future. There had, however, been concerns about his ability to play the defensive aspects of the position. Since then, Liljegeren has greatly improved his play in his own zone. The work Liljegren has done has translated into increased ice time for the Maple Leafs. The increased ice time and visibility has meant that Liljegren's 2020 Young Guns Raw has doubled in price over the past week. Anything under $5 should be considered a low-risk investment for a player who still expects to feature as a Top-4 defenseman for the Leafs. The one caution would be that he hasn't shown much of a goal scoring ability at the professional level, with just 11 goals in the AHL and zero so far in the NHL. While GMs and coaches love defensive minded players, collectors and investors often don't see much of a ceiling for these types of players.
Nick Robertson — Left Wing — Toronto Maple Leafs/Toronto Marlies
Nick Robertson is the definition of the long game. The younger brother of Dallas Stars stud Jason Robertson, he's been on collectors' radars for two years now, after impressing Leafs fans with his spirited play during a six-game call-up last year. Unfortunately, Robertson suffered a broken leg in an AHL game in October, which has had him sidelined since. The opportunity is still very strong for 2020 Young Guns Raw, as sales routinely dip into the sub-$4 range. Following his cards' value history might indicate a lot of volatility, but the fact remains that Robertson will return to the NHL. Whether or not he scores a ton of points will remain to be seen, but the edge he plays with will be a welcomed addition to a Leafs team sorely lacking in that department. It will be a bumpy road back to the show, but one that will prove to be rewarding for both Robertson and investors alike. 
Jake Oettinger — Goaltender — Dallas Stars
Ben Bishop formally announced his retirement this week, and Oettinger's ascension couldn't come at a better time. Having the well-traveled Anton Khudobin as his mentor surely can't hurt, and Oettinger has responded, with absolutely sparkling numbers after his first six starts of the season. His 2020 Young Guns Raw has soared from the sub $4 range to over $14 in the past week. With the Stars slowly turning around a season that didn't start well, expect Oettinger to slowly take over the majority of starts from Khudobin and continue to build upon his impressive young career numbers. Goaltenders should always be approached with caution, and there will be additional dips to welcome buyers. The expectation is for Oettinger to accrue further value as his career continues. 
Arthur Kaliyev — Left Wing — Los Angeles Kings
The Uzbek-born Kaliyev was considered by most to be the top Young Gun of the 2020 Upper Deck Extended Series product, after a short debut for the Kings earlier in the season. This year, Kaliyev has taken the lumps expected of a rookie in their first full season. The general trend, however, has been positive for the winger, as he's seen his ice time increase, along with more goals. A natural sniper, the Kings look to have promising pieces in play, with Kaliyev and Gabe Villardi expected to handle the bulk of the scoring soon. His 2020 Young Guns Raw has fallen 30% over the last 30 days, which has to be considered a solid buy in opportunity for a card that will likely hover around the $20-30 range once Arthur's goal scoring picks up. For a team just 10 years removed from Stanley Cup contention, help couldn't come any sooner.
Alexander Romanov — Defense — Montreal Canadiens
One of the lone bright spots on the dumpster fire that has been the Montreal Canadiens' 21/22 season, Romanov is a rugged defenseman with a tremendous shot. Though his ability to fire pucks through traffic on net hasn't often been displayed, when it has, the player has shined. Normally, a defender who doesn't light up the score sheet wouldn't generate a sought after card, however, Romanov has the benefit of playing for one of the highest profile teams in the hobby. This combined with his solid play and improvements this year lead to a player and Young Gun worth the hype. His 2020 Young Guns Raw had some residual inflation after the Habs' Cup Final run and saw some corrections, but since bottoming out, he's been up 30% over the last 30 days. He might not be the sexiest YG in your collection, but he only has room to improve from here. 
Connor McMichael — Center — Washington Capitals
It must be pretty annoying to be a professional athlete with the name Connor Mc-anything. He's not the top player in the league, and he's not the most popular UFC fighter of all time. McMichael will need to forge his own identity in the NHL. A big part of this will depend on his physical maturation, as well as ice time and the associated learning curve of the NHL. Averaging just under 10 minutes per game and weighing in at a slender 170 lbs, it's obvious he still has a lot of room to grow in both capacities. Assuming both of these areas are addressed, the skill set is there. A gifted goalscoring and playmaker, Connor dominated his final two seasons in the OHL with the London Knights, and pundits expect this success to carry over for a Capitals team already rich with scoring talent. Buying McMichael during a down period of his card value should be a no-brainer, as his 2020 Young Guns Raw and PSA 10 both have a very high ceiling, depending on how he performs. While graded might have a lot less potential, Raw seems like a fantastic opportunity for growth while his ice time and scoring totals remain low.
Vitek Vanecek/Ilya Samsonov — Goaltenders — Washington Capitals
Both Vanecek and Samsonov have provided the Capitals with tremendous goaltending this year. With a 50/50 split, there doesn't appear to be a clear cut favorite in D.C. yet. As we have seen in the past with goaltending splits, injury or hot/cold streaks often create a favorite. Over the last few years, some of the winners of said goaltending battles have gone on to perform poorly, as has been the case with Marty Murray. What Vanecek and Samsonov have going for them now has been age, consistency, and fundamentals. Both goaltenders possess tremendous form and clearly have developed incredible habits over the years. Avoid these YGs in a graded capacity while their career samples remain relatively low and unproven, but both players present tremendous Raw upside.
Track your collection and maximize your profit with Market Movers, the hobby's most powerful sports card pricing platform! Learn more here.
Note to readers: If you purchase something through one of our affiliates, we may earn a commission.