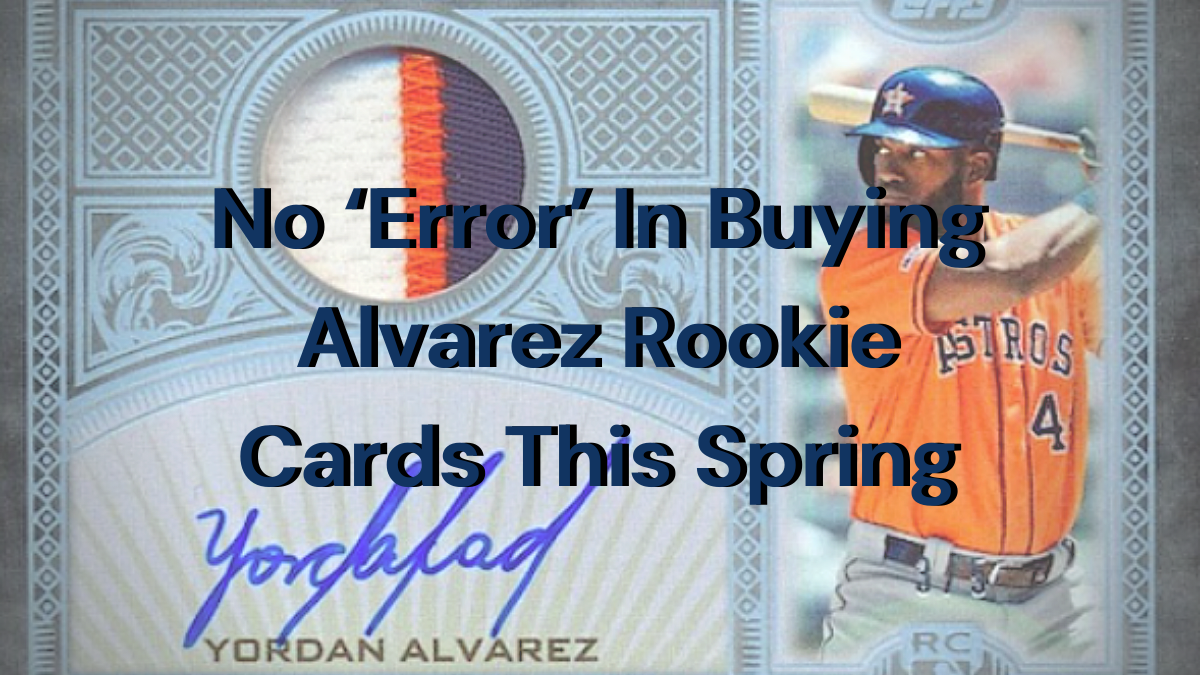 This guest post came through our Article Submission Program. Thoughts and opinions are those of the author.
Introduction:
There's nothing like getting your hands on a rookie card. Whether it's one of a Hall of Famer you were missing for your portfolio or one from a fresh pack of a new release, chasing rookies is a significant preoccupation for collectors.
With the coronavirus pandemic putting sports on hiatus, for now, it has been a particularly unusual spring for baseball fans. The season never got started as planned on March 26, although all the top card releases had already flooded the market in the weeks preceding Opening Day.
When it comes to buying rookie cards, the ones of established stars of the last decade, like Mike Trout or Ronald Acuna, Jr. means having to spend a lot of money. It is much more fun for those in the hobby to speculate on future stars by hoarding rookies as releases trickle out. For example, 2019 had a phenomenal rookie class, meaning collectors could flip budding stars like Pete Alonso, Eloy Jimenez, Vladimir Guerrero, Jr., Keston Hiura, Nick Senzel, and Fernando Tatis, Jr and turn a profit. Many of these cards will only go up in value. Sealed hobby boxes and blasters featuring these players have already doubled in price on the secondary market.
The value of those players rose with each passing game. As Alonso kept hitting homeruns over the course of the season, his card saw a steady increase in value. This season is very different. No games mean no way of truly assessing the rookies that will excel and which ones will ultimately fizz out.
For every Alonso, there's a Kevin Maas. The highly-touted New York Yankees prospect saw much hype in the early 1990s. Instead, his career only lasted five seasons. Maas' rookie cards, which grew in value during his first two seasons, dropped just as quickly. His rookie cards are now available for a few dollars as a result of poor player production and card overproduction. Other rookie busts from the '90s include Carl Everett, Todd Van Poppel and Brien Taylor. All are now worth the same as a common card.

A Great Rookie Class
This spring's new releases include the top four rookies everyone had been talking about late last season and during spring training: Yordan Alvarez, Bo Bichette, Aristides Aquino and Gavin Lux. Any hope of seeing new names in future 2020 sets will be hindered by the lack of games. As a result, sets like Bowman have been delayed by a month to May, while ones like Topps Series 2 and Update could be pushed into the fall.
There are no sure bets when it comes to rookies. Grabbing as many as possible at a low price, then deciding whether to flip them quickly or placed into your collection for an even bigger payday in the future, is something that needs to be seriously considered this spring.
What's the great thing about Alvarez, Bichette, Aquino and Lux? All saw considerable action last season, but their rookie cards were pushed to 2020. That means this season's Topps Series 1 flagship release is a much more sought-after product compared to last year's Series 1 thanks largely to these carry-over rookies. It is worth noting that this was a result of the MLB Players' Association, not Topps, deeming Alvarez and the others as not having played enough games to earn the official rookie designation in 2019 card sets.
Start of a Track Record
With so many rookie cards out there, which ones should you buy? Collectors have been very bullish on Alvarez because of the numbers he put up last season. In his first year in the majors, the Houston Astros DH hit .313 (he had 98 hits and 27 homeruns in 313 at-bats) during the regular season. He went on to struggle in the playoffs but had a good enough season to be named American League Rookie of the Year.
Alvarez's hitting tells only part of the story as to why his rookie cards are worth buying while prices remain relatively affordable. What makes Alvarez even more sought after is that he has two different rookies — both in Series 1 and in Topps Heritage — that have error variations. These errors could someday land Alvarez in the same category as the 1990 Topps Frank Thomas rookie card that mistakenly omitted his name on the front.
Alvarez's abilities should come as no surprise. Originally signed as an international free agent by the Los Angeles Dodgers in 2016, Alvarez was traded to the Astros later that year. By 2018, he was widely seen as one of baseball's top prospects, a buzz that led to collectors gobbling up his minor-league cards. The 22-year-old Cuban-born ballplayer, who spent most of the time as DH last year, is likely to start in the field (he can play both in the outfield and first base) once the season starts. That also means his value as a player can increase exponentially if he can maintain such impressive numbers.
Before the coronavirus, one of the biggest preseason storylines heading into the 2020 season was the Astros cheating scandal and its fallout. Whether Astros hitters can hit at the same pace as last season remains a big question mark. That Houston players would be abused by opposing fans is something that isn't likely to happen now since it's very likely games will feature no spectators to help weaken the virus' spread once things slowly return to normal in the coming months.
Alvarez Topps Series 1 card to get: No. 276 with missing Topps logo
Alvarez's Series 1 No. 276 features him swinging for the fences, but his error card (and it does appear to be a production mistake) is missing the foil Topps logo in the top left corner that appears on all cards. There is no way to know how common the error is (these versions aren't numbered and are part of the base set), but it has been appearing on eBay with greater frequency in recent weeks as more hobby boxes are being sold while fans pass the time while in quarantine.
Alvarez also has other cards in Series 1 that collectors are seeking, most notably his SP version and Orange Silver pack autograph (#/25) and a SP image variation. His other variation, featuring the old-school Topps logo and printed on cardboard stock (#/99), is also available both in hobby and retail. Parallels of Alvarez and other players remain hot overall because of their rarity.
YORDAN ALVAREZ CARDS ON EBAY
Alvarez Topps Heritage card to get: No. 54 "error cup card"
The other set also for sale featuring Alvarez is Topps Heritage. Alvarez has two cards in this set that collectors are seeking. Again, one of them features an "error variation" that Topps decided to throw into the set. The throwback set, which pays homage to the 1971 Topps design, has Alvarez alone on a SSP variation of card No. 54.
With a bat resting on his left shoulder, Alvarez's card features him flashing a big smile. Where's the so-called error? The rookie gold cup in the lower-left corner features his printed autograph in black marker covering part of the trophy. Topps marked the card an "error" on the back so that collectors could see how it differed from the regular base card.
The third variation of this card features Alvarez in the same pose but with an on-card auto in red ink (#/54), giving investors another shot at the future star with an old school nostalgia feel that's very limited in number. The fourth version of No. 54, one that is also very popular and much easier to pull from a pack, features Alvarez sharing cardboard real estate with National League Rookie of the Year Aristides Aquino of the Cincinnati Reds.
YORDAN ALVAREZ CARDS ON EBAY
As coronavirus has led to the shutting down of PSA, getting these cards graded isn't an option at the moment. The time is to get your hands on these cards is now. This investment isn't likely to be an error once games get underway and Alvarez is hitting again.
An excellent article on an up and coming star Yordan Alvarez and the significance of error cards. Have you noticed any trends in the hobby or rookie cards that are currently under the radar? Please share some comments with the community?
Ready to take your sports card investing to the next level? Join our Membership Program now for card picks, analytics, premium community access and much more!