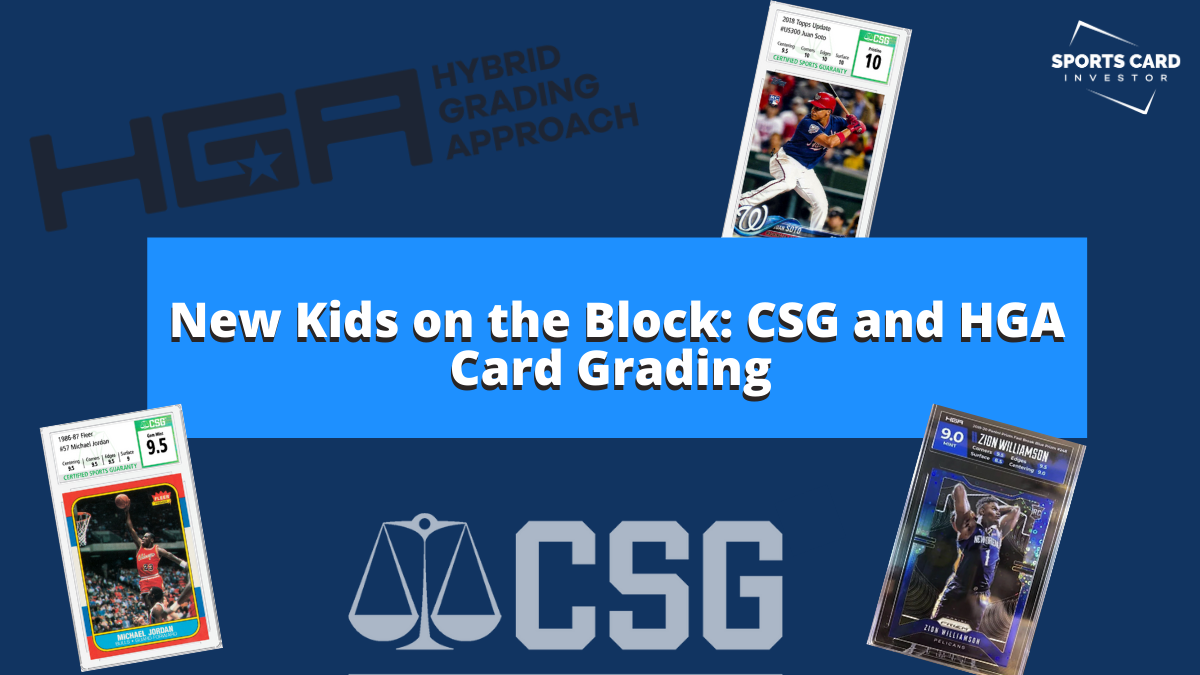 This guest post came through our Article Submission Program. Thoughts and opinions are those of the author.
Introduction
It was recently announced that Certified Collectibles Group (CCG) would add a new branch to its relatively large certifiable companies. Certified Sports Guaranty (CSG) will handle their new sports card grading process. To celebrate this new launch, the card selected to be graded first was an iconic 2003-04 Topps Chrome Lebron James, which graded out at 9.5.
In addition to CSG, Hybrid Grading Approach (HGA) announced earlier this month that they too would be grading cards but doing it almost entirely through computers and programs. "We decided to hire multiple companies to design and implement software that will allow us to scan, analyze, and grade cards without subjectivity," they posted on their website.
In the sports card grading sphere, there are plenty of grading companies, but when it comes to respectable graders, the list narrows down to basically PSA, BGS, and maybe (still to be determined) SGC. How would CSG and/or HGA fit into this group? Could the market handle this many graders? Could this increase value at PSA? Or could they reach the level and value of PSA themselves?
If you're not familiar with CCG groups and their new branch CSG, here is how their website describes them.
"CSG is the latest company to be formed by the Certified Collectibles Group (CCG), which also includes the world's most respected grading services for coins (Numismatic Guaranty Corporation), paper money (Paper Money Guaranty) and comic books, trading cards, magazines and concert posters (Certified Guaranty Company). Since 1987, the CCG companies have certified more than 60 million collectibles with a combined fair market value of more than $30 billion."
It's honestly a pretty impressive rap sheet for certifying just about anything it seems. So it gives the impression that moving into the sports card field will be a reasonably simple task, right? That's where things can get interesting.
But before we get into more details there, let's look at HGA. Hybrid Grading Approach is a new entity entirely. Their website explains what their goal is and how they are approaching the market with a very new and unique tactic. 
"We believe that cards should receive grades based not on who is on the card, the value of the card, or whether or not a grader is having a good or bad day. The cards should be graded solely on the presentation of the card itself. So, we are developing unique software that detects edges for crispness, corners for sharpness, centering for balance, and surfaces free of blemishes; we feel that we will grade your card accurately 100% of the time."
Obviously, we knew the market was heading into the computer world. Geoff has talked multiple times about how much potential was available there to people who were willing to work out the kinks and details. As someone who has been invested in tech companies for a while, Geoff understands just what this industry could be capable of. Is HGA the answer to bringing the digital age to the sports card industry? Or is it just the first of many new steps/companies that will start coming in and redeveloping the grading process?
When it's all said and done though, if you want to be a good grading company, it comes down to basically three things, in my opinion, 1. Trust. How consistent is your grading, and how much of an expert are you? Will you cut corners? 2. Value. It's all about the money. If you're a great grader, but your graded encased card doesn't carry reasonable prices after it's all said and done… well it really doesn't matter all that much at the end of the day. 3. I would say, is eye appeal. If you're in the hobby for the hobby and not for making money, how the card looks after being graded is important. Although not a big deal compared to the other two requirements if you're an investor, I do believe that how new companies approach the topic of eye appeal in regards to their slabs will determine how much attention they can gather and perhaps interest to follow.
So let's break this down.
#1. Trust
The obvious answer is that a new company will never be able to start off with the trust from the hobby that PSA and BGS have, simply because these two companies have withstood the test of time and still remain the forerunners in sports card grading. While many others have come and gone, or faded due to poor/less legitimate grading, PSA and BGS have gained and kept the hobby's trust.
CSG made a smart move to ensure quality control and reliability of their new branch by hiring Andy Broome and Westin Reeves, both former graders for Beckett. Together they bring around 30 years of card grading experience to the table for CSG. They combine their grading expertise with some AI to help with the simpler portions of the grading process.
HGA, on the other hand, wants to get rid of people grading cards altogether and switch to computer grading. This would ensure that there is no bias about a card or player and eliminates the potential of possible human error. Cards are all graded on the same scale and price, no matter if it's a million-dollar card or a $0.10 card.
#2. Value
Because CSG only started this week, none of their cards are on the market yet. But BGS, PSA, and HGA have all sold cards. For a comparison we took the 2020 Topps Series 2 Luis Robert Rookie card #392. It's important to note that BGS has not had one of these in BGS 10 sell in the last 30 days so their prices by comparison do not translate as well as if we had data on a 10.
Brand Grade Price Bids Date
PSA 10 $152.50 12 Feb. 27, 2021
BGS 9.5 $54 24 Feb 21, 2021
HGA 9.5 $138.28 42 Feb. 26, 2021
It's hard to say if HGA will keep those stats or if the prospect that they're new will inflate their prices at the start, or if perhaps as time proves them capable, we could see their prices come even with or surpass PSA.
#3. Eye Appeal
Now, again, I don't think this is a make or break item like the other two, but I do think the eye appeal of a slab is important to the buyer. If you're going to make a display wall or something of that nature to show off your personal collection to your friends, the slab will be important.
PSA and CSG took a very similar approach. White background with black lettering and red (PSA) or green (CSG) border. BGS has, in my opinion, the classiest label, with a brass background with black ink. But HGA took an entirely different approach. They customize their background color to match the jersey colors of the player on the card. It is a bit more modern and unique but could be useful when quickly searching through your stack of slabs. The design was "okay" to me at first, but after getting on Ebay and looking at more pictures of the labels, they are really growing on me.
(Label examples copied with permission from HGA)
HGA full Slab
BONUS. Price and Time
The final thought you might have is comparing prices of these companies and wait times before you submit. To make it easier for you here are the recent prices so you can compare. Do note that these are prices according to today (3/1/21), and they could change by the time you read this article. (All photos are taken directly from their websites)
PSA (Updated their pricing on 3/1/21)
(Also look at the backlog of completed submissions here. Skip down to section 4 on the page.)
BGS
CSG
HGA
I think it's also important to note that PSA and BGS have noted a major backlog and their times are not accurate. BGS isn't even putting up wait times at the moment. (Sports Card Investor does have a PSA submission service that is drastically cutting the wait time of PSA returns. Check it out here) Again, CSG is so new we really have no clue what their turnaround is, and we can only assume that their website is correct. HGA is advertising "Where ten days mean ten days." In a recent video on Youtube, a gentleman shows an HGA unboxing, and he got his card back nine days faster than expected. Check it out here.
Ultimately as crazy as the market is right now, I believe we will see a major influx of grading companies and other sports card services. But I think it will be interesting to watch how these two newcomers will perform. Also, with PSA now under new private ownership, perhaps we will see it work more Artificial Intelligence into their grading, correct their backlog, and who knows what else. Just as the card market is always
varying, there are a lot of variables for the new and established grading companies alike.
Editor's comment: We would love to hear your thoughts about this subject; grading companies has always been a hot subject across the hobby for some time now. Have you used the new grading companies and what do you think about them? What do you think grading will be like a year from now, same slow turnarounds and some sketchy grading, or has it adjusted and modernized it's approach?
📈 Do you want to track your card collection and maximize your profit? Then you need Market Movers, the hobby's most powerful pricing database and market intelligence platform. Find out more here!