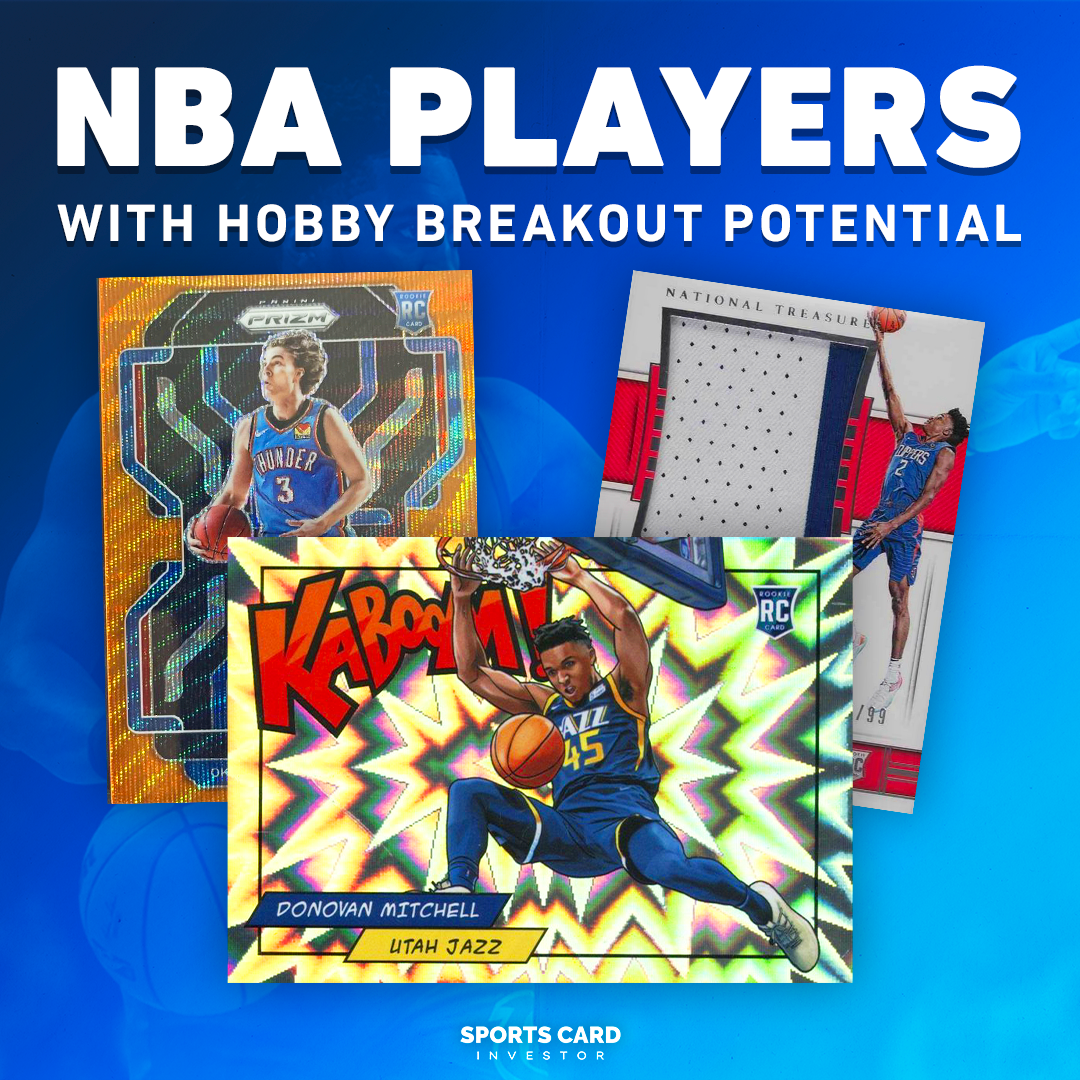 It's hard to believe that basketball is already here. And while the NFL season is in full-throttle and October baseball has been full of surprises this year, it's important for sports card investors to keep a keen eye on the NBA before the games on Christmas Day, which is typically seen as an important moment during the regular season.
The NBA offseason was filled with groundbreaking contracts and interesting trades that certainly make for exciting battles in both the East and West. Here's a look at several players in different stages of their careers and why this could be their breakout year.
Donovan Mitchell, Guard, Cleveland Cavaliers
Over the last five years, Mitchell has become one of the most lethal young players in today's game. While he isn't the biggest guy on the court, he hustles and plays with grit. It's no surprise that he is a perennial All-Star and probably the second-best player in his draft class next to Jayson Tatum. However, after consecutive mediocre performances in the playoffs, including a heartbreaker Game 7 in 2020, the Utah Jazz front office decided it was finally time for a change.
Mitchell was traded to the Cleveland Cavaliers this offseason, and joins All-Stars Darius Garland and Jarrett Allen, as well as sophomore and All-Rookie selection Evan Mobley. While the Eastern Conference boasts talented teams such as the Celtics and Sixers, the Cavaliers should not be slept on. And Mitchell is going to play a major role in this team's success one way or another.
One of the most iconic rookie cards in the hobby is the Rated Rookie from Donruss. While these cards are simple, they have a rich history and collectors still get that jolt of euphoria when they see the classic Rated Rookie logo. Rated Rookies come in all sorts of variations, and one of the most popular is the team color match. Investors should keep in mind that, while desirable, a team color match could become irrelevant and therefore carries some risk.
For example, the 2017 Purple Donruss Optic Rated Rookie for Mitchell was once considered a team match, given the card colors are the same as the Jazz. But with Mitchell now donning maroon and gold, investors may be best selling this card. If you are bullish on Mitchell leading the Cavaliers to a deep run in the playoffs, investors may want to look for deals on more rare cards such as his 2017 Cornerstones Downtown, 2017 Optic White Sparkle, and the 2018 Panini Rewards Kaboom.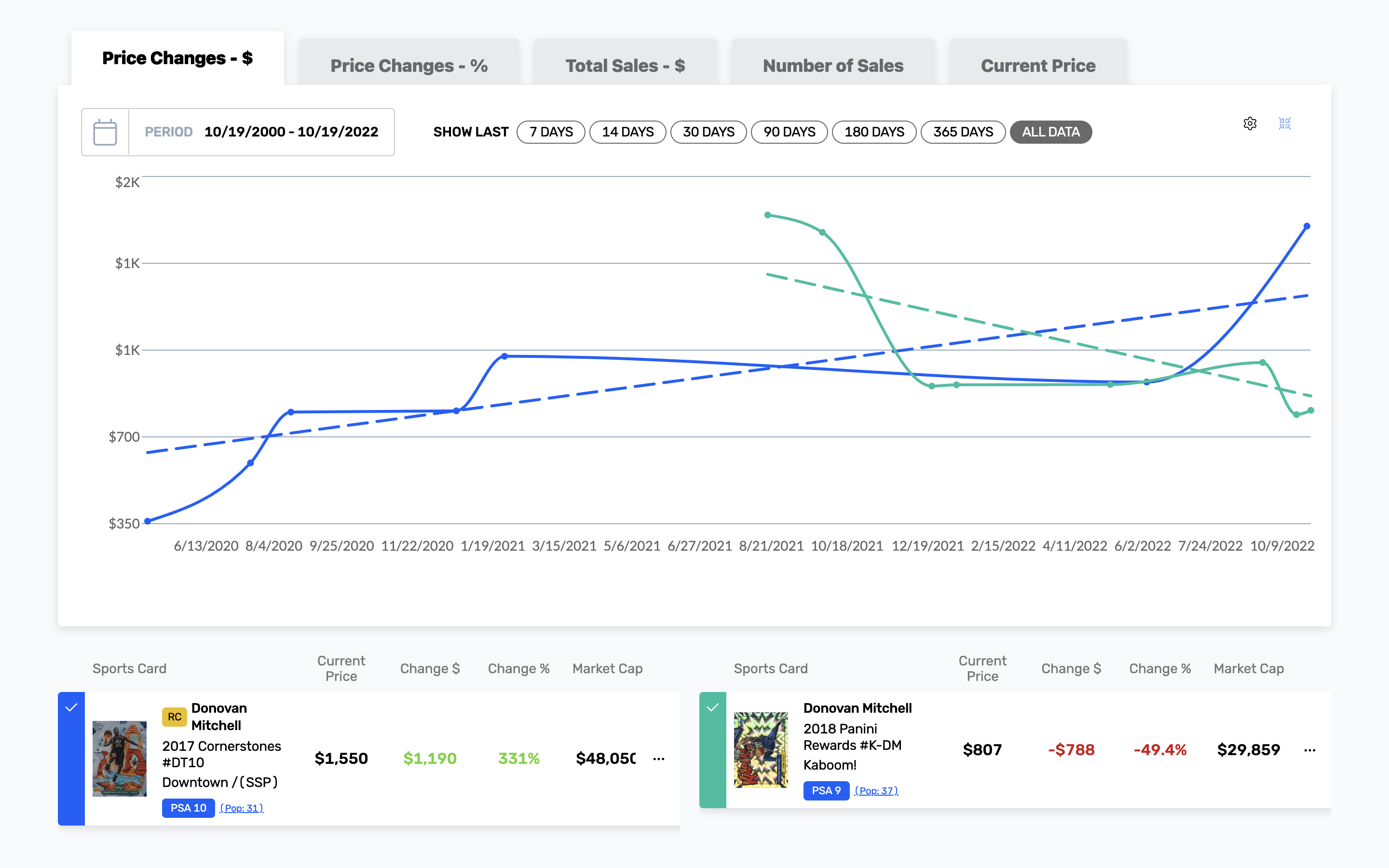 While these cards are typically expensive, all of them have either experienced relative drops or have been flat compared to prior sales. Additionally, serious collectors will not be dissuaded from these cards being from Mitchell's days in the West as a member of the Jazz. Rare parallels are always in demand, especially if they are rookie cards.
Shai Gilgeous-Alexander, Guard, Oklahoma City Thunder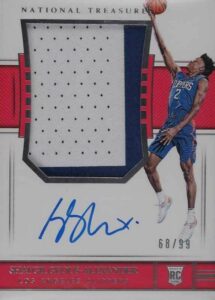 Gilgeous-Alexander has quickly evolved into a rising star, and since his rookie campaign in 2018, he has improved his points and assists per game while playing more minutes than ever. Averaging nearly 25 points while dishing out six assists on a young Thunder team makes SGA a sleeper pick for his first All-Star selection this year.
Sports Card Investor covered the best SGA rookies last year, and one of the more interesting things about Gilgeous-Alexander is that he doesn't have a Kaboom, Color Blast, or any of the most rare parallels. Without these iconic hits, SGA's National Treasures RPA /10 may be his best card. While it is expensive, data shows that the price has actually decreased about 13% from all-time highs. While the pop count is low, eBay is filled with variations of desirable National Treasures cards that may be worth exploring before we get too deep into the season.
Josh Giddey, Guard, Oklahoma City Thunder
Piggy-backing off of Gilgeous-Alexander, another youngster on the Thunder to keep an eye on is Josh Giddey. While Giddey was not the most hyped player in his draft, the Australian certainly made a name for himself during his rookie campaign. Averaging 12 points, six assists, and eight rebounds per game, Giddey is showing signs of being an all-around star. And with a supporting cast in SGA and Aleksej Pokuševski, he appears to have the tools to thrive in OKC.
One of the most unique Giddey cards out there is his Panini Noir Rookie Auto – there is something about the gold ink offset by the pitch black background that gives the card unique eye-appeal.
Something slightly more affordable would be Giddey's 2021 Prizm Orange Wave /60. Since August, this card has dropped a staggering 46% from its initial sale price of $870. At a current price of around $470, it certainly is not cheap, but there is tremendous opportunity to profit here so long as you have conviction in Giddey's ability to mature as a player. A more affordable card may be Giddey's 2021 Contenders Rookie Ticket Auto. This card sold for $300 in August, but most recently sold for just shy of $200, implying a 36% decline. At just $200 and in PSA 9, this could be a steal.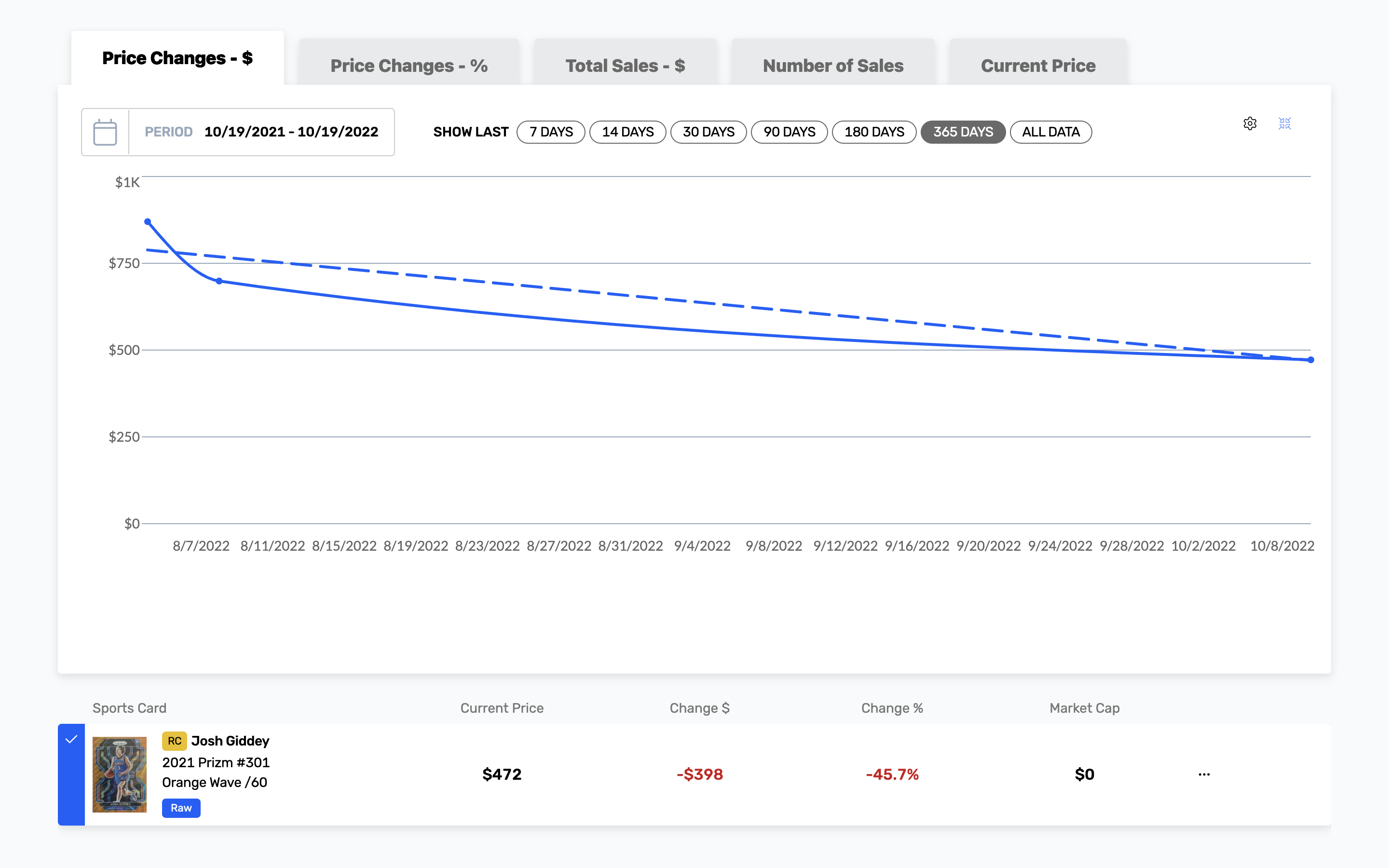 Bones Hyland, Guard, Denver Nuggets
The 26th overall pick in the 2021 draft, Hyland did not exactly stick out in a loaded class that included Cade Cunningham, Jalen Green, Evan Mobley and Scottie Barnes, among others. Despite playing only 20 minutes per game during his rookie season, Hyland averaged 10 points, three assists, and almost one steal per game, demonstrating that he has the ability to be a wildly-efficient player.
Like Giddey, there aren't any ultra-rare variations of Hyland cards. Investors can rarely go wrong with rookies from Prizm or Optic, though. Unsurprisingly, more elite cards from National Treasures have already been commanding high prices, perhaps a proxy for investor sentiment for Hyland's trajectory.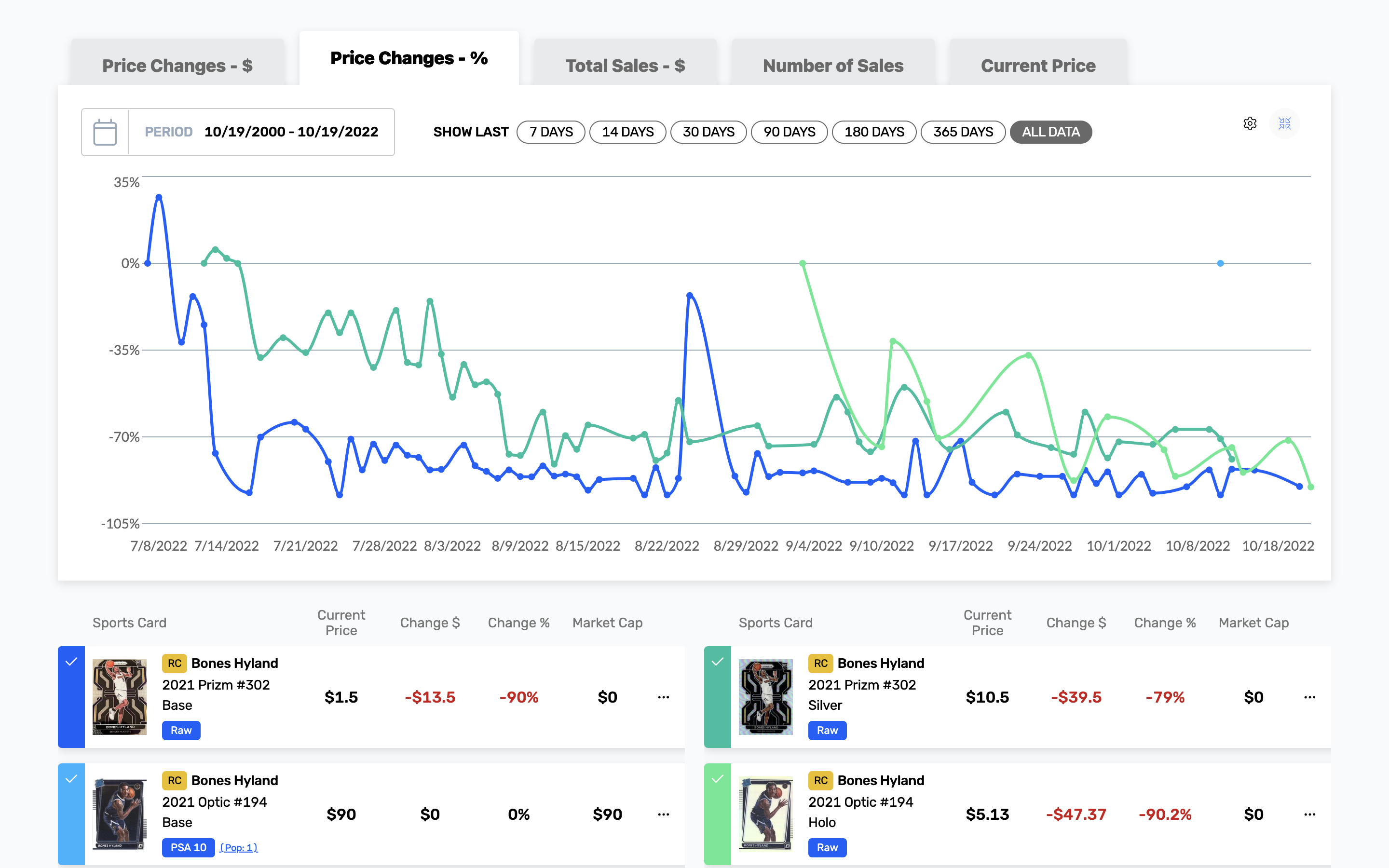 With the Sports Card Investor app, you can profit from the hobby you love by keeping up with trending cards, tracking real-time prices with Market Movers and buying items on eBay. Download the industry-leading app here for Apple or Android
Note to readers: If you purchase something through one of our affiliates, we may earn a commission.