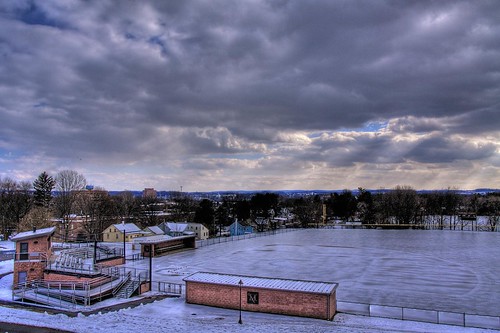 This guest post came through our Article Submission Program. Thoughts and opinions are those of the author.
The 2019 baseball season is over. Basketball, football, and hockey are all now in full swing, which means the investor's eye should naturally shift towards the other three of America's major four sports. Or does it? Though the neatly cut grass across Major League stadiums has likely started to grow unruly, there is a reason to keep at least one eye on this sport.
Economics can be used to the advantage of the one-eyed baseball player evaluator. To put it simply, the demand is way down in the offseason. Fans across the country have warded off their withdrawals of dollar hot dog nights and the related binges they had with the not-so-delicious, but yet somehow satisfying, beef franks.
The common sports follower is now worried about their other teams. Headlines that are garnering all the attention are centered on market-changing events unrelated to baseball. For example, the Zion Williamson and Patrick Mahomes injuries have understandably been the talk of non-baseball communities. However, a baseball aficionado should be attuned to the Arizona Fall League and upcoming Baseball Winter Meetings. There is plenty of heavy lifting to be done in the magical winterland of the baseball offseason, and I am here to guide your thought process through some key areas that warrant your consideration.
The Arizona Fall League
The Arizona Fall League (AFL) ended on the last Saturday of October. This league usually stretches into November, but a sensible rule change started the AFL closer to the end of the Minor League Baseball season, thus ending it sooner in the calendar year. The Fall League hosts 180 promising players that are placed onto six different teams. You can learn more about the league and its roots by navigating to the website.
Why pay attention? This is where the future superstars are playing baseball while everyone focuses on other matters. Prior year participants that were deemed "most valuable player" include: Nolan Arenado (2011), Kris Bryant (2013), Gleyber Torres (2016), Ronald Acuña Jr. (2017), and Keston Hiura (2018). As I wrote earlier, the common sports follower has their eyes elsewhere, which drops demand for baseball cards. While the demand is low, you have the opportunity to analyze fresh data points for future superstars. Unbeknownst to many fans, young studs, such as Joey Bart (though he fractured his thumb), Jo Adell, and 2019 AFL MVP Royce Lewis, mashed their way through October. When you have the opportunity to sift through updated information that other potential buyers are not giving the time of day, wise investments can be made. I came across an informative article that analyzes the top hitters in the 2019 AFL, which can be a useful starting point for you.
Additionally, Team USA, featuring top prospects Jo Adell and Alec Bohm, made it to the bronze medal game of the Premier12 international baseball tournament, which culminated on November 17th. Although the temperatures were dropping, pitchers were still on the mound. You could have been back in the box.
The Baseball Winter Meetings
The Baseball Winter Meetings are in San Diego this year and will be an ongoing event from December 8th to 12th. There are physical events for many to attend, but the action is happening via cellphone. With many great baseball minds, including the General Manager for each team, all in the same place, deals are going to be made. Think of your fantasy football league. You need a premiere wide receiver, and everyone knows it, so a plethora of conversations are going to happen. Now consider that situation, but on steroids, and you have the Winter Meetings. It is such an intense affair that some General Managers even face walk-off legends in wrestling matches. The best way to engage in rapid-fire communication is texting and calling all of the interested parties that you know. Most organizations are there to make moves, so the response time is likely minimal. With all this happening, players and their value are going to be in flux. You know that likeable Mets prospect you are collecting with the funny hair? Yeah, he's banished to Baltimore now. The team a player is on is a defining feature of their card value, and this can flip your investment or potential investment upside down for better or for worse. For that reason alone, it is best to keep a weathered eye on these affairs.
Who are the players probable to draw the most interest? World Series Champion Anthony Rendon, World Series MVP Stephen Strasburg, World Series Bullpen-Stander Gerrit Cole, and World Series Disintegrator Madison Bumgarner. The value of these players will certainly fluctuate, just like their jersey sales will. New teams indicate new fans, which, in turn, results in new buyers. The larger the fanbase, the larger the population of buyers. It will mean more for their value if they are signed by a sizeable market team, such as New York, Los Angeles, or Chicago. Therefore, when rumors are floating around, it is in the baseball card investor's best interest to keep in mind what team is looking at what player.
Another offseason area that warrants its own article is trades. Trades are exciting, which is why I had to scrap most of what I wrote on that topic for this article. It became incredibly long, which prompted my decision to turn this baseball offseason topic into a series. As a teaser: trades can truly shake up the market for the players involved. Exchanges of players, including the oft traded player to be named later, will happen at the Winter Meetings, as well as for most of the regular season. Players switching teams may or may not be in your investment's best interest, and I will take an extended look at this in my next article.
The winter is my favorite season, and it presents many opportunities to capitalize on the wandering interest of other fans. The circumstances are highly unpredictable, but it can make for some fun guesswork. Which teams will be competitive? Will a prospect it seems I have attached to since they were a child make it to the Show this year? How much longer do I have to wait to watch future Dodger Mookie Betts and violent-swinging Cody Bellinger hoist the trophy for LA? These questions, among many others, will be kicked around until baseball starts back up again in the spring. Until then, I hope you acquire that fantasy football premiere wide receiver and put an end to Mark from accounting's bid for a league three-peat.
Do you think this approach of monitoring the offseason can be applied to other sports, such as the NBA Summer League for basketball? What do you want to read about when it comes to players being traded? Leave your thoughts in the Comments below.
Ready to take your sports card investing to the next level? Join my Membership Program now for card picks, analytics, premium community access and much more!