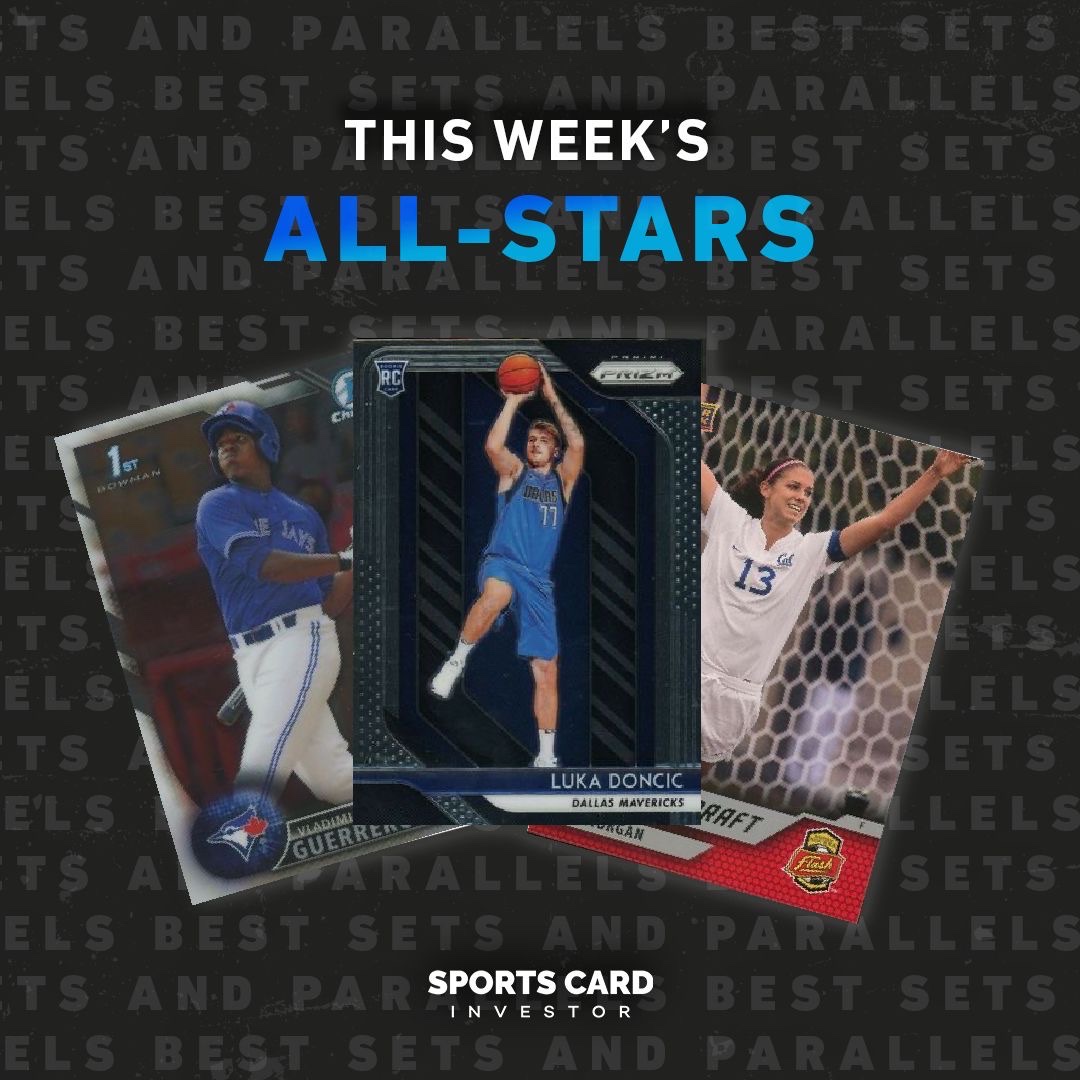 This week's All-Stars are led by Luka Doncic dismantling the Los Angeles Clippers in the NBA Playoffs and USWNT star Alex Morgan returning to form with the Orlando Pride.
Here's a look at the Sports Card Investor All-Stars from around the major sports.
Aaron Rodgers, Green Bay Packers Quarterback
Just about every NFL report we've heard this week suggests that Aaron Rodgers' days in green and yellow are over. Where Rodgers writes the next chapter in his first-ballot Hall of Fame career is anyone's guess, but you can rest assured that the chip on his shoulder will be immense and 2020 numbers — 4,299 passing yards, league-leading 48 TDs — could be matched.
Rodgers' 2005 Topps Base PSA 10 is trending about even over the last 30 days.
Luka Doncic, Dallas Mavericks Guard
Some think the Los Angeles Clippers lost their final two regular season games on purpose to avoid the Lakers in the second round of the NBA Playoffs. They might not get there with how well Dallas Mavericks star Luka Doncic is playing in the first round.
Doncic has abused the Clippers defense while averaging 35 PPG on 42% shooting from 3 to put Dallas up 2-0 in the series.
Doncic's signature 2018 Prizm Base PSA 10 is down 24% over the last 30 days, but is trending back up 6% over the last week. Doncic could be in for a big bump if the Mavericks take down the Clippers in the first round.
Alex Morgan, Orlando Pride/USWNT Forward
Morgan is back in the United States after a short run with the Tottenham Hotspur of the FA Women's Super League. After missing time because of injury, then pregnancy, and finally Covid-19 across 2019 and 2020, Morgan is back with the Orlando Pride of the NWSL.
The Pride is 2-1-0 to start the season while Morgan has scored a goal in all three games.
Morgan's 2011 Upper Deck MLS Base PSA 10 is down 31% over the last 30 days. With a POP of just 168, Morgan's rookie could be a strong early target before the World Cup.
Vladimir Guerrero Jr., Toronto Blue Jays First Baseman
Currently MLB's home run leader, Guerrero Jr. has worked himself into the AL MVP discussion thanks to a pair of homers Monday night. He's currently batting a blistering 337/447/674 with 16 home runs, 41 RBI and 38 runs so far in 2021, and is leading all position players in fWAR by a comfortable margin.
Guerrero Jr.'s cards in Market Movers are up 27% over the last two weeks while his 2016 Bowman Prospects PSA 10 is up a massive 136% over that same period.
Track your collection and maximize your profit with Market Movers, the hobby's most powerful sports card pricing platform! Learn more here.
Note to readers: If you purchase something through one of our affiliates we may earn a commission.