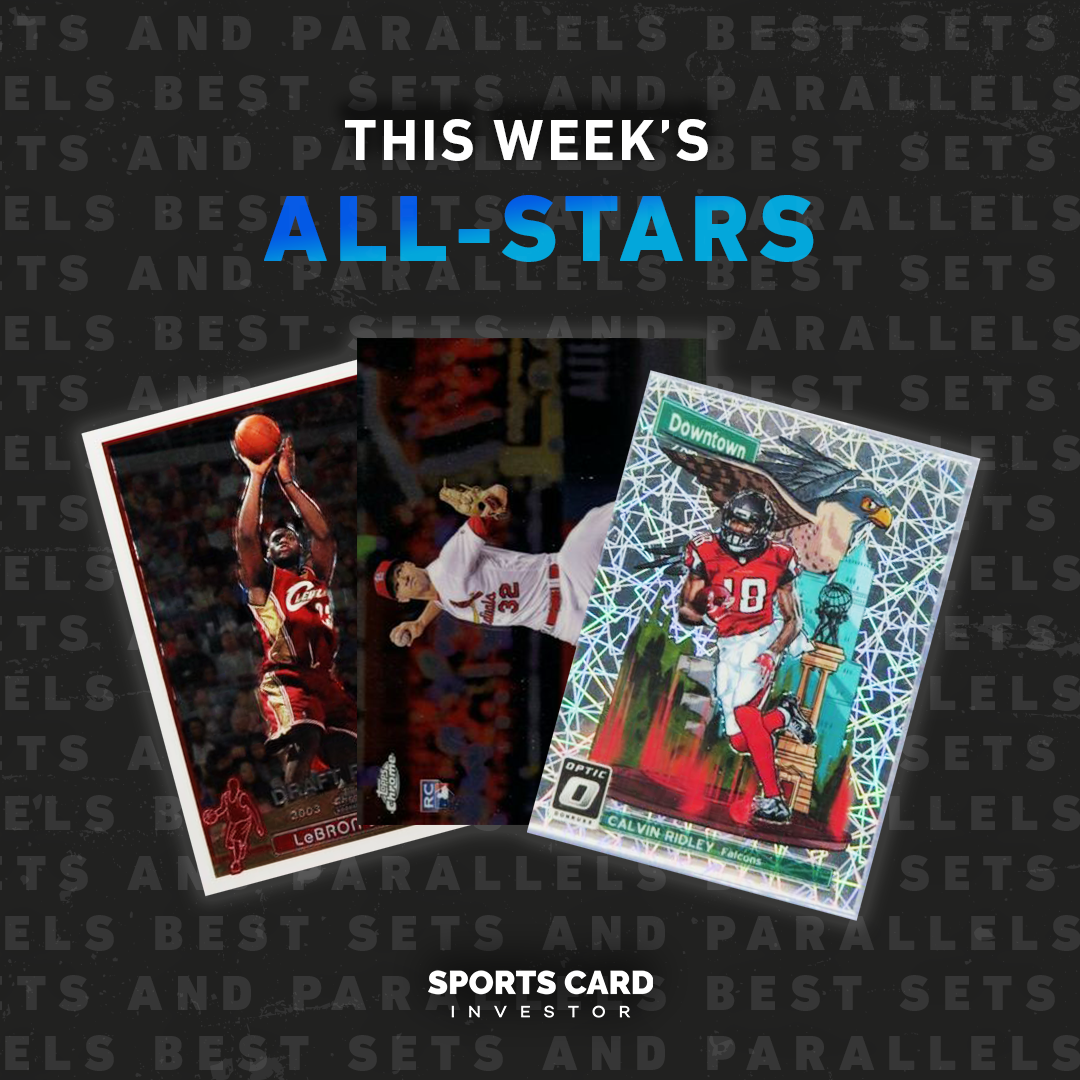 This Week's All-Stars is led by a game-winning shot from LeBron James and some continued dominance from a St. Louis ace.
In basketball, LeBron James gave NBA fans the Play-In Tournament game they were hoping for as the Lakers clashed with Golden State. Shortly after getting poked in the eye, James buried a 3 to give the Lakers a 103-100 win over Steph Curry's Warriors.
In baseball, Cardinals ace Jack Flaherty continues to dominate the league with an 8-0 record and 2.53 ERA through nine starts. He's piled up 55 strikeouts in just 53.1 innings and has clearly rebounded from a tough 2020 season.
Here's a look at the Sports Card Investor All-Stars from around the major sports.
Calvin Ridley, Atlanta Falcons Wide Receiver
With Julio Jones' future pretty uncertain, Ridley could quickly become option No. 1 in Atlanta. Ridley piled up 90 receptions for 1,374 yards with Jones on the team last season, and could increase that production as the top guy.
Ridley's 2018 Optic Base PSA 10 has floated between $70 and $100 since January — it's averaging about $87 right now — and could see a bump if Jones moves on.
If you're into buying Raw for grading, Ridley's 2018 Prizm Base is down 72% over the last 30 days, and can be snagged for around just $8.
Jack Flaherty, St. Louis Cardinals Pitcher
Back in form after a rough 2020, Flaherty has been pitching like an ace so far in 2021. Currently 8-0 through his first nine starts, he's the first Cardinals pitcher to win eight of his first nine starts to begin a season since Bob Gibson back in 1965.
The hot start has his cards soaring, too. Flaherty's 2018 Topps Chrome Base PSA 10 is currently up 131% over the last 30 days.
LeBron James, Los Angeles Lakers Forward
We weren't sure how healthy James was going to be for the Play-In Tournament, but his mediocre shooting night was capped off with a game-winning 3 from the Staples Center logo Wednesday night.
James' cards in Market Movers are up over 106% over the last year, but down collectively 12% over the last 30 days. James' rookies are coming down from some pretty high peaks over the last year, so this might be your last chance to grab one before another playoff bump.
His 2003 Topps Chrome Base PSA 10 is down 9% over the last 30 days while his Topps Base PSA 10 is down 15% over the same period.
Robert Lewandowski, Bayern Munich Striker
Four goals over his last two games has Lewandowski up to 40 on the season, tying Gerd Muller's 49-year-old German league goal record. He has one game to go to break it, and is currently a popular name in transfer talks.
Chelsea has reportedly been in contact with Bayern about a move this summer, but early indications make it seem unlikely.
A record-breaking moment could give Lewandowski a nice hobby bump with one of his signature cards currently struggling. His 2018 Prizm World Cup Base PSA 10 — his most-sold card in Market Movers over the last 90 days — is down 21%.
Track your collection and maximize your profit with Market Movers, the hobby's most powerful sports card pricing platform! Learn more here.
Note to readers: If you purchase something through one of our affiliates we may earn a commission.