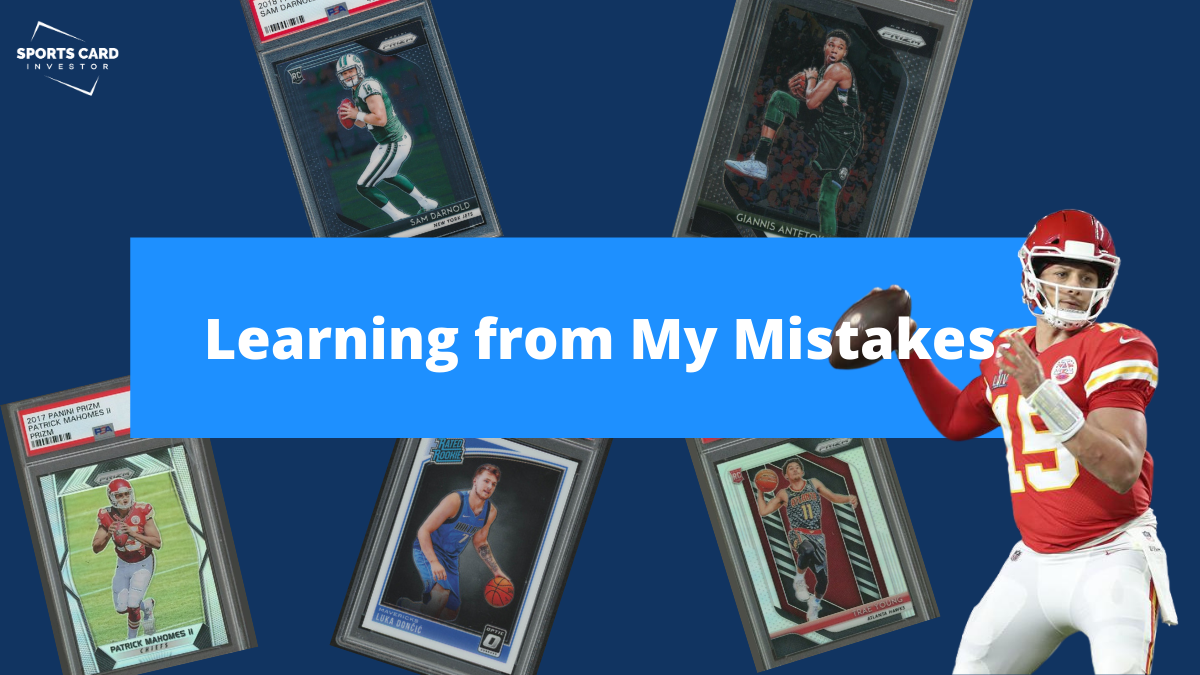 This guest post came through our Article Submission Program. Thoughts and opinions are those of the author.
Introduction
"Too bad you didn't have 100 of them."
That's what Chris Heck, owner of Green Mountain Sports and Quick Consignment 802, told me after handing me back my freshly graded Gem MT PSA 10 Patrick Mahomes Prizm rookie card.
Heck has been in the game for a long time and is the ideal local card shop owner – he offers grading services, consignment services, always has a great selection of hobby boxes, and offers gem mint advice to people like me trying to navigate the hobby.
At the time, I didn't read into his comment about having 100 Mahomes Prizms. When I bought mine in June of 2019, I could have easily purchased more as they were only selling for about $70 raw:
Source: Personal eBay Account
After getting the card back as a PSA 10, I sold it shortly after for $1,200.
To date, that card is both my biggest flip and my biggest "yikes, I left a lot of money on the table," as it now sells for over $3,000.
It's also my biggest teacher in terms of improving my investment techniques as it revealed a major flaw in how I was buying cards.
The Mistake
I first rediscovered the hobby in March of 2019. I spent the next two months researching before buying my first card. At the time, there were far fewer podcasts, Twitter accounts, Instagram accounts, and YouTube channels talking about different investment strategies for sports cards. In some ways, it made it easier to stay focused on the players and cards I wanted to buy.
My first week on eBay, I focused on a few main players I really believed were good investments based on their current market pricing:
Giannis Antetokounmpo
Luka Doncic
Trae Young
Carson Wentz
Sam Darnold
Patrick Mahomes
Source: Personal eBay
The problem is that I only bought one or a few of each card.
Looking at my eBay history, I can tell you exactly what happened: more and more investment advice started coming out and I would get excited about a new player. I would buy a card or two of that player and move onto the next one.
In the first two weeks of buying cards, I stayed steady with the core players I identified. Then after that, I started buying "here and there" cards of different players. A Baker Mayfield here, a DeAndre Ayton there, a Mich Trubisky here, a Josh Rosen there.
You get the picture. I never really "finished" an investment with a player before starting another one.
After one year of being in the hobby and looking at all of my data (purchases, profit, opportunity cost, etc.) the biggest mistake I made was never finishing an investment of a particular card and player.
While I might not have bought 100 Patrick Mahomes Prizm cards, I remember having intentions to buy 10-15 raw to grade before getting distracted and chasing other cards due to FOMO.
This was also at the time when Luka Doncic and Trae Young Prizms were selling for $20 and $5 respectively, in raw form. I never could have predicted what their base cards would be doing in PSA 10 today, but I can tell you that I bought far less of those cards than I originally intended to because I got distracted.
How My Investment Strategy Has Changed
Ask 10 sports card investors about their investment strategies, and you'll get 10 different answers. Personally, my goal is to make sure I fundamentally understand why I buy any particular card in the current market environment. I have my guideposts, like Geoff's content, certain Instagram accounts (Cardboard Chronicles and House of Jordans are two I recommend) etc., but I try hard to make investments my own, not someone else's.
That's getting harder by the day in this hobby because there are just so many new content creators recommending different cards. It's great to see such a rise in this content, but I'm sure many of you can relate that it's becoming overwhelming.
We're also entering a new phase of the hobby.
Last summer, you could have bought just about any sports card to see good returns one year later. It was also much more affordable to invest in the core cards of top rookies.
For example, if you put in the work, you could have bought 100 raw Trae Young Prizm rookie base cards for less than $350 last summer:
Source: Personal eBay Account
What's important to note here is that I bought this card for $3.25 after Trae Young finished second in rookie of the year rankings behind Luka Doncic. If you look at the current rankings, you can see that the 4th ranked rookie so far this season (Kendrick Nunn doesn't have a Prizm card and Ja / Zion are outliers), Colby White, has Prizm base cards that sell for 4x the price of what Trae was last year:
Source: eBay
You could still go "all-in" on White and purchase 100 of these but it'll cost you four times as much as it would have to acquire 100 Trae Young bases the previous year. There are certainly "dollar bin" cards that have the potential for enormous returns, but they are becoming increasingly difficult to find ahead of the market trend.
I'm also not explicitly suggesting you buy 100 base cards to "follow through on your investment." From what I've gathered listening to influencers in this hobby over the past year is that base cards are the biggest divide from an investment strategy POV and for good reason.
One the one hand, base cards have a high population. They're a "common" card and there's nothing special about them. They aren't shiny or really that fun to look at. On the other hand, base cards can explode in value if that player emerges as a generational talent (think Lebron James).
The problem is that it's incredibly rare for that to happen. Luka Doncic might fit this category, but what happens if he never wins a championship? Same goes for Giannis.
This is why it's incredibly important to follow through on your investments and why I've changed my approach. I no longer buy the "here and there" cards. I'm doing much more research on core players, their teams, pricing, and card sets. I use much more data to research players, whether it's using FiveThirtyEight player projections or NBA stuffer. And believe it or not, I've spent a lot more time watching film (not highlights) of certain players.
If I identify a player that I believe is undervalued or has a lot of potential, I now do one of two things:
Buy as many of a particular raw card as possible and send them in for grading to flip some for profit, others for a bigger card, and hold others to wait and see
I'll try to find 1 or 2 cards that are a little more rare – whether it's a personalized auto, a numbered card, a unique patch or a photo variation. I'll either hit the watch button or move other inventory to acquire it.
My ultimate goal is to make enough profit to set money aside, fund my PC, and fund bigger cards that I think have long-term potential. There will always be a market for prospecting, no matter how big or small (remember, Giannis base Prizm rookies used to be found in dollar bins at card shops) but if you want long-term investments with large earning potentials, you need to find and hold rare cards.
If you use the PWCC market indices tool to compare sports card returns to stock price returns, you'll quickly realize that the top 100 most valuable sports cards have a much higher ROI in the long-run than the less valuable ones.
So while those $3.25 Trae Young's might not be the long term play, finding the undervalued equivalent, buying in bulk, grading and flipping could get you into the higher-end of the market that shows greater and more consistent returns over time.
Final Thoughts
This lesson in this article is two-fold:
Do you research
Follow through on your investments
There are many different investment plays you could deploy. You could go vintage or modern. You could buy prospects or veterans. You could buy ungraded cards and try to grade and flip them. You could do short term investing, mid-term investing or long-term investing.
There's no right or wrong answer. I don't think anyone could have imagined the market today in its current state. I believe that it's still growing, but I also believe too many people are watching what others buy and not doing their own research.
A year ago, that worked really well for the reasons I detailed above. I'm even guilty of it – I bought a few hundred dollars worth of Luka cards without ever having seen him play!
Because of this, I didn't really invest, I dabbled. I'd then get distracted and move on.
Now I find myself selling some of my inventory and wondering why the heck I didn't buy more of it. Now that I've learned this lesson, I plan to identify a few players (to retain diversification) become an expert on their cards, land some bulk deals, and eventually acquire rarer cards that are a safer longer-term play.
I'm sure we've all made a few mistakes along the way, but articles like this are a great way to learn how to avoid some common traps. Like Jon says, research is vital and follow-through is paramount! We would love to hear some of your mistakes along the way and maybe how you avoid them now.
Ready to take your sports card investing to the next level? Join our Membership Program now for card picks, analytics, premium community access and much more!