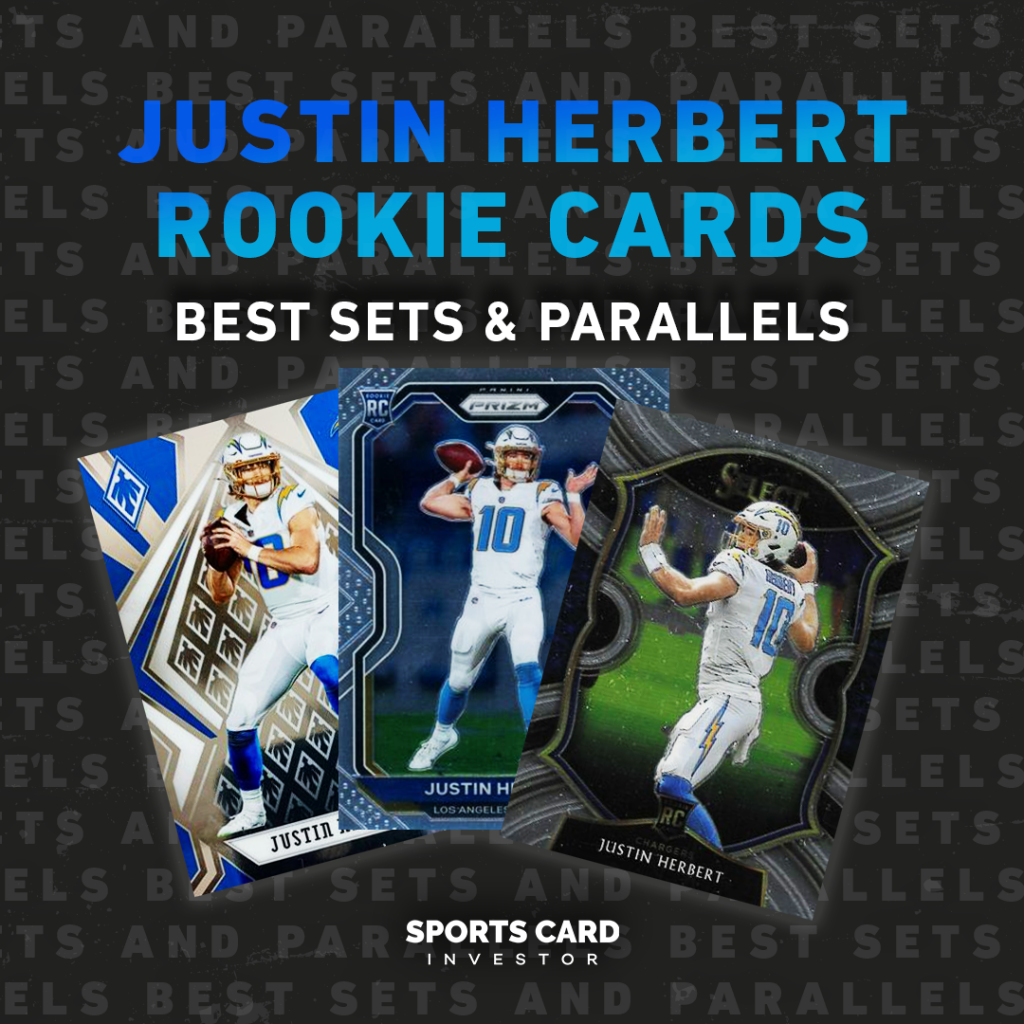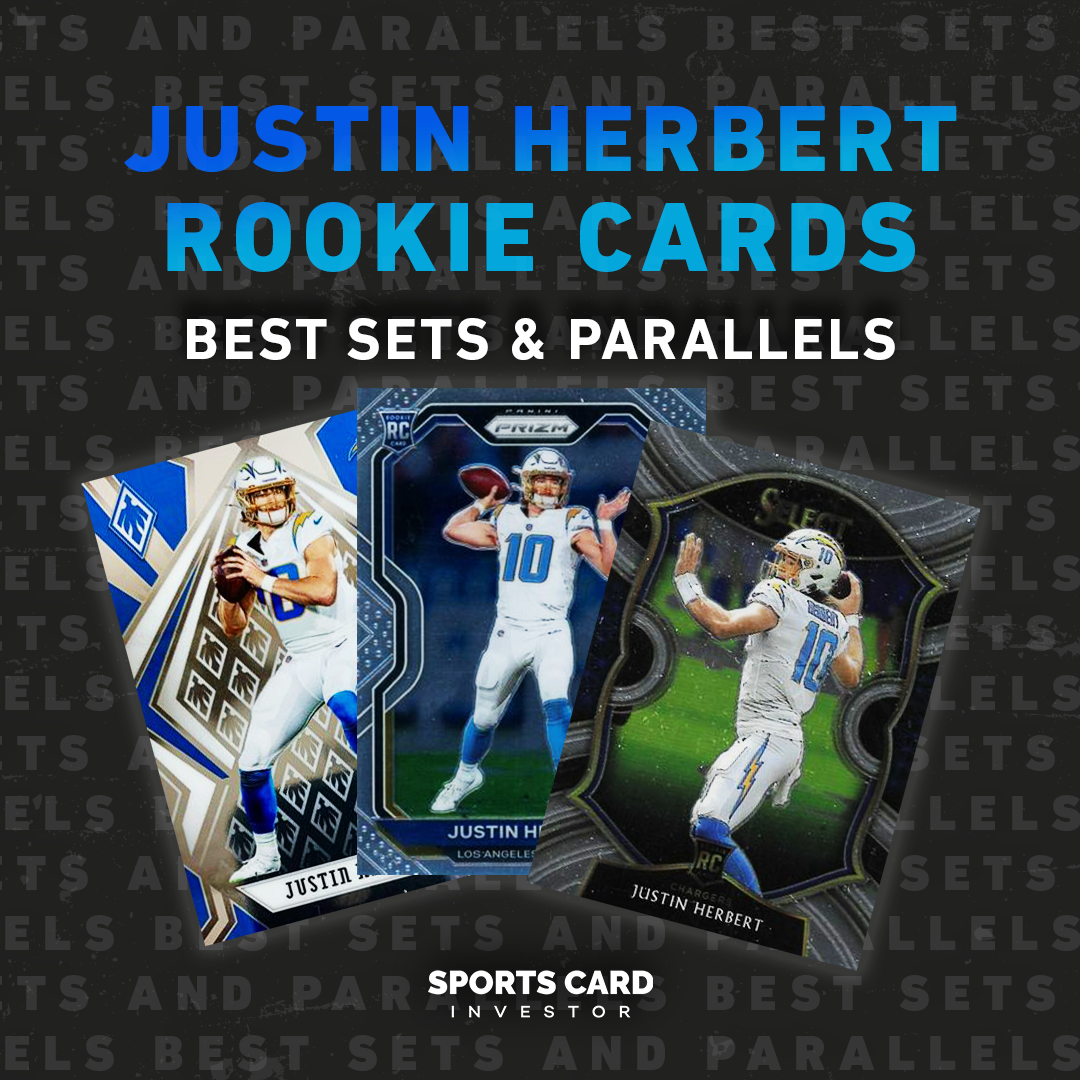 Justin Herbert Rookie Cards: Best Sets and Parallels to Buy
The Los Angeles Chargers didn't see much team success in 2020, but rookie QB Justin Herbert still put up huge numbers. Herbert tossed 31 touchdowns with just 10 INTs en route to the NFL Offensive Rookie of the Year award, and he looks poised to be one of the league's next young stars.
Herbert has dozens of rookie cards from across the 2020 season, so use the Sports Card Investor guide to see which ones we think you should focus on. Cards are broken down into tiers, ranging from the most affordable and more popular options to the most unique, expensive and rare.
VALUE ROOKIES:
The Value Tier Includes cards with high print runs or lower-quality cardstock. A good fit for new collectors or those on a limited budget.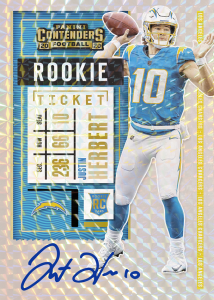 Absolute #167: A higher-tier product for basketball, Absolute isn't quite as popular for football, but features the incredibly popular Kaboom! insert this season. Known for its variety of autograph and patch combinations, Absolute shows Herbert in multiple memorabilia checklists. Shop now >
Contenders #104: While Contenders doesn't feature the greatest cardstock, it does have the always-impressive Rookie Ticket Autographs. The on-card auto set is one of the most popular chases in the hobby, and is a must-own for any Herbert collector. Shop now >
Donruss #303: One of Panini's flagship products, Donruss has a basic design on decent cardstock. Herbert has multiple Rated Rookie autos to chase and also appears in the 10-card White Hot Rookies Auto set. Short-printed Press Proofs are also quality pick-ups. Shop now >
POPULAR ROOKIES:
This tier includes cards from the most popular sets across both retail and hobby formats. Typically easy to buy or sell when needed.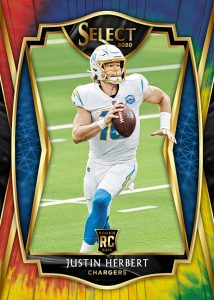 Mosaic #204: After a fantastic debut as a standalone set in basketball, Mosaic made the jump to football as well in 2020. With one of the best lineups of parallels in the hobby, Mosaic is one of the most popular sets for collectors chasing rainbows. Shop now >
Optic #153: A chrome upgrade to Donruss, Optic continues to rise in popularity among football fans. While Herbert unfortunately doesn't appear in the Downtown or My House! insert sets, he does get included in the 20-card Mythical set. The Optic Holo parallel is one of the most popular in the hobby and should be a priority for investors. Shop now >
Prizm #325: Collectors can look for an impressive lineup of parallels to chase for rainbow collections while the Prizm Silver remains one of the most popular cards in the hobby. Herbert appears in the case-hit Color Blast insert set as well as the Stained Glass set — but don't confuse this Stained Glass with Mosaic's superior version. Shop now >
Select #44: Built around three levels of rookie cards, Select made its retail debut in 2020 to incredible popularity that sometimes saw it priced higher on the secondary market than Prizm basketball. Zebra and Tie-Dye parallels are beautiful additions to any collection. Shop now >
MORE UNIQUE ROOKIES:
This tier Includes cards with lower print runs, unique designs, or cards from hobby-only products. Usually higher-quality cards than the Value or Popular Tiers, though not necessarily more popular or easier to buy or sell.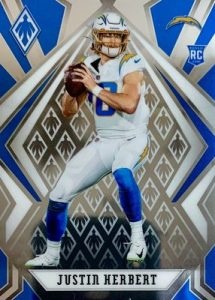 Limited #103: Carried by its impressive lineup of autographs and patches, Limited features a small 100-card base set and plenty of RPAs. Herbert gets lots of patch-auto treatment in Limited, with one highlight coming in a Quad Auto Booklet. Shop now >
Obsidian #104: Known for its unique black backgrounds, Obsidian is a hobby-only product, which makes its print runs lower than most other products on this list. Herbert appears in multiple autograph and memorabilia checklists, but the highlight here is his inclusion in the Color Blast Black set. A case hit, Obsidian puts its own spin on the ultra-popular Color Blast insert. Shop now >
One #3: True to its name, Panini One features one card per box — and it's usually something really good. Herbert's RPA /99 is the popular target here, though it comes in a variety of parallels numbered as low as the Black 1/1. Shop now >
Phoenix #103: Considered one of the cooler products from 2020, Phoenix has loud backgrounds and slick inserts. Herbert appears in the super-popular En Fuego insert set while collectors can also pick up the Fanatics Factory set for Fire Burst parallels. Shop now >
Spectra #138: With base cards limited to just /99, Spectra is one of the more difficult rookie cards to track down. Super-short printed parallels like Orange Neon and Nebula are popular chases while Herbert also gets plenty of love from the autograph and memorabilia checklists. Shop now >
RAREST AND MOST EXCLUSIVE: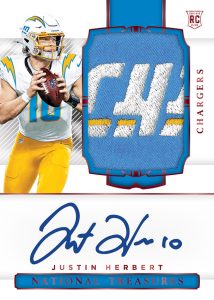 We won't spend much time here because this category is likely out of reach for most collectors due to price, but they are still fun to look at.
Sets like Flawless, Immaculate, and National Treasures typically feature visually stunning designs and low-numbered cards.
This is also where you'll find the most impressive patches paired with high-quality on-card autographs. Don't worry if this tier is too pricey as there's plenty of options in other categories that could be perfect for your collection.
Track your collection and maximize your profit with Market Movers, the hobby's most powerful sports card pricing platform! Learn more here.
Note to readers: If you purchase something through one of our affiliates we may earn a commission.