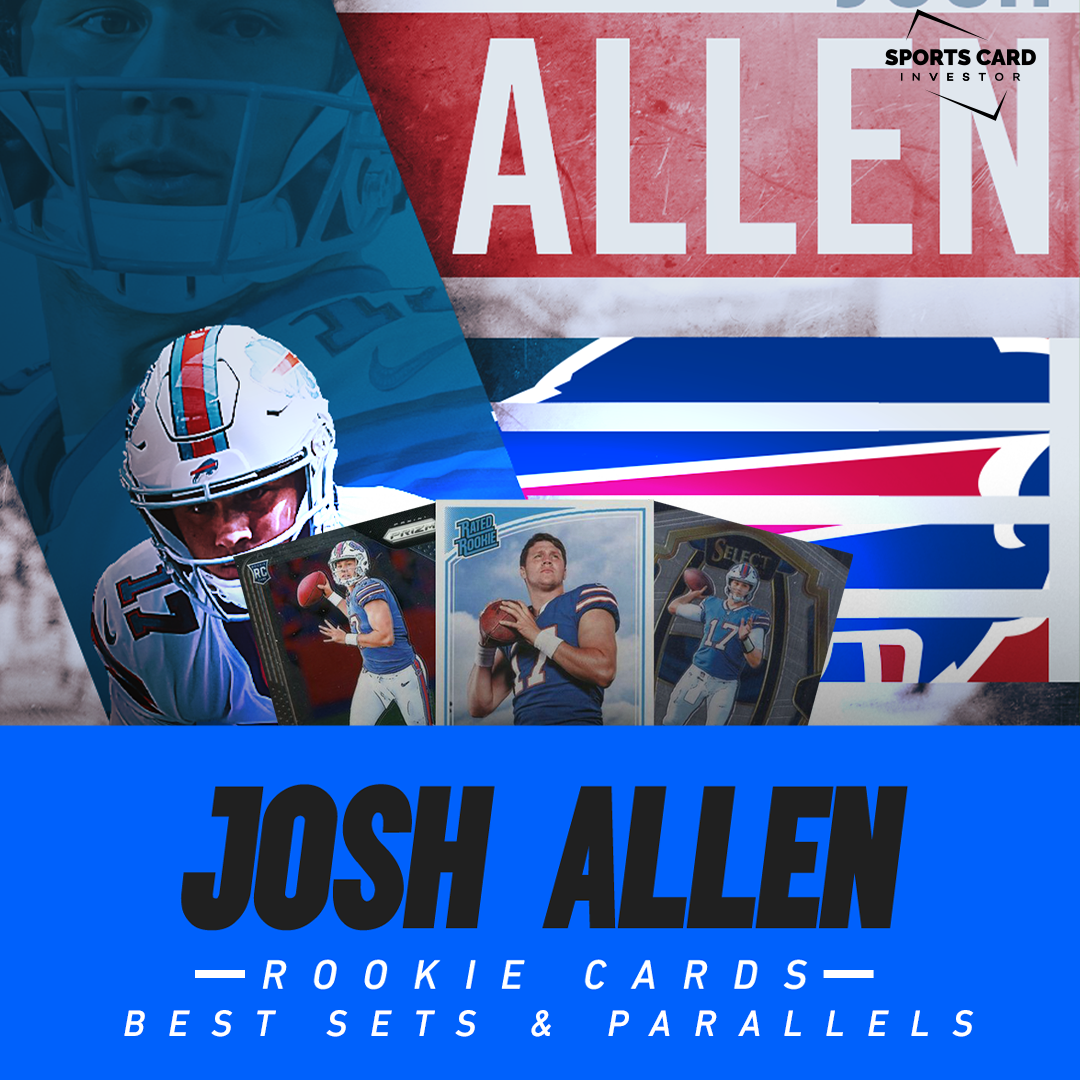 Many considered Josh Allen a major gamble with the No. 7 overall pick in 2018, but he's been everything the Buffalo Bills could have wanted. An MVP candidate in 2020, Allen has emerged as one of the top QBs in the NFL and one of the hobby's favorite targets.
Allen has dozens of rookie cards from the 2018 season, so use the Sports Card Investor guide to see which ones we think you should focus on. Cards are broken down into tiers, ranging from the most affordable and more popular options to the most unique, expensive and rare.
VALUE ROOKIES:
The Value Tier Includes cards with high print runs or lower-quality card stock. A good fit for new collectors or those on a limited budget.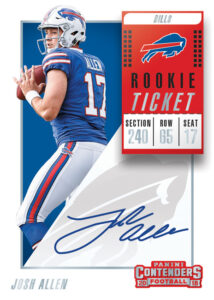 Contenders #5: The best value option for Allen here is his Rookie of the Year Contenders insert, though most collectors buy Contenders for the chance at on-card rookie autos. You'll find shorter-printed Allen autos in sets like Rookie Ticket Autographs RPS.
Donruss #304: Arguably Allen's signature rookie card, Donruss' Rated Rookie should be found in any Bills collection. Rookie Gridiron Kings Autographs are there for those looking for something a little more high-end while The Rookies insert set is a nice addition to most collections.
Prestige #234: A retail exclusive, Prestige offers manageable prices collectors either new to the hobby or new to football can appreciate. The NFL Passport Memorabilia and Rookie Signatures sets are strong options for those looking for jersey cards or autographs.
POPULAR ROOKIES:
This tier includes cards from the most popular sets across both retail and hobby formats. Typically easy to buy or sell when needed.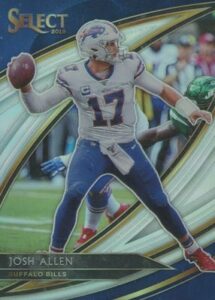 Optic #154: As always, Optic provides a more premium, chrome upgrade to Donruss. You'll find Allen's signature Rated Rookie here as well as the popular Rated Rookie Autograph. The big chase in this set, however, is Allen's Downtown insert. Featuring a Buffalo-related background, Downtown is a must-have for Bills fans. Finally, the Optic Holo parallel remains one of the best in the hobby.
Prizm #205: One of the hobby's most popular sets, Prizm is a great place to find parallels — Red, Blue, Disco, and Camo provide something for everyone while the iconic Silver is another must-have for any Allen collector. Allen also makes an appearance in the fantastic Stained Glass set.
Select #24: Look for Allen in three different tiers of cards with Concourse, Premier and Field Level all varying in scarcity. Like Prizm, Select features an impressive lineup of parallels like Zebra, Neon Green, Tie-Dye and the Black 1/1. Outside of parallels, look for Allen in the Jumbo Rookie Swatch and Prime Selections Prizm Signatures checklists.
MORE UNIQUE ROOKIES:
This tier Includes cards with lower print runs, unique designs, or cards from hobby-only products. Usually higher-quality cards than the Value or Popular Tiers, though not necessarily more popular or easier to buy or sell.
Absolute #154: This set would be considered more of a value option if Allen had a regular base card, but you'll only find autos and memorabilia cards for his rookie season. Look for Allen in the Newcomers auto set as well as the Rookie Dual Memorabilia checklist.
Certified #204: You won't find a regular base card for Allen here, but there's plenty of autos and memorabilia cards to chase. Freshman Fabric Mirror Signatures are a good place to start with Certified while the Gold Team inserts add a little pop.
Elite #154: Allen's base rookie is numbered to just 399, so there's a little more scarcity than normal with Elite. For autographs, look at the Pen Pals set or Turn of the Century numbered to just 99.
RAREST AND MOST EXCLUSIVE:
We won't spend much time here because this category is likely out of reach for most collectors due to price, but they are still fun to look at.
Sets like Flawless, Immaculate, and National Treasures typically feature visually stunning designs and low-numbered cards.
This is also where you'll find the most impressive patches paired with high-quality on-card autographs. Don't worry if this tier is too pricey as there's plenty of options in other categories that could be perfect for your collection.
Track your collection and maximize your profit with Market Movers, the hobby's most powerful sports card pricing platform! Learn more here.
Note to readers: If you purchase something through one of our affiliates we may earn a commission.