The expectations of the NBA center position have evolved immensely over the past 20 years to now include pushing fast breaks, pulling up from deep and moving without the ball. The Philadelphia 76ers' Joel Embiid relishes all of these roles. The centerpiece of a Sixers club that is perennially one of the Eastern Conference's most competitive teams, Embiid trusted the process and morphed from an inexperienced Kansas Jayhawk with back issues into a four-time NBA All-Star who excels on both ends of the court.
Embiid has dozens of rookie cards from across the 2014 season, so use the Sports Card Investor guide to see which ones we think you should focus on. Cards are broken down into tiers, ranging from the most affordable and more popular options to the most unique, expensive and rare.
VALUE ROOKIES:
The Value Tier Includes cards with high print runs or lower-quality cardstock. A good fit for new collectors or those on a limited budget.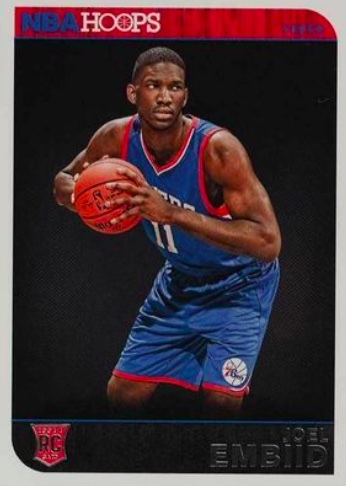 Hoops #263: A standard purchase for most collectors, this Hoops card features Embiid in a generic media-day pose for the camera. Hoops is a good starting point for collectors new to the hobby or basketball in general and provides solid value.
Donruss #203: While a relatively inexpensive choice, this Donruss card earns some panache for having the popular "Rated Rookies" stamp on its top left corner. This set also consists of a slightly less coveted "The Rookies" card for Embiid.
Prestige #163: Aesthetically, this card doesn't do much — Embiid is oddly positioned to the right of the card, appearing to be inbounding the ball, all atop a bland black backdrop — but it is an economical way to add the Philly star's RC to your stash.
Court Kings #103: Known for their vibrant artistic takes, Court Kings won't break the bank, but its slabbed portraits certainly turn heads. And if you dig the appearance of the base, give the New Aesthetic and Remarkable Rookies inserts a hard look.
POPULAR ROOKIES:
This tier includes cards from the most popular sets across both retail and hobby formats. Typically easy to buy or sell when needed.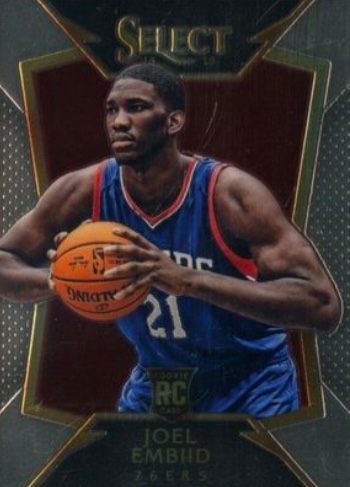 Prizm #253: No, it's not just you. This Prizm really does appear to show Embiid in the same pose as he's in on the aforementioned Hoops. But at least with this card's Silver Prizm and Light Blue varieties (/49), the value shoots up.
Select #90: Embiid's base card is a fine addition to most collections because of Select's more limited print run, though the Prizms parallel is a must-have for any hardcore collector. For inserts, look for the big guy on the Rookie Swatches and Select Rookies Jersey Autographs checklists.
MORE UNIQUE ROOKIES:
This tier Includes cards with lower print runs, unique designs, or cards from hobby-only products. Usually higher-quality cards than the Value or Popular Tiers, though not necessarily more popular or easier to buy or sell.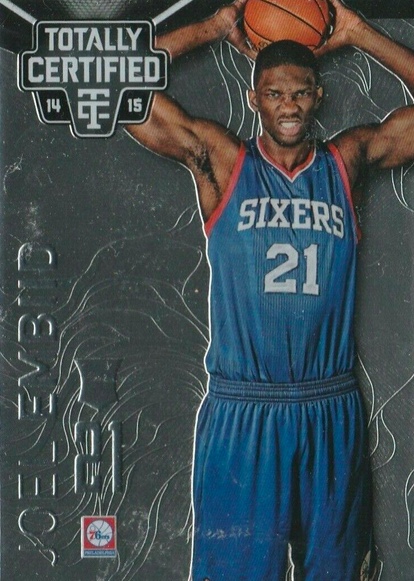 Excalibur #178: This set could fit in the value category, but because of its relative scarcity in the wild, we'll leave it here. If you're able to get your hands on a box, hunt for the Knights Templar parallel or something from the rainbow of Crusade inserts.
Totally Certified #70: This product isn't one your local retailer would typically stock. But it proves worthy of digging around for, though, because of the hilarious scowl on Embiid's face and the hard-to-find Platinum Blue (/149) and Mirror Red Die Cut (/135) options.
RAREST AND MOST EXCLUSIVE:
We won't spend much time here because this category is likely out of reach for most collectors due to price, but they are still fun to look at.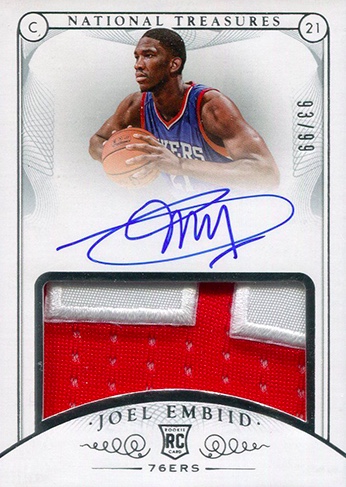 Sets like Noir and National Treasures typically feature visually stunning designs and low-numbered cards.
This is also where you'll find the most impressive patches paired with high-quality, on-card autographs. Don't worry if this tier is too pricey as there's a host of options in other categories that could be perfect for your collection.
Track your collection and maximize your profit with Market Movers, the hobby's most powerful sports card pricing platform! Learn more here.
Note to readers: If you purchase something through one of our affiliates we may earn a commission.