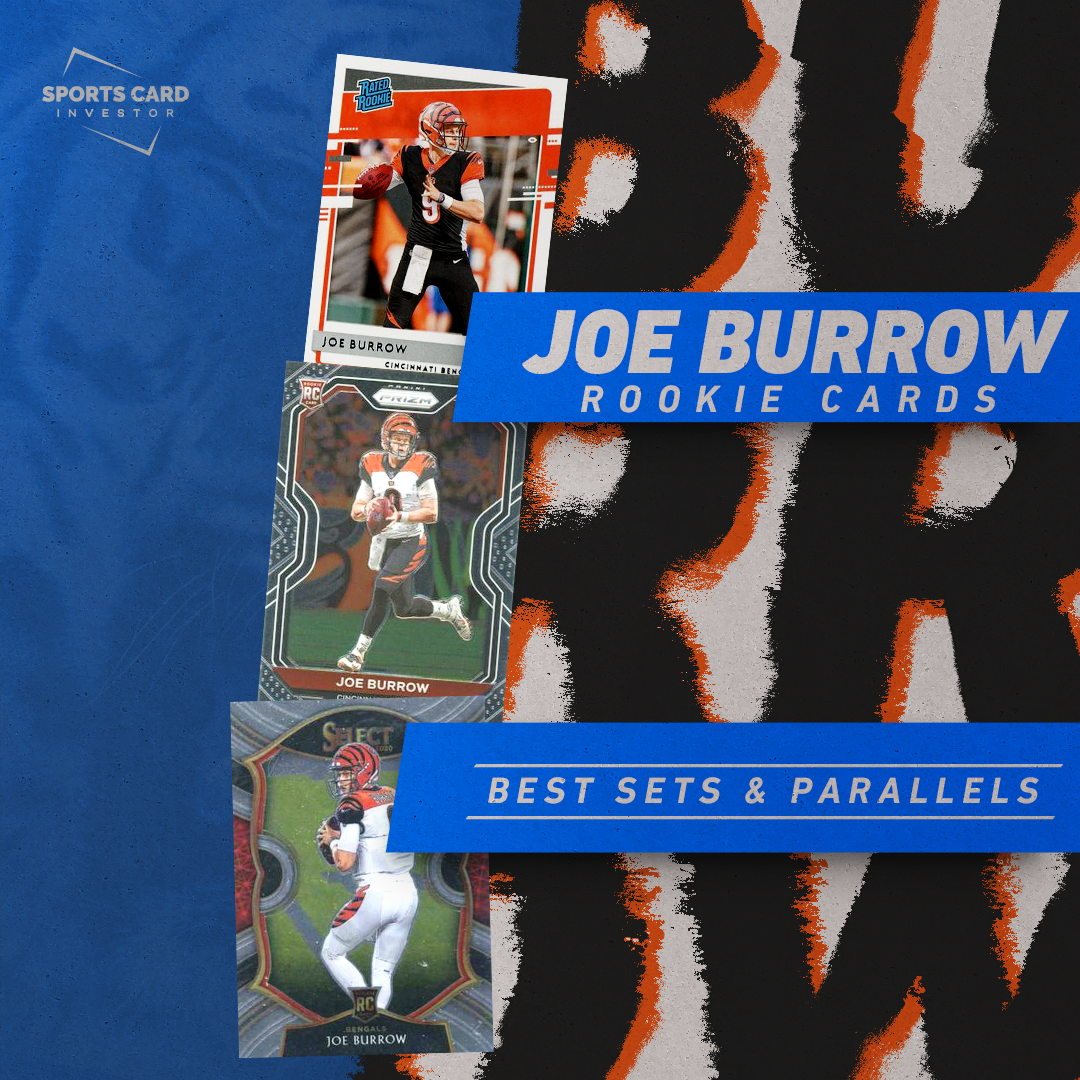 The No. 1 overall pick in 2020, Joe Burrow stepped in as the franchise QB from the start for the Cincinnati Bengals. An injury-shortened season limited Burrow to just 10 games in his rookie year, but the potential showed in the abbreviated action.
Burrow has dozens of rookie cards from across the 2020 season, so use the Sports Card Investor guide to see which ones we think you should focus on. Cards are broken down into tiers, ranging from the most affordable and more popular options to the most unique, expensive and rare.
VALUE ROOKIES:
The Value Tier Includes cards with high print runs or lower-quality cardstock. A good fit for new collectors or those on a limited budget.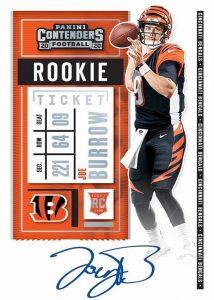 Absolute #158: A much more popular product for basketball, Absolute featured the fan-favorite Kaboom! insert set in 2020. Despite lower-quality cardstock, Absolute does have an impressive lineup of memorabilia and autographs. Shop now >
Contenders #101: Despite landing in the Value tier, Contenders has a special place in the hobby because of its Rookie Ticket Autographs. A must-have for many collectors, Rookie Ticket Autos come in a variety of parallels ranging from Cracked Ice /22 to 1/1 Super Bowl Ticket. Shop now >
Donruss #301: A flagship product for Panini every season, Donruss has a clean, classic look most collectors can get behind. Anchored by Burrow's Rated Rookie, you can also chase higher-quality autos. Shop now >
POPULAR ROOKIES:
This tier includes cards from the most popular sets across both retail and hobby formats. Typically easy to buy or sell when needed.
Mosaic #201: After a successful run as a standalone product for basketball, Mosaic made its football debut in 2020. Known for its incredible lineup of parallels, Mosaic is a popular product among rainbow chasers. Shop now >
Optic #151: A chrome upgrade to the Donruss release, Optic has become one of the most popular sets in the hobby. Carried by the iconic Optic Holo parallel, the 2020 release also features Burrow in the fantastic Downtown insert set. Shop now >
Prizm #307: Another flagship product for Panini, Prizm often carries a premium on the secondary market over other rookie cards. The Prizm Silver has become the parallel to have, while others like Snakeskin, Gold Vinyl and Green Scope are among the best in the hobby. Shop now >
Select #46: Making its explosive retail debut in 2020, Select was likely the most popular football product in 2020. As usual, Select is built around three levels of rookie cards as well as a variety of parallels and die-cuts. Tie-Dye and Zebra parallels are two of the top chases. Shop now >
MORE UNIQUE ROOKIES:
This tier Includes cards with lower print runs, unique designs, or cards from hobby-only products. Usually higher-quality cards than the Value or Popular Tiers, though not necessarily more popular or easier to buy or sell.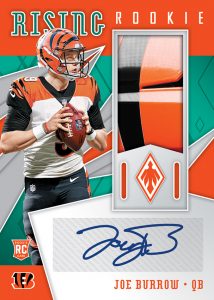 Certified #101: A hit-or-miss product for many collectors, Certified carries the popular Mirror parallels as well as high-quality patches and autos. Rookie Roll Call autos are strong chases. Shop now >
Limited #101: Not quite at the highest end of the football spectrum, Limited is one of the most expensive sets you'll find. Featuring extremely high-quality patches, autographs and booklets, Limited could likely hold its own in the tier above this. Shop now >
Phoenix #101: One of the louder designs in the hobby, the 2020 Phoenix release features Burrow in fantastic insert sets like Flame Throwers and the En Fuego die-cuts. Collectors can also find the Fire Burst parallels through the Fanatics factory set. Shop now >
One #1: Taking a very literal strategy, Panini's One features just a single card per box. Base cards are numbered to just 99 while the true chases are RPAs, quad patches, and other high-quality memorabilia-autograph combos. Shop now >
RAREST AND MOST EXCLUSIVE: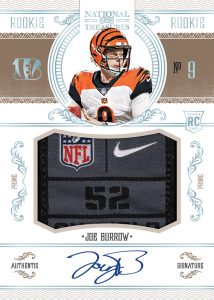 We won't spend much time here because this category is likely out of reach for most collectors due to price, but they are still fun to look at.
Sets like Flawless, Immaculate, and National Treasures typically feature visually stunning designs and low-numbered cards.
This is also where you'll find the most impressive patches paired with high-quality on-card autographs. Don't worry if this tier is too pricey as there's plenty of options in other categories that could be perfect for your collection.
Track your collection and maximize your profit with Market Movers, the hobby's most powerful sports card pricing platform! Learn more here.
Note to readers: If you purchase something through one of our affiliates we may earn a commission.