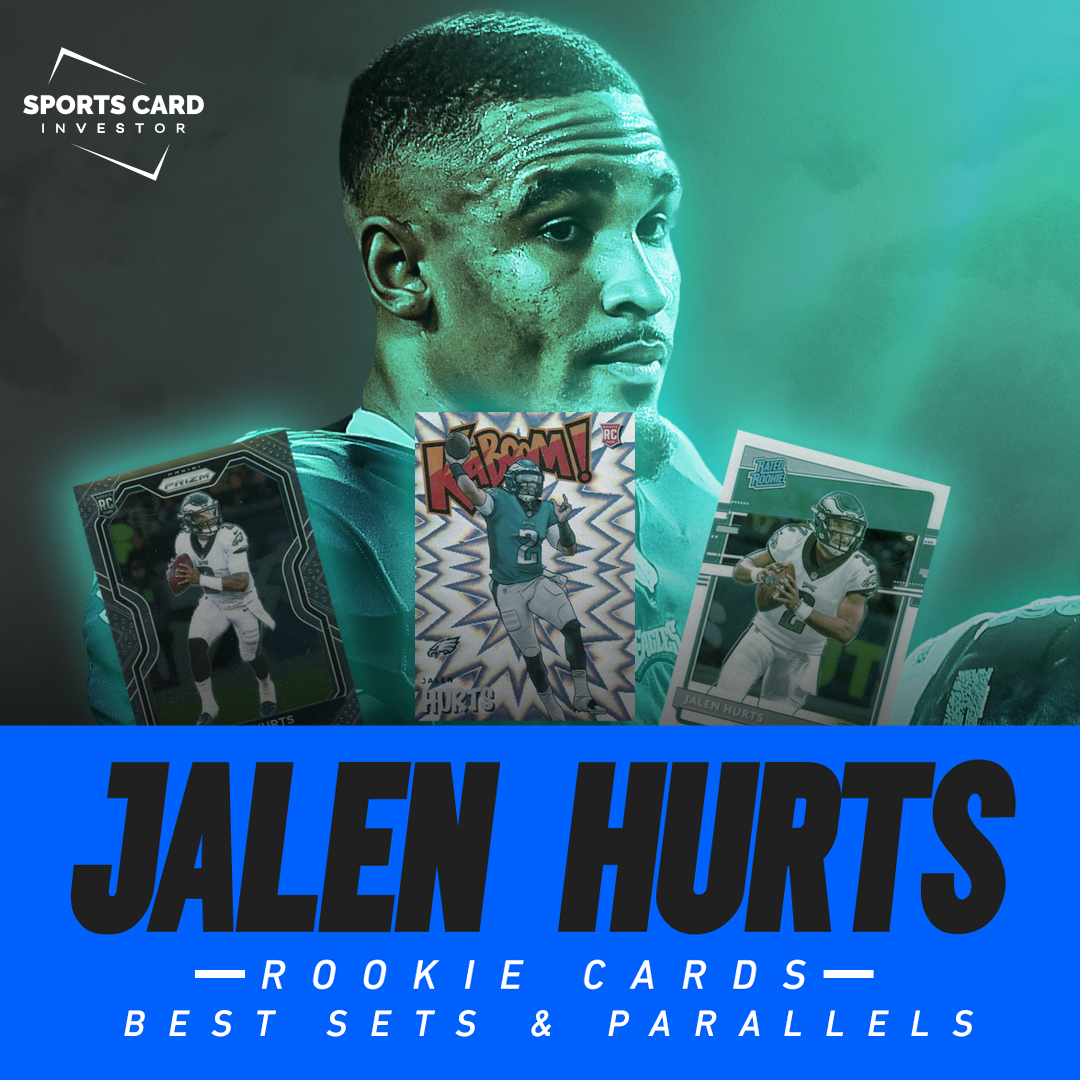 Jalen Hurts wasn't selected until the 2020 NFL Draft's 2nd round, but he's helped turn that draft into one of the best for quarterbacks in recent years. Despite limited action in his rookie season, Hurts' play was a major reason why the Philadelphia Eagles were comfortable moving on from former franchise QB Carson Wentz.
Hurts has dozens of rookie cards from across the 2020 season, so use the Sports Card Investor guide to see which ones we think you should focus on. Cards are broken down into tiers, ranging from the most affordable and more popular options to the most unique, expensive and rare.
VALUE ROOKIES:
The Value Tier Includes cards with high print runs or lower-quality cardstock. A good fit for new collectors or those on a limited budget.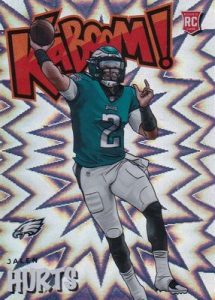 Absolute #145: Known for a great lineup of autographs and memorabilia cards, the main attraction for Absolute in 2020 was the Kaboom! insert set. Base cards and some autos will be on the affordable side for many collectors, though Hurts' Kaboom! will be a bigger buy for most. Shop now >
Contenders #122: Rookie Ticket autos continue to make Contenders a favorite among many collectors, and 2020 is no different. Hurts is part of the Rookie Ticket RPS lineup, which features autos in parallels like Mosaic, Cracked Ice and Clear Ticket. Shop now >
Donruss #314: A Panini flagship product, Donruss is one of the places you'll find Hurts' signature Rated Rookie. There are plenty of autographs to chase here, including the Rated Rookie Autographs and Red Hot Rookie Autographs numbered to just 25. Shop now >
POPULAR ROOKIES:
This tier includes cards from the most popular sets across both retail and hobby formats. Typically easy to buy or sell when needed.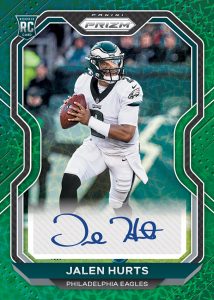 Mosaic #222: Originally an online-only product, Mosaic made its full debut with basketball in 2020 to extreme success. The football launch came shortly after, and Mosaic has quickly become one of the more popular, yet affordable, options in the hobby. Filled with an impressive lineup of parallels, Mosaic is one of the top products for rainbow chasers. Shop now >
Optic #164: As always, Optic is a chrome upgrade to Donruss. Another chance to snag Hurts' Rated Rookie card, this set is also the place to find one of the most coveted parallels in the hobby with the Optic Holo. Shop now >
Prizm #343: While Hurts unfortunately doesn't make an appearance in the Stained Glass or Color Blast sets, you'll still find him with some of the hobby's best parallels. The Prizm Silver is the parallel to have in the hobby while parallels like Snakeskin, Green Scope and Camo are all strong additions to any collection. Shop now >
Select #50: Anchored by four levels of rookie cards, Select made an explosive retail debut with football in 2020. Along with tons of die-cuts, memorabilia and autographs, look for Hurts in popular parallels like Tie-Dye and Zebra. Shop now >
MORE UNIQUE ROOKIES:
This tier Includes cards with lower print runs, unique designs, or cards from hobby-only products. Usually higher-quality cards than the Value or Popular Tiers, though not necessarily more popular or easier to buy or sell.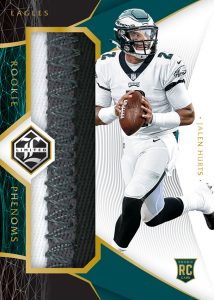 Certified #114: With base rookies numbered to 399, Certified is a good option for collectors looking for a more limited print run without a massive price tag. Look for Hurts in the impressive Freshman Fabric Mirror Signatures set as well as Rookie Roll Call Signatures checklist. Shop now >
Limited #114: Limited is getting quite close to the upper-tier of football products, but sits as a unique option because of its limited print runs and strong lineup of patch-autographs. Hurts' base rookie is numbered to just 175 while serious collectors should target one of his patch-autos or his Rookie Jumbo Jersey. Shop now >
Phoenix #114: One of Panini's flashiest products, Phoenix pairs unique backgrounds with bright colors and interesting designs. Look for Hurts in the Rising Rookie Material Signature set and the Rookie Rising insert checklist. Shop now >
One #14: You get one card with Panini's One Football, but it's likely going to be a good one. The Rookie Quad Patch Autographs and Jumbo Tag Autographs sets are fine additions to any Hurts collection. Shop now >
RAREST AND MOST EXCLUSIVE: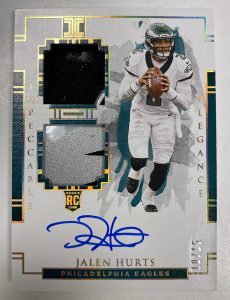 We won't spend much time here because this category is likely out of reach for most collectors due to price, but they are still fun to look at.
Sets like Flawless, Immaculate, and National Treasures typically feature visually stunning designs and low-numbered cards.
This is also where you'll find the most impressive patches paired with high-quality on-card autographs. Don't worry if this tier is too pricey as there's plenty of options in other categories that could be perfect for your collection.
Track your collection and maximize your profit with Market Movers, the hobby's most powerful sports card pricing platform! Learn more here.
Note to readers: If you purchase something through one of our affiliates we may earn a commission.