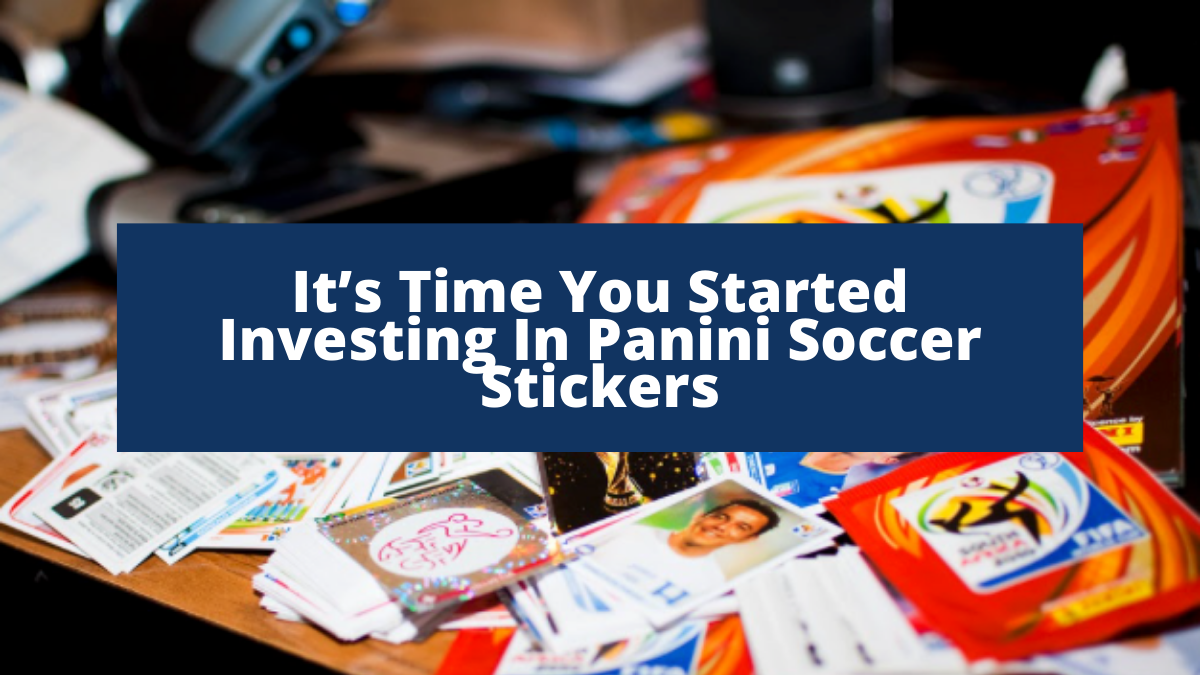 This guest post came through our Article Submission Program. Thoughts and opinions are those of the author.
Introduction
Collecting soccer cards has grown immensely over the past few years. Panini's debut World Cup set in 2014 in the form of Panini Prizm (featuring a 200-card base set and plenty of shiny parallels) was in addition to the traditional sticker album, the Italian-based company had issued since 1970. The company's second set, 2018 Panini Prizm, saw increased interest by both American and foreign investors.
While soccer cards are hot, some of the best players and teams have been captured not on cardboard, but in the form of a sticker. Soccer players haven't gotten the cardboard love American sports heroes have traditionally had, meaning stickers are the place to look. While investors have often shunned stickers, they have increasingly become must-haves over the past year as soccer increasingly grows in popularity in the United States.
For starters, stickers are harder to find in mint condition because they are flimsier than cards. Most stickers have also been affixed to albums, making them impossible to collect and grade individually. While completed albums are great to have by the time a World Cup comes to an end, investors are looking to get their hands on individual stickers of some of the planet's best players, both past and present.
"The value of old Panini albums increases every two years during the European Cup and World Cup," Panini expert Wouter Waaijers told the Daily Mirror, a British newspaper. "This is not only the case for old albums but also for European and World Cups from more recent years. In America, sport trading cards have been generating money for some time now, but the trend is now also visible in Europe. Therefore, it makes sense to look after complete Panini albums well as the chance is high that you can sell them for a lot of money a couple of years later." 
While soccer doesn't have the tradition that baseball and football have in this country, it is the sport of the present and the future. It is also the world's most popular, meaning investors in soccer cards/stickers can be found all over the planet. When it comes to investing, trying to gobble up established stars of the past 50 years — especially getting stickers with a low-grade population — is the way to go.
Where do you get these stickers? Since many of them, especially pre-1994, never made their way to most American homes, you won't find them in boxes at yard sales or posted on eBay. Instead, they are the equivalent to Europeans to what baseball cards are in America. Therefore, the best places to look online are by scanning message boards and on British and Italian eBay sites. A search for Panini stickers there can yield thousands of results. 
That, in part, what makes collecting soccer stickers so difficult. It's a hurdle many U.S. collectors either don't want to deal with and, more likely, aren't aware of as the collector's market for the sport continues to grow.
There is a growing allure when it comes to stickers. For example, basketball collectors have flocked to Micheal Jordan's 1986-87 Fleer rookie sticker in recent months. The time to invest in soccer stickers is now. Here are five stickers you should scoop up.
Revisiting Mighty Brazil
Soccer greatness is synonymous with Brazil and Pele, arguably the best player to ever kick a ball. Panini debuted its now-famous 1970 World Cup album, featuring multilingual captions, to a global audience. While these completed albums can go for hundreds, even thousands, those individual stickers can go for more money.
Those who think stickers can't compare to cards need to rethink their buying strategy. For example, a Panini album signed by Pele sold in March 2017 for $12,000 at an auction. Online platform Catawiki sold the book, making it the most expensive Panini album in the world.
On the field, Brazil won the 1970 World Cup in fantastic fashion, defeating Italy 4-1 in the final. The game, played in Mexico City 50 years ago this June 21, featured team captain Carlos Alberto (who would join Pele at the New York Cosmos a few years later), Jairzinho, Rivellino and Tostao.
An excellent example of a sticker investors like is a graded, mint condition 1970 Brazil team sticker featuring the team's starting lineup. It is noteworthy both because the team captured its third Jules Rimet trophy at the time and because it features Pele (kneeling, third from right).
The cheaper alternative is to get the same sticker ungraded. The Italian version of the sticker — with "Brasile" written across the bottom and the Rimet trophy — is still widely available. Overall, investors like the 1970 set because it is Panini's first World Cup album, as well as the set featuring plenty of legendary superstars.
RAW AND GRADED SOCCER STICKER CARDS ON EBAY
The world's other best player ever
The other player challenging Pele for all-time great status is former Argentine star Diego Maradona. Winner of the 1986 World Cup, Maradona was both a flashy and polarizing player. Both loved and hated, Maradona was, without a doubt, the best player of the 1980s.
While World Cup albums don't feature rookies (in the traditional way we know it with American sports), the closest thing to one is a player's first appearance in a Panini sticker set.
For Maradona, that sticker is from the 1982 World Cup played in Spain. The sticker, featuring Maradona's full name and "Espana 82" across the top, isn't widely available since most were affixed to albums.
Maradona also makes several appearances in recent car sets as well, including recent Panini Prizm and Donruss sets. Maradona, an attacking midfielder, led Argentina to the World Cup title in 1986. He would go on to play at four World Cups, was banned twice from the game for drug use and eventually retired in 1997.
Messi and Ronaldo 2006 World Cup debuts
Played in Germany, the 2006 World Cup featured the tournament debut of two players widely regarded as the best of this generation: Lionel Messi and Cristiano Ronaldo. While there are plenty of cards of these two players included in recent sets, their stickers remain undervalued.
Messi has never won anything while representing the national team. That makes him, in the eyes of many of his countrymen, second to Maradona. Messi's success has come at his club team Barcelona and in the UEFA Champions League. While Messi cards sell for good money, his World Cup debut sticker is easily attainable. The same for Ronaldo. While Portugal has never won a World Cup, Ronaldo had success with his country after winning the 2016 European Championship.
Like Messi, Ronaldo has been most successful at club level, most notably at Real Madrid, in the Champions League. Nonetheless, his World Cup debut sticker from 2006 is also a worthy addition to any collection.
Both Messi and Ronaldo will go up in value over the next decade. They are established stars, and anything featuring their likeness will be hot, especially if either of them can win the World Cup the next time around in 2022.
RAW AND GRADED SOCCER STICKER CARDS ON EBAY
Betting on Neymar and Mbappe
The other superstar on this list is Neymar. The Brazilian may not be as talented as Pele, but he has grown in reputation over the past few years. Like Messi and Ronaldo, Neymar has never won a world championship.
Nonetheless, the striker is worth investing in due to his age (he's 28, while Messi and Ronaldo are already in their 30s) and the nation he represents. Brazil is among the favorites to win the World Cup (they have won it five times, more than any other country) every time. It's no doubt that Neymar will again be in a position to lift the trophy.
Neymar's first World Cup Panini sticker came in 2014 when the tournament was played in Brazil.
While Brazil famously crashed out of the tournament after losing to Germany 7-1 in the semifinals, Neymar remains a fan favorite of Brazilians everywhere. Neymar did redeem himself and his countrymen when he helped Brazil win its first-ever Olympic gold medal in soccer at the 2016 Rio Games. Neymar still has a shot at winning a World Cup, something that would undoubtedly help raise his profile as well as the value of his stickers.
Another player to invest in is Neymar's Paris Saint-Germain teammate Kylian Mbappe. The French star had an outstanding Russia 2018, winning the World Cup at just age 19. Mbappe, who made his World Cup sticker debut in 2018, could see more glory, both for his club team and country, in the coming years.
As we continue learning about soccer cards and what to look for, I'm sure we all understand how difficult it can be. We would love to hear some more insight on this particular subject, how do you invest in the soccer card market?
Ready to take your sports card investing to the next level? Join our Membership Program now for card picks, analytics, premium community access and much more!