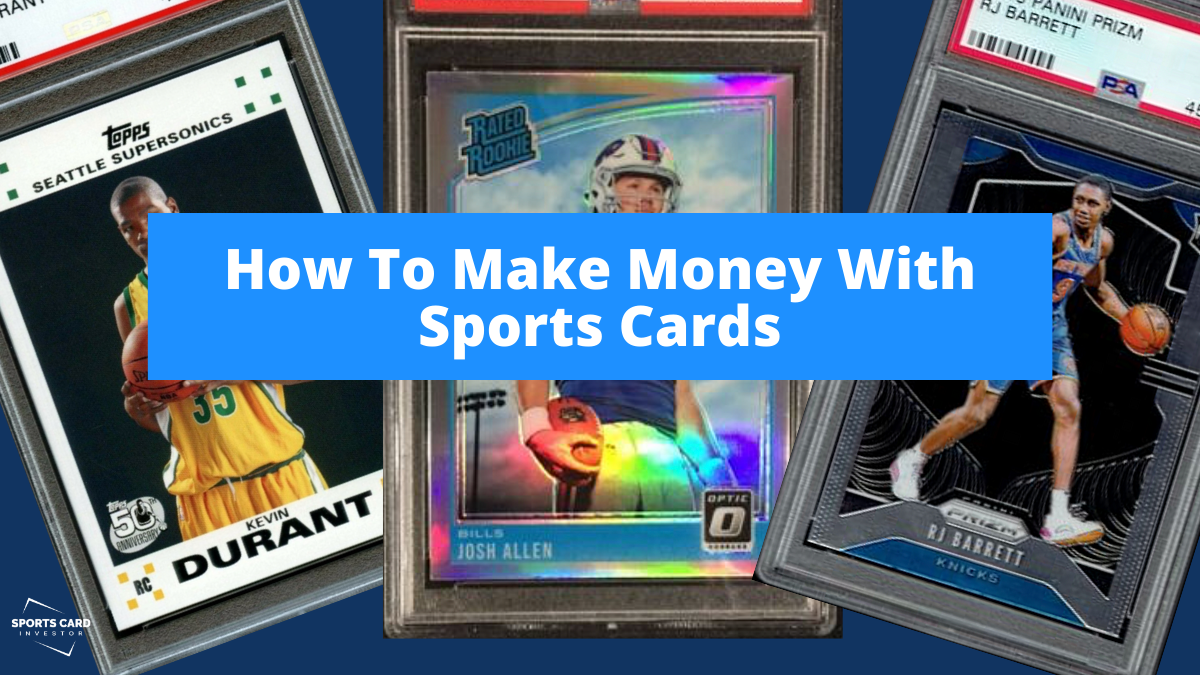 This guest post came through our Article Submission Program. Thoughts and opinions are those of the author.
Introduction
The Sports Card Market is nuts.
At first you may be thinking to yourself, how can a SINGULAR plastic card be worth so much? I don't blame you, I thought the same exact thing.
It wasn't till a good buddy of mine, Johnny, introduced me to the sports card market. At first, I was making a lot of mistakes because I didn't think about all the logistics that go into it. But it's actually quite simple. If you think a player is going to be really good, buy his cards.
My collection has DOUBLED in value in 4 short months and all it took was reaching for some advice and joining Facebook groups to UNDERSTAND the card market.
To show you what I mean, here are just some of the investments I have made.
Investment #1:
I paid $415 for this card last week (6/16/20)
If you go on Ebay under Sold Listings, it just sold for $750 (6/22/20)
Math:
$750-$415= $335*2 = $670 GROSS PROFIT
Pretty good for a week of doing ZERO work, huh? Okay let me give you another example because examples are great proof.
Investment #2:
I paid $215 for this card a couple months ago (4/12/20)
If you go on Ebay under Sold Listings, it sold for $410 (5/18/20)
Math:
$410-$215= $195 GROSS PROFIT
The Skinny
Okay so maybe you are thinking, "WOW, you can really double your money doing this whole sports card thing, huh?"
Yes, you totally can, but here are a few things to pay attention when buying a card.
RAW & GRADED CARDS ON EBAY
1. THE BRAND OF THE CARD
The brand of the card is EVERYTHING. You want to look for cards that are Panini Prizms and Optic Holos when first starting out. Now I am not a complete expert, but I specifically bought these two brands because I realized that the value of these types of cards exponentially grows.
You also want to do your research on if that specific card sells. All you have to do is go to Ebay -> sold listings. Click here to be able to do some research on your own.
2. THE STYLE OF THE CARD
People like FLASHY cards. You want to grab cards that appear to be shiny and have an appealing look to them. Your best bet is to find cards that are ROOKIES or that are limited edition so cards that are numbered out of /49 or /149/ or /249. This means that they only produced "x" amount of cards. This can be really helpful in finding value in cards that are produced in low quantities. Examples of this style of card.
3. THE GRADE OF THE CARD
When a card is GRADED, it shows an accurate representation of the condition of a card. When PSA rates their cards a "10", that means that it is in perfect condition. If you are going to buy a graded card, only buy cards that are PSA 10 as they have the greatest chance of increasing in value BUT only if you are buying a player that is going to be good in the big leagues.
4. OTHER THINGS TO NOTE
Only buy QUARTERBACKS for Football. Other positions don't grow in value quite as much.
Buy players that have good potential. Example: Jayson Tatum, Josh Allen, Kyler Murray, etc.
Always research a card before you buy it. There are a lot of cards that are way overvalued.
Buy the GOATS of each sport. Example: Mike Trout, Lebron James, Messi/Ronaldo, Lamar Jackson.
CALL TO ACTION
If you're still reading this article, props to you. I am going to give you a little nugget where I think you can double your money in the next 12 months. I have bought Lionel Messi and Christiano Ronaldo World Cup Prizm 2014 base cards that are extremely undervalued.
To find these cards, click here. I would buy in the price range of $35-$55 if you can. Make sure you buy the RIGHT card.
Conclusion:
This is not a hard hobby to get into. If you're serious about investing your money, this is a great tool outside of the stock market. All it takes is a little research and it helps if you enjoy sports. 
This was a great article that covers the importance of brand, style and grade. It also reiterates that the sports card market is booming with new collectors and investors daily! We will love to hear from you if any comments regarding the article or want to add something.
Ready to take your sports card investing to the next level? Join our Membership Program now for card picks, analytics, premium community access and much more!