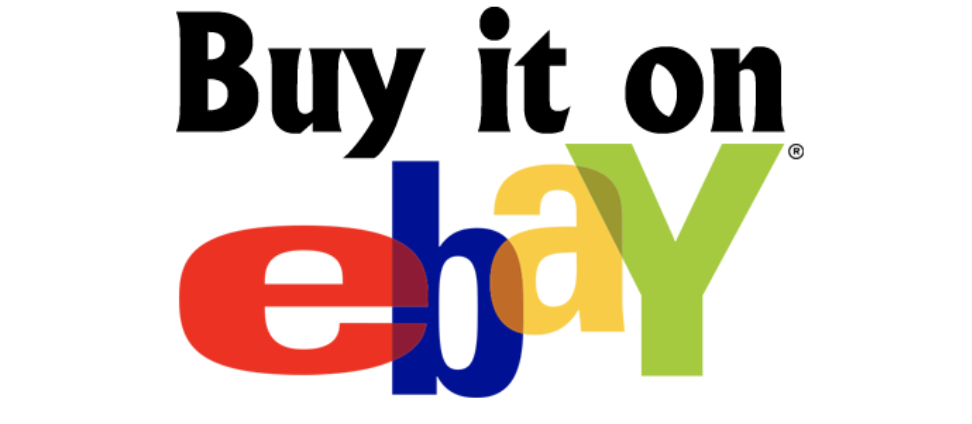 This guest post came through our Article Submission Program. Thoughts and opinions are those of the author.
Introduction
In this article, we will be discussing three key factors that can propel you above other consumers. We will discuss the importance of a watchlist, a follow list, and of course, DEALS AND COUPONS!
A watchlist
In my opinion, a watchlist is the most overlooked sports card portfolio tool. An eBay watchlist is essential for three reasons. One, a watchlist can be a chronological organizer of what sports cards you are interested in acquiring. For example, if today I were thinking about acquiring a 2007-2008 Topps Chrome Refractor Kevin Durant, I would go to eBay listings and ascertain the current prices. I would then add one or two to my watchlist, preferably the lowest price card and or the card that is currently being auctioned. This point leads me into reason two; you can gather fair market value (FMV) data immediately. When the auction has ended, you will be notified. When notified, you will immediately know the current FMV for that particular card. You can go back into your watchlist and make a purchase or use this data to make a fair offer. Lastly, most collectors hear speculation of a trade or like a player for whatever reason and look at current card prices on eBay. If you put those players in your watchlist, you can, throughout the year, look at that list and see what you were thinking about investing in. Trust me, folks, you are going to look at that list and wonder why you were looking at individual players throughout the year.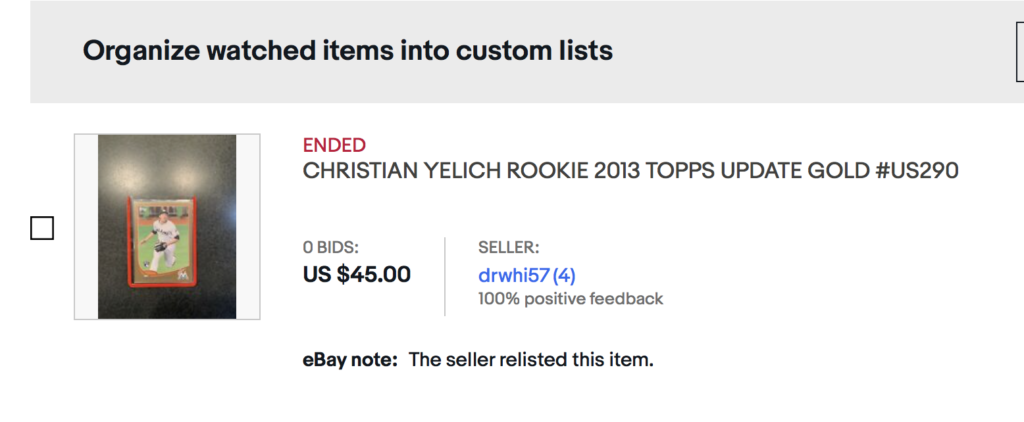 Watchlist TIP: Purge your watchlist semi-annually. I purge my list in August and January. I am allowing time for the start of the NBA season, the beginning of the MLB playoffs, and the NFL playoff season. This year I was buying Mahomes and Jackson in January; both investments were good buys still in January.
Yes this is my watchlist and I love Christian Yelich rookie cards, hopefully he gets to have a monster season.
A follow list
A follow list is vital in sports card investing, why you ask, because we are all always buying, selling, and trading. Must of the transactions are taking place on the eBay platform. If you buy an excellent RAW card from an eBay seller that he graded appropriately or described perfectly, follow that seller for future purchases. It is all too easy to buy from a great seller and lose touch with that person and inevitably miss some great deals or cards.
Follow list TIP: Check if your favorite sellers have social media and are selling on platforms such as Instagram, build that relationship. I am a seller on eBay and have made significant relationships. I currently have many customers I reach out to for private sales on IG through Pay Pal friends and family. I don't like to shout my business out, it's not professional, but I promise you IG is a great place to find deals.
Deals and coupons.
Lastly, we will discuss deals and coupons. On eBay they regularly have coupons, they recently had a coupon for 15% off cards over $200, I provided a picture of what those coupons look like. On eBay, they also offer eBay Bucks. Ebay Bucks is a system that offers cashback on purchases throughout the quarter. An example of eBay bucks is if I bought a Kevin Durant Topps Chrome refractor at $2000, I would receive $20 in eBay Bucks. Pay Pal also has offers that provide money or a percentage off your purchase if you use Pay Pal credit, Pay Pal Credit usually has %0 APR if paid within six months.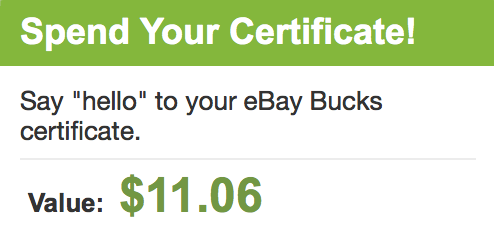 Deals and Coupons TIPS: Use the coupons provided by eBay and Pay Pal on items saved in your watchlist from sellers you follow and like.
Conclusion
We have discussed how to be a professional buyer on eBay. We have learned how to seek out great deals, save money, and even build relationships in the sports card world. Use these tools, and I promise you will become a better investor!
Do any of our veteran eBay buyers have any other tips or tricks they use that can help the community? Tell us in the Comments below.
Ready to take your sports card investing to the next level? Join our Membership Program now for card picks, analytics, premium community access and much more!