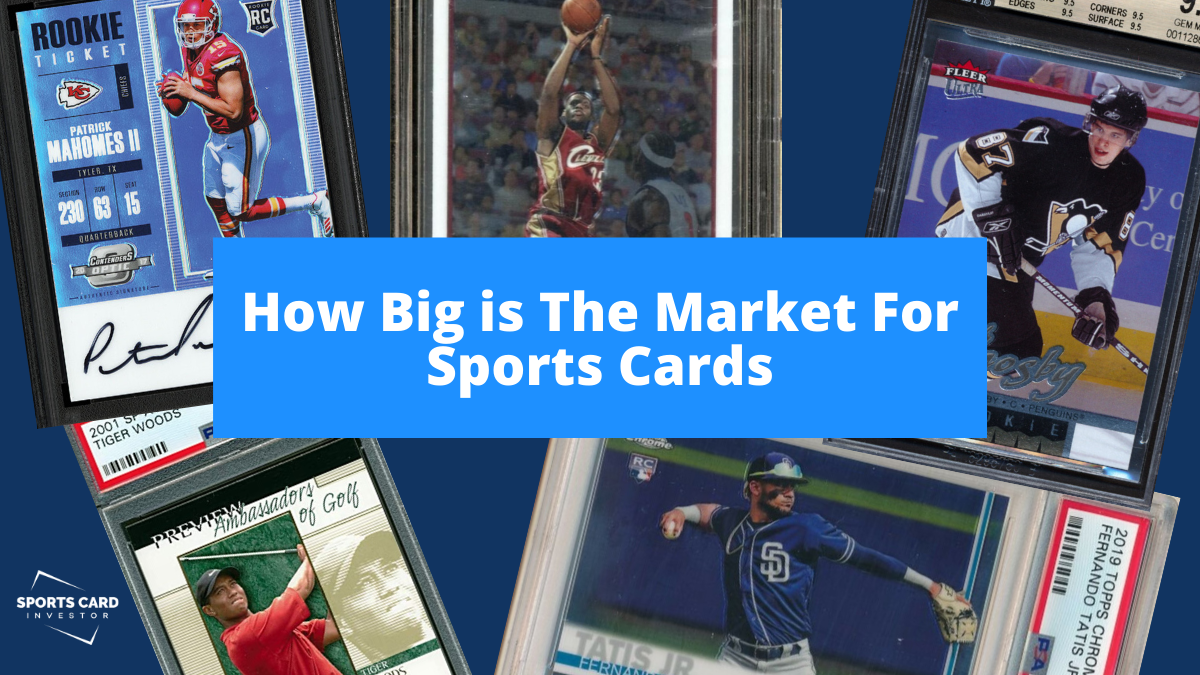 This guest post came through our Article Submission Program. Thoughts and opinions are those of the author.
Introduction
A few creative sources to help us understand the size of the market and how much people are spending on sports cards

The sports card market did something we all probably didn't anticipate happening in the middle of a pandemic and an economic slow-down: it continued to boom. 
It didn't just boom at the top of the market with record card sales for legends like Michael Jordan; it seems to be booming in all areas of the hobby. For example, we live in a time where a Lebron James 2019-20 base Prizm PSA 10 sells for $200: 
This begs the question: who the heck is buying all of these cards at record prices and is it going to stop any time soon?
Anecdotally speaking, since joining the hobby over a year ago, I heard a consistent message from a small fraction of collectors: the market is a bubble. After repeatedly hearing that message, I sold some of my more significant inventory like a Patrick Mahomes Prizm PSA 10 and Luka Doncic Silver Prizm PSA 10 too early, leaving thousands of dollars on the table.
After these mistakes, I knew I had to better understand the size of the sports card market.
The sports card and memorabilia market value is estimated to be $5.4 billion dollars
Tech entrepreneur David Yoken calculated this market size using ". . . the total gross merchandise volume [GMV] from eBay, independent auction houses, online retail venues, and other sources." 
eBay accounted for $4.7 billion dollars of those sales. 
While the data isn't perfect, as eBay doesn't explicitly share category sales data, it's enough to act as a guidepost as we make decisions about investments in sports cards.
It's also important to consider that "other sources" might not have accurately estimated the transactions done on Facebook:
Source: Facebook 
There are 30,000 people posting nearly 6,000 times per day in the sports card buy-sell-trade Facebook group.
That $5.4 billion dollar market size is likely a low estimate.
To put this market-size in context against similar product categories, we can look at the market for art, rare coins, and the sneaker resell market, three industries that are adjacent to the sports cards market in terms of visual appeal, collectibility, and scarcity:
The US rare coin market, excluding the sale of gold and silver bullion, is estimated to be worth $4 billion dollars. 
The global art market is estimated at $64 billion dollars. 
The sneaker re-sell market is valued at $2 billion, with a projection to triple in size by 2025. It's not specified if this is US or global demand, but a multi-billion dollar market is massive. 
Will the sports card market continue to grow?
Some people seem to think the sports card market hasn't peaked yet and I am one of them. 
It's hard to predict and my data isn't perfect, but there are a few things I am looking at to objectively understand whether or not the card market will continue to grow:
My friends, family, co-workers, and peers – out of about 50 or so people I'm close enough to know if they spend any money on sports cards, I am the only one who does. While I couldn't publish a sports card market thesis with this data, it's a good way to remind yourself that the majority of people still haven't been exposed to the sports card market.
Facebook Audiences
To help us understand the size of sports fans and people with an interest in sports cards, we can turn to social media.
By getting a little creative, I set up a fake advertising campaign on Facebook targeting a global audience of people who have expressed an interest in sports memorabilia:
Source: Facebook Business Manager 
The results show me that 1.5 million people across the globe have expressed interest in sports memorabilia on Facebook. Based on the $5.4 billion market size for sports cards and memorabilia, this data suggests that the average person has spent $3,600 on sports memorabilia.
The assumption of spending per person isn't perfect by any means, but it's certainly a start. There are many people who still don't use Facebook and plenty of sports card investors who don't identify as such on the platform.
But still, you may be wondering how hundreds of people are coming up with an extra $3,600 to spend on sports cards. One surprising statistic I found is that the average American household has $8,863 in savings and 55% of Americans self-direct money into the stock market. That's a decent amount of savings on average and the United States isn't even in the top 10 countries when looking at savings rates! 
The next time you're wondering who has thousands of dollars laying around to buy up expensive sports cards, remind yourself that platforms like eBay and Mercari make this a global market. I've been noticing more of my card sales are from international buyers, and it makes sense given that sports are growing in global popularity. 
So while there are people in the US who have savings to take a bet on some sports cards, a global market could result in the continued explosive growth of this hobby.
Social Media Followings
Lebron James has 69 million followers on Instagram:
Source: Instagram 
Let that number sink in for a minute.
Now I want you to recall the $64 billion dollar global art market. The Louvre in Paris is the Lebron James of art museums: 
Source: Instagram 
The most visited art museum in the world has 4 million followers. Without context, this seems like a large following, but it's 61 million followers less than Lebron James. It's a reach to call this concrete evidence of a sports card market set to grow even more, but it's a part of the equation we need to pay attention to.
For those who might be thinking a $7,000 Lebron rookie card is crazy expensive, remember that there are only 1,988 PSA 10 Lebron James Topps Chrome Rookie cards. 
If all of Lebron's Instagram followers wanted his rookie card right now, there are only enough PSA 10s available for .00003% of his Instagram fans to have one.
What's more, is that Lebron James doesn't even have the largest following on social media, and when you account for his other social channels, 121 million people are fans of Lebron James.  
Even if .25% of Lebron's 121 million person following had $7,000 to spare, there would still be 302,500 people competing for a total supply of 1,988 cards (most of which are not for sale). The demand/supply relationship in that scenario strongly favors the sellers and would likely cause those prices to go well-beyond $7,000.
Overall in the hobby, there are a lot of cards, but if the people who want them outnumber the supply available, prices will continue to rise.
If everyone is an investor and no one is a collector, who's going to buy these cards in the future?
There's one final question I want to address before capping off my hypothesis that the card market will continue to grow and surprise us. To make wise decisions with our money, we need to understand both sides of the coin.
The loudest counter argument I've heard is that many people come into the hobby with dollar signs on their minds and when they all sell at once, the market will crash.
The only way to understand this possibility is to continue to look at supply and demand.
Perhaps Lebron James wins a championship with the Lakers this season and every single person holding a Lebron tries to sell their cards at once. Supply skyrockets. Perhaps the hype of him winning yet another championship in a big market isn't enough to prop up demand for the cards.
In this event, if his cards dropped to $2,000 how many of you would buy at the price? I know I would because I'd bet on his continued success in LA, Hall of Fame induction and post-basketball career (i.e. the new Space Jam) to boost his popularity. Out of his 121 million social media fans, it's likely that there are enough people who would buy his cards, even if it causes a little financial stress, if they hit a low enough price point.
If you think about the stock market, everyone is an investor. Everyone plans to sell shares at some point to use the money for retirement or some other purpose. But with stocks, while they do pay dividends and is a much larger market, these buy / sell cycles don't typically happen all at once.
When they do, that's when a market crashes. 
I don't think the sports card market overall will crash, but I do think there will be smaller crashes among rookies cards of younger players who don't live up to the hype, but that will take years to happen. For example, Zion Williamson is only 19 years old and NBA players don't hit their prime until they are 27 years old. Even if Zion plays below expectations or sustains injury over the next 8-year period, he could still rebound his career in his prime and live up to his hype. 
Conclusion:
I'm not a financial advisor and I recommend doing your own research before investing your money in sports cards. I don't have a crystal ball, but after being entrenched in the hobby again for over a year, I just don't see the market slowing down any time soon. 
Sports cards connect us to childhood memories and our favorite athletes in sports that entertain the world. There's always a risk when investing in sports cards, but it's much more fun than investing in stocks, and even though Americans lost $117 billion gambling in 2016, it doesn't stop them from going back to Vegas. 
This was an excellent article concerning the current sports card market with a lot of research and time invested. With the current market surging do you believe it will continue, if so, why? If you don't think so,why? The community would love to hear your thoughts.
Ready to take your sports card investing to the next level? Join our Membership Program now for card picks, analytics, premium community access and much more!